The URGE to own that very TINY sized dog… 18 September 2018
I believe very few people totally understand how these small sized dogs are born, bred etc. Most people think they are out there by the dozens, a good few to choose from and that could not be further from the truth, HEALTHY SMALL SIZED dogs are not the NORM, never have been the norm and I doubt ever will be the norm. HOWEVER, THEY DO EXIST.
i find some people feel if they have owned a hamster, no different from owning a small sized dog, COULD NOT be further from the truth. A hamster for one is meant to be the size it is NO dog is meant to be TINY.
You get the odd breeder who does the strangest things to produce these tinies, without taking into consideration the strange stuff, they do will impact on the overall health of the pups they produce. Something like INTERBREEDING, Mother to son, Father to daughter and so it continues, producing pups and dogs with major health issues, the new owner has to contend with the majority of that pup/dog's life which in most cases is not very long, SHORT LIVED dogs.
Producing small sized dogs as nature intended is what most dog owners would want and it can and does happen.
I am going to include a mail I received only this morning from a member of the public which is the NORM out there. Often when someone contacts me saying they want another small sized dog, they have one, I immediately ask them why not go back to the breeder you got your baby (which is now an adult dog) from??? The story is almost always the same, it has been the ONLY one they have ever produced or at the time they sold it to me, I bought it we had no idea it would turn out to be small and that too happens to me. There are no golden rules, GROWTH charts, well those are not the best way to gauge any future adult mass of any pup, unless, the pup is born at a certain weight, and sticks within the weight limits every single week however, this alone is not GUARANTEED, the pup must be disease free, no internal parasites at all eg. worms, must eat properly from the get go and be fed properly. This story of they only drink form the mother till they are UMPTEEN weeks of age, is HOGWASH.
I have even had the public come to me advising me that they bought a pup that has been bottle fed, the breeder guarantees it is tiny. ANYONE buying a pup that needs to be bottle fed is crazy. The mere fact it has to be fed tells one very big story, one I would keep well away from. No matter how tiny any pup is it should eat and eat very well and the tinier the pup, the more frequent that pup should eat and that would be around the clock.
Anyone buys a pup and is told feed twice or three times daily this is NO SMALL future adult weight dog.
I am also inundated with the public advising me of a pup they can buy from someone out there, pup weighed x at birth now weighs Y what do I think? Firstly I cannot comment on anyone else's pup. So much goes into the raising of a pup from birth.
How many pups in the litter?

Did the pup get a fair share of mother's milk?

At what age did this pup begin to eat?

Any set-backs of any kind this pup experienced? If so that alone will impact on the overall indication of the pup's future adult weight.
We produce pups from NORMAL weight adult females and smaller males but not mice sized males, as those are not suited to any form of breeding.
We get pups that from day one are born at a certain weight, every single week from birth reach the goal weight, they reach all goals, we expect them to reach as a certain sized pup for a future certain sized, adult weight dog.
You do get the exception where the pup is born at a pretty high weight, as it goes along the dogs weekly expected weight gain drops significantly but selling a pup like this to the public is questionable as it may decide to have a growth spurt along the way and end up more to the indicated adult weight at birth, than the going along week by week process. So it is first and foremost very important to go with a breeder who does have some insight into the smaller sized dogs, don't go on "hearsay either", they should be able to show you what they breed, etc, not necessarily their own dogs, but the people out there who own their dogs.
You must be able to trust the breeder of your choice, we all make mistakes this is a process that is not easy by any stretch of the imagination, but over the years you learn more and more.
NO really small sized pup should be leaving the breeder at 8 weeks of age. Many years back we used to do that when the new owner was pushy etc, however we have not sold tinies in years at that age. OUR genuine teacups leave us at FOUR MONTHS of age. Fully inoculated, health guarantees, microchipped, registration to follow etc. Sold strictly on a spay/neuter contract. Every pup of ours irrespective of the size will be sold as a PET on a contract. We have never sold the first pup for any form of breeding ever.
Every single pup we have bred for the best part of the last twenty plus years leaves here MICRO CHIPPED. This way that pup and ultimate adult dog will be identifiable.
We only sell our pups as PETS, not for any form of breeding. We will only see a GENUINE teacup pup to a qualified buyer.
Looking to purchase a proper SMALL sized pup takes time, we do not breed by the dozen, we do however pride ourselves in what we do breed and sell are guaranteed to be fully socialised, NO CAGE breeding, guaranteed to have an exceptional temperament, are quality, well cared for babies you can adopt and enjoy for many years to come. If you want a small sized dog as in YESTERDAY don't contact me, I will not be able to assist you.
This is a specialised size dog small sizes are not the norm so be patient if this is what you are looking for.
Two mails received in recent days.
From: Chanel
Sent: Monday, September 17, 2018 7:27 PM
To: info@mijoy-yorkies.co.za
Subject: Interested - Info
Hi there,
My name is Chanel.
I hope you are doing well?
I am sorry to have email you so late in the evening.
I have two little babies Milo and Cooper, Milo is very tiny and got him 7 years back Cooper i just received a few months after.
Cooper was supposed to be the same small little guy and he got bigger not that i mind he stays my little boy.
I have been looking like crazy for another small baby like Milo, and Sunday at the shops i found someone with a little girl just like my milo and she was such a beauty and lovable. I then asked the question, where did you guys find her and she came from you guys.
So this is me, emailing for info regarding your babies.
I have been looking for a while so i can wait.
I may not like it but hey like i said i have been waiting.
I was about to buy a baby that weighs now 445g on 7 weeks not sure how the weight thing works.
I bought Milo and Cooper and got lucky i guess with Milo.
Anyway talking too much, and can't wait for your response.
Oh and on the note, i attached some photos. And yes that's them on holiday as if they can't go witb then i just won't go.
Chanelle.
Xx
From: Katie L
Sent: Monday, September 17, 2018 10:12 AM
To: info@mijoy-yorkies.co.za
Subject: TEA CUP YORKIES
Good morning.
Hope you are well. I would like to find out if you have any teacup pups available for purchase. If not how do I go about ordering a pup from you.
I have been pining around and been told some stories that concern me. Stuff like all small sized yorkies don't live long, they are nothing but trouble, ill health all the time.
I got your contact details from someone a good few years ago but at that time I was not in a position to own a really small dog, however now I am.
If you cannot help me can you advise me of other breeders, or can you tell me what I look out for, as I know someone who worked with me a couple of years back who has five yorkies, every time she buys one she is told it is a teacup or small pocket and they are all BIG dogs. I don't want that experience, I live in a town house she is in a house, I cannot afford to make the mistake of buying dogs in numbers hoping I get that very small one I have wanted for so long.
Please I am one of many wanting to own a small sized yorkie, can you possibly not share on your website what we should be looking out for. I don't want to risk buying BIG. I can only own one dog and it has to be the right small size.
Please come back to me at your earliest convenience.
Warm regards
Katie
I attach two photos of dogs of mine I used to take out to the Malls I frequented two plus years ago, I did this for many years, however the attention they caused became a security risk to the MALLS and we were asked not to return with our four legged friends.
These dogs are all adult dogs, the heaviest weight is 1.2kg and the least weight 600gms. First and foremost HEALTHY and solid built, robust dogs.
Sorry the pic with the shopping trolley is not the best, but it gives a very good indication of just how small these dogs are when they are in the well- known, small plastic PICNIC basket.
THANK YOU FOR YOUR TIME.....
Please be advsied it is a lot of peoples dream to own a small sized dog, but there are certain issues to take into consideration, before opting to purchase a TINY or SMALL sized pup. THey are not suited to KENNELLING, they are not suited to staying in at a veterinary clinic, they pine, become distraught. The most important condition of them all, ensure you want this size of dog for the right reasons.... They are not suited to the majortiy of dog owners.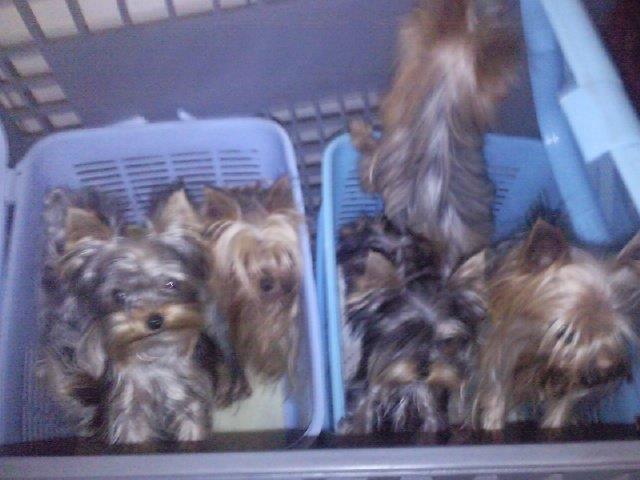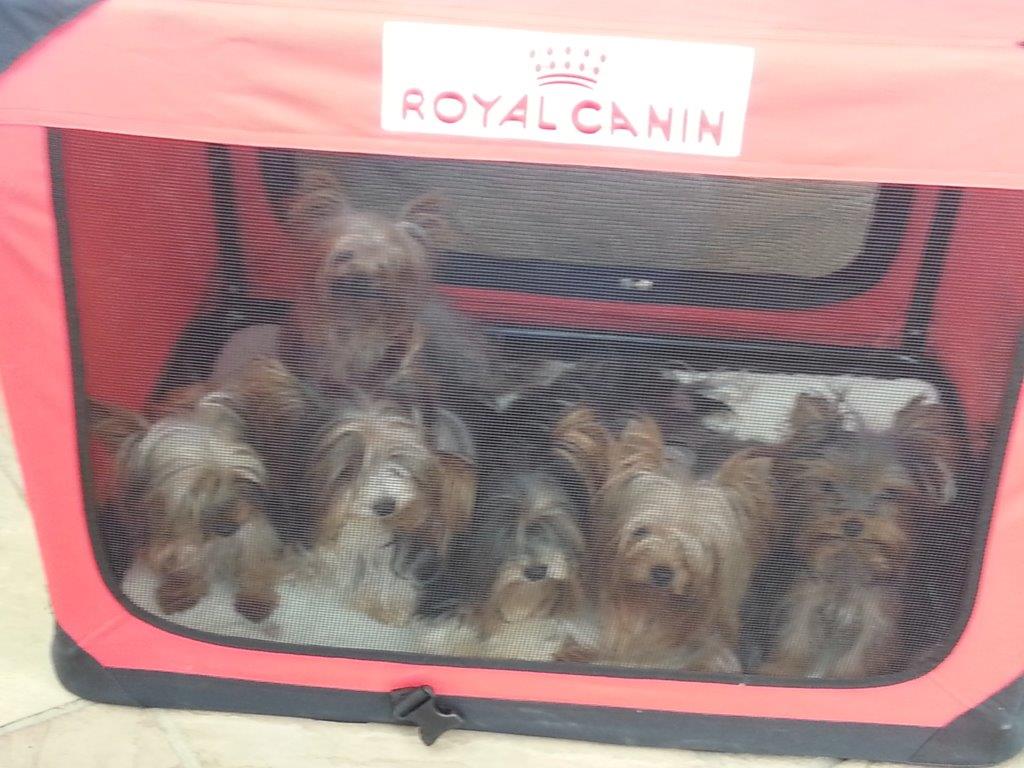 Above - dogs are sleeping behind the front one's in the middle of the carrier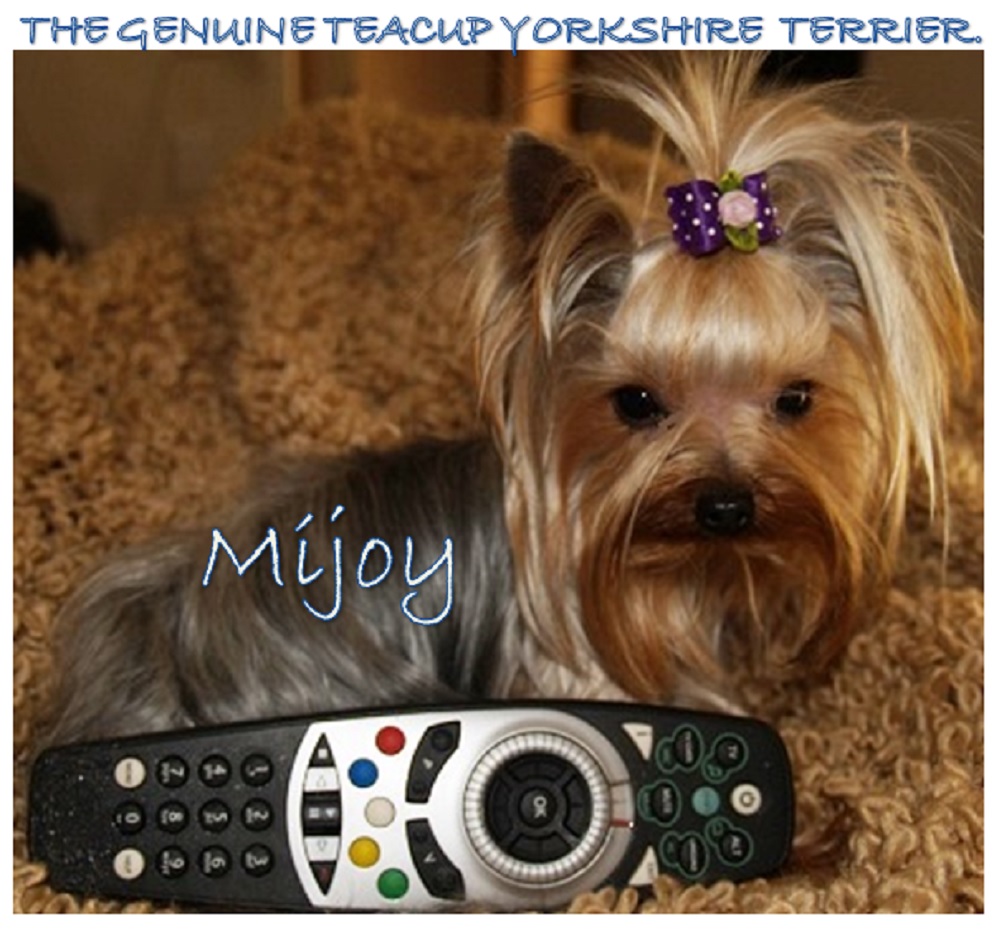 TEACUPS the real info behind a GENUINE TEACUP pup…..
I get inundated with enquiries for teacups, people wanting another teacup, I always enquire as to the weight of their current teacup, I am amazed to hear they are 1.8kg , 2.2kg etc and this has been sold to them as a teacup and they honestly believe it is a teacup.
I just had a lady call me saying that it is so hard for the public as they don't know the full story as to what a teacup pup should weigh, look like etc, so most are conned.
The adverts for micro- teacup, teacup etc, be cautious…. First and foremost a huge amount goes into the raising of any PROPER teacup pup so it is a pricey pup. However be cautious of that, as I hear from a lot of folk out there who have paid the big bucks and the pup is still no teacup.
OR sad to say paid big bucks and the pup is in the vet clinic for a week or three and passes away and that is really big bucks then.
FORGET SUCH THINGS AS GROWTH CHARTS EXIST…….. this is where most people have an issue, it is not guaranteed that a pup born at any particular weight will be the weight that growth chart indicates at birth, as an adult dog. This depends on so many factors, that if you had to know them all, you would come to realise very few pups reach that expected weight goal as was predicted from their birth weight..
What is your idea of a teacup weight dog and work according to that.? People come to me for a pup and say TEACUP I ask what weight do you consider a teacup pup and when they find out just how small they are and can be they are in shock. NO idea such sized dogs exist.
However be cautious, if you have any doubt get it in writing from the breeder of your choice, that you will have that pup to a vet, if for whatever reason the vet does not okay it as a healthy, robust and a TINY pup you will be returning it for a full refund. BELIEVE IT OR NOT, so many vets are not too familiar with what size a teacup pup is supposed to be but most know that a rather fair sized pup is NO TEACUP pup.
Why do I suggest this is done? SIMPLE as one particular breeder was selling very under aged pups as teacup and every one of those pups and I knew of three incidents, where the pup was hospitalised, day's later dead pup. This is a life at the end of the day, how can anyone be so heartless and cruel?
We have come a very long way when it comes to the teacup pup, owning my first one over thirty years ago. They are rare, they are NEVER available in numbers so the minute you are told by a breeder I have so many sitting here, be assured they are not a teacup dog to begin with.
It is not easy to raise a proper teacup pup it is hard work, dedication and a labour of love, it is total commitment by the breeder. A proper teacup pup will eat far more frequently and at a far earlier age than any other size of pup. So when you are told to feed twice daily or even three times daily and NO night feeds, you can be assured the pup is NO TEACUP pup.
Our teacups are here for four months. They carry health guarantees they leave us being fully inoculated. Chipped, sold on a contract to be sterilised. they will be registered.
This is a RARE size of dog, weighing anything from 550gms to 1.1kg as adult and at these weights, solid short legged, short bodied, robust HEALTHY babies.
This is no pup to take lightly, hands on, huge responsibility, no spur of the moment impulse urge to own this size of dog. This is NO fashion statement.
We only supply qualified owners who are on a waiting list with us. This size of dog is NEVER here waiting for an owner.
In the right hands, this pup and ultimate adult dog, will live, many long, happy, healthy and fun filled years with its owner and family. I say RIGHT HANDS as this pup needs to be in a home where its needs and the responsibility of owning it, is taken seriously. Buyers such as these do exist, we supply those folk, this size of baby. This is not parlour grooming material nor is it boarding kennel material. THIS IS A BABY IN THE HOME.
Thank you for your time……………
THE TEACUP….. know the facts…
NO GENUINE TEACUP IS AVAILABLE IN NUMBERS AT ANY TIME. NO GENUINE TEACUP IS STUDENT OR CHILD MATERIAL….
NO GENUINE TEACUP pup IS WAITING FOR A NEW OWNER strictly waiting list ONLY. We are inundated with enquiries and 95% of those enquiries are not suited to owning this size of pup and dog.
What I do find, the majority of people asking to purchase a TEACUP dog, are under the impression this is a far bigger dog than it actually is
Every second person claims to breed teacup sized dogs and I can only believe the reason for this is to DRAW attention and pups to sell like hot cakes.
ONLY problem when that pup starts growing up and it will, as in most cases what happens then, does the owner say OH I love it, not what I wanted but that is just how it is, or do they ditch the dog and start all over again??????
One member of the public approached me last week advising me she was told by a yorkie group, that the pup she was interested in buying would be a 1.2kg adult weight dog, now is 3.5kg adult weight dog.????
GROWTH chart info I would think in most cases. However there is far more to gauging a future adult weight of any dog than using a GROWTH chart.
Please be advised that you never get a genuine teacup pup NO matter who, what, where or why, in any numbers at any time. This is not a size of pup that is out there in any numbers at any time irrespective of what the first person would like you to believe.
There is no breed standard as to what size a teacup dog actually is, but last week I was approached again by a member of the public wanting another teacup she owned one of 2.2kg??????????? Hardly a teacup dog.
We try to stick to the size being a maximum of 1.1kg our dogs are solid, robust, not bags of bones. Short legged, short bodied and in the majority of cases Doll faced.
A GENUINE TEACUP PUP is not suited to any STUDENT, CHILD, ETC. this is a pup that has been in my home for four months, been handled from birth, been monitored around the clock every single day, fed around the clock day and night. This is not a pup you leave home and go off to work. This is a pup that is bonded to ONE PERSON. So it is not advisable to consider buying this size of dog for your child, that you look after it when they can't as in when they are at school, sleeping at night, this is then YOUR dog, not their dog.
My own take, on owning this size of dog for a child – totally out of the question. it is a dog that wants to sit on your lap go out in your bag, not a dog that runs after a child, catches ball, jumps on a child's bed, sleeps with a child, NOT SUITED. A child drops this size of pup – dog, falls over this size of pup or dog, the end result in the majority of cases will be fatal. No child should be exposed to the emotional trauma this could result in.
Who is suited to this size of dog…. We will ONLY consider selling this size of pup to someone who wants a BABY in the house again, or who cannot have their own children. However this is a dog that must be with its owner at all times. We will only supply a GENUINE TEACUP DOG to an approved buyer. This is a life at the end of the day.
FURTHERMORE this size of dog is not cheap and basically the reason for that is a simple one, this size of pup does not survive unless it is handled with great care from day one. Genuine teacups leave us fullyi noculated meaning three inoculations and rabies. A GENUINE TEACUP is not a pup that leaves a breeder at 6 8 or even ten weeks of age.
If they are bred as nature intended, which is exactly how we produce them, they are healthy, long lived, pups and dogs. HOWEVER VITALLY IMPORTANT THEY ARE IN THE RIGHT HANDS TO BEGIN WITH. We have bred and owned them from ADULT WEIGHTS OF 550GMS. We breed healthy, long lived tinies and have done so for the past twenty odd years and have owned very tiny dogs for over thirty years.
A very tiny sized pup and adult dog is suited to very few people, it is a huge responsibility and not something anyone should take lightly, view as being a fashion statement or a spur of the moment desire to purchase.
It is always what is best for the pup that is our concern, never about what anyone decides they want, we are very fussy as to who we sell this size of pup to.
ALL our pups carry health guarantees, are sold socialised, superb temperament guaranteed. Micro chipped. SOLD on contract, sterilisation NOT negotiable we do not sell to the first breeder, or anyone wanting a litter or using a male for stud purposes. TEACUPS CANNOT BREED. Anyone claiming their teacup bitch has a litter, is total HOGWASH. ALL OUR PUPS ARE REGISTERED. TEACUP MALES DO NOT MAKE THE BEST STUD DOGS EITHER.
Buyers in a rush we unfortunately cannot assist.
We do not breed in Wendy houses, outside cages or kennels. OUR DOGS ARE HOME RAISED.
We opt to breed QUALITY not QUANTITY…. WE GO THAT EXTRA MILE....
I thank you for your time.







PLEASE BE ADVISED, WE DO NOT SELL ANY ADULT DOGS
Thank you so much for the latest pics of two of our DARLINGS residing in the Cape.
MUCH LOVED AND PAMPERED PETS.
BORN TO BE LOVED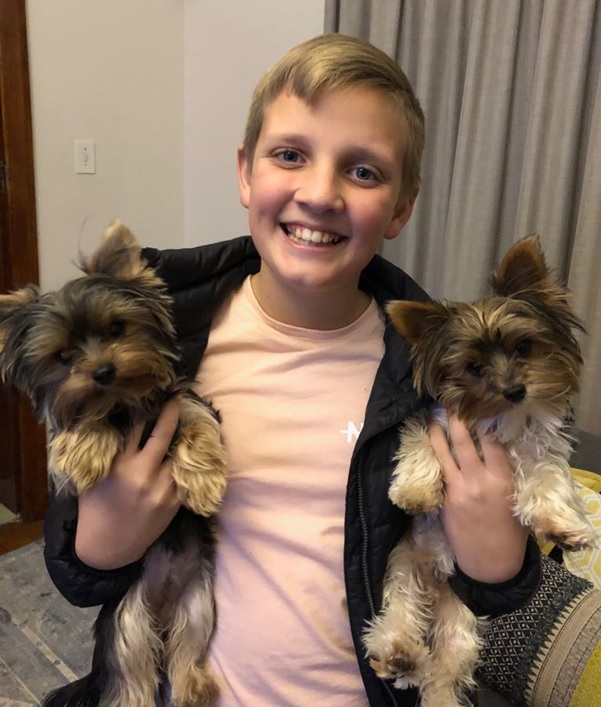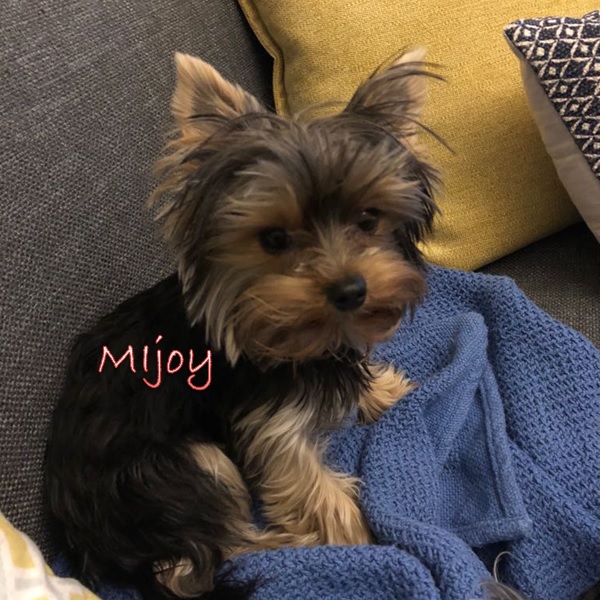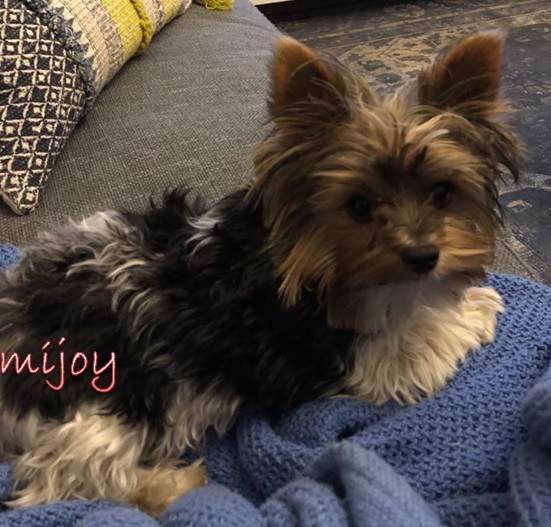 Latest info on MICRO CHIPS... trying to find the owner.....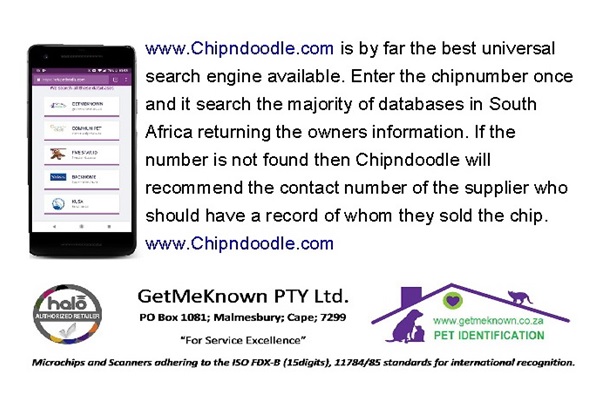 We do QUALITY not QUANTITY
We "R" the GENUINE TEACUP dog....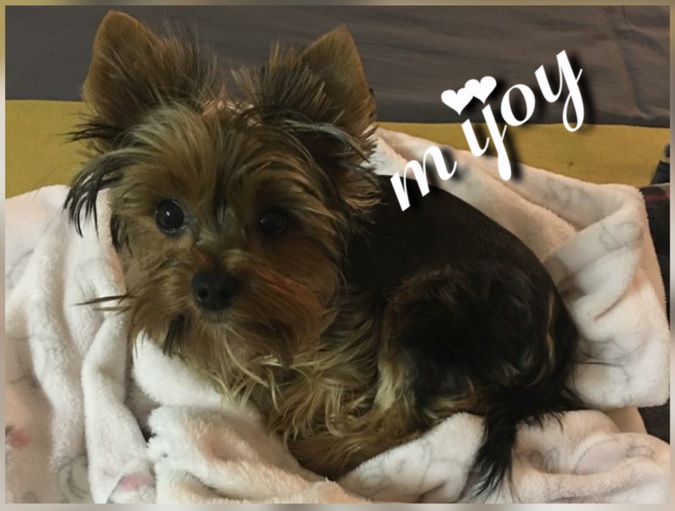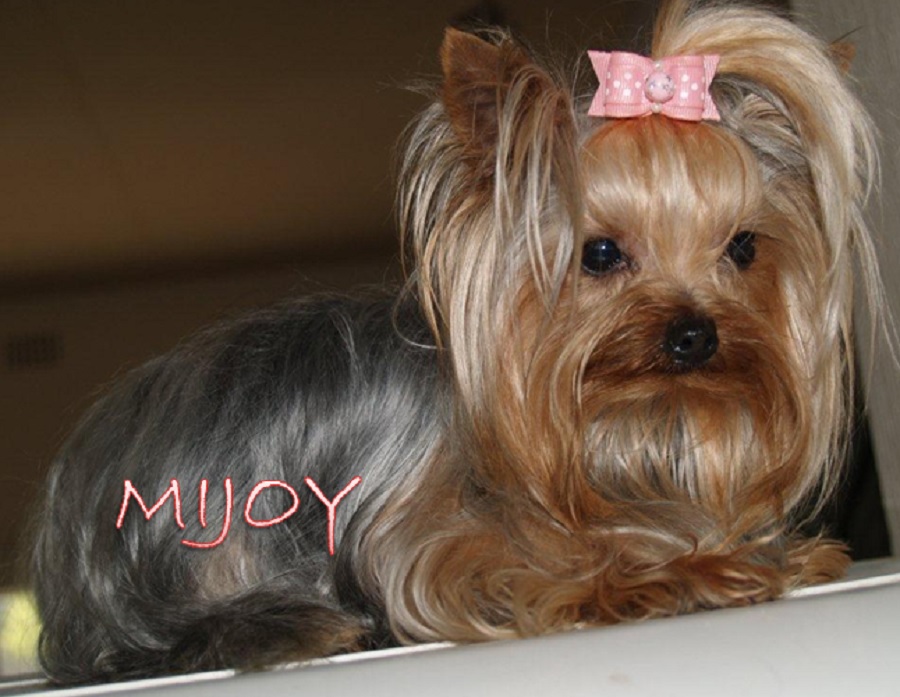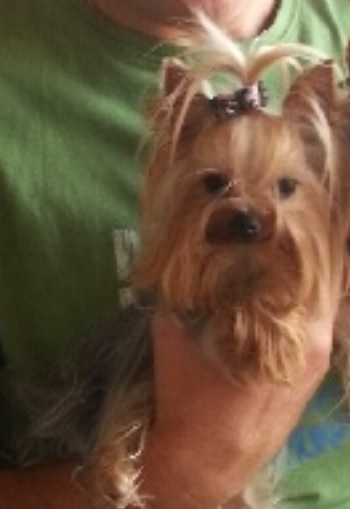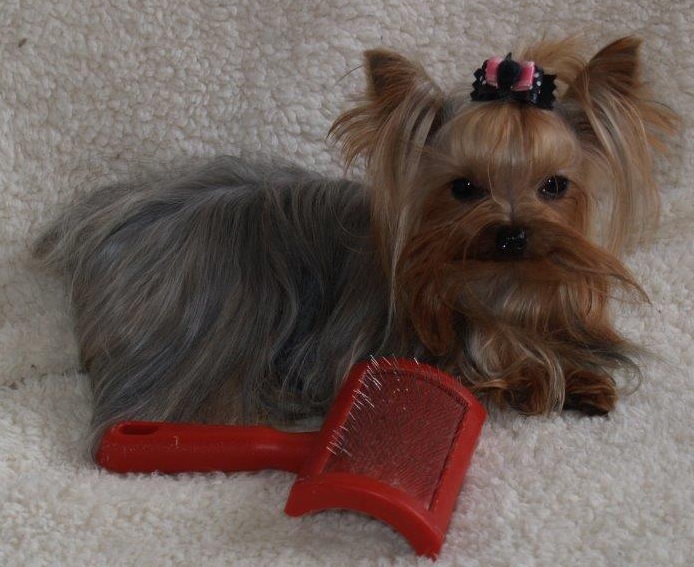 BIEWER TERRIERS BELOW....
Pups due to be born shortly, from our imported girls.......... STRICTLY AS PETS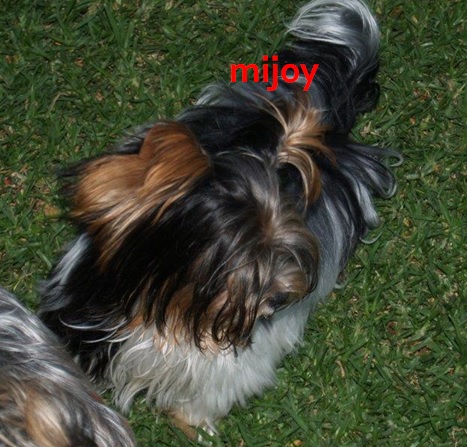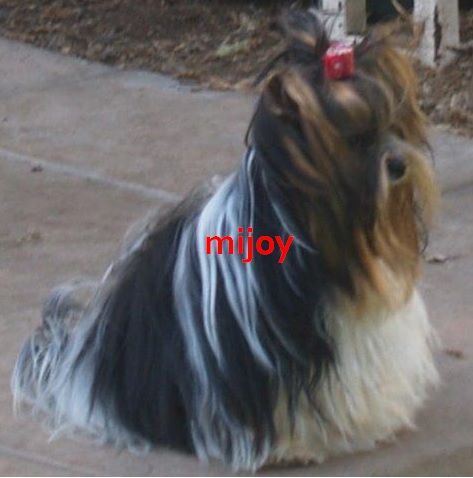 THE REAL DEAL, THE GENUINE HEALTHY TEACUP DOG
available to APPROVED homes only - waiting lists only....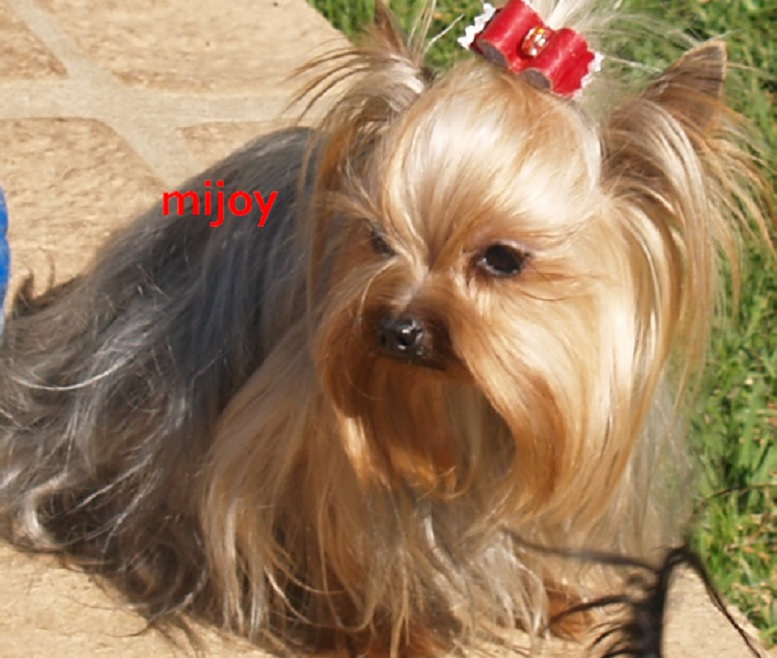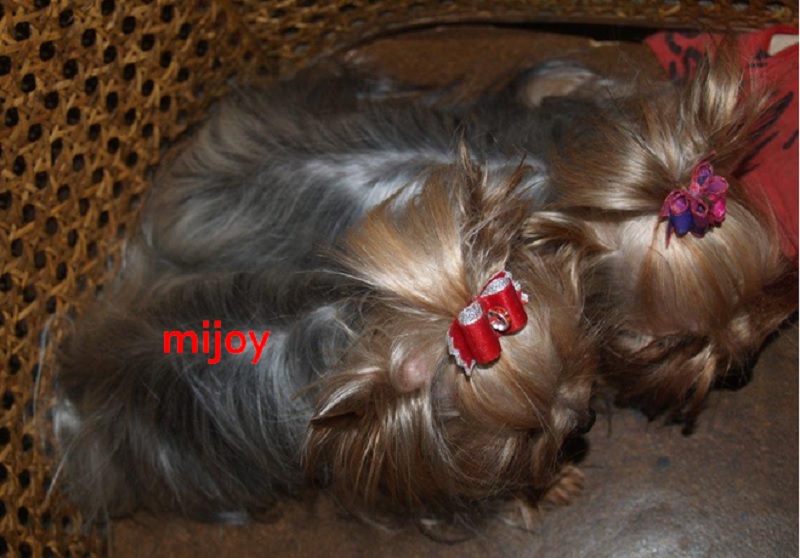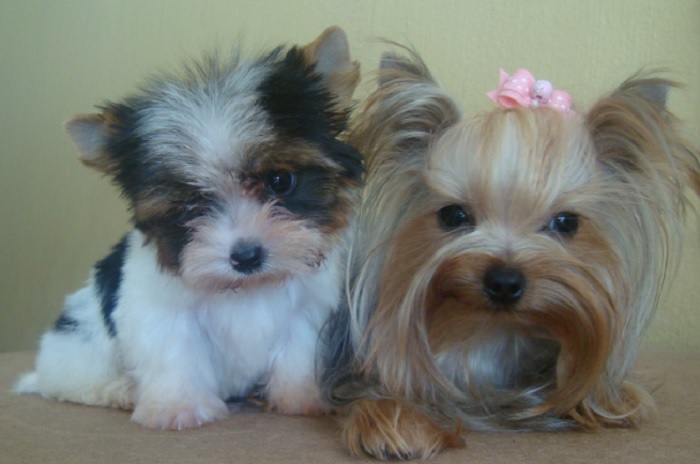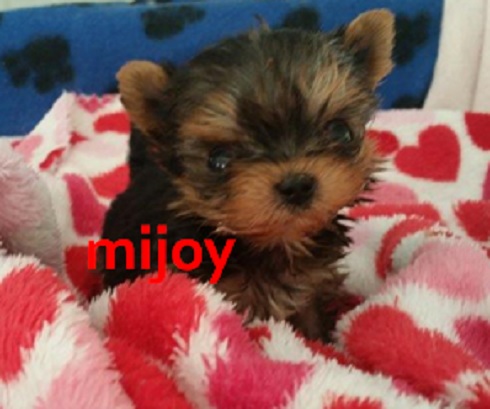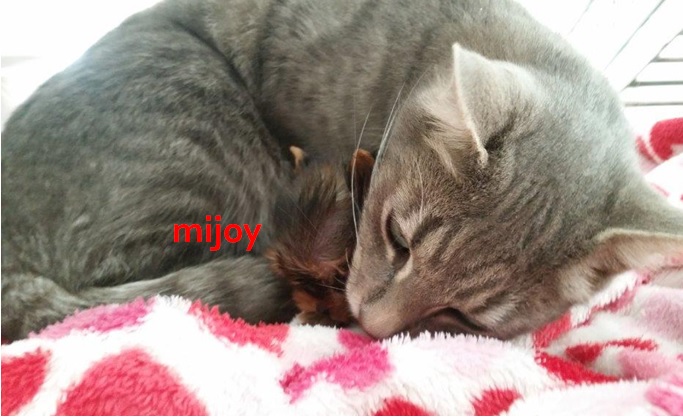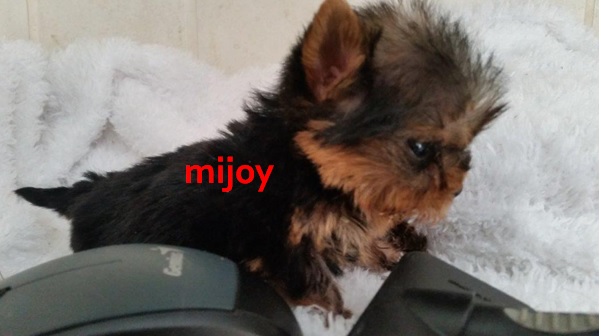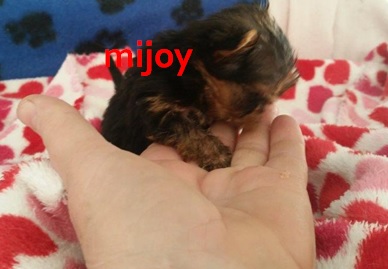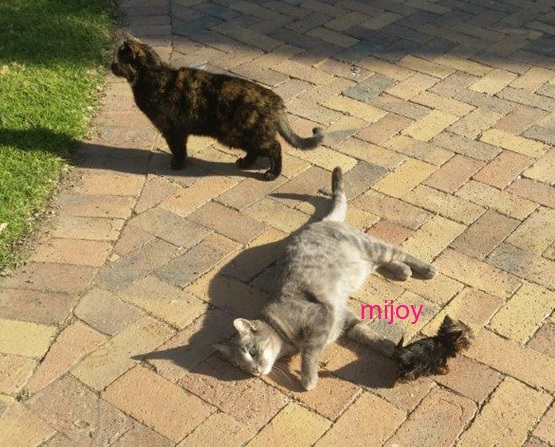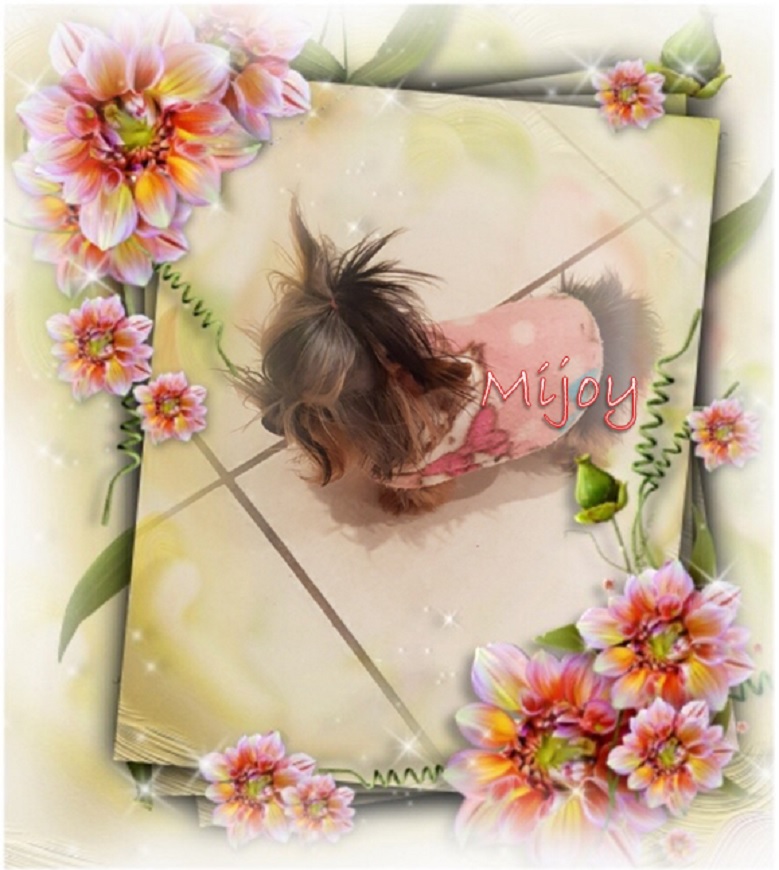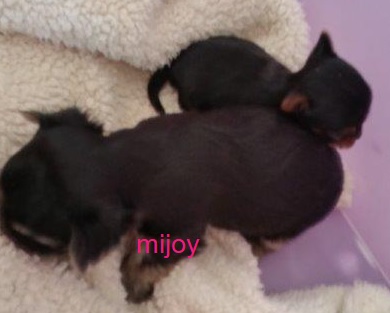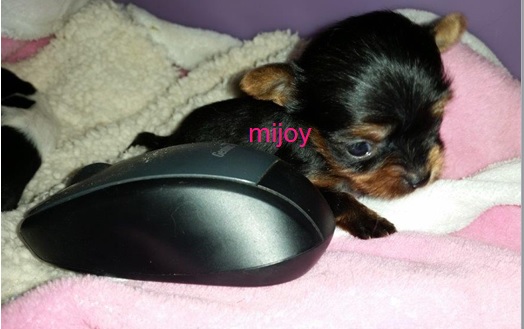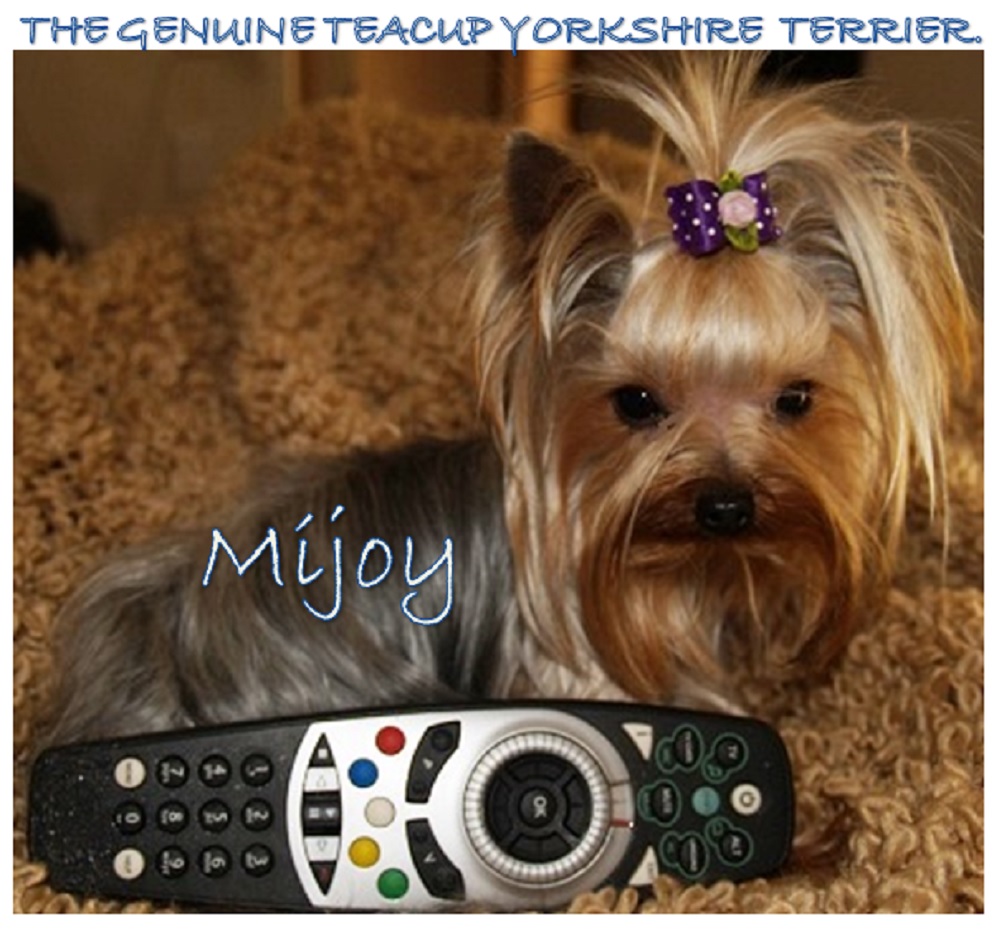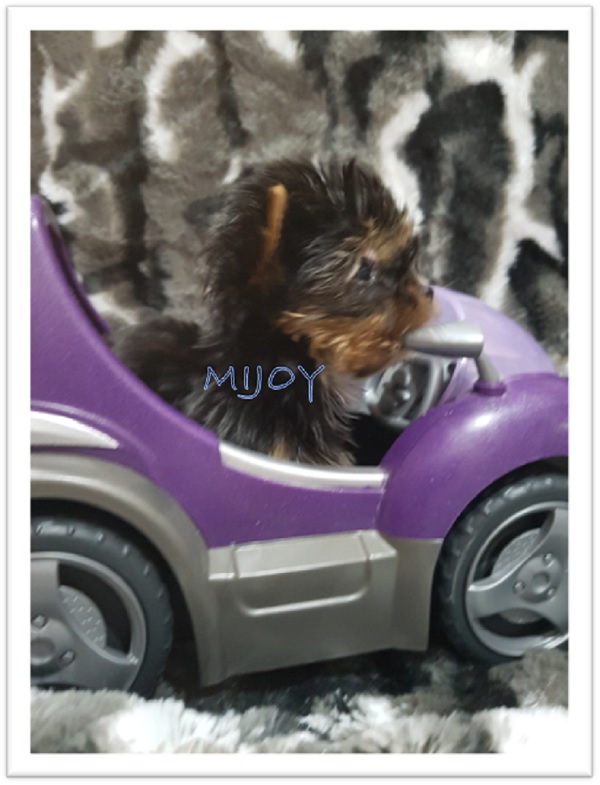 Quality pups….
Let me explain. I have had yorkies my entire adult life- well over thirty years. Way back a Yorkshire terrier was an expensive dog almost unheard breed of dog, over the years it has become such a popular dog that everyone and their Aunty took to breeding them. Buy one here, buy one there, as long as it resembles a yorkie we breed it. WELL hang on there, NOT the best idea now. SURELY you do follow some ground rules and ensure what you breed is a good quality pup? In a lot of cases - SEEMINGLY NOT.
Yorkies well the breed standard is a 7lb dog but these days they can be double that weight, triple maybe and those are the very dogs that are in shelters by the dozen. VERY SAD. Good quality Yorkshire terriers are a rare find in any shelter.
There is NO BREED STANDARD for small sizes of yorkies.
People all want to buy a yorkie don't do their homework and end up with dogs that resemble anything BUT a yorkie hence they are cast off in a lot of cases and the owner of that unfortunate dog is on the look-out again for a yorkie. HOPEFULLY a good one this time. Be aware yorkie should not be dirt cheap, if they are think twice, about purchasing the pup.
One has to remember that as with anything a QUALITY PUP costs money. Again as with anything you get dirt cheap, cheap and good quality that you pay for. So buying cheap is not the answer if you are FUSSY about what you wish to own at the end of the day. Be cautious of people who breed with inferior quality dogs to be able to sell cheapies, as that is not the aim of the exercise, the very reason the shelters are inundated with inferior quality dogs.
Cheapies just how much effort has gone into the raising of those pups, if the breeder cannot afford to do the necessary such as deworming, inoculations, etc.
I am fortunate I never have an issue homing my pups but then I don't breed pups by the dozen nor do I breed with just anything that resembles a yorkie. The majority of my business is referrals and repeat business. Happy to say people owning my dogs in general have dogs that only see a vet for the annual shots and the odd dental. Dogs living many years, only passing from old age.
The term IMPORTED may sound grand and all, but one has to consider that imported dogs does not guarantee over the top quality dogs, the people breeding DOGS overseas are no different to the breeders in SA, there are the over the top quality conscious breeders and then there are the run of the mill breeders, so be cautious when the term IMPORTED is used as is GOOD MORNING and GOOD AFTERNOON.
TEACUP, now here again is a term used very loosely when yorkies are advertised, if breeders want to draw attention to their adverts MOST being free adverts at that???? They use the term TEACUP.
There is no breed standard as far as the term teacup goes, however considering the size of a teacup as in the CUP you drink from, one presumes it to be a small sized pup or future adult dog. However, every other day I get the public complaining to me how they answered this or that advert and went out and bought this teacup that is now 2 – 3kg and it was not cheap to begin with. ???? Again if that is what you are after a GENUINE teacup you should not be accepting any free adverts statement. It is not an easy thing to determine what is teacup and what is not, it has taken me many years but in the majority of cases and this goes back even to some twenty years back, the dogs I have sold as teacup in fact have turned out to be teacup.
These day our real tinies remain here for close on four months if not four months in that way we can 99% guarantee that dog will be the ultimate tiny.
Pups leaving us at that age, are all fully inoculated, rabies included, micro chipped, fully socialised, guaranteed exceptional temperaments, these are dogs we at MIJOY have monitored around the clock, since day one till the day they leave us. The reason they are not cheap pups.
ALL OU RPUPS ARE REGISTERED all our pups carry HEALTH GUARANTEES. EVERY pup we sell no matter the size we expect to be sterilised by the new owner . Sterilisation contracts are in place.
We have bred and owned teacups, the real deal for a very long time in fact the first teacup I owned was thirty odd years back. A genuine teacup is not something one finds every other day or in numbers in litters at ANY BREEDERS ESTABLISHMENT. It does not happen. So any breeder tells you that, think long and hard. It is not the case, guaranteed.
It is not always the breeder who is the con either, sometimes sad to say it is the buyer, people who buy dogs, replace them and claim that particular pup is the teacup you sold them when in fact it is not the same pup at all ???? NOT very nice to do, but then I guess takes all types. However we do have measures in place to ensure that does not happen.
The genuine teacup appears once in every so many litters if it is in the blood lines of those dogs to throw the tiny sizes. We do not manipulate the producing of these very small sizes the reason when we do get the odd one, they will live a long life, be healthy and all and not give their owners sleepless nights owning them.
VERY FEW people are the right owners for this size of dog VERY FEW. It is a huge responsibility and something, we as the breeders take very seriously. The pup must be in the right hands. It is far more than owning a real tiny dog, it is a way of life.
Every other day I get people prepared to pay whatever it takes to own a teacup for SENSATIONALISM and that does not wash with me for sure. This is a life at the end of the day.
Pups advertised as being from registered parents but pups themselves not registered???? The public think getting a bargain here as to register costs a fortune. WELL that is anything but true, to register a pup costs R80-00 maybe R100-00 but the breeder has to be a registered breeder in order to register their pups. Again this should be a warning to you as a potential buyer. It is not you as the future owner saving the bucks but the breeder who is not registered as a breeder, who is saving the bucks and one has to wonder, if the pups cannot be registered, what the reason for that is??????? Registered pups does not automatically mean they are top quality either.
I guess at the end of the day if you are happy with ANYTHING then it makes no difference, but if you want something of quality that will live a long and happy and above all else HEALTHY life, then think twice before you buy first and foremost CHEAP pups and secondly, just from any other breeder.
Teacup pups if they are teacups to begin with that is, should not be leaving the breeder before they are at least three months if not four months of age. GROWTH charts again something to be cautious of, as a growth chart can be misleading and the pup on hand, may have had issues along the way which will result in it being or weighing far less than it should weigh if it was healthy from the get go.
The Breeders who care, will not sell to the first person who calls them up, they will want to know a few details about the future owner of their much loved pups they breed.
Once again be cautious of under-aged pups passed off as teacups as was happening frequently with one breeder - I do get to hear about all of this going down, as we have been around a very long time and desperate owners will come to us for advice, however when they have been CONNED to put it mildly, into believing the pup they have just bought, is a teacup only to find as they did, that in fact the pup was grossly under-aged to what it was sold as, emotional turmoil, heartbreak, devastation and a lot of vet bills to pay for and the pup at the end of it, DIES, way too young to have left the mother dog. Tragic to think some breeders actually resort to this. How desperate can they be to sell their pups??? The loss of a life is precious and not to mention the emotional scarring, losing a pup does to an innocent owner out there. IN most cases they do not go back to the BREEDER as they are beyond DISGUSTED.
Breeders who own quality dogs, do the best for the pups they breed and by that I mean, feed the best food possible, do all the necessary shots, deworming ensure their pups are healthy before parting with them, have exceptional temperaments etc, Breeders who go to these lengths cannot afford to sell their pups for next to nothing.
I might just add again, if you are on the market for a teacup, a proper teacup that is, we would send out information to you advising what lengths an owner is expected to go to in owning this size of dog and initially pup. this is not something you take on as a gimmick, will tend to this tiny pup till I lose interest or get another something, I can buy on impulse.
REMEMBER you may have owned a hamster, you may have bottle fed kittens, but to say you know it all because you have had the hamster,(meant to be tiny anyway) the bottle fed kitten ??? Think long and hard, as NO dog is meant to be as tiny as these dogs can be. Full grown weighing 550 and 600gms in some instances, dogs that live to 12 years of age, NO health issues.
A GENUINE teacup is far more than a small sized dog could ever be, it is an entirely different story.
We however do not sell those ultra-tiny pups to the public we sell pups that will be 850gms to 1,1kg as adult weight and those pups are solid built pups. They are short legged, short bodied and in the majority of cases have doll-faces.
WE SELL WITH HEALTH GUARANTEES.
NO breeder has teacups GENUINE teacups in numbers, they are a rare find.
If you do have the lifestyle, to own this out of the ordinary pup and ultimate adult dog, you will wait when ordering one from us as they are RARE. WE never have teacups here waiting for an owner to pitch, they are sold long before they are even conceived. Waiting lists ONLY and have operated on this basis for a good many years. A future owner who is prepared to wait for the right dog, is in most cases the right owner. Impulse buying is not the buyer we are looking for, to own our pups. You must however have the lifestyle to own that pup before you will be accepted to join a waiting list.
THANK YOU FOR YOUR TIME. I do hope you are more informed with regards to buying a Yorkshire terrier you can be proud of owning. We all love our dogs no matter what they look like, but if you are looking to buy a Yorkshire terrier of quality, that will live a very long life, with no health issues to speak of. BUY WISELY. This applies most definitely when looking to purchase the smaller sized dogs, as if you hit a problem with a small yorkie, you are in for a lot of vet visits in that dog's life. BE CAUTIOUS.
Oh and one thing I must mention before I close, our teacup pups are born from the normal breeding sized bitches and not mouse sized stud dogs either, we do NO interbreeding at all, they are born as nature intended the reason they are healthy and long lived.
We only sell to PET OWNERS – ANIMAL LOVERS OF NOTE not to anyone wanting to test the breeding market, any breeder, any person who wants one litter of pups or keep a dog they can have mate outsiders dogs. NO TEACUP DOG IS CAPABLE OF HAVING THE FIRST LITTER AND TEACUP MALES ARE USELESS STUDS.
I also have folk contacting me having bought four or five yorkies before all SUPPOSED TEACUPS homed them all, wanting a teacup from me,. NOW that I have an issue with, how can you buy a pup love it and cast it aside as it is not the SIZE dog you wanted, in cases such as this PLEASE do your homework.
Small home, small garden I have to have a teacup, any sized yorkie will be just fine, not one that is a huge dog obviously but if you purchase the likes of a miniature size which to a PROFESSIONAL breeder of yorkies means an adult weight dog of 2.5kg to 3.5kg, this size will be fine for you.
I get enquiries for a miniature teacup? A miniature is the size above, a teacup a fraction of the size of a miniature. We breed with miniature sized dogs being the 2,5 to 3,5kg adult weight bitch.
If you are in a rush to buy a teacup dog, we will never be able to help you, as I have said we work with waiting lists and this is not a dog we can rush having born. So please in a rush don't contact us.
DON'T BUY ANY ANIMAL - NO MATTER WHAT IT IS, ON IMPULSE…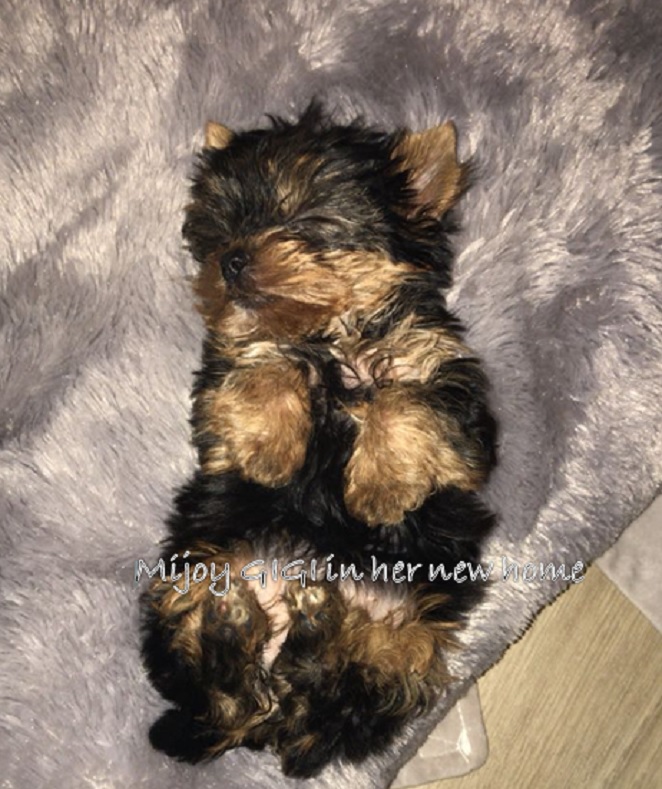 OUR THANKS, ONCE AGAIN TO ROGZ PET INSURANCE FOR THIS INVALUABLE ADVICE
Cold Weather Safety Tips
The cold winter months can pose several problems for our pets. As a responsible pet owner, be sure to protect your pets with the following winter safety tips.
| | |
| --- | --- |
| | Keep your pet dry. Ensure you towel dry your pet, particularly his feet and toes as soon as he comes in from the outside to prevent itchy, flaky skin. |
| | Clothing. Invest in a coat or sweater if your dog is short haired. |
| | Avoid over bathing your pet. This removes essential oils from their skin and can cause dryness and flakiness. |
| | Increase food intake. Pets tend to burn more calories in winter to keep warm, so increase their food intake slightly. |
| | Exercise indoors. If it is very cold outside, try incorporate indoor games like tug-of-war, fetch or an indoor agility course as these can be great ways to keep your dog entertained. |
Dog Park Etiquette Rules

Dog parks offer awesome physical and mental benefits for your pet. As a dog owner, you want to responsibly ensure that when your dog runs off-leash, that it is done in a safe manner.

Teach your dog a word or phrase that he will come to when called.
Assess the environment. Pausing before you enter will allow other dogs to also get used to yours and not to be overexcited when you come in.
Learn to read other dogs. Canine behaviour and body language can be clues as to whether other dogs are friendly or not. Dogs at play have relaxed ears and wagging tails. Tense or upset dogs will have their ears pinned back, be leaning forward or tails half way held up.
Stay calm. Be aware that fights can happen, and know what to do should a fight break out. Squirting them with a water hose or use a long stick to push them apart, but do not step in with your hands or body.
Preventative Care. Finally remember that before taking your dog to the dog park, he should be vaccinated and treated for fleas and ticks.
Further advice regarding DOG PARKS and walking your pooch in them....
If your dog is a mini variety be extremely cautious, often large breed dogs mistake small breeds for TOYS, cats or something like a rat and one does not want an unhappy ending or very bad situation dievelop, when a large breed dog attacks a small breed dog and does serious damage. Always keep a vigilant watch out for other dogs.
MY RULE OF THUMB NEVER LET YOUR DOG OF ITS LEAD.
FURTHERMORE should you be walking your dog and a big mutt arrives, pick up your dog as fast as possible and be cautious as that large dog may decide to jump up against you to grab at your dog, you cannot say it will never happen, it does and has happened, rather be safe than sorry.







MISSING YORKIE FEMALE 1.2KG
REWARD - 15 JUNE 2018
BELIEVED TO HAVE BEEN STOLEN!!!!
REWARD - For safe return or information leading to her safe return
She is sterilised, 4 years of age and is MICROCHIPPED
WHERE IS SASSY??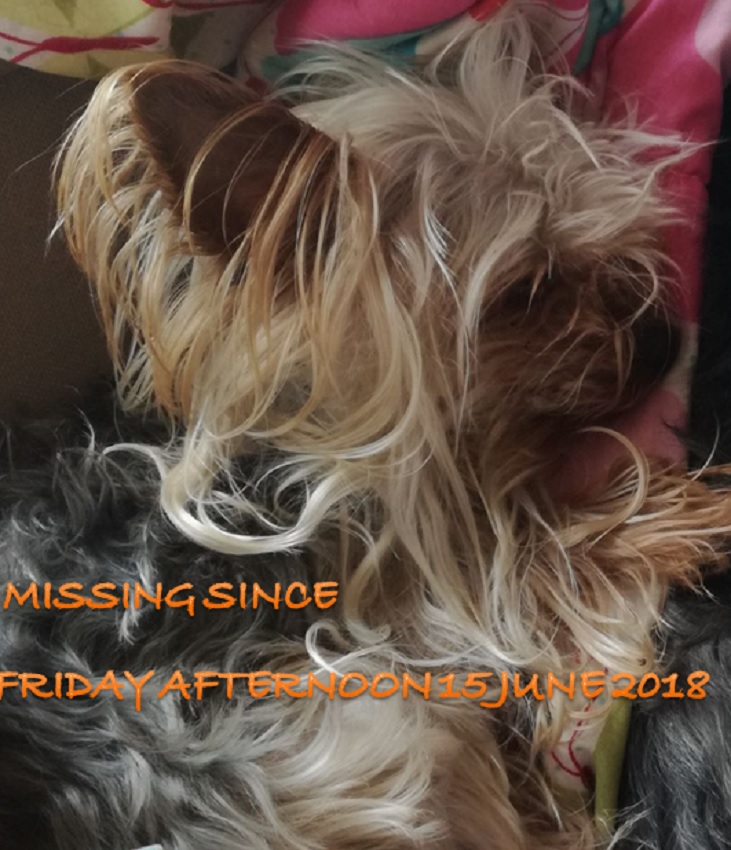 LAST SEEN ON FRIDAY 15 June 2018, AT 2:30 IN THE AFTERNOON AT HER HOME IN
DRAMGME ROAD , WILGEHEUWEL,
very near to the CLEAR WATER SHOPPING MALL
KINDLY CONTACT THE OWNER Cherise on 074 722 4286
alternatively the BREEDER
Joyce 072 234 0791 or contact me through this website
We want this much loved baby back home ...
NO QUESTIONS ASKED....
Thank you for your help
It is sad to know that a lot of folk out there are not honest, etc and think if they see a dog it is theirs for the taking (EVEN IF IT IS SEEN IN SOMEONE'S GARDEN) HOWEVER the micrcochip importers are wising up to this and NOW there is a hot list, dogs such as the above's details, will appear on that hot list and if ever - that dog is scanned for whatever reason, that dog is going to be listed as having been stolen !!!!!!!!!!!!!
it will then be up to the thief to PLEASE EXPLAIN - THERE WILL BE NO EXCUSE FOR THE THIEF TO HAVE THIS DOG IN HIS OR HER POSSESSION, AS IT IS CHIPPED, THE OWNER CAN AND WILL BE TRACED, THE LEGAL OWNER THAT IS.
- If the dog YOU HAVE IN YOUR POSSESSION was not purchased by you - you have no right keeping that dog or pup irrespective of the circumstances
SO IF YOU SHOULD EVER BE OFFERED A YORKIE AND ARE UNCERTAIN OF THE BACKGROUND, HAVE THE DOG SCANNED AT A VET, ANIMAL SHELTER AND RATHER CHECK UP -
if you dont you may find yourself IN THE HOT SEAT -
you are at risk of being prosecuted keeping a dog that is NOT YOURS TO BEGIN WITH
if you are caught with a chipped dog or pup that is marked or listed as being lost or stolen on the hot list BEWARE




BELOW: OH SO ADORABLE, MORE PICS OF OUR BIEWER TERRIERS WITH THEIR OWNERS ETC ON OUR BIEWER WEBSTIE.
www.mijoybiewerterriers.co.za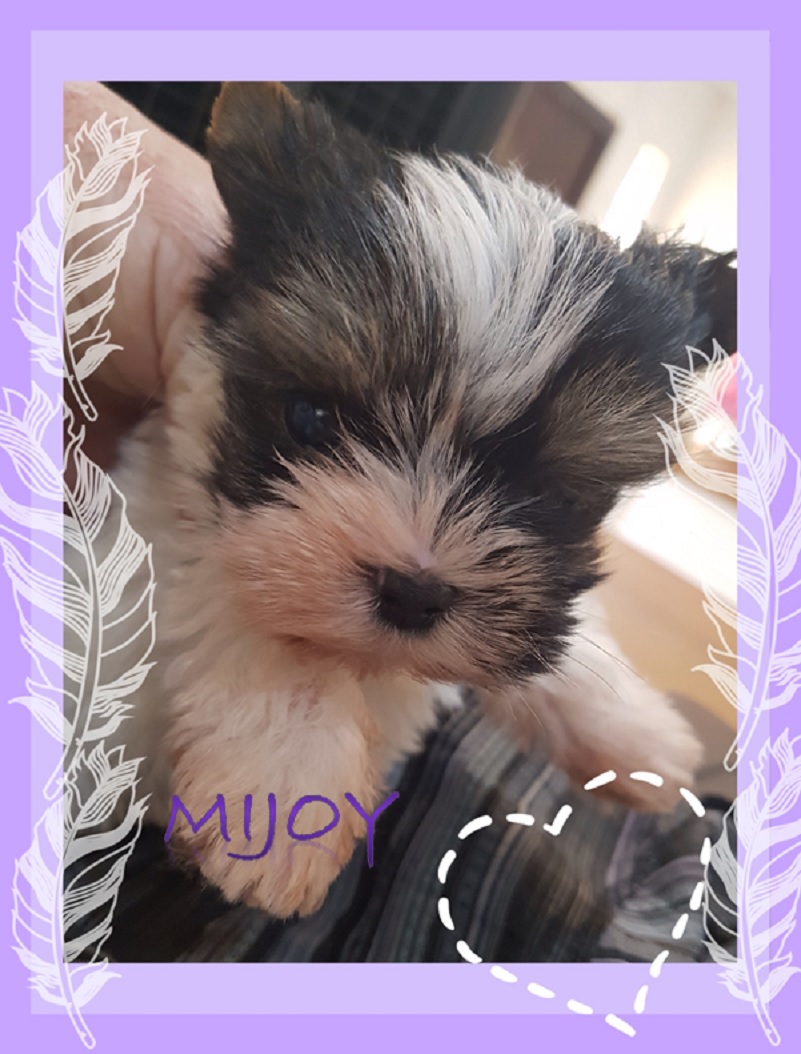 BELOW : ANGEL ONE VERY LOVED YORKIE SEEN HERE WITH HER MOM ON HOLIDAY AT A PET FRIENDLY HOTEL...
OWN - DOG AND CAT MENU ----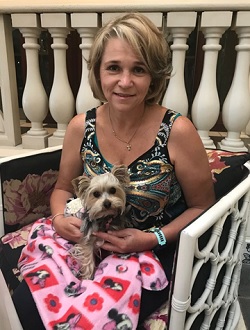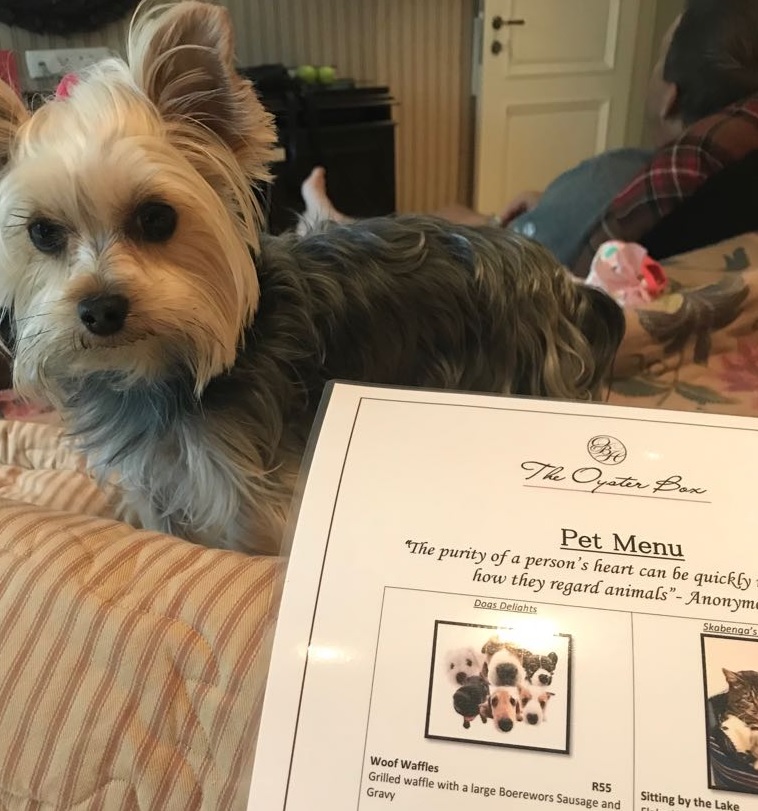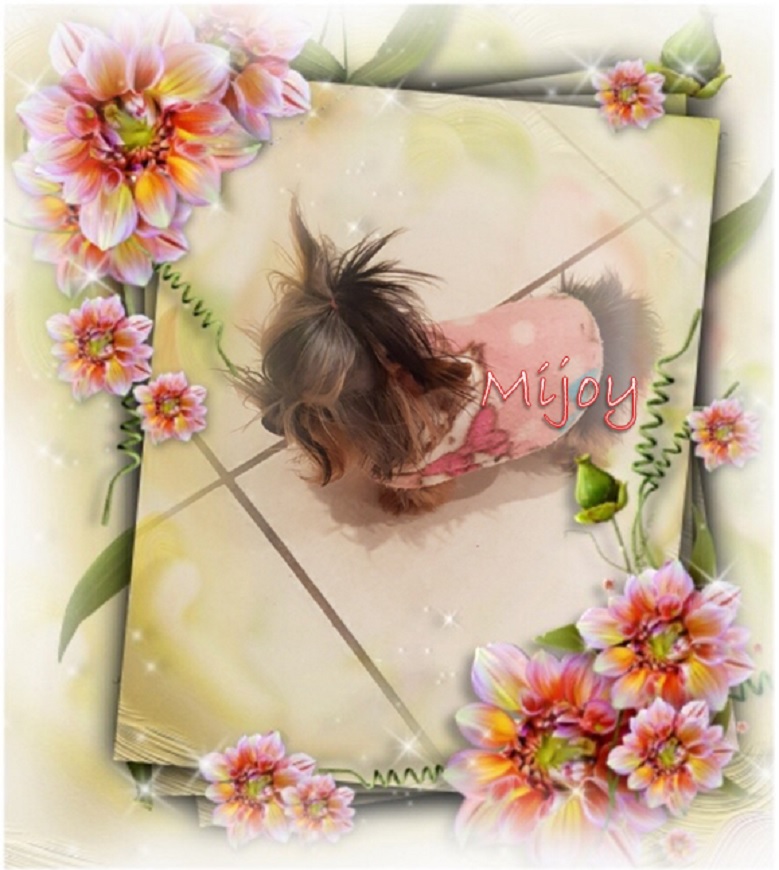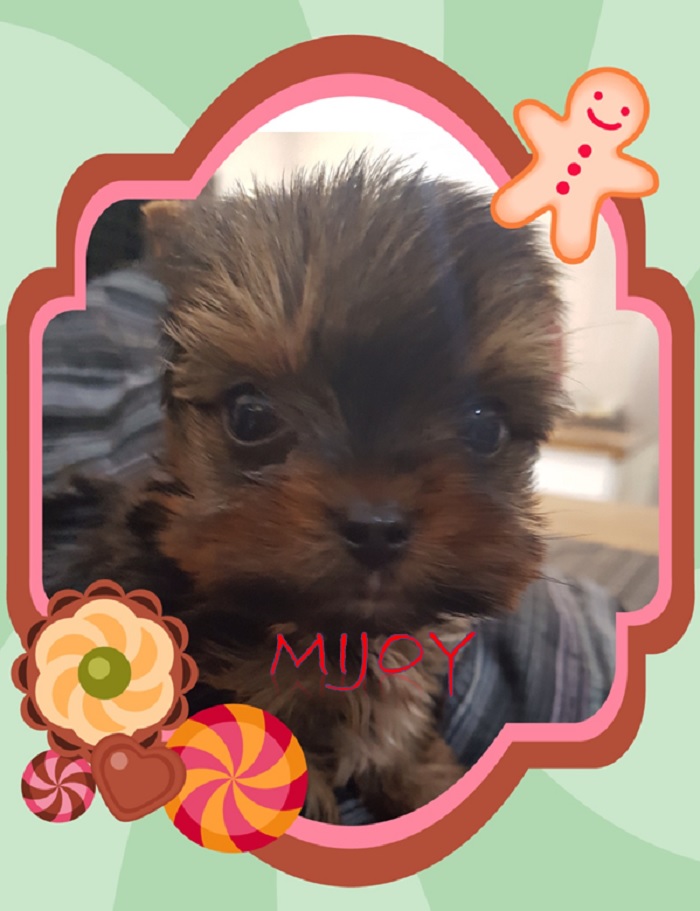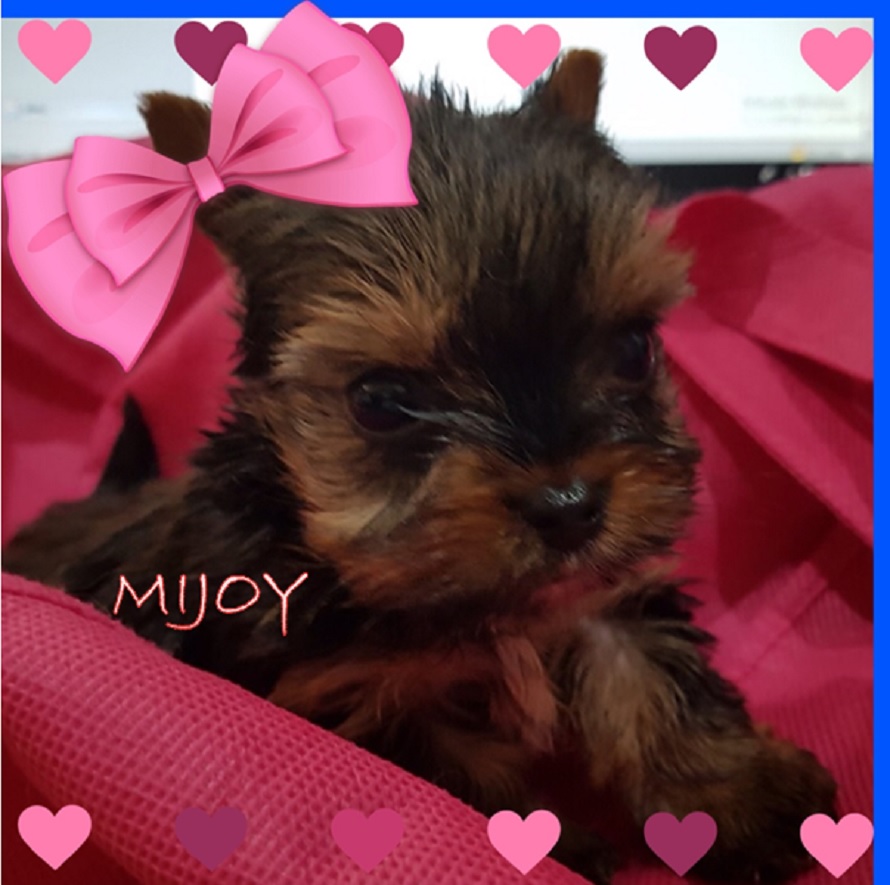 ABOVE: Proud to have bred this baby, PROUD to own this baby....
26 April 2018 - WELCOME TO MIJOY
qUALITY not quantity
*Genuine TEACUP * pocket sizes * miniature sizes
and rarely * standard size yorkies....
we guarantee * exceptional temperaments and personalities * totally socialsed
* carry health guarantees * QUALITY PUPS
*minimum of 2 inoculations,deworming,
REGISTERED
we only breed BIEWER TERRIERS AND YORKSHIRE TERRIERS- proper coloured yorkies
no strange colours....
LOOKING FOR A GENUINE TEACUP PUP ?
YOU ARE AT THE RIGHT PLACE....
GENUINE TEACUP DOG's "R US"
20 years producing the ultimate tinies
30 plus years breeding the
YORKSHIRE TERRIER
8 years breeding THE BIEWER TERRIER
Every now and then we are blessed with a GENUINE
teacup pup in a litter or two of ours.
GENUINE TEACUP SIZED PUPS born,
produced as nature intended,
The reason they will live long HEALTHY lives
AVAILABLE TO APPROVED HOMES ONLY!!!!
This size of pup and adult dog is suited to very few
people, it is not a FASHION STATEMENT
sold with health guarantees,
leave us at
4 months of age.... AVAILABLE ONLY
VIA A WAITING LIST
The genuine teacup dog and pup….
A proper teacup dog which I refer to as a GENUINE teacup pup is not for just anyone who thinks a really tiny pup or dog is cute, adorable, COOL whatever, owning this size of dog or pup is a way of life.
If you own this size of pup, you need to realise this is not the run of the mill size of pup or dog and therefore it takes that much more effort on the owners part to see to it, it is handled correctly.
This size of pup is not sitting around waiting for an owner to come on by nor are they EVER available in numbers. Someone said to me yesterday they want the pup to choose them, well if there is normally only one teacup at any one time and being a genuine teacup it needs you to chose IT, not the other way around. We guarantee the temperament of every pup that leaves our care, so if you have a problem with any of our pups temperaments, you are not handling that pup properly. The NORM with our pups comments we receive from the buyers, they moved here as if they were born here. MUSIC to my ears. We sociallise every pup that leaves here as well.
What applied to other breeds of dogs, DOES NOT apply when it comes to the genuine teacup dog and pup. in other breeds of dogs the pup may very well choose the prospective owner, but not with a proper teacup pup. I refer to it as such as every second breeder claims they breed TEACUPS when in fact they DON'T.
I do not KNOW of, i have never been advised ever by the public or even heard of anyone else that breeds the GENUINE teacup at that, a few annually and for twenty odd years at that. Yes they may get a very occasional pup this size one in five or ten years. Very few Breeders exist that would go to the lengths we do to raise this size of dog it is labour intensive, a total love for that baby etc, it does not grow up overnight on its own, it is hands on from the minute it is born.
There is no such thing as a teacup litter of pups, there is no such thing as the Mother dog being a teacup, if you read this in adverts, hear this from the breeder, realise it is total nonsense, NO teacup dog is capable of giving birth naturally. Teacup males are NOT stud material either. So if you read or hear how the father is teacup or the mother is teacup or there is a litter of teacups BEWARE total inaccurate statements. If anyone resorts to breeding with a proper genuine sized teacup they are putting that dogs life on the line.
What can and sometimes does happen a pup is purchased by the public and ends up far smaller than expected, this pup was sold to the public as a bigger sized pup that never grew as it should have. However when we refer to a genuine teacup pup this is a pup that has been born at a teacup weight, remains at a teacup weight every week, reaches the milestones teacups should reach at certain ages etc, this is almost an art when it comes to this size of dog, they just are not born grow up go to their new homes at a few weeks of age, DOES NOT HAPPEN, this pup is tiny.
Our teacups the GENUINE TEACUP is born in a litter with other pups of varying sizes from pockets, to miniatures and sometime although very occasionally standard sized pups. RUNTS well i guess runts do exist, but to me, a runt is a pup that has health issues, very underszied does not thrive well, battles etc, teacups GENUINE teacups dont exhibit any of these signs, they just need to be with a mother dog, that does not have a bunch of far bigger pups in the litter, if this is the case, BABY needs to move to another Mother who has more suitably sized babies in her litter. I dont believe in hand raising any pups, i will supplement around the clock if i have to, but the best place for any pup, is with a mother dog.
A teacup may end up with a couple of Mothers by the time it reaches a certain age, as it is more inclined to be suited to new borns in a litter than pups of a few weeks of age. we dont allow our tinies to struggle to get to the milk bar.
A genuine teacups development is worlds apart from the normal small yorkie pup.
They remain here for 16 weeks, not 6 or 8 weeks, there is a major difference and furthermore, the time they leave here at 16 weeks they weigh what other TEACUPS ???? out there, are weighing at 6 and 8 weeks of age.
Our teacups are born as nature intended, NOT manipulated into being born by inter-breeding, etc, that is BAD NEWS that is when the public buy pups with health issues their entire lives. Dogs that live short lives, dogs with health issues etc, if bred properly this will not happen, If in the right hands as in the owner of this baby, it will not happen. However I have had the misfortune in years gone by of having KNOW IT ALLS, buy this size of pup and it proved at the end of the day they knew precisely NOTHING with regards to handling a genuine tiny baby. we are there every step of the way to edcuate assist people who do have the lifestyle to own such a tiny pup, with seeing nothing goes wrong.
The cost of such a pup - this size of pup is not cheap. Ours leave us at four months of age, at this age, they have had all their shots plus rabies, they have been monitored around the clock for weeks on end which we expect their future owner to do. this is not a toy, something you can brag about, this is a living tiny little dog that we expect you to do right by. We do breed all sizes of the yorkie and biewer terrier rarely the standard size however, but Pocket sizes we do get, have all that size of pup.
We have bred and owned TEACUPS from as little as 550gms as an adult weight dog.
We only work with waiting lists on this size of pup and we will only sell this size of pup to people who know the rules, if you party non stop, go on holilday leave dog at home or with your neighbour and please NEVER a kennel don't buy the genujine teacup, this is a pup and dog that is part of the family, goes everywhere with you. never left at home. People out there with my tinies, if the tiny cannot go, they dont go, the right attitude to adopt, if you cannot offer a tiny the right home, right environment, to be a part of your family, DON'T be tempted to buy it.
MIJOY have owned the yorkshire terrier for well over thirty years and have produced as nature intended GENUINE TEACUPS for the last twenty years. We advise our prospective buyers what we feel works, what we know works, this pup is suited to very few people. this is not a pup to be bought on the spur of the moment. We only supply via waiting lists and that takes time and patience. Our pups are sort worldwide.
YOU are most welcome to contact me I can fill you in on further details, we dont expect our tinies or any of our pups,no matter what size they are, to be a BURDEN on their owners, suffer ill health, frequent visits to the vet, etc, we are used to our pups living very long HEALTHY, LIVES with their owners. We start the process - we expect our owners to continue it.
THANK YOU FOR YOUR TIME.
RAW DIET BEWARE…….. 18 March 2018
This article was taken from a veterinary newsletter THIS MONTH IN THE CAPE
The latest nationwide Listeria outbreak has naturally got pet parents concerned about what they should and shouldn't be feeding their pets. Listeriosis is a serious but treatable disease caused by Listeria monocytogenes, which is widely distributed in nature and can be found in soil, water, and vegetation. "Risks of infection in pets, while possible, is less likely.
Pets with underlying disease conditions, weakened immune systems and those who are older are at an increased risk," explains Dr. Guy Fyvie, Nutritional Advisor at Hill's Pet Nutrition, South Africa. Discussing raw food diets vs prepared food choices, is a bit like discussing politics or religion at a dinner party, but when it comes to Listeriosis you need to know the facts. The American Veterinary Medical Association and the American Animal Hospital Association, as well as the FDA, have all come out with official positioning statements cautioning against raw food diets. In one study scientists evaluated 480 samples of dry and semi moist food and found only two incidences of contamination. One was positive for Salmonella and the other for Listeria greyii. This comes to a 0.4% contamination rate. On the other hand, of the 196 samples of raw dog and cat food, a total of 88 were found to be contaminated — 65 for Listeria, 15 for Salmonella, and 8 for E.Coli – a 45% contamination rate. Dr. Fyvie says you can prevent your pets from exposure to Listeria infections by following these tips: • Pay attention to the news. Any food that is unsafe for you is also unsafe for your pet. Make sure you discard contaminated products properly, you don't want your pet finding the item later. • Stick to safe treats. Stick to nutritious Hill's stews rather than giving your pet viennas, sausages or cold meats as a reward. • Cook meat thoroughly. If you feed your pet meat make sure it's been cooked, no matter what it is. Listeria is very heat sensitive, a core temperature of 70°C will kill the bacteria. If you're worried your pet may have come into contact with any Listeria contaminated products; then look out for the following symptoms: Diarrhoea Nausea Fever Vomiting Weakness Lack of co-ordination As a pet parent you may be wondering if your pet can pass the disease onto you? Dr. Fyvie says this is highly unlikely, however. "You have a greater chance of contracting Listeriosis from pets eating raw diets." According to Dr. Fyvie pet parents have no need to be concerned if their pets' food is made by a reputable manufacturer under strict quality control measures such as Hill's Pet Nutrition. "Hill's ethical sourcing of raw ingredients from limited certified vendors and the processing and controls in place during manufacture, packaging and shipment means the chances of Listeriosis is practically non-existent."
RAW DIETS HAVE MADE HEALDINES IN RECENT MONTHS, IN OVERSEAS COUNTRIES ESPECIALLY AND ONE HAS TO BE EXCEPTIONALLY CAUTIOUS IF YOU FEED A RAW DIET TO A SMALL SIZED DOG OR PUP.
I SPEAK FROM EXPERIENCE, I WILL NEVER TOUCH THIS DIET EVER AGAIN.
If you feel raw is the answer, insist on the information from the manufacturer and or distributor, that the raw meats and poulty used are in fact tested, as are the human meats and poutlry tested to ensure they are free of disease, that the process used to prepare them for sale is of the best and most hygienic possible and above all else, the rules are followed,
NO short cuts used in preparing them for you to dish up to your LOVED PET.
It is to be remembered however, that a raw diet has a very short SHELF LIFE if it can be referred to as that, you cannot let it stand, it will become A RISK to your pets HEALTH, once out in room temperature for feeding your pet, the bacteria will start to multiply the longer it stand the more it will multipoly and dramatically therefore it is a diet that needs to be monitored, fed and removed, YOU cannot just leave it, fridge life is also limited.
ENSURE IF you throw it out, it is not in a place any other animal can access it,
for example when tipping over the bucket .
Once raw meat or poultry is full of bacteria it is toxic and can be fatal
IT is exceptionally sad to see what appears to be a healhty pup one minute,
fall over, stone dead - the next minute
Poisoned from bacteria in a raw diet. Once the bacteria enters the pup or dogs, blood stream NOTHING will stop the animal from passing.
If in any doubt ask your VET....
NEWS FLASH!!!!
not just another toy.....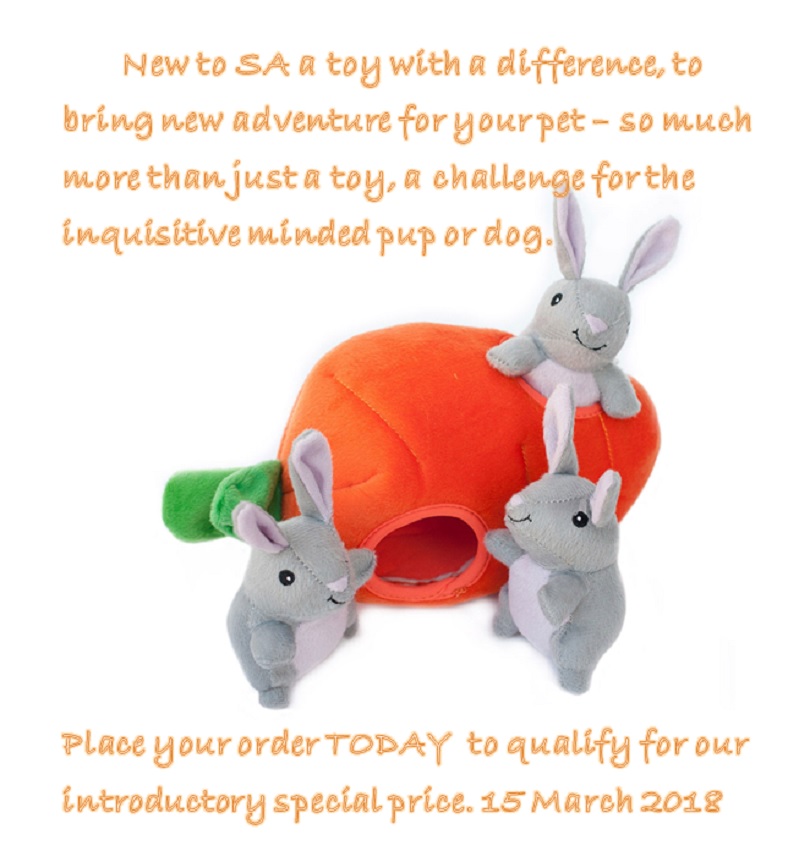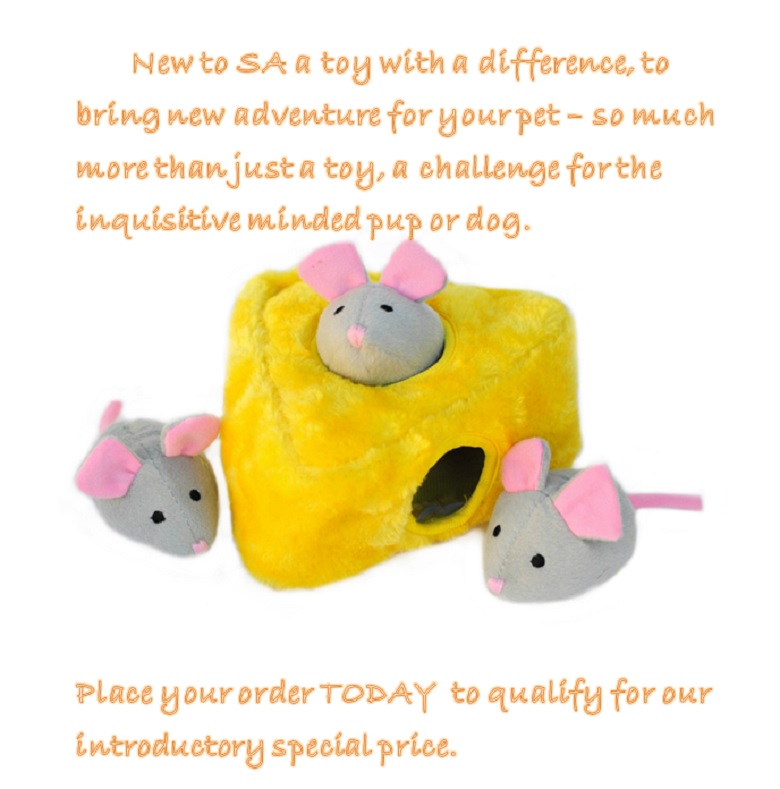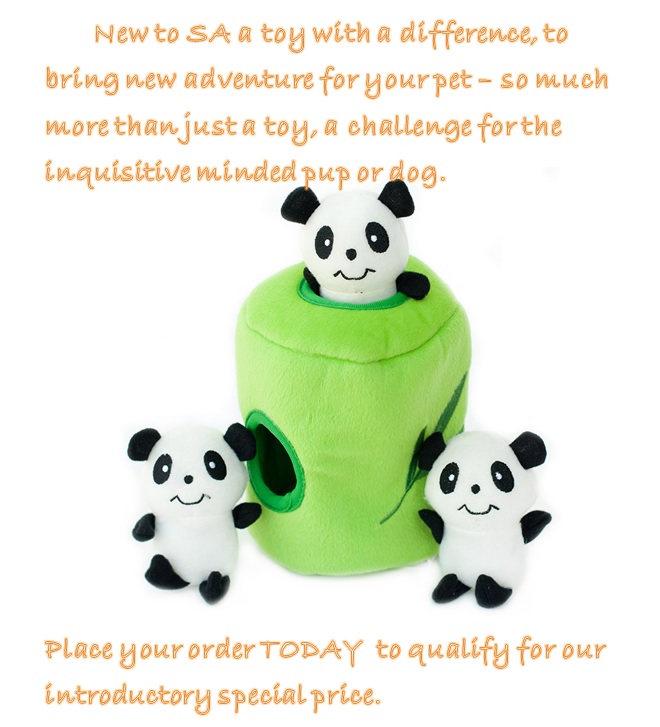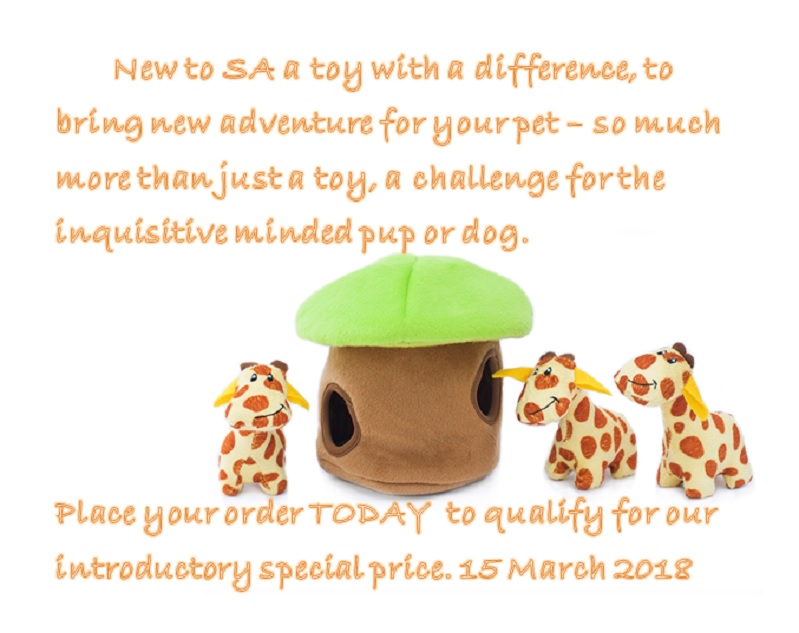 Cooling vest ..................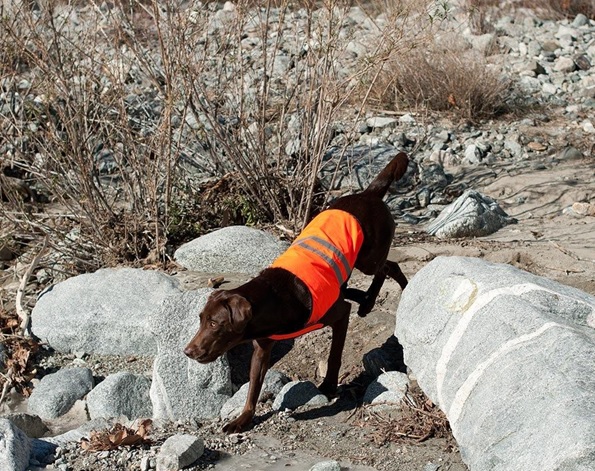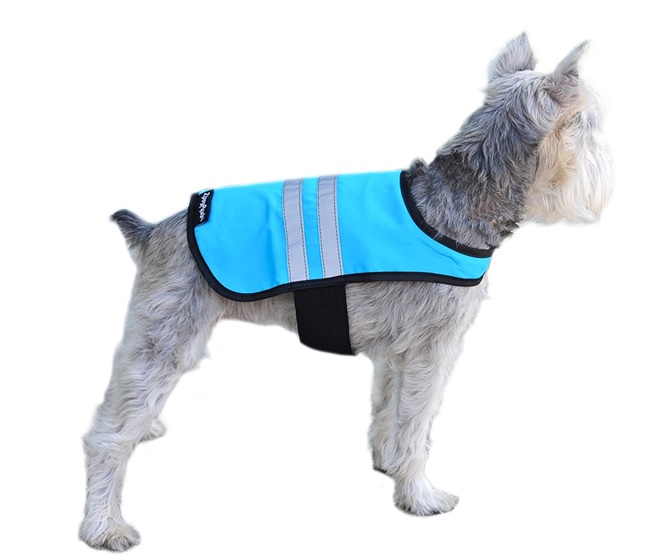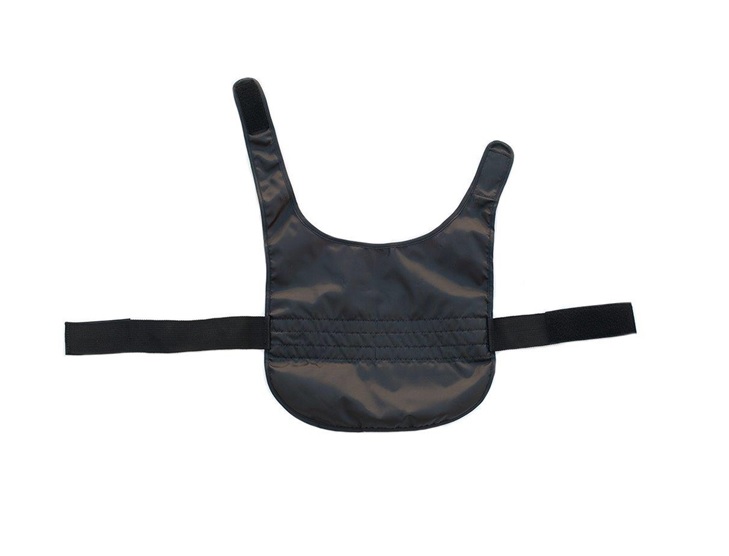 TUG OF WAR AT ITS BEST....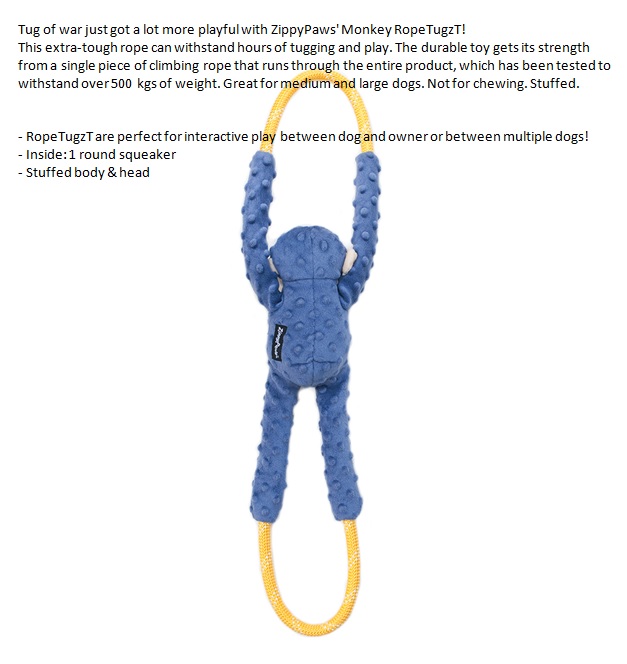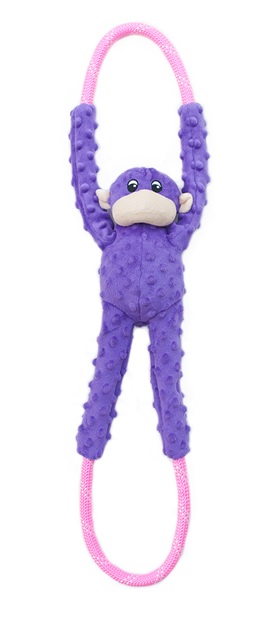 To qualify for the above INTRODUCTORY special price, orders with payment must reach us before the 8 APRIL.
Enquiries to : info@mijoy.co.za
8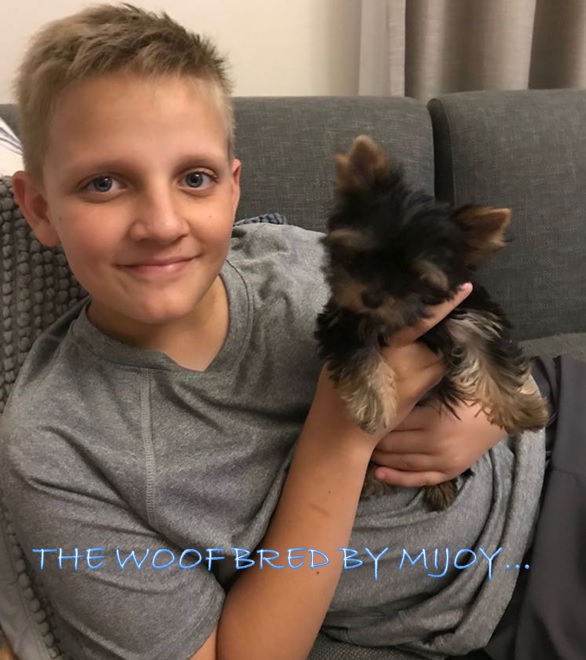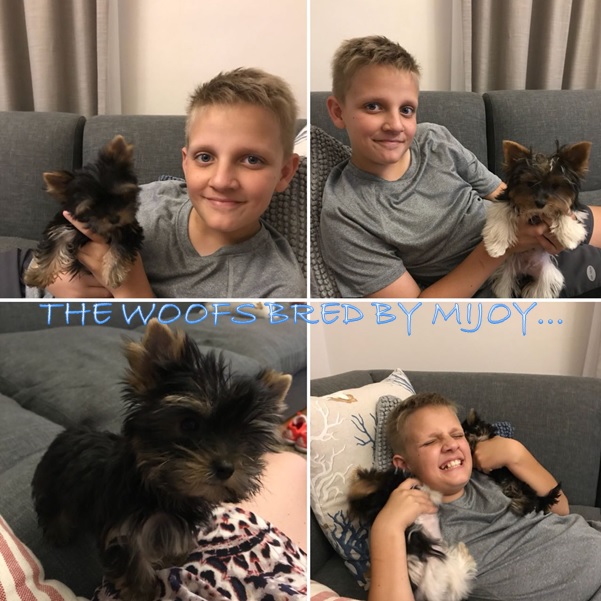 Sent: Sunday, January 14, 2018 7:18 AM
To: mijoy@wam.co.za
Subject: Merlot
Dear Joyce
Here is a photo of the most important little man in our lives: Merlot Pieter Humphries.
Born on the 12th August three years ago, he is the smallest, most perfect, intelligent little man around. He is the center of our lives.
Thank you,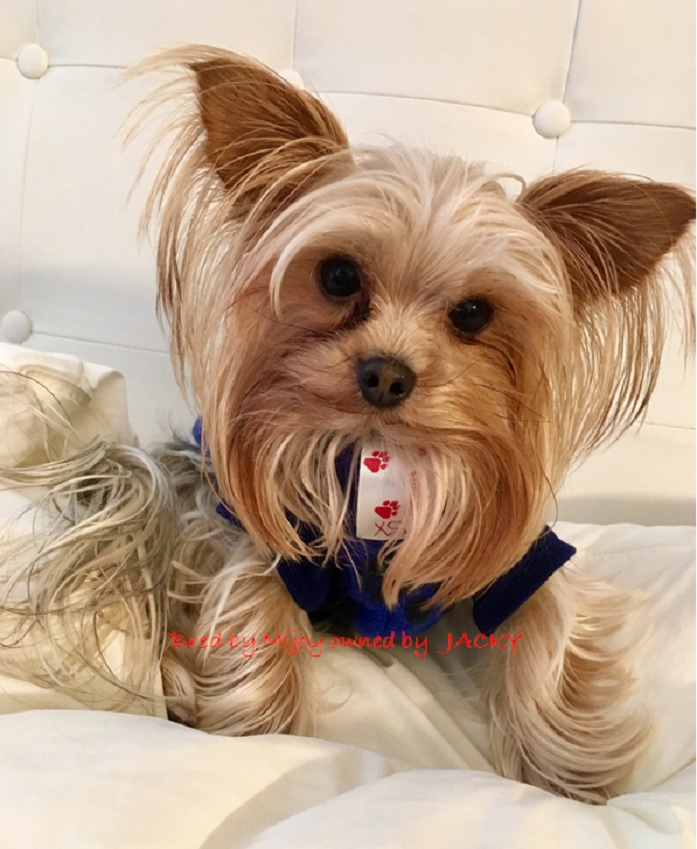 From: Jeanne L
Sent: Wednesday, January 10, 2018 11:22 AM
To: 'Mijoy'
Subject: RE: Pups info.
Hi Joyce
We & Max are enjoying Annie every minute. Such a cute little one – but, on the other hand, all your dogs are!! So no surprise!
Kind regards from a happy mom!
Jeanne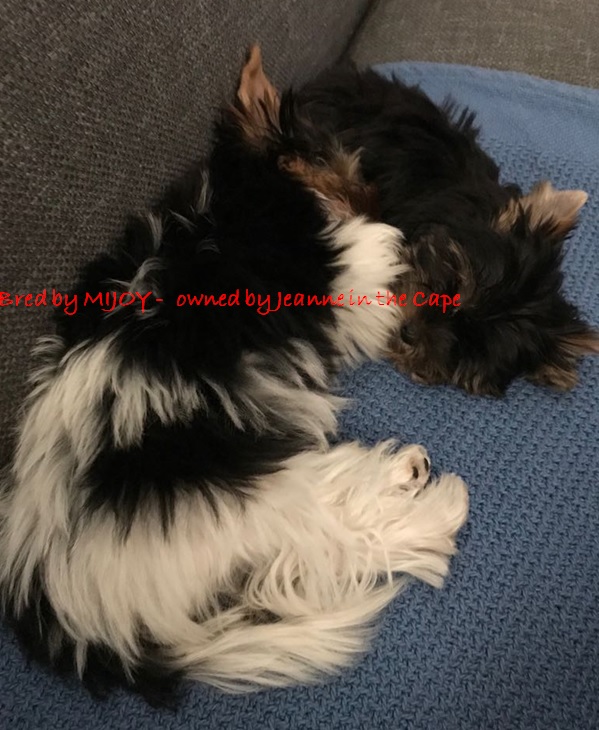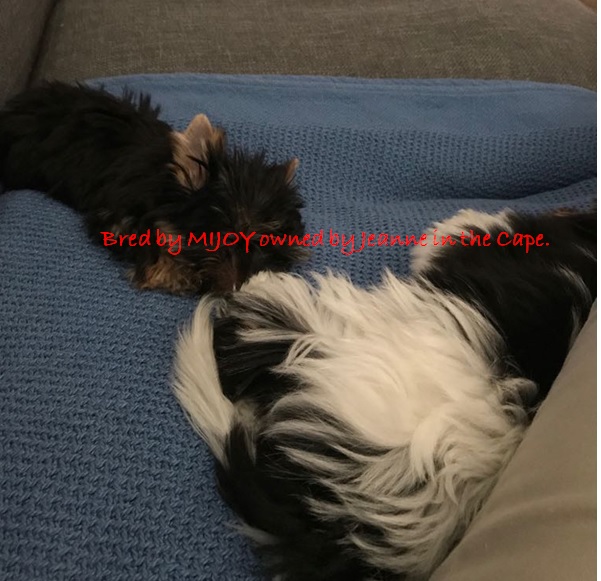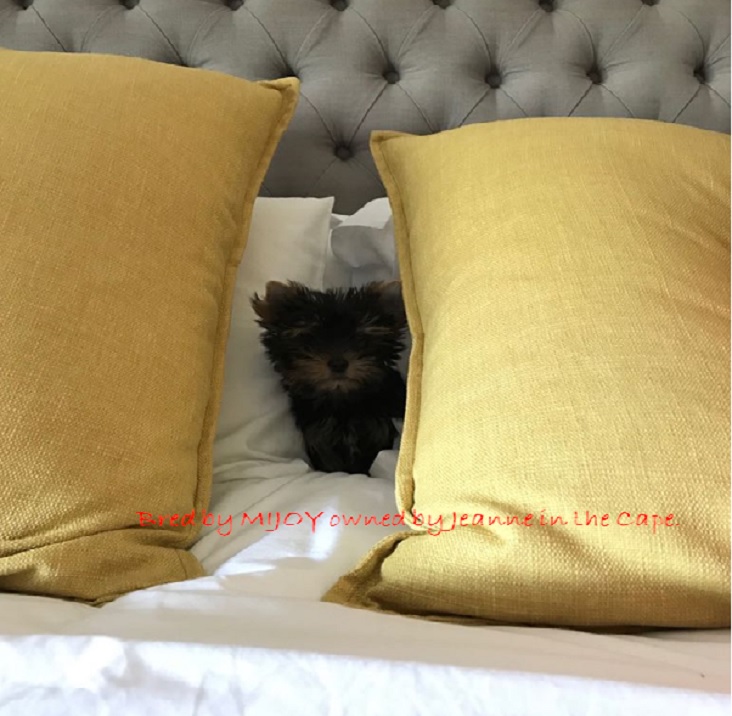 BELOW - BIEWER TERRIER BRED BY MIJOY OWNED BY SALLY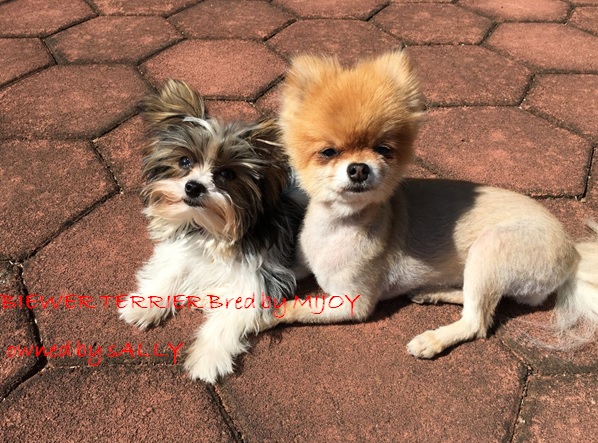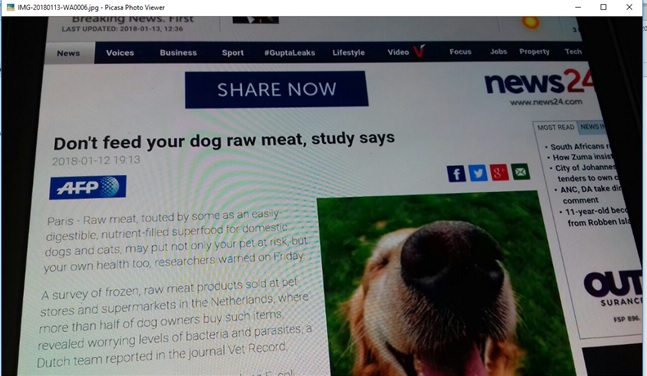 We would like to draw your attention to using a raw diet on a tiny sized pup or tiny sized adult dog.
Irresepctive of what you are told, check with your vet before you decide to go raw and feed a tiny - a raw diet.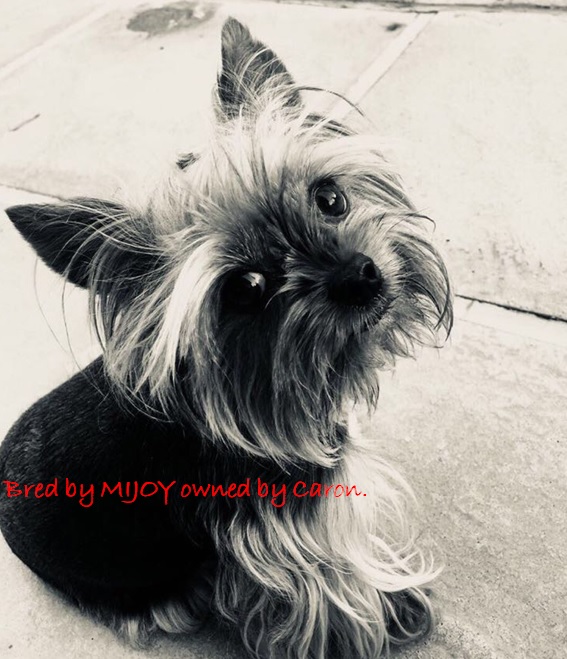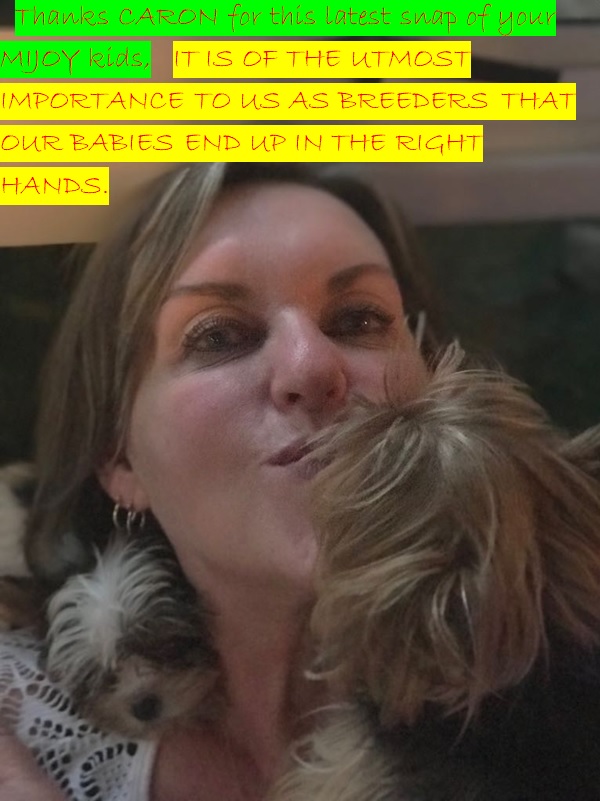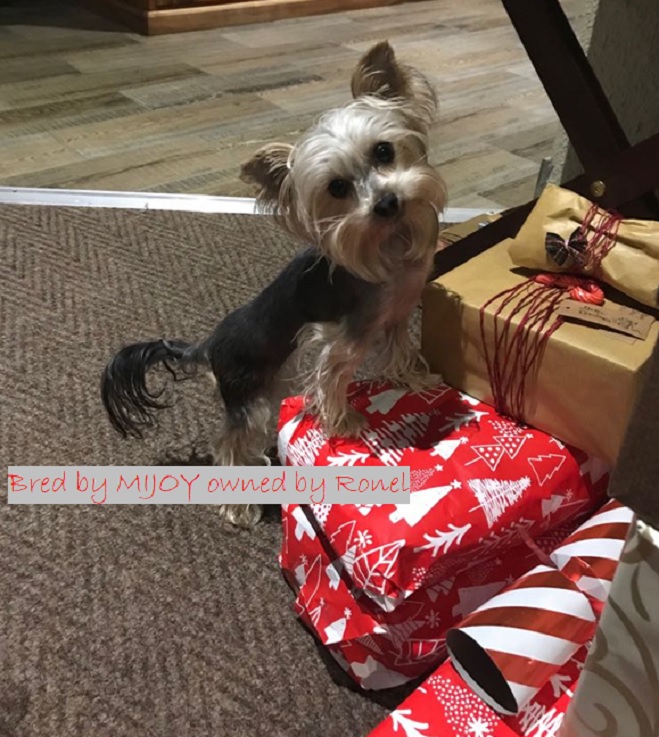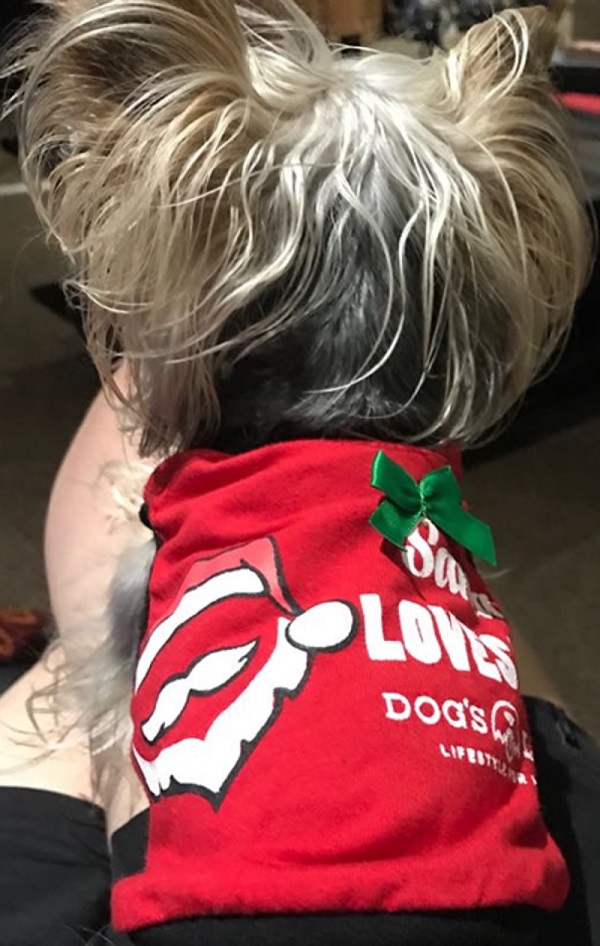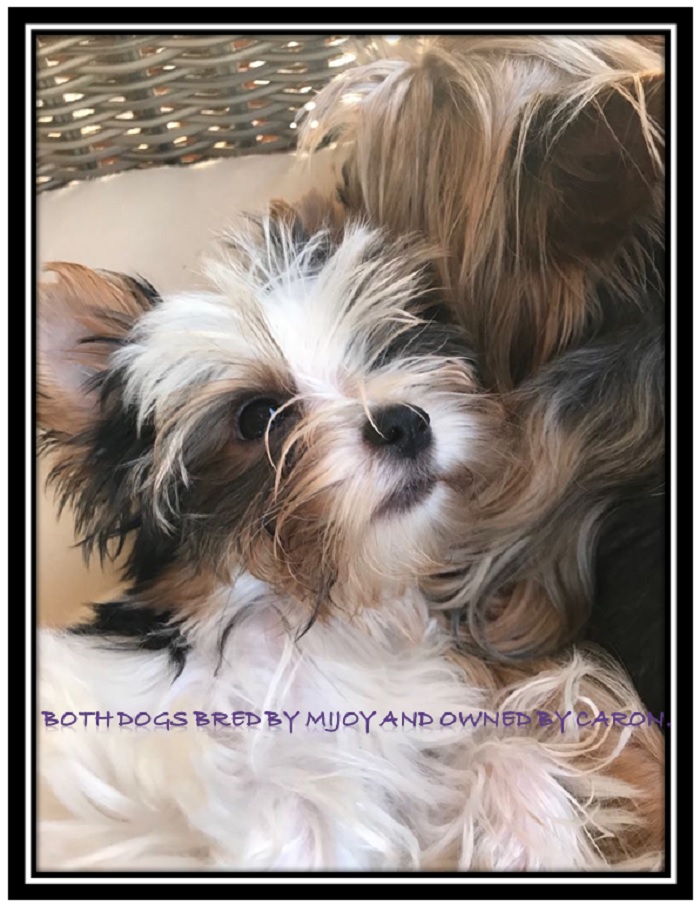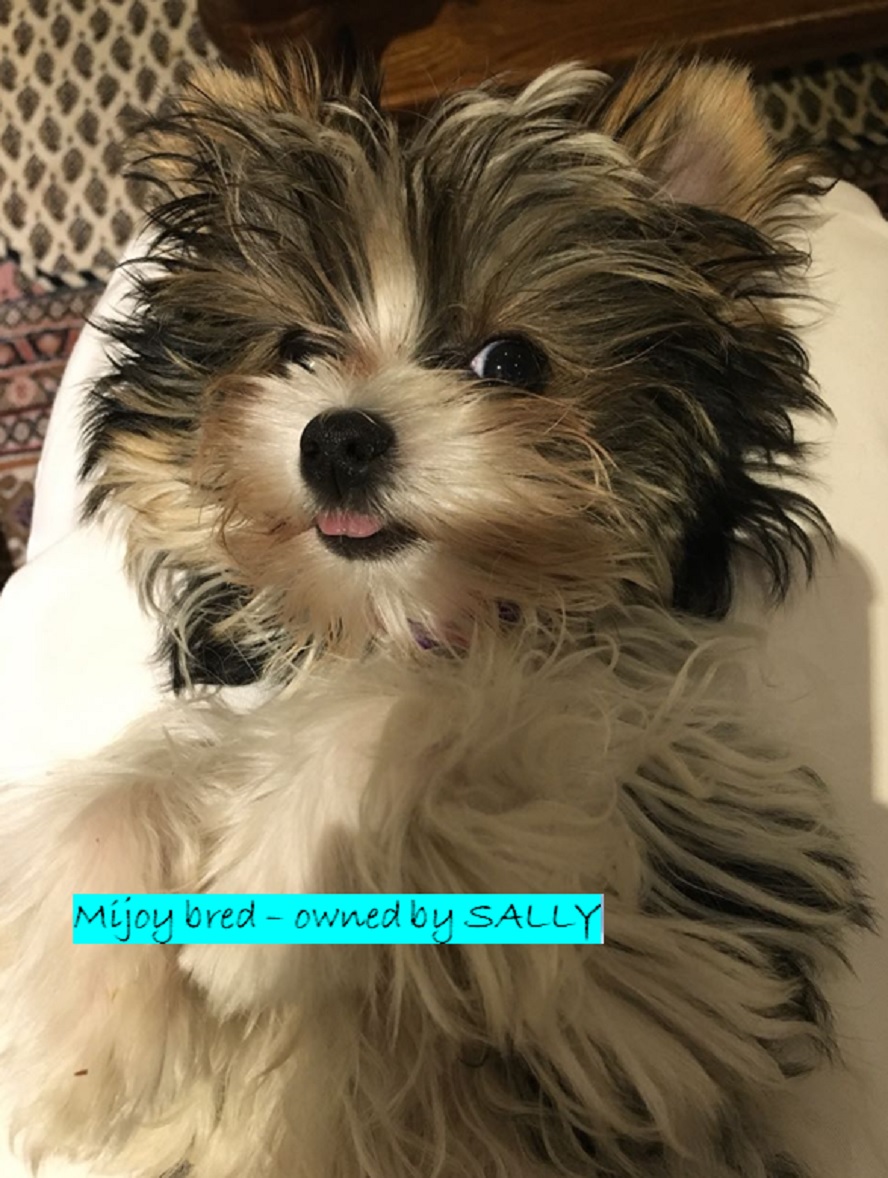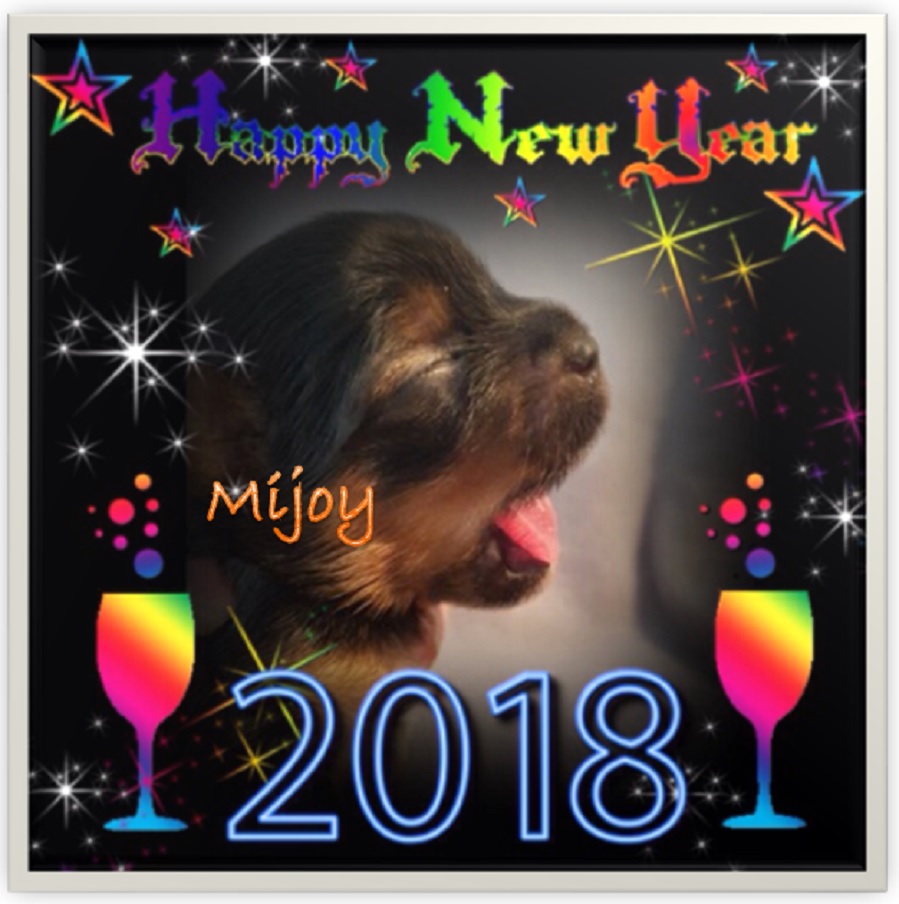 MIJOY IS THE GENUINE TEACUP YORKIE... BREEDERS FOR WELL OVER 30 YEARS
producing TEACUPS FOR TWENTY ODD YEARS....
We sell long-lived,
tiny healthy, genuine teacup yorkies and now the BIEWER TERRIER in the tiny sizes....
We do not have teacups waiting for buyers,
we work strictly with a waiting list and these TINY ANGELS
will be placed in approved ,suitable homes
From: Simone Parsons
Sent: Sunday, December 24, 2017 11:54 PM
To: mijoy@wam.co.za
Subject: Newsletter and our precious little Milo boy
Hi Joyce,
Seasons greetings to you. I wanted to take the opportunity to thank you for the exceptional breeding standards you adhere to. Milo is now 4 years old and very much the little love of our lives. He is just a bouncing bundle of joy who lights up our home. We have never had any health related issues...not one. Thank you for the time and effort you put into your newsletters and I do hope that you will continue to send them out each month as I find them so informative and interesting to read. It also makes me feel connected to a community of owners who have purchased your exceptional fur babies. Thank you for all that you do and I wish you the very best for the New Year.
Looking forward to seeing a newsletter pop up in my email in the new year! xx

--
Best Regards,
Simone Parsons
My sincere thanks to Simone, I will continue with my monthly newsletters and NUMBER 121 will find its way into the email boxes in the beginning of 2018,
to all those dedicated dog owners and future dog owners
that are assosciated with MIJOY - MY THANKS TO YOU ALL.
BELOW IS THE COVER PAGE OF OUR DECEMBER 2017 NEWSLETTER
ISSUE NUMBER 120

Mijoy wishes you and yours a wonderful festive Season

Be on your game, every step of the way....
a few suggestions below....
VALUABLE INFORMATION FROM THE GETMEKNOWN - PET IDENTIFICATION TEAM

Once again excellent tips below from ROGZ PETZ INSURANCE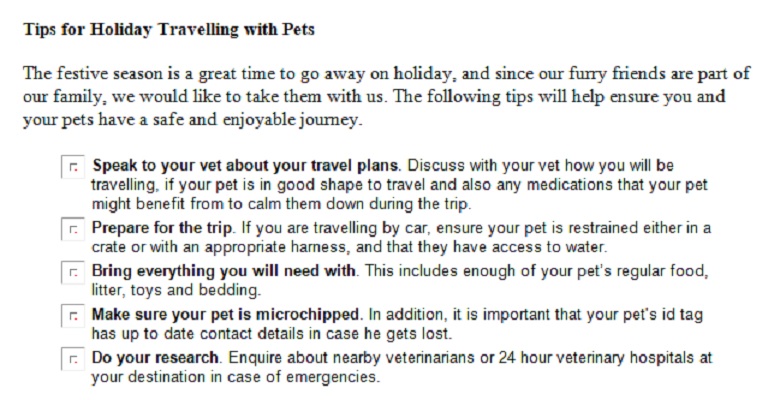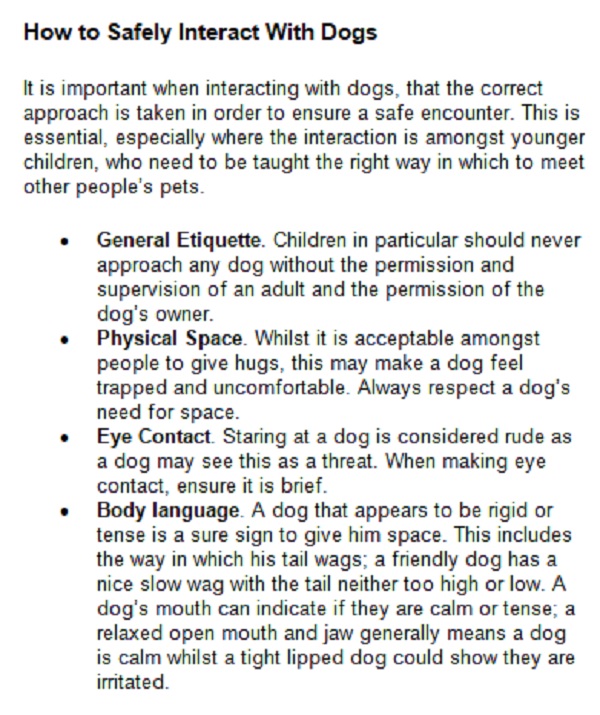 FOR THE SAFETY OF ALL CONCERNED,
ALL PETS IN A VEHICLE SHOULD BE CONTAINED
Below: two MIJOY bred much loved pets.
OUR PUPS ON LEAVING US ARE SOCIALISED..
CARRY HEALTH GUARANTEES...
GUARANTEED TO HAVE EXCEPTIONAL TEMEPERAMENTS...
HOME RAISED BABIES....

BIEWER terrier PUPS all placed in their forever homes
Thanks for the pics and continual updates. greatly appreciated,
www.mijoybiewerterriers.co.za

Mijoy we go that extra mile .............
where QUALITY Counts ....
OUR aim achieved, getting our adored babies, into the right homes,
below beautiful CHARLIE featured repeatedly over the years on this site and his new baby BROTHER amazing owners, thank you for the pics

BELOW : BOTH RESCUES, CAT A GOOD FEW YEARS OLD, FOUND IN THE GUTTER - NOT EVEN IN A BOX, WITH TWO OTHER KITTENS, BROTHERS,
THE YORKIE - TAKEN BACK FROM A FEMALE (YEARS AGO AS WELL) THAT ABUSED HER
if you want to take your frustrations out on someone - PICK SOMEONE YOUR OWN SIZE.
So often dogs that have been raised in abusive hands, carry those scars their entire life.
DONT BUY A PUP IF YOU ARE NOT CERTAIN IT IT FOR YOU

IMPULSE PURCHASE

AND STERILISE YOUR PETS.
IF YOU CANNOT ACT RESPONSIBLY AND DO RIGHT BY THEM, DONT OWN THEM, THE GUTTER IS NO PLACE FOR THREE LITTLE KITTENS ...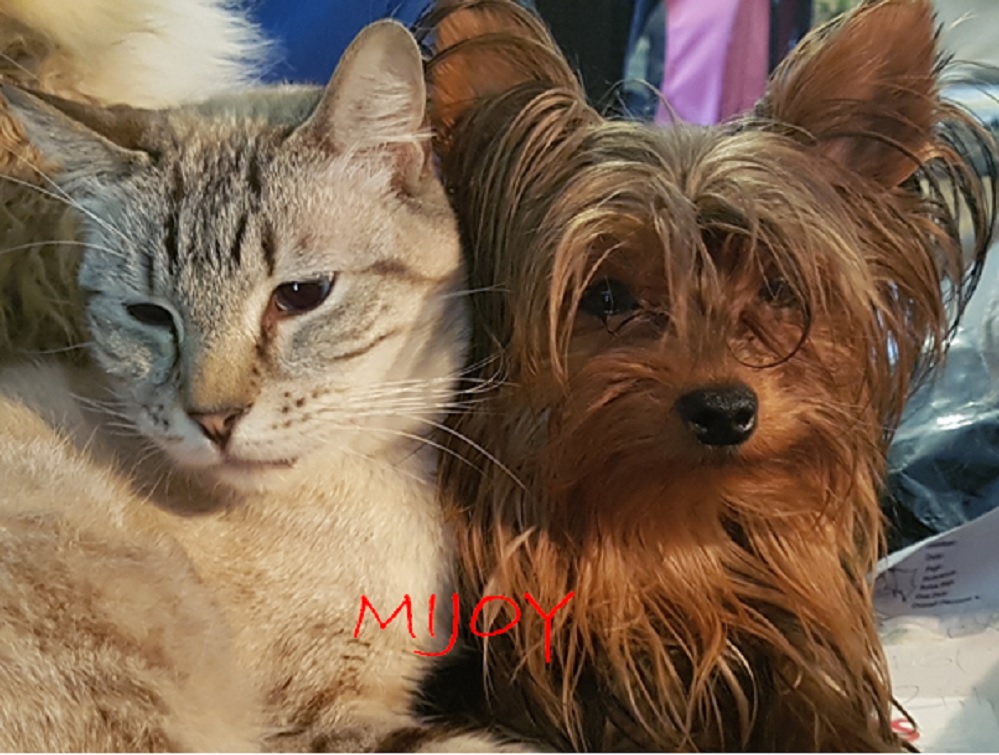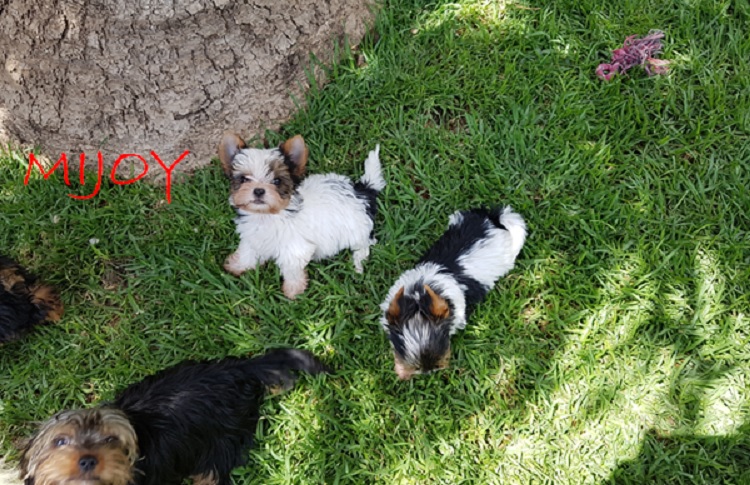 Below : Angela and her boys, amazing owners CONGRATULATIONS on your new addition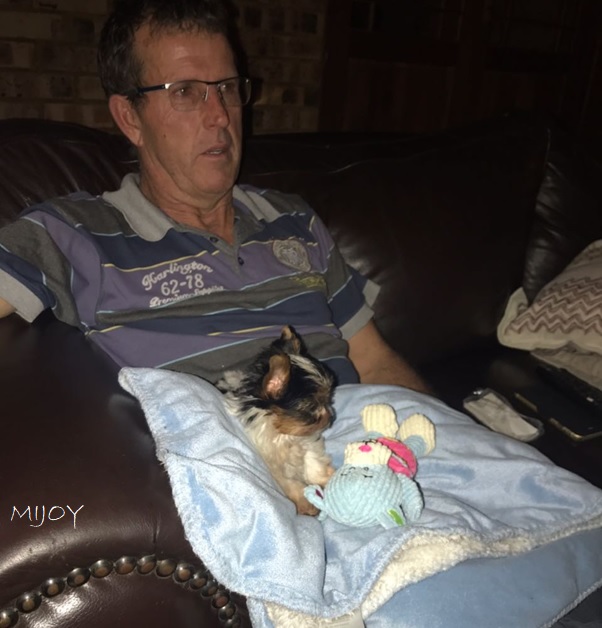 BELOW: proud to say we bred her, photographed here lying relaxing on her back, thanks SALLY for the latest pic of one obviously very loved, biewer terrier 5 months old LOLA.
LOLA gives new meaning to the words OVER THE TOP CUTE

Below LOLA prior to leaving us to join her new MOTHER SALLY..

IT GIVES US GREAT PLEASURE WHEN WE CHAT WITH OUR PURCHASERS OF OUR BABIES TO HEAR HOW HAPPY THEY ARE IN THEIR NEW HOMES. THANK YOU TO JEANNE IN THE CAPE, her second MIJOY baby in her capable loving hands, her words,
"AS IF HE WAS BORN HERE"
ANGELA her words, 'SUCH AN EASY BABY"
CAROL her words - well better still her email is below....
From: Carol Steyn [
Sent: Sunday, November 12, 2017 9:29 AM
To: 'Mijoy'
Subject: newsletter
Goodmorning Joyce as always read your newsletter with great interest.A big thank you for your fantastic research and actually everything you do to keep us as dog owners in the loop.Invaluable.A lucky day for me when I got onto your website and then purchased my precious little boy.On the 26thNov.will be one year old and the most precious part of my life
Kind Regards,
Carol Steyn.
A HUGE THANK YOU TO OUR DEVOTED ANIMAL LOVING, PUP AND DOG OWNERS,
YOU ARE THE TYPE OF OWNERS WE CHERISH.
If you are wanting a pup to breed with, one to live outside, one that does not dirty the couch, one that wants your constant love and attention, thrives on it, and this is not your idea of owning a pup or dog....
Please don't contact MIJOY
OUR MUCH LOVED PUPS ARE ONLY AVAILABLE TO APPROVED HOMES
WE CATER ONLY FOR THE PET MARKET -
CONTRACT STERILISATION AT 6 MONTHS OF AGE IS NOT NEGOTIABLE
Pups leave us have at least two inoculations, dewormed, micro chipped, sold with a contract, sterilisation at 6 months is not negotiable.
ALL OUR PUPS ARE REGISTERED
They carry health guarantees, guaranteed to have exceptional temperaments, totally socialised, the very reason when they move home if you are the RIGHT OWNER they will feel at home and act as if they were born in your home. - MUSIC TO MY EARS, THANKS JEANNE
OUR TINIES LEAVE HERE ANYTHING UP TO FOUR MONTHS OF AGE
, only available to approved owners who do right by this small size of pup and adult dog.
Tinies require a lot of attention, the very reason we are over the top getting them into the right hands.
we would far rather lose a sale than have our bundles in the wrong hands
THANK YOU FOR YOUR TIME...
We do a tremendous amount of repeat business we BREED to give pleasure to people who are the RIGHT owners,
who treat our babies that we have raised with much love and attention, as they deserve to be treated.

HEDGEHOG HEAVEN PUTTING THE 'H' INTO heavenly...
We are professional breeders of the AFRICAN PYGMY HEDGHOG,
KINDLY research on the internet if you are suited to this type of exotic pet.
We have a few babies that will be available from now till before Christmas.
SERIOUS BUYERS ARE MOST WELCOME TO CONTACT US.
www.hedgehogheaven.co.za
CAPE AND CAPE PROVINCES TO OWN THIS TYPE OF EXOTIC PET , YOU REQUIRE A PERMIT
NO PERMIT, - NO HEDGEHOG

LOLA PLAYING BELOW WITH A FRIEND BEFORE SHE LEFT FOR HER FOREVER HOME WITH SALLY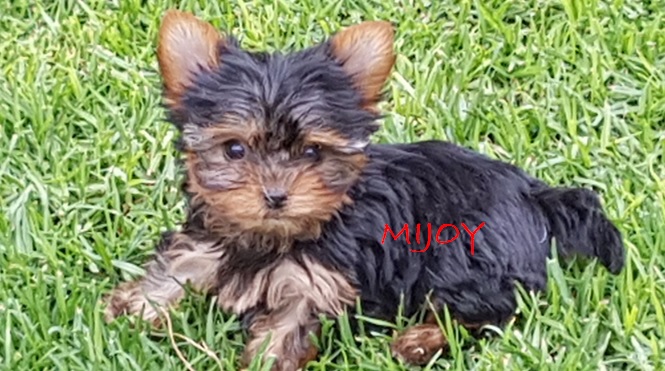 SUMMERS HERE..... thanks for the pics Michelle.

Our thanks once again to ROGZ Pet Insurance for this valuable pet aid advice when it comes to BURNS and your dog.
Burns: First Aid for Pets
Few injuries in pets are as traumatic, painful and disfiguring as a burn. Burns are injuries that result from exposure to flame or extreme heat, chemical or electrical trauma, and inhalation of smoke or noxious fumes. Most burns that pets receive come from a hot surface, appliance or substance found in and around the home. Often it takes time for the extent of the damage to be fully realised. Burns produce syndromes ranging from self-limiting injury to devastating long term incapacitation and potentially death. Both the temperature and the duration of exposure contribute to the degree of thermal injury.
Burns are generally placed into one of three categories:
First degree. Superficial partial thickness wounds involving only the top layer of the skin. The symptoms are generally limited to minor pain and redness. An example would be mild sunburn. These burns heal quickly and generally don't require extra care.
Second degree. Deep partial thickness wounds involving the deep layers of the skin. These burns are more painful, introduce a risk of infection, take longer to heal and require veterinary attention.
Third degree. Full thickness wounds involving complete destruction of all skin layers. These burns are the most dangerous and life-threatening and required immediate and extensive veterinary care.
Sunburn develops in pets that are exposed to sunlight for an extended period of time. It typically occurs on naturally hairless areas such as the tips of the ears and nose; or if the pet's coat has been trimmed too short, exposing the skin to the sun. This type of burn is usually first degree. It is painful but generally not life-threatening and resolve quickly. Chronic exposure to sun can lead to various types of skin cancer so must be avoided or sunscreen must be applied to exposed skin.
Electrical burns are most commonly found in the mouth as a result of the animal chewing on an electric cord. The lips, gums, tongue and palate may be involved. These burns are usually second degree and do result in tissue erosion and necrosis. Dogs are more often affected.
Diagnosing a burn is usually straight forward if the event is observed.
Burns that are not observed or are malicious in nature are more difficult to diagnose as most burns develop over time as tissue damage sets in and the lesions spread. In almost every case, a pet that has suffered a burn should be evaluated by your veterinarian. It is critically important that the effect the burn has on the animal's overall health be assessed. Besides the burn itself, the pet may develop an electrolyte imbalance, kidney failure, anaemia and a systemic infection. The extent, location and percentage of the pet's body involved in the burn all play a role in assessing and evaluating the long term outlook for the pet.
Prevention is always better than treatment so as far as possible limit your pet's exposure to direct sunlight, flames, household appliances and electrical cords, chemicals and smoke.
If exposure occurs:
Extinguish all flames. If electricity is involved, make sure the power is turned off.
Avoid being bitten. Even the most loving of pets will bite when painful or afraid. You may have to muzzle your pet.
Make sure the area is well ventilated.
Apply cool water compresses with a clean cloth. Change the compress frequently and keep the site cool and wet. The area affected can also be submerged in cool water. This may prevent the burn from penetrating deeper into the tissues.
If the burn is from a dry chemical, brush away as much of the substance as possible. Be sure to protect the mouth, nose and eyes of you and your pet. Wash the contaminated area with large amounts of warm (not hot) water. Protect yourself with appropraite safety equipment. If the chemical has gotten into the pet's eyes, flush with clean water for 15-20 minutes.
Do not break any blisters that have formed.
Do not apply any ointments or butter-like substances.
Do not apply ice to the burn.
Carefully transport the animal to your veterinarian.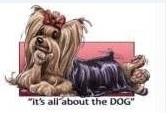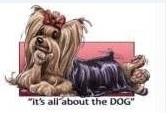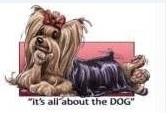 BELOW : PHOTOGRAPHED AT THE JOHANNESBURG BALLET dress rehearsal for the up and coming season of SNOW WHITE
Opens at JOBURG THEATRE 13TH OCTOBER 2017
MIJOY yorkie pup in the middle of the pic, unfortunately she only was visiting.
Thanks for sending the pics...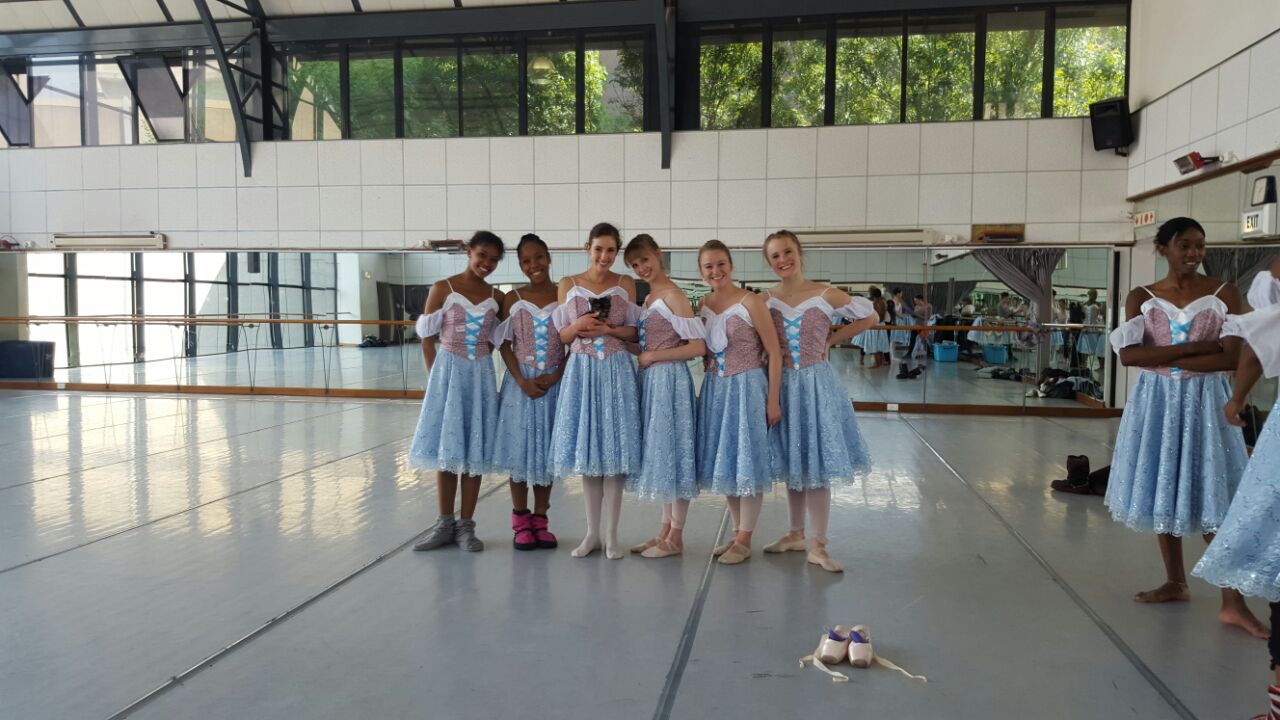 BELOW: ONE OF OUR ULTRA CUTE PUPS, IN HER NEW HOME.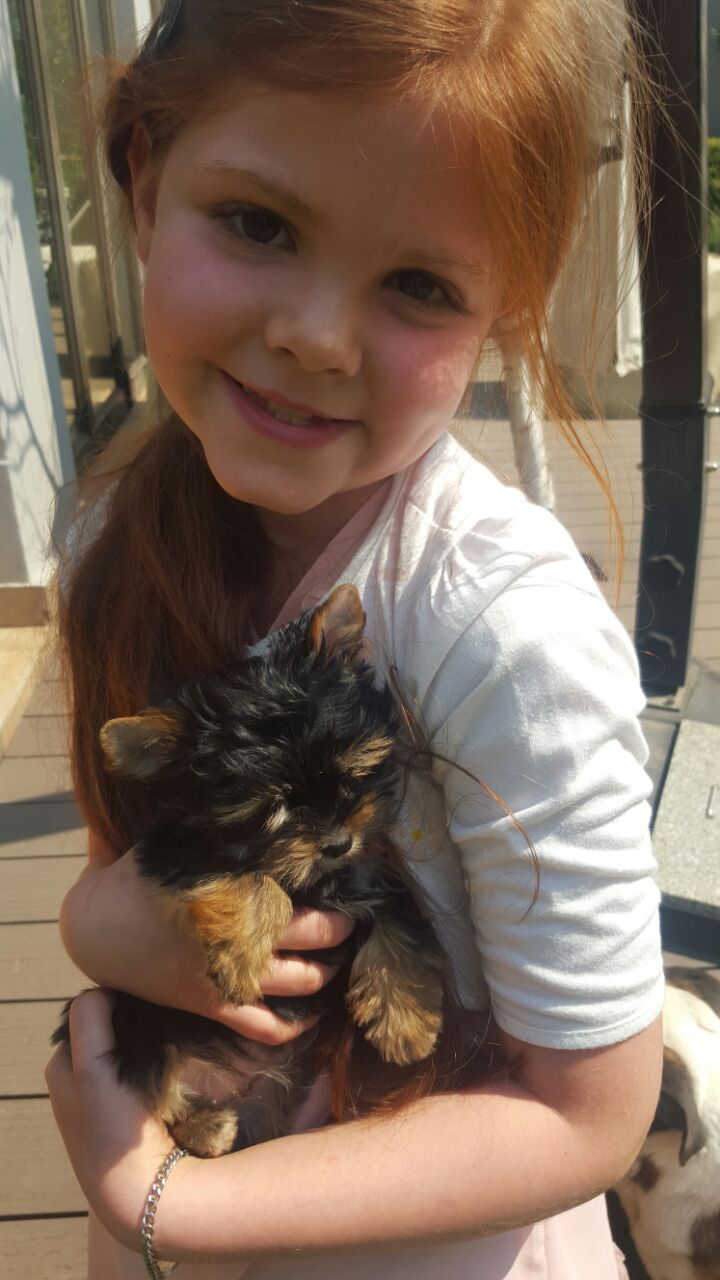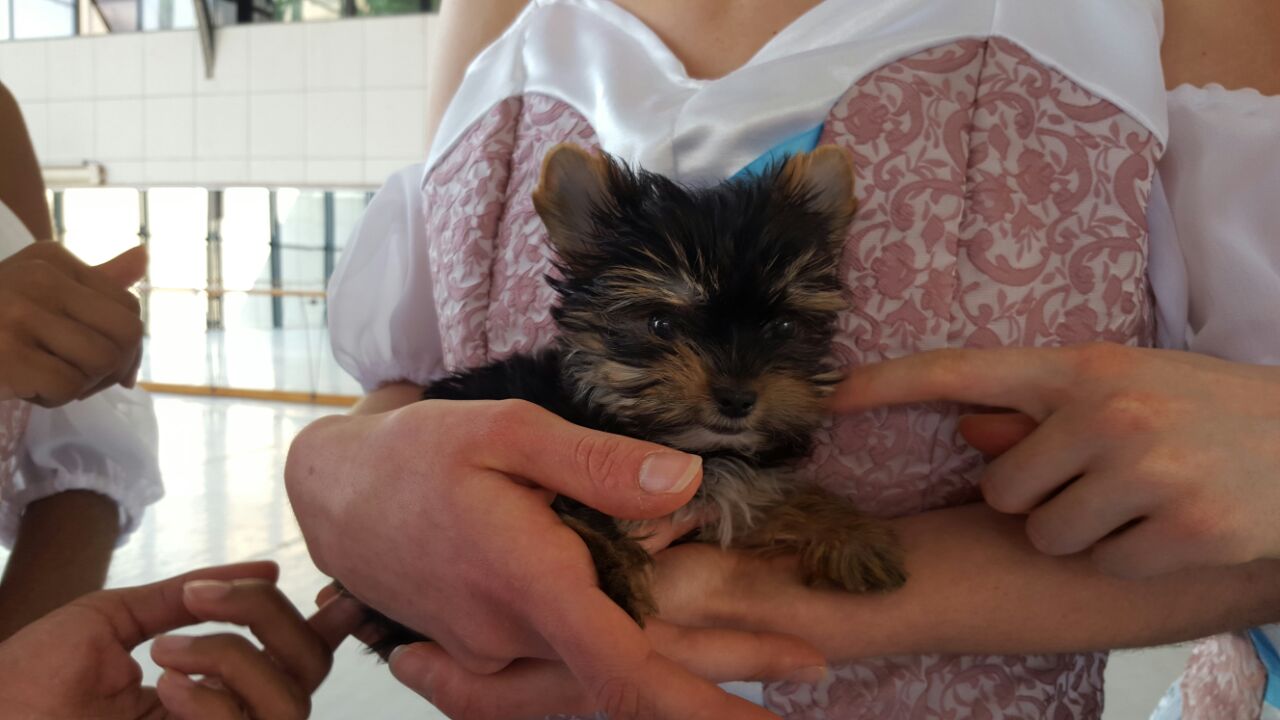 Latest pic from owner of the cutest pup at the ballet : thanks Lauren, JUST THE SWEETEST JOY, THANK YOU.
It is a pleasure, this is the reason we BREED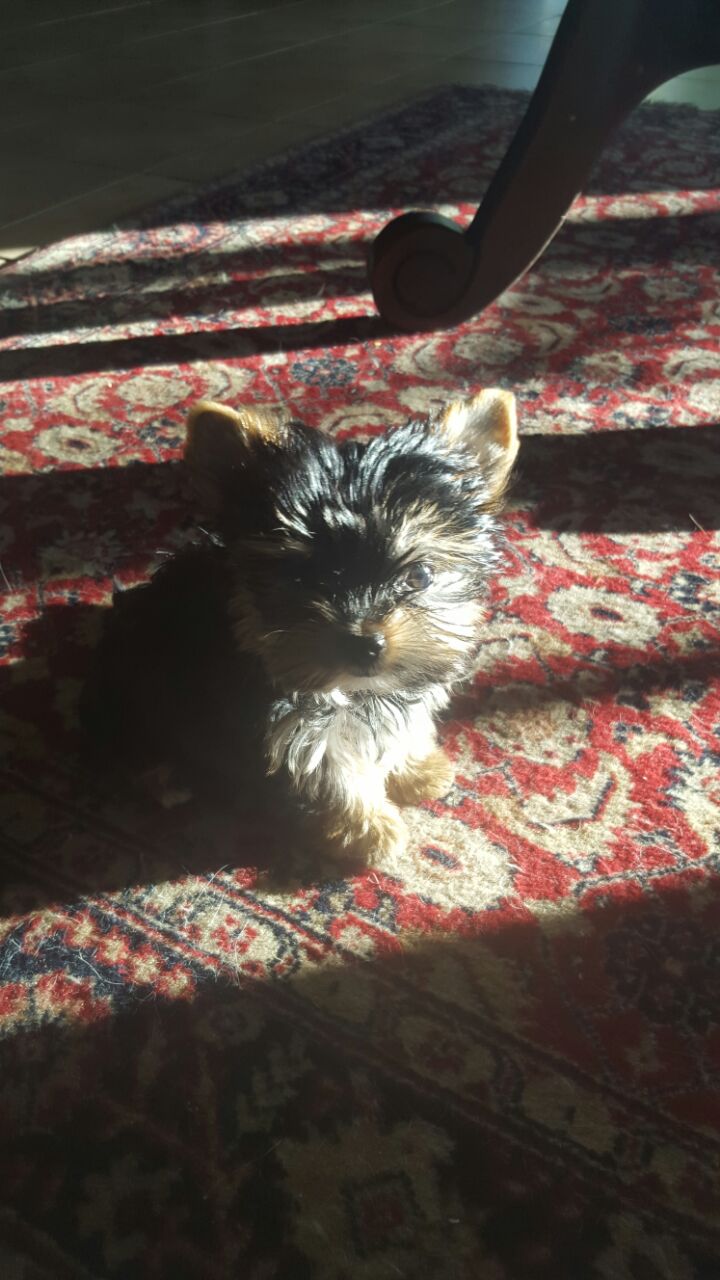 BELOW : ANOTHER OF OUR OVER THE TOP CUTIES.
18 month old MIJOY yorkie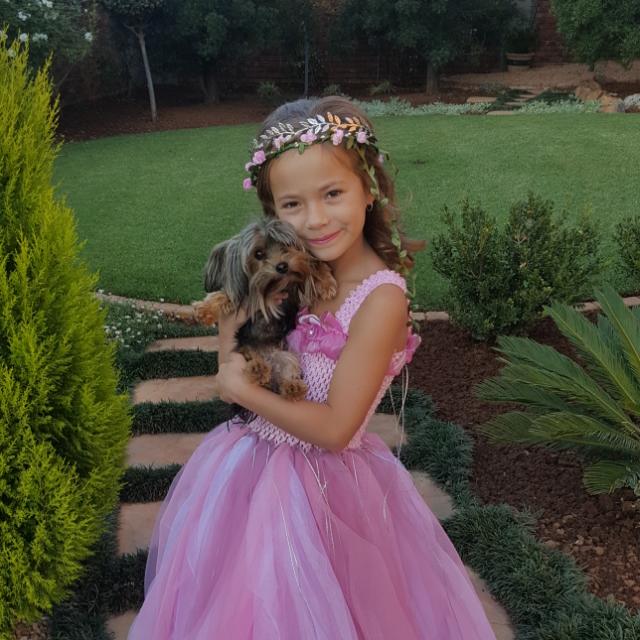 WE WILL BE SAYING FAREWELL TO BENJI - (pictured below) IN A COUPLE OF MONTHS TIME, WHEN HE MOVES TO ENGLAND TO JOIN THE
REST OF HIS FAMILY. OUR VERY BEST WISHES TO DELENE AND JOHN. DAUGHTER JODEEN IS ALREADY IN ENGLAND WITH HER HUBBY AND FAMILY WITH THEIR TWO MIJOY FOUR LEGGED KIDS.
BEST OF LUCK TO YOU ALL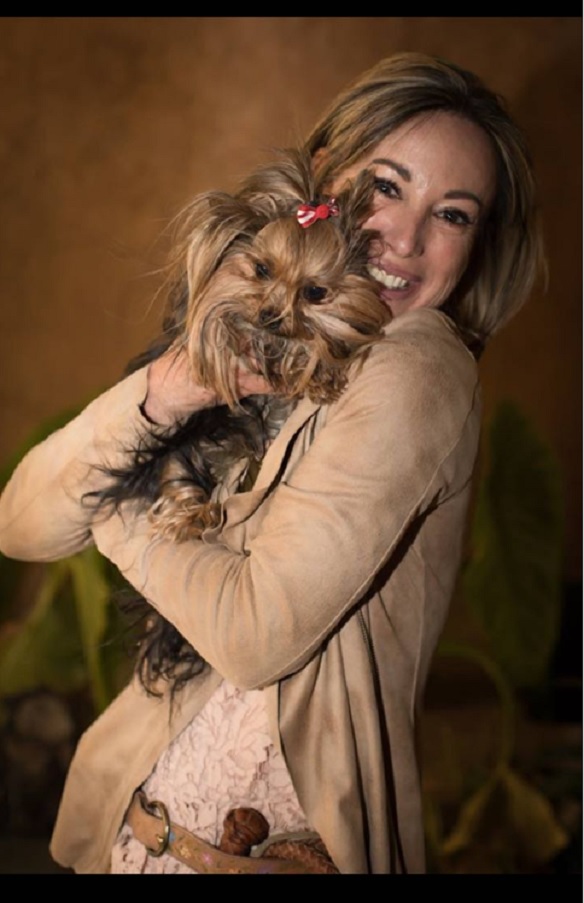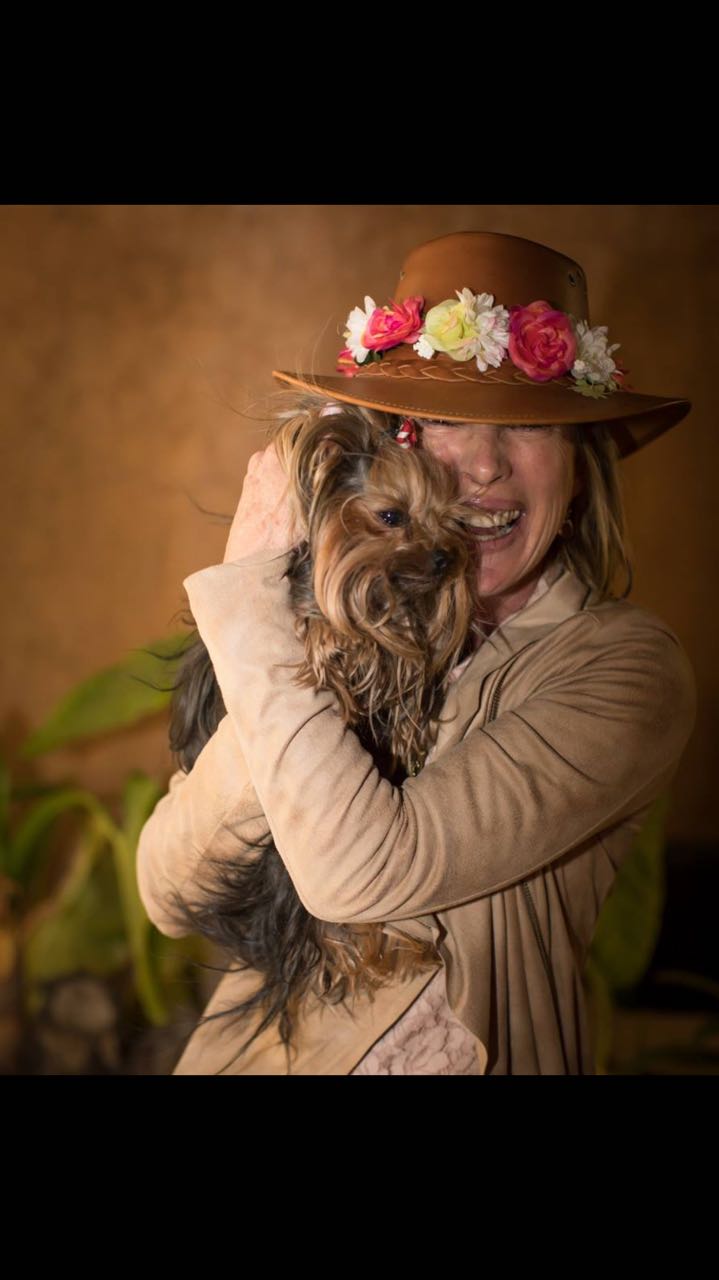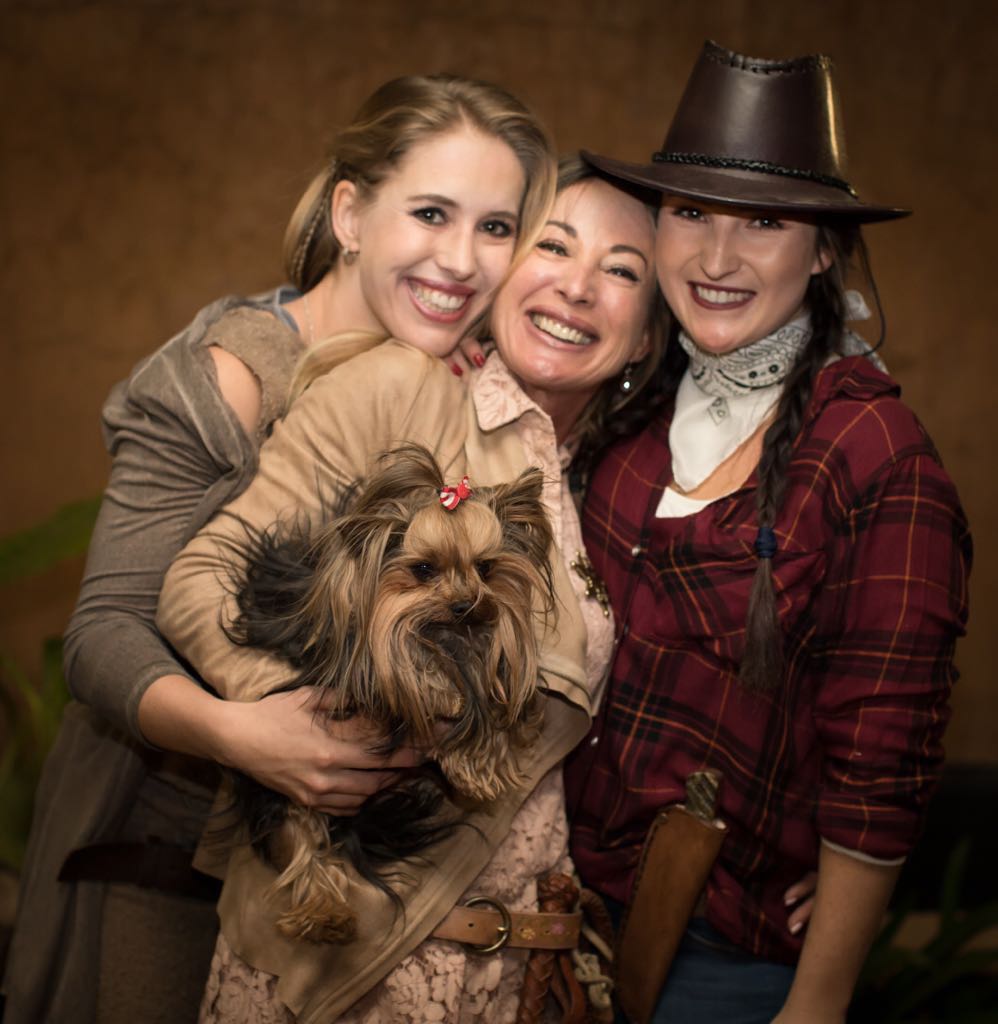 ABOVE : BIRTHDAY CELEBRATIONS FOR MOM ANGELA, HAPPY BIRTHDAY
& CHARLIE (MIJOY BOY) WAS IN THE FULL SWING OF THINGS....
We put the CUTE FACTOR and the WOW FACTOR into our precious babies
We do not breed pups by the dozen
HOME GROWN BABIES, NO KENNELS, NO CAGES
SUPER TEMPERAMENT GUARANTEED - 100% SOCIALISED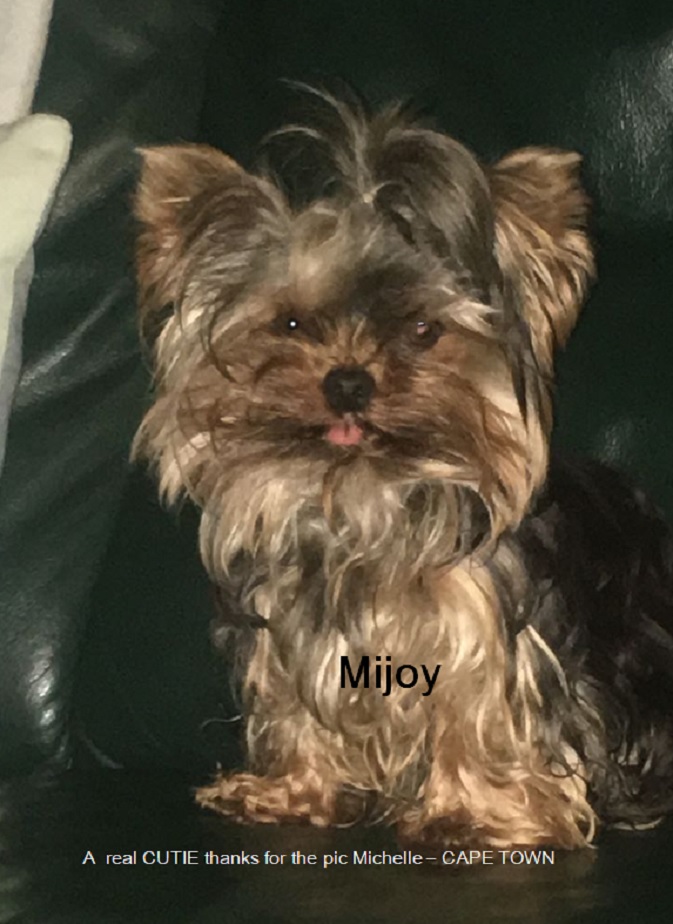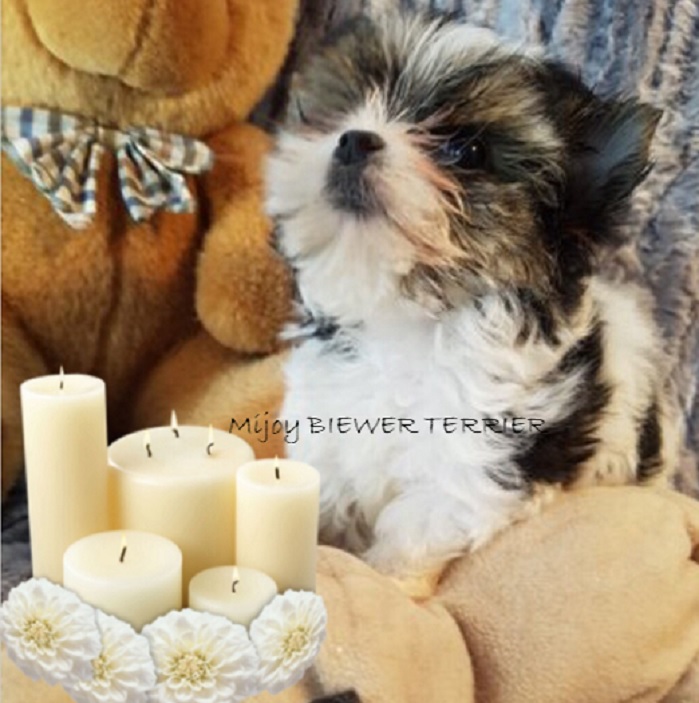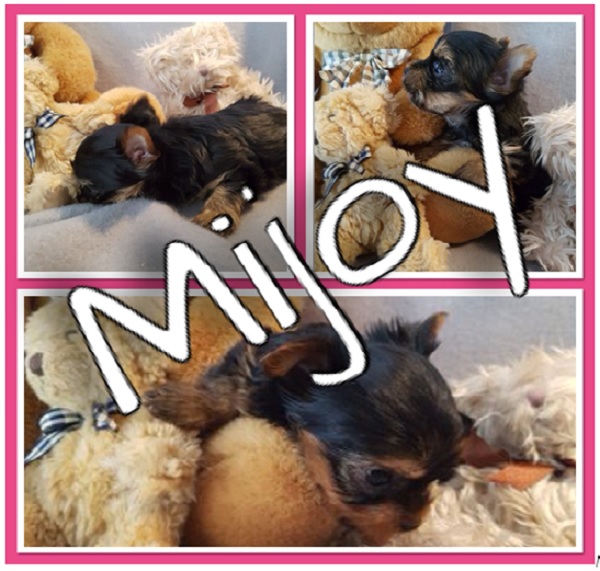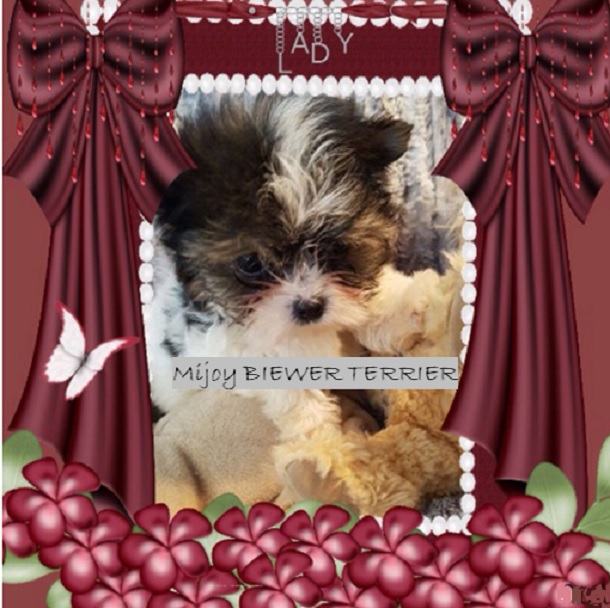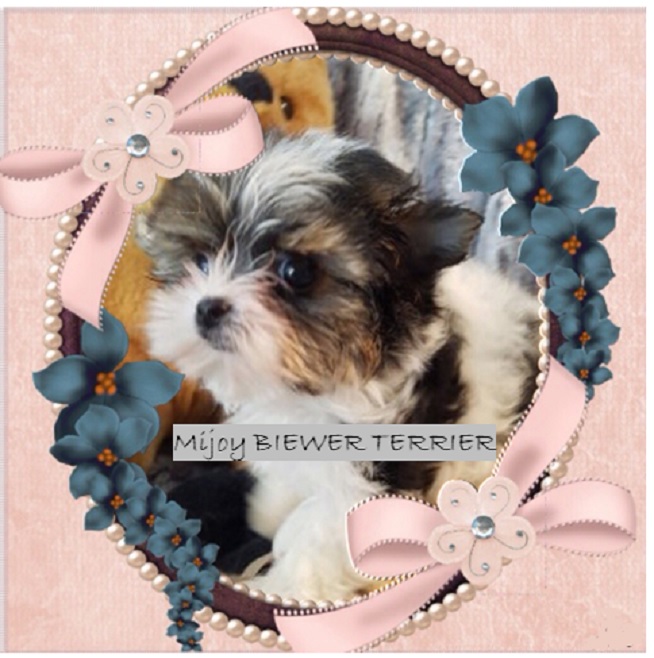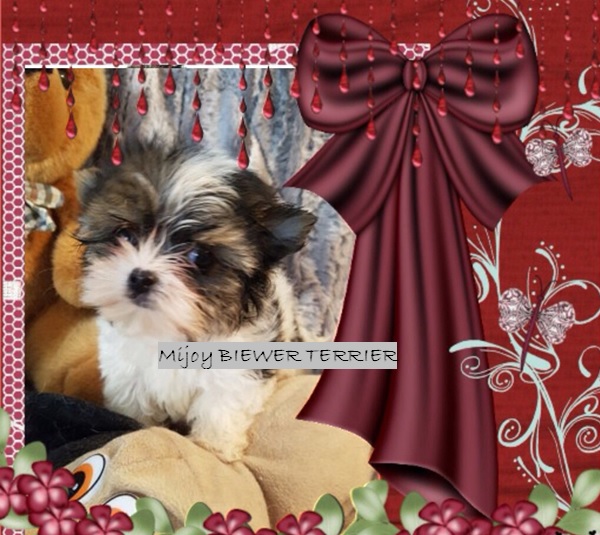 ​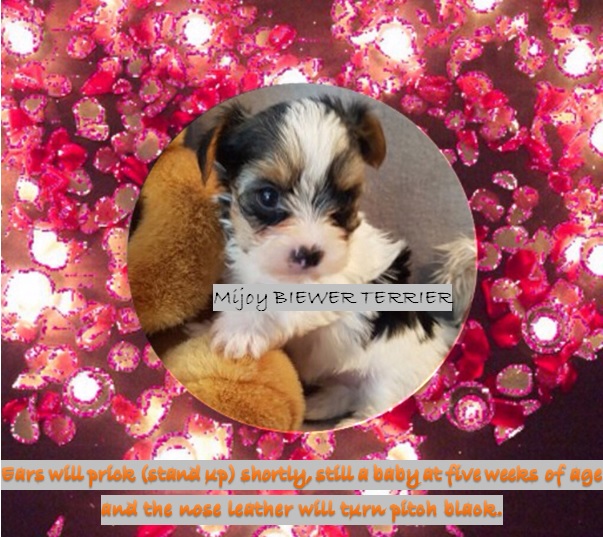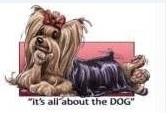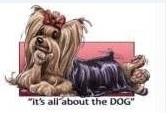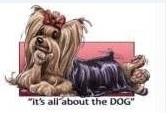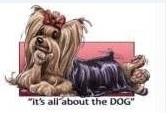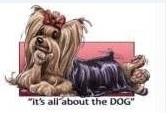 PET MEDICAL AIDS, PET INSURANCE IS FAST BECOMING AS IMPORTANT AS OUR HUMAN MEDICAL AID SCHEMES, YOU HAVE A FEW OPTIONS OR CHOICES,
ROGZ PET INSURANCE, PETSURE AND THE LATEST ONE AS BELOW...........
Be on top of your game, your pets need medical insurance just as you do...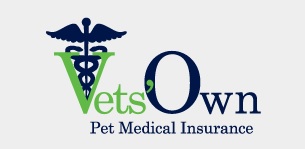 Vets'Own is the newest and most innovative pet medical insurance product (not a medical aid) in South Africa. It is designed to cover the unexpected, unforeseen and fortuitous veterinary costs that cats and dogs kept as household pets may incur as the result of illness or injury. Its development took cognisance of the strengths and weaknesses of other policies and therefore avoids their shortcomings from day one.

The Vets'Own Pet Medical IUnsurance policy:
DOES NOT have any breed exclusions

DOES cover hereditary conditions*

In addition, it has:
NO annual limit

NO sub-limits

NO treatment limits

As such, Vets'Own is uniquely designed to:
address the veterinary needs of any breed

benefit all the stakeholders in the pet healthcare chain.

For the pets, this means:
Higher levels of care are now accessible without aggregate or condition/treatment specific limits.
This in turn improves the wellbeing and quality of life for the pet.
Vets'Own extends the lifespan of pets through improved wellness and through negating the choice between the owner having to pay high and un-budgeted veterinary fees and euthanasia.

For the pet owner, this means:
Higher levels of care for his/her pets are now made affordable.
Pet owners can enjoy the company of healthy and active pets.
Pet owners can avoid the choice between leaving the pet untreated or incurring high and un-budgeted expenses or having the pet euthanised.

For your information and for that of your clients, we attach hereto a soft copy of our product brochure. Hard copies of the brochures may be found at some 500 veterinary practices throughout the country. For additional information, please visit our website at www.vetsown.co.za

OUR THANKS TO ROGZ PET INSURANCE FOR THE INFORMATION BELOW:
Common Health Symptoms that Pet Owners Often Ignore
It is sometimes easy to overlook signs that might indicate our pet has a possible health problem, but it is better to be cautious as it helps increase their chances of getting the care that they need. It is always advisable to consult with your veterinarian should you notice any symptoms, instead of waiting.
| | |
| --- | --- |
| | Drinking too much water. This can be a possible sign of diabetes or kidney disease. |
| | Weight gain. This tends to be associated with ageing pets, but any rapid weight gain accompanied with fatigue could indicate heart failure. |
| | Hot Spots. Many pets develop this condition especially in hot weather, but you should consult your veterinarian if this is chronic, so they can rule out other causes such as allergies or parasites. |
| | Loss of appetite. This can be an indication of a serious health problem such as an infection or an injury to the digestive tract. In cats, this is especially dangerous as it can result in fatty liver, which can be fatal. |
| | Stiffness or difficulty getting up. Your pet might be suffering from arthritis, from an injury or ruptured ligament. |
How to Introduce Dogs to Cats

Not all animals want to be friends with each other, but we can assist them with the transition into making new friends with consistent training and calm reassurance. Here are some tips to help introduce your dog to your cat with more ease.

Be patient and start out slowly. Friendships between different species can take time to develop, especially when one pet has been living in your home for a long time.
Ensure there is personal space. Try introducing each other for short periods of time and then take them to separate rooms before reintroducing again. You could try this by alternating each pet in a crate while the other can smell, see and move around freely.
Redirect attention in a positive way. If your dog becomes focused on your cat or tries to chase her, try use treats or toys as a positive distraction.
Remain calm. Always remember to supervise all introductions for your pets safety and to remain calm.

It is possible that some pets, despite a proper introductory period, may not get along. In this case it is best to give them equal but separate spaces and not to force the relationship.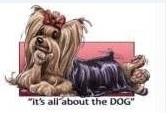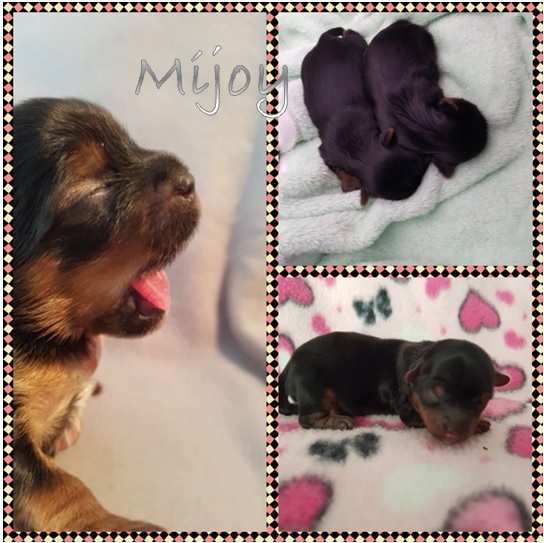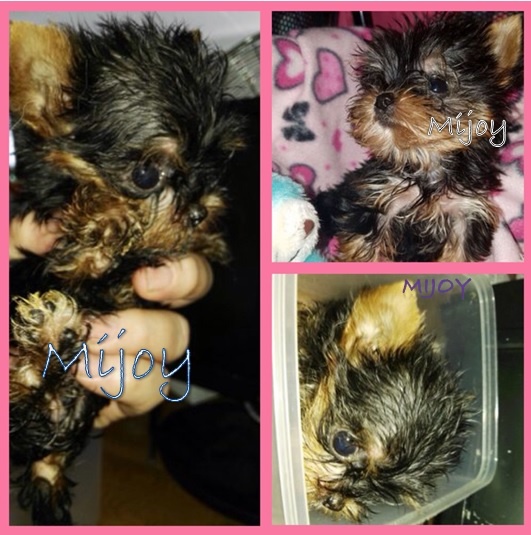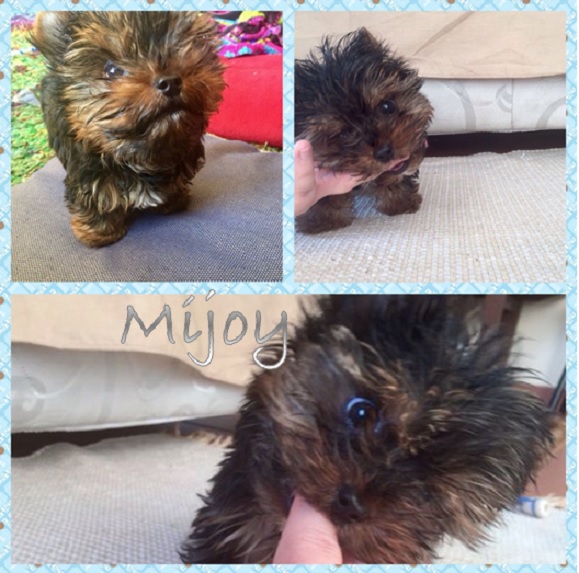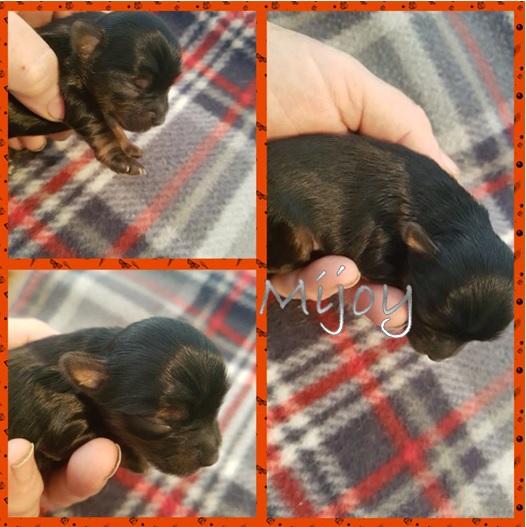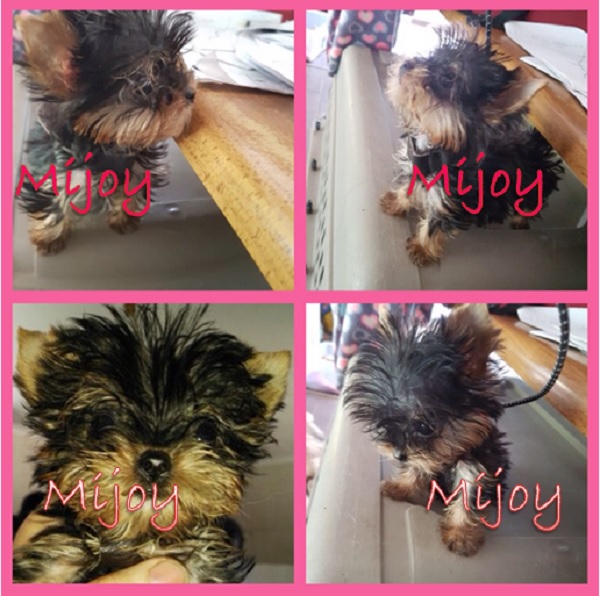 VISIT www.hedgehogheaven.co.za to view info on THE AFRICAN PYGMY HEDGEHOG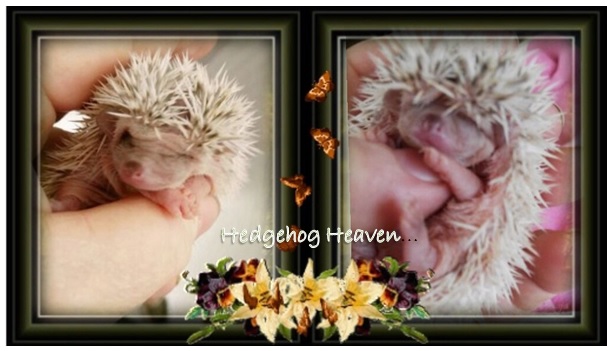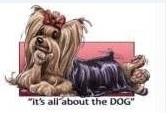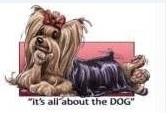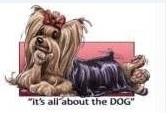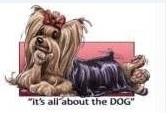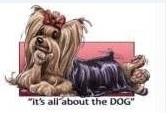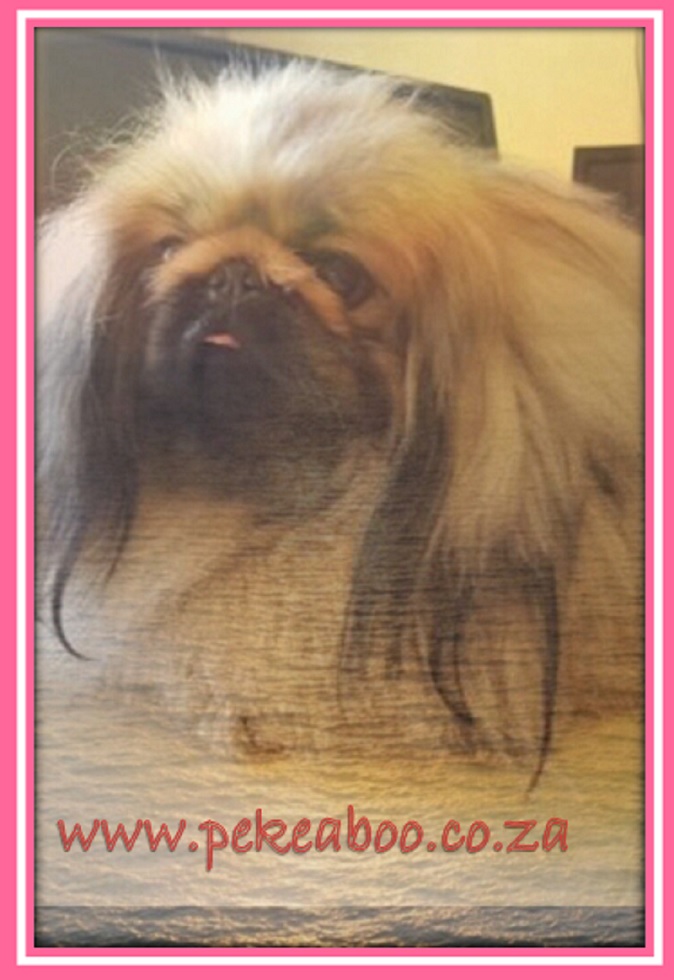 Website www.pekeaboo.co.za
Owned the pekingese for the past thirty years
Pups periodically available, to PET HOMES only.
We do not sell for breeding pruporses, sold as HOUSE pets
enquiries to EMAIL ADDRESS : pekingese@pekeaboo.co.za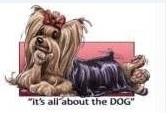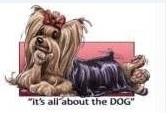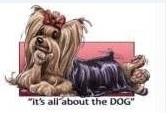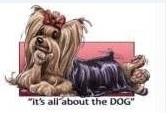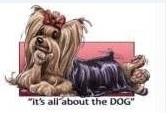 A cruel, unnecessary – and illegal – practice
We humans don't have the copyright on body language: dogs use their tails for communication. A tail that is wagging quickly indicates a happy, friendly dog, whilst a tail that is being wagged stiffly slowly and deliberately indicates a warning that a dog is feeling threatened or unhappy, and that he may bite or attack.
All of which calls into question the archaic, barbaric and illegal but continuing practice of tail docking. Further research suggests that when dogs feel stress, they tend to wag their tails to the left as a reflection of what's happening in the brain. Activation of the left-brain causes the tail to wag to the right, activation of the right brain produced a way to the left.
The research shows that dogs wag to the right side when they encounter something pleasant. When they see something threatening, for example, a strange dog exhibiting dominant behaviours, they wag more to the left side. These results suggest that dogs notice another dogs tail wagging and use the information to decide whether the dog with the wagging tail is friend or foe. The researchers concluded that dogs aren't intentionally sending signals with their tails, but rather the tail wagging is a consequence of the inner working of the canine brain. Tail wagging behaviour results from the way in which different emotional signals activate different parts of a dog's brain. WIthout a tail, a dog cannot communicate his emotions or intentions, making it more difficult for people and other dogs to know how a dog is likely to react in in a certain situation and may even lead to an increase in dog fights. Tails also assist with agility and balance.
Tail docking is the amputation of a dog's tail at varying lengths to suit the recommendations of a breed standard. Coking involved the amputation of the puppy's tail with a scalpel. Sometimes, rubber bands are used, although this method has never been used by veterinarians. The cut goes through the skin, cartilage and bone. This procedure is usually performed without any anaesthetic or with a local anaesthetic at three to five days of age. A small number of dogs are born naturally without a tail.
Tail docking, even if performed with local anaesthesia, causes pain and stress to young puppies. Recent research in pain management indicates clearly that puppies, even at a few day s of age have a full developed nervous system and a well-developed sense of pain. Sometimes, tail docking, results in serious complications such as bleeding. Infection and even the death of the puppy.
Tail docking does not provide any benefit to puppies. Traditionally, some breeders considered a docked tail necessary to fulfil the working functions of the dog. Today many working breeds are kept as house pets and only a small percentage are used for field work, which is a recreational activity for people and not an essential function. If dogs of breeds that are customarily docked are left with intact tails, they are not more likely to get tail injuries than dogs of other breeds. If a procedure that causes pain has no immediate or future benefit for the animal and may lead to complications, surely it is unnecessary and should not be performed?
Tail docking is a procedure that is carried out because people believe that that is how that dog should "look" so it merely satisfies a breed standard or a human notion of what that type of dog should look like.
Some owners say that a dog with a long tail causes problems by knocking down ornaments in the house – well try rearranging your décor. OR don't keep such a big dog.
The SA Veterinary Council does not condone the routine of tail docking of puppies for cosmetic purposed by veterinarians. Any veterinarian who docks a tail "unless for justifiable medical reasons", will be liable for prosecution under the Animal Protections Aca (APA) NO 71 of 1962.
Veterinarians found guilty under this act will automatically be investigated for unprofessional conduct by the SAVC under the Veterinary and Para-Veterinary Professions Act 1982.
---
---
SINCE THE REMOVAL OF THE TAIL OF A DOG OR PUPPY RESULTS IN PERMANENT LOSS OF (I.E.DAMAGE TO) A BODY PART, THE PROCEDURE OF REMOVING A HEALTHY TAILS IS CONSIDERED A FORM OF MAIMING.
---
---
Lay people are also liable to prosecution under the APA if maiming can be proved. This falls under the ambit of welfare organisations.
The NSPCA is opposed to the unnecessary mutilation of animals for cosmetic, sporting, entertainment or convenience purposes – including but not limited to tail-docking, ear-cropping, de-barking, de-clawing, and myotomy (cutting of muscle).
The NSPCA takes the identical standpoint relating to the various surgical mutilations of other species. It has long been the opinion of the NSPCA that tail docking (as well as any other form of mutilation) is a contravention of the Animal Protection Act Clause 2(1)a which states:
"Any person who overloads, overdrives, overrides, ill-treats, neglects, infuriates, tortures or maims or cruelly beats, kicks goads or terrifies any animal…… shall subject to the provisions of this Act and any other law, be guilty of an offence and liable on conviction to a fine ….. "Since the removal of the tail or a dog or puppy results in permanent loss of (i.e. damage to) a body part, the procedure of removing a healthy tails is considered a form of maiming.
According to the Kennel Union of South Africa (KUSA) none of their breed standards say that a dog's tail must be cropped, but they rather say "tail customarily docked" or "tail traditionally docked".
Dog owners may show their dogs with or without cropped tails.
Smallholders are encouraged not to buy puppies without tails and to insist that the breeder from whom they buy their dogs does not dock tails.
Above article copied from the SMALLHOLDER. www.sasmallholder.co.za June 2017 edition page 37
TAIL DOCKING BANNED IN SOUTH AFRICA JUNE 2008
OUR LATEST PICS OF OUR ADORABLE MIJOY KIDS
IN THEIR OVER THE TOP LOVING HOMES, THANKS TO YOU ALL FOR KEEPING US IN THE LOOP








BELOW STORM OWNED AND ADORED BY CARON
Thanks for your constant updates, CARON'S COMMENT THANK YOU FOR BREEDING HER....
MY pleasure - Joyce
From: Caron O
Sent: Tuesday, May 30, 2017 1:37 PM
To: Mijoy
Subject: Storm
Isn't she just beautiful! The love of my life!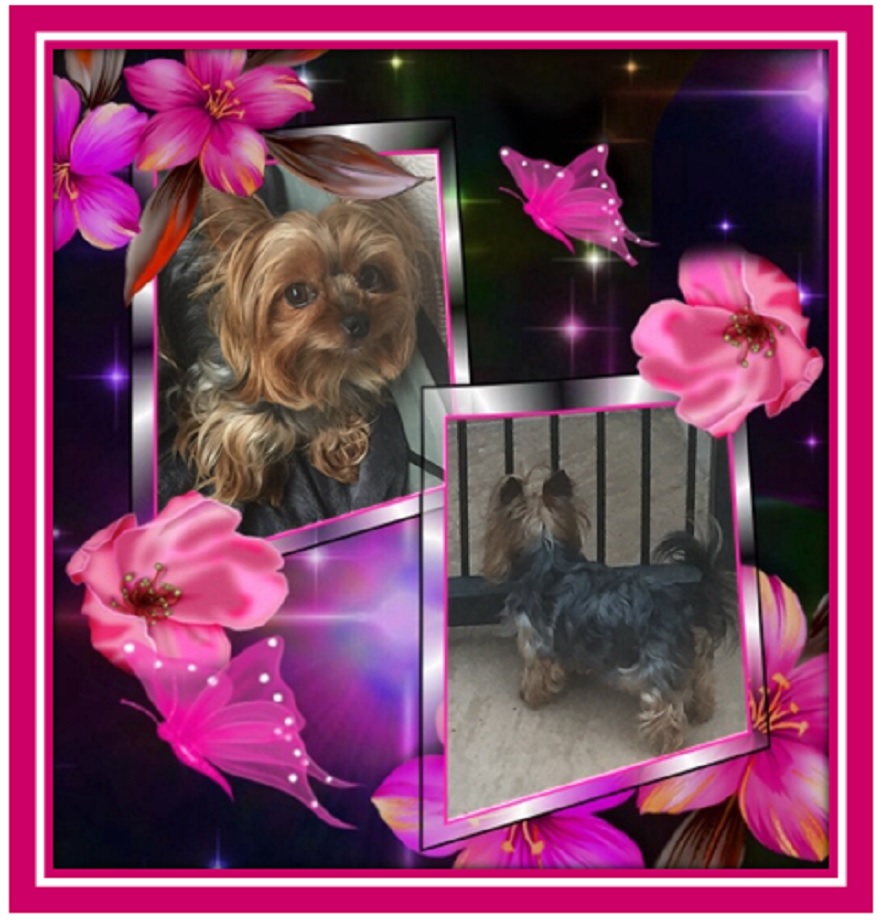 BELOW: CLOE TEACUP GIRL - JUST TURNED 7 YEARS OF AGE, HAPPY BIRTHDAY
PROUD OWNERS MARLENE & BEN
Comments from owner" HI Joyce, Cloe is seven years old tody. Happy to say, she is healthy and NO vetbills STUNNING COAT.
Thanks Marlene for the constant updated....

One of Hanno & Nicole's boys watching the activities in the horse arena.
Clearly a keen equine enthusiast

Below RETHA with one of her MIJOY girls.

BELOW HANNO AND NICOLE WITH THEIR TWO MIJOY KIDS
THANKS FOR THE CONSTNT UPDATES - THESE MIJOY KIDS LIVE IN THE CAPE


BELOW VERY SPOILT BOY LIVES IN THE LAP OF LUXURY CAPE TOWN THANKS WANDA FOR CONSTANT PICS AND UPDATES.

PEANUT BUTTER AND YOUR PUP/DOG... BEWARE
Thanks to Belinda R for the latest info....
A NEW TYPE OF PEANUT BUTTER (AND OTHER NUT BUTTERS) IS BEING SOLD WITH LESS SUGAR BUT NOW INCLUDES XYLITOL AS A SWEETENER. Zylitol is used in sugar less gum, and can be DEADLY TO DOGS. Many people use peanut butter as a dog treat, or to fill a KONG, or disguise medications. If they now use the type with zylitol, it could be very dangerous.
READ YOUR LABELS ON THE JARS.....

What is a genuine teacup pup…Well we have produced the ultimate tiny for the past twenty years and we do not MANIPULATE the breeding of them, NOR do we INTERBREED our dogs, we don't breed with tiny dogs to produce them either.
If you get involved buying a pup that is bred as above, be assured you will hit health issues, if not sooner, LATER. The liklihood of you dog making OLD BONES is highly unlikely.
A correctly bred GENUINE teacup pup will live for many years provided the owner is responsible, follows the rules and does what it takes.
I must stress that the genuine teacup is not suited to just anyone, we will only place them in homes where the person that owns them is well informed, done their homework etc. as this is NO run of the mill puppy.
Teacup it is the IN THING now to attach the word teacup to everything you sell, as that attracts the buyers, like a moth, to a flame however, be cautious, you may very well get BURNT.
Be cautious when buying this TEACUP pup as the majority bought by the public end up miniature in size, it happens time and time again.
MINIATURE YORKIES ARE DOGS WEIGHING AS ADULTS 2.5 TO 3.5KG
It is not easy to judge the estimated adult weight of most pups the reason if we are not 100% certain we will tell our buyers that and it is for them to decide if they want to risk the pup ending up a pocket sized dog instead of a teacup.
However we keep small pockets here for three months and the ultimate GENUINE TEACUP here four months, so we are almost guaranteed that the teacup is a teacup.
The tinies have to reach certain milestones, suffer with no ill health, eat from the time they are meant to eat and that is not 5 weeks of age either. No parasites of any kind, in or on a tiny as that will automatically play a huge role in any pup's wellbeing and will give a false representation of expected adult size.
A member of the public called me this week about her teacup pup she bought and was having such problems with, the weight of the dog, as an 8 week old pup weighs more than my 8 month old teacup pup.?
Decide what weight of dog you want to own, ask your breeder what weight they think the pup on offer will be. Taking into consideration that there are many factors that are in play when it comes to working out a pups future weight.
The appearance alone of a pup gives one a very good indication of the size of that dog.
To the trained eye, a pup can be defined in a pic as having potential to be tiny, or small, being tiny or you being HOOD WINKED…..
IT is almost a science when it comes to these exceptionally tiny sized dogs, I stress to buyers remember at all times, this is a healthy bundle of joy but NO dog is meant to be that size , therefore you take the necessary precautions and put safety in place, first and foremost SAFETY.
A proper teacup pup is a rare pup to begin with, so you are not going to find a handful to choose from, that is guaranteed.
There is no such thing as a teacup litter of pups, it does not exist, anyone who tells you that, is talking HOGWASH.
Our teacups we have bred and own and owned have ranged from 550gms and 600gms as an adult dog.
NO TEACUP IS BREEDING MATERIAL.
NO SMALL or MEDIUM POCKET IS BREEDING MATERIAL
Any BIGGER pocket sized dog used for breeding purposes risks having a C section.
We do not sell for breeding purposes at all.
How do you know it is a teacup you are being offered when asking for one from someone advertising them?
It is no walk in any park raising a genuine teacup pup NEVER purchase a pup that needs to be bottle fed, supplement fed etc.
Ensure the pup you buy is old enough to leave its Mother as this happens frequently, where the buyer cannot get the pup to feed and the rollercoaster ride begins.
I would not want to bottle feed any pup, so I am sure you most probably would not want to either. One thing to bottle feed a normal sized pup, totally different story to bottle feed a teacup PUP. The best for any pup is to be Mother dog raised.
If you have any concerns - agree with the breeder that you will take the pup to your vet, for a complete health check and if your vet has any concerns you will return the pup the same day, for a full refund. Get this in writing.
However be aware that if the pup has been hurt, stood on, fallen off of a couch etc, you cannot expect ANY breeder to refund or replace the pup.
UNDER AGED PUPS, this appears to be happening more and more, where the public are sold teacups when in fact they are not teacup but under-aged pups. IF you have ANY concerns don't buy the pup. So many people fall into a trap where they feel sorry for the pup concerned, buy it end up with a massive vet bill and a dead pup. BE cautious of doing this as you are encouraging that breeder to continue conning buyers and innocent pups losing their lives.
The smaller the pup the more difficult to turn a bad situation around. So rather steer clear of drama, to pull a very small sized pup through a medical drama is no easy thing and not something the layman should even attempt doing. DON'T think handing a tiny pup into your vet and leaving it at a clinic is the answer either, IT is not. They stress, no vet has the time to babysit, any mouse sized pup or dog. Most vets don't want the responsibility of having a mouse of a pup/dog in their clinic. Most vets don't ever work with mouse sized pups or dogs.
It must be realised that to buy a proper teacup dog, you have to do the pyjama drill for many months. You DON'T leave a teacup pup with any maid, any children, you most certainly don't leave it outside. Whatever happens to that pup happens under supervision, it is not allowed to do anything on its own.
Night feeds you get up and ensure that pup eats every three hours, DON'T make the mistake of leaving food and water and PRESUMING the pup will eat itself. This is a huge responsibility, not something you do for a week or three then leave to fate.
Don't buy any pup irrespective of its size unless it has been raised properly. I heard this last week, how a Lady purchased a pup that was raised on porridge and how she and her vet battled, for four days to save the pups life, but it passed unfortunately. NOT A TINY PUP EITHER. Dogs eat dog food, pups eat puppy food, don't even consider feeding home cooked concoctions etc, and never feed a really tiny pup or tiny adult dog, any raw diet, that is a death sentence to them.
What price should you be paying, well all I can say is you pay peanuts you get monkeys and that is proved time and time again.
I am asked by the public why their yorkies looks totally different to mine and that goes for the biewer terrier as well.
Possibly it has something to do with the fact what they are paying for a yorkie today, what I paid for a yorkie in 1989.
We do not breed inferior dogs, we don't believe in it, a pup if handled properly and bred properly should last a good many years, our own yorkies pass at 14, 16, 17 and last year we had one that passed at 19 even at that age, no health issues.
Feed properly, take care of properly, house properly, you will have many years of total love from your YORKIE.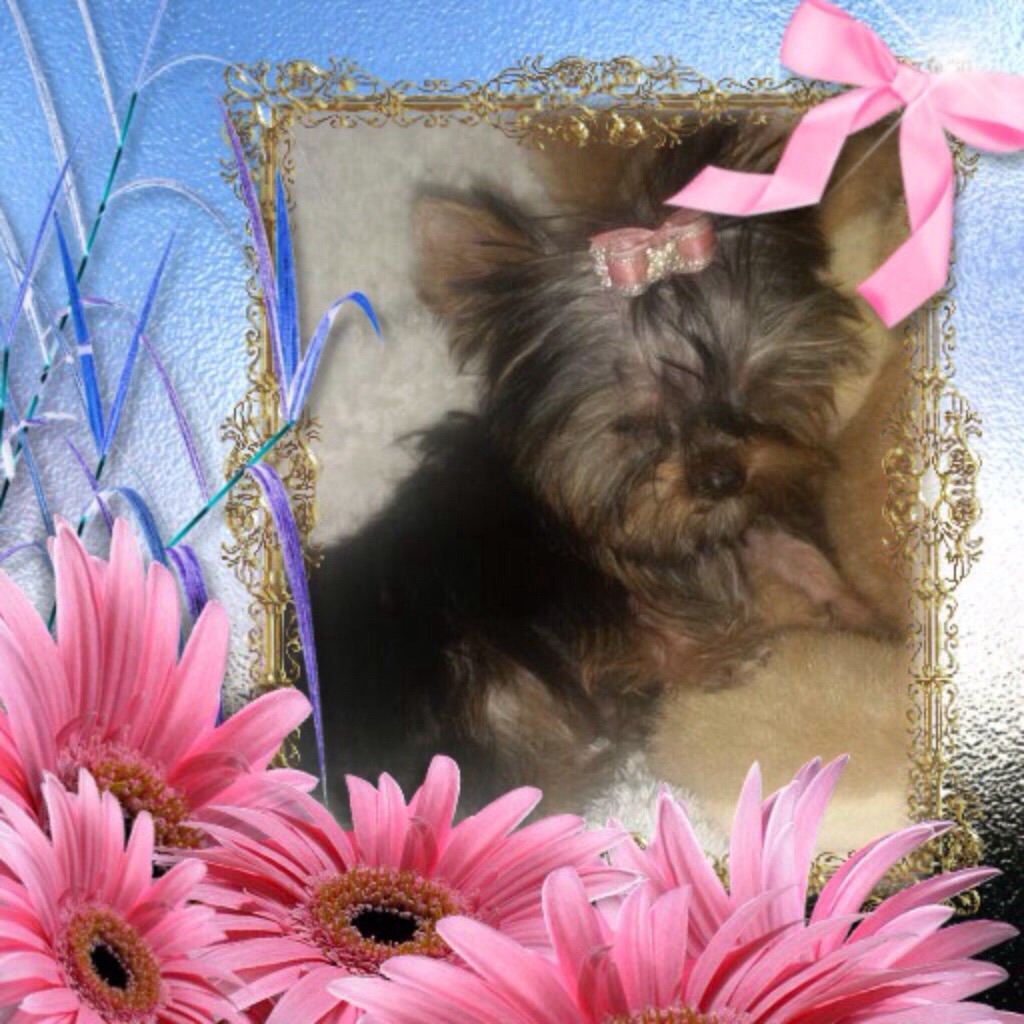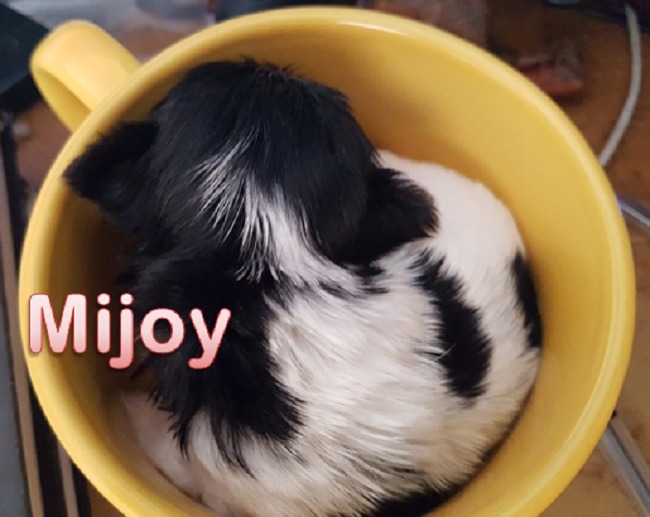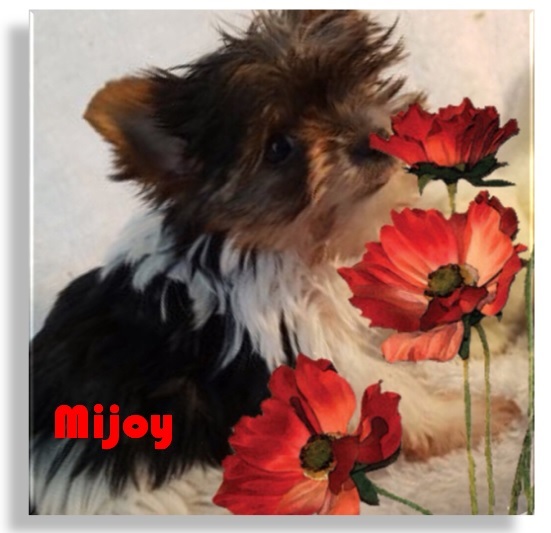 Pekingese the MINI size periodically available.. PEEK A BOO Dont you just love em...
//www.pekeaboo.co.za/wmenu.php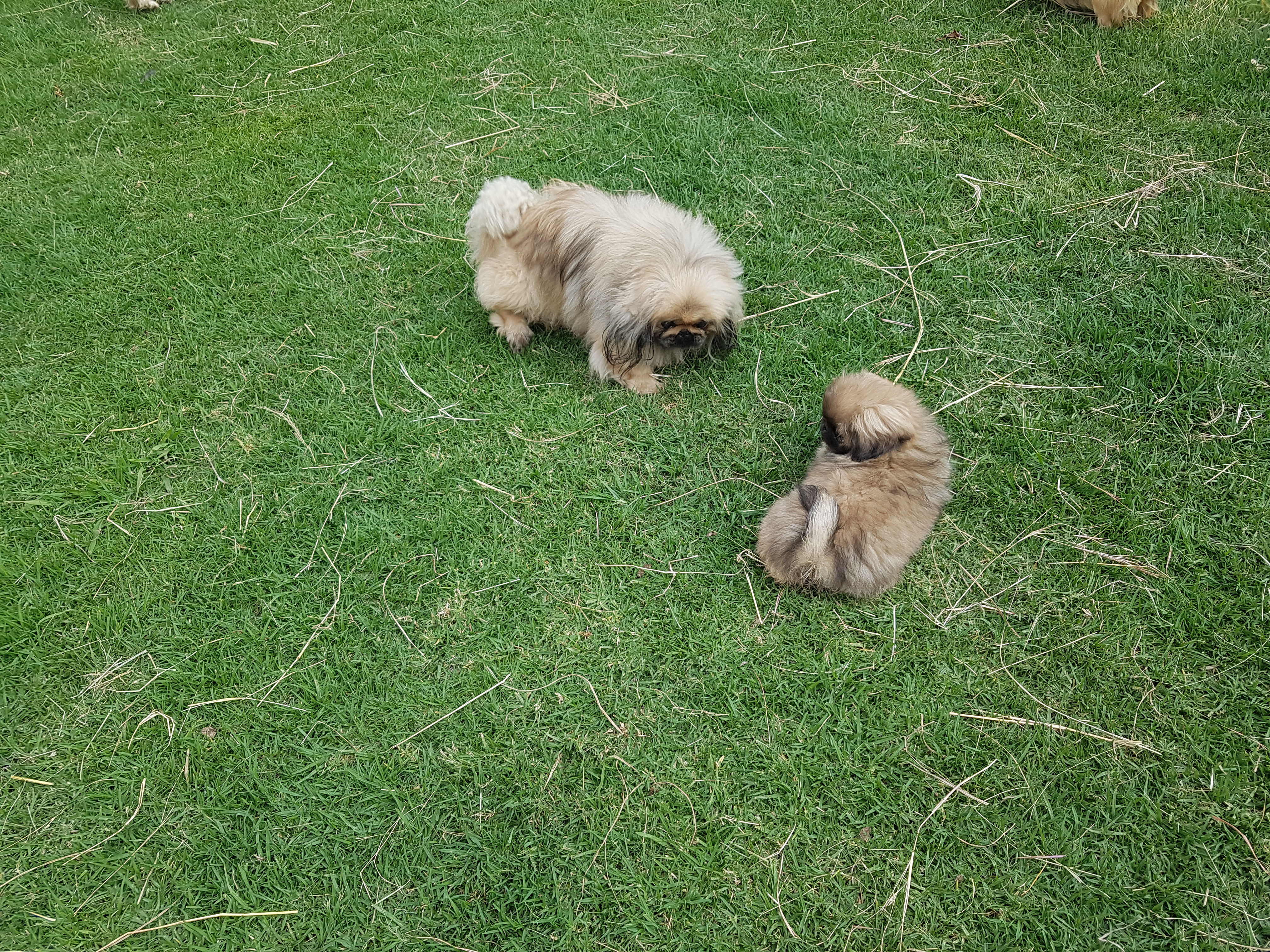 SAFETY SHOULD ALWAYS BE YOUR TROP PRIORITY..
CONTACT US FOR FURTHER INFO....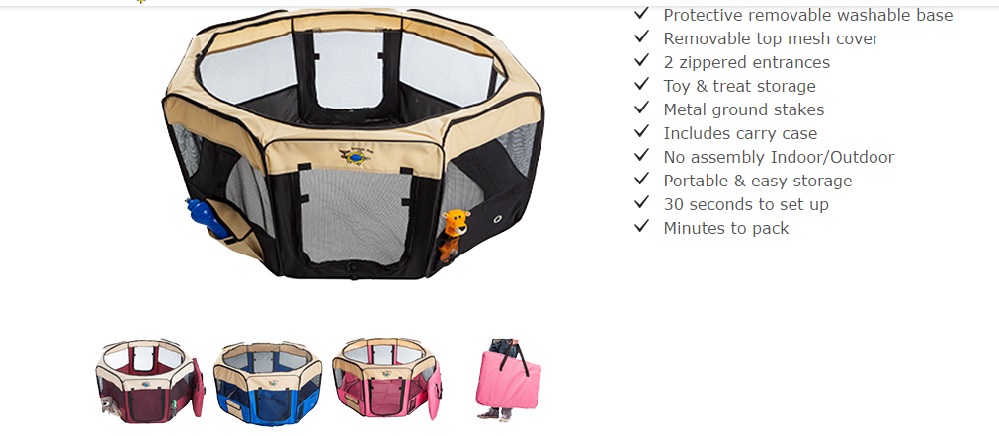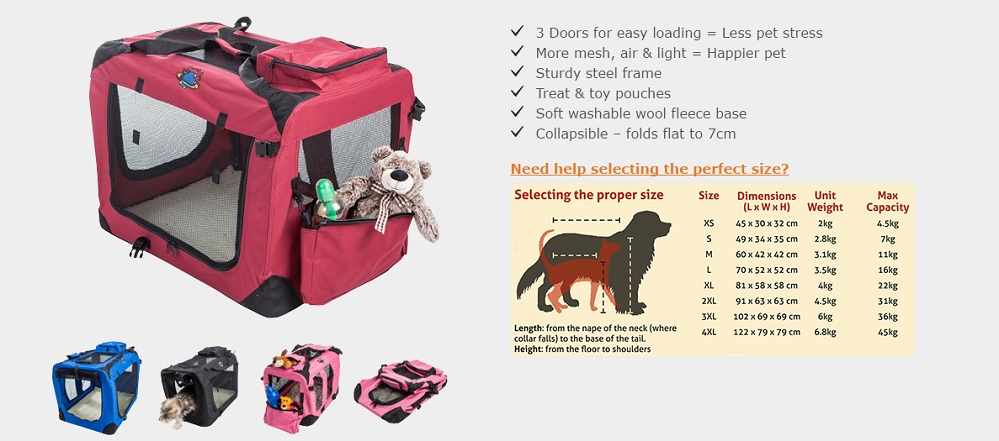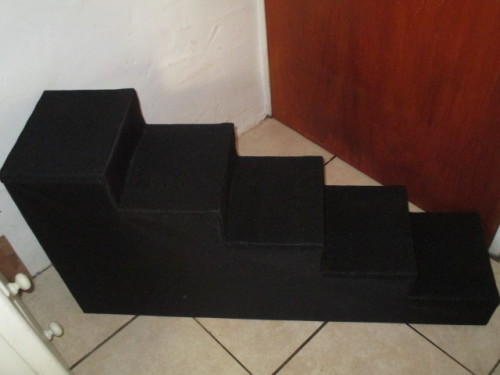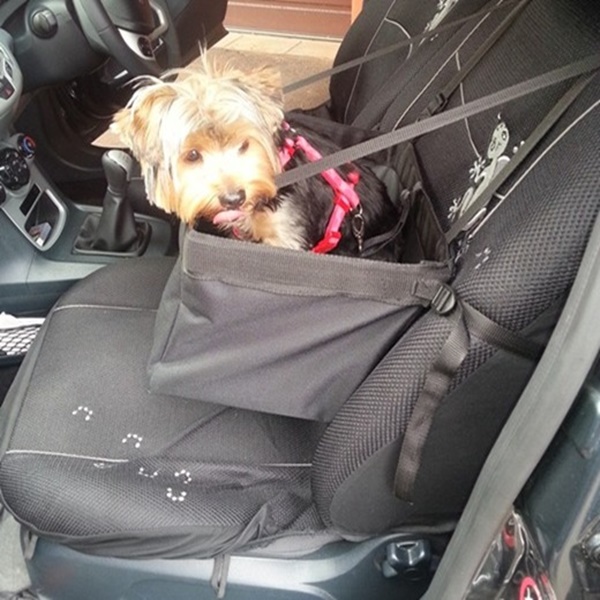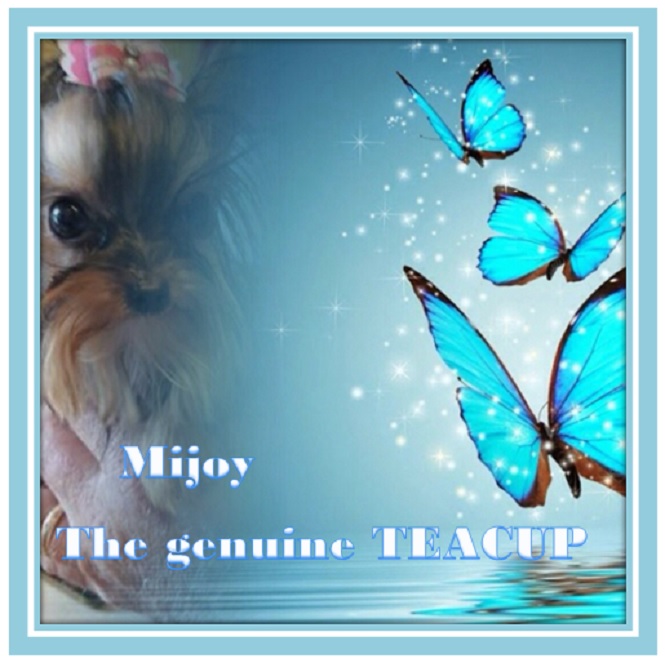 25 April 2017 - LATEST INFO 7 MONTHS AND 630GMS....
Featuring one of our own TINY TEACUPS, bred as nature intended


Proud to say we bred her, her Mother 2.5kg and her Daddy 2.2kg
560GMS 27 weeks old
THIS SIZE OF PUP IS SUITED TO VERY FEW DOG OWNERS,
SIMILAR TO HAVING A HUMAN BABY.
MIJOY

IS THE "TEACUP YORKIE" THE REAL DEAL, THE HEALTHY, ROBUST,
LONG LIVED DOG
Available only via a waiting list - to approved owners only!!!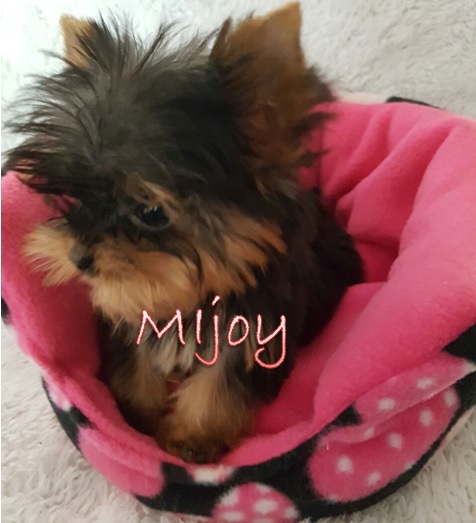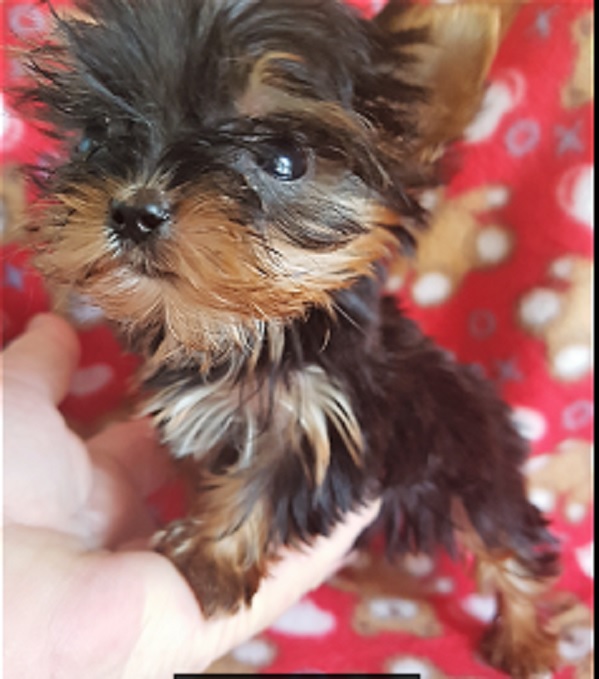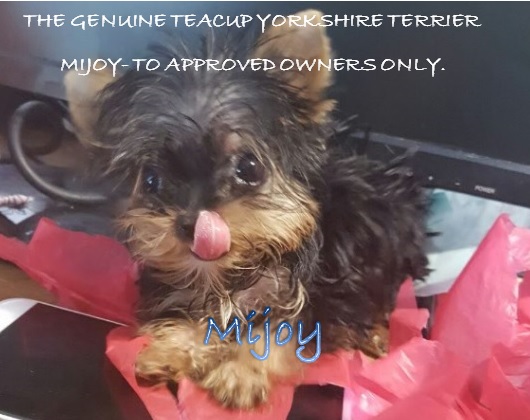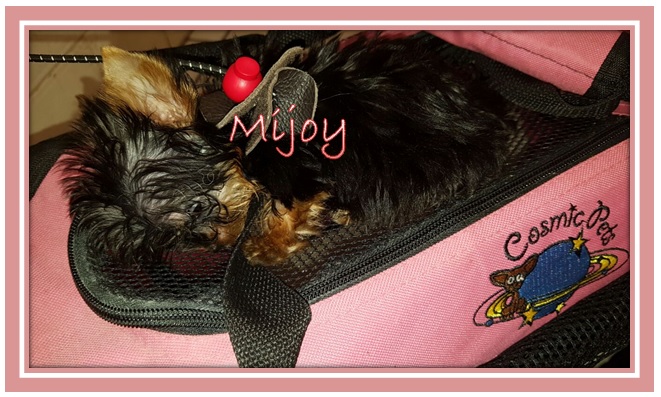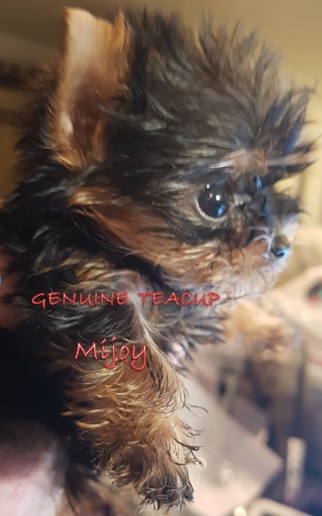 HOTLIST FOR LOST OR STOLEN PETS!!!
GetMeKnown (GMK) is providing a feature called hotlist which allows owners to upload a lost or stolen microchip number directly to all the Halo scanner's internal databases. This GMK feature caters for all types of microchips regardless of their supplier. Let's Get Them Known ...

As soon as a user has uploaded their personal contact details to the GMK hotlist database, GMK immediately uploads the information to more than 500 Halo scanner internal databases throughout South Africa. The Halo Scanner gets updated every time a Halo scanner is charged. Charging the halo scanner is done via a computer's USB port and will be updated accordingly if the user ensures it connected to the internet. The scanner will inform a user whether a pet has been stolen or lost furthermore this means there will be no need for a computer to access information.

The Halo scanner is an independent mobile unit with the reported hotlist in the scanner's internal. Consequently the process of using the scanner can be compared to a scenario where an individual's credit card is stolen. If a thief attempts to use the stolen card, the cashier will immediately be informed whether the card was stolen or lost. This will inevitably lead to immediate intervention by third parties.

The Ranger or Border Control Officer doesn't need a computer to access the database as the database of lost pets is conveniently updated on the scanner. After the process of scanning a microchip, the information displayed on the scanner screen can lead to quick action and the safe return of an individual's beloved pet. This is a unique and innovative product which allows customers a more efficient way of locating their pet.

The GetMeKnown team


We at MIJOY use the GETMEKNOWN chip and have done so for numerous years, excellent service,
easy as 1,2,3.
The Do's and Don'ts of Dog Walking
Walking your dog is a great way to get exercise, fresh air and socialise. It is also a great way to bond with your dog and spend quality time together.
There are certain rules you should follow when walking your dog.
What to Do:
Make sure your dog is trained to walk on a lead and comes when called.

Make sure your dog is well socialised and won't fight with other dogs.

Make sure you carry water for your dog (and you) to drink.

Make sure you carry poop bags so you can pick up after your dog.

Make sure your dog's collar fits correctly (you should only be able to get two fingers between the collar and their neck) or use a harness.

Make sure they are up to date with tick and flea control if walking in the veld.

Have treats as a reward with you if you plan to let them run off lead.
What Not to Do:
Walk your dog in the heat of the day.

Have your dog off lead unless you know it is a safe, dog friendly place. Dogs should always be on lead by roads.

Force your dog to walk further than they are comfortable to. Old dogs and dogs not used to walking should be observed for signs of fatigue.

Run or walk long distances with puppies as excessive exercise can be damaging to their bones and joints that are still being formed.

Feed your dog a large meal just before walking.
WALKING YOUR YORKSHIRE TERRIER - USE A HARNESS INSTEAD OF A COLLAR AS SOME DOGS ARE PRONE TO PULLING ON A COLLAR WHICH CAUSES PRESSURE ON THE THROAT WHICH IN DUE COURSE COULD CAUSE TRACHEA ISSUES WITH YOUR DOG.
Tinies are not the walkies type dog, they can manage a few paces but definitely not meant to walk a long distance. They are the MOMMY carry types, so dont push your little one...
TEACUPS THE GENUINE TEACUP, WE HAVE BRED AND OWNED THEM FOR THE LAST TWENTY YEARS
If you don't have to do pyjama drill, no round the clock feeding, you AIN'T buying a teacup pup....
We have bred and owned them weighing as little as 550 and 600gms as adult dogs that lived till 12 years without ANY health issues.... if a teacup pup is bred as nature intended, the chances of you picking up issues health wise with that pup, is virtually ZERO. HOWEVER YOU AS THE OWNER NEED THE LIFESTYLE TO HANDLE THIS SIZE PUP, THIS SIZE OF PUP SUITS A VERY LIMITED AMOUNT OF PEOPLE.... you are most welcome to mail me for further information.... This pup is NEVER readily available, we work with WAITING LISTS AND SERIOUS BUYERS ONLY....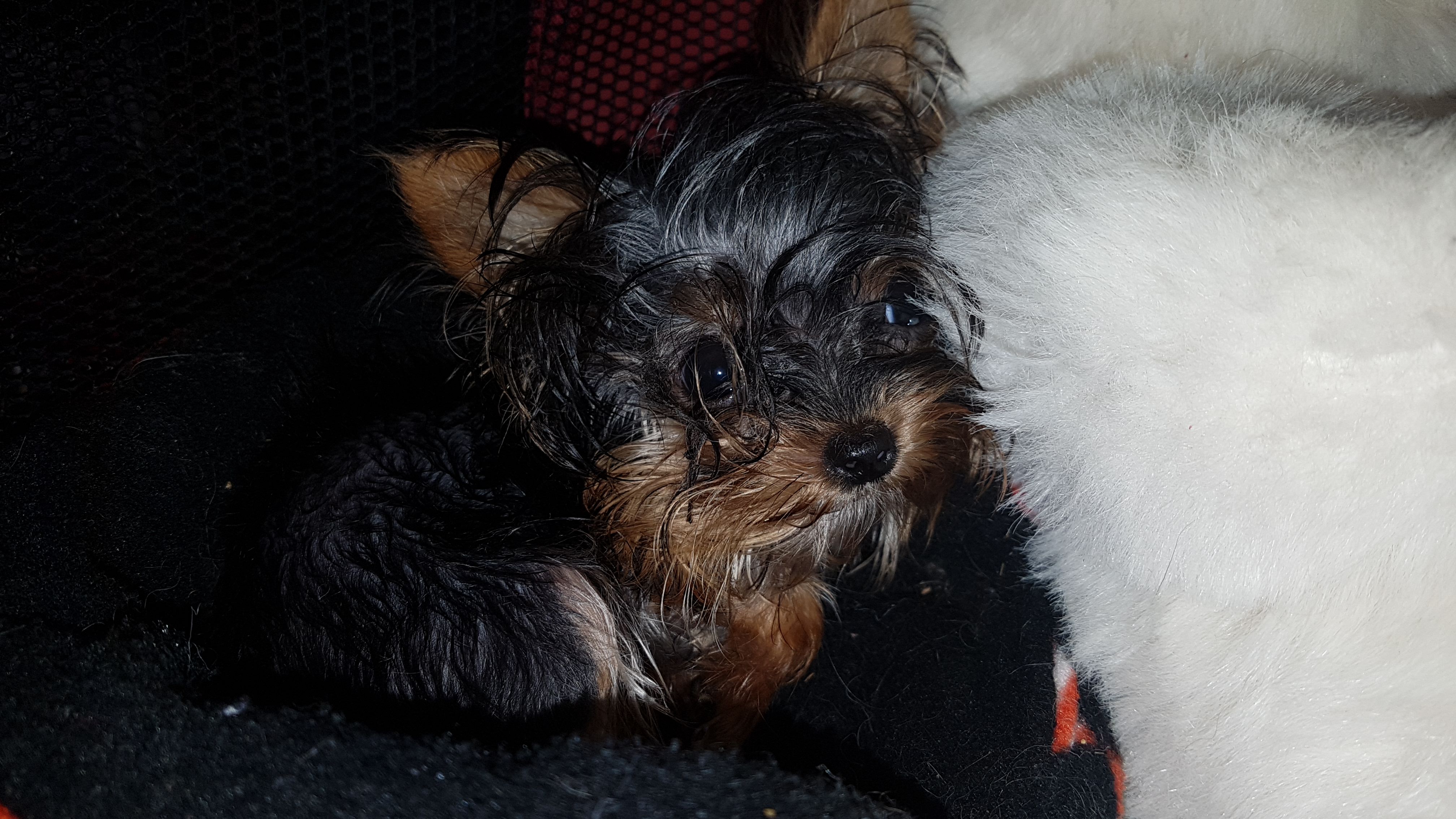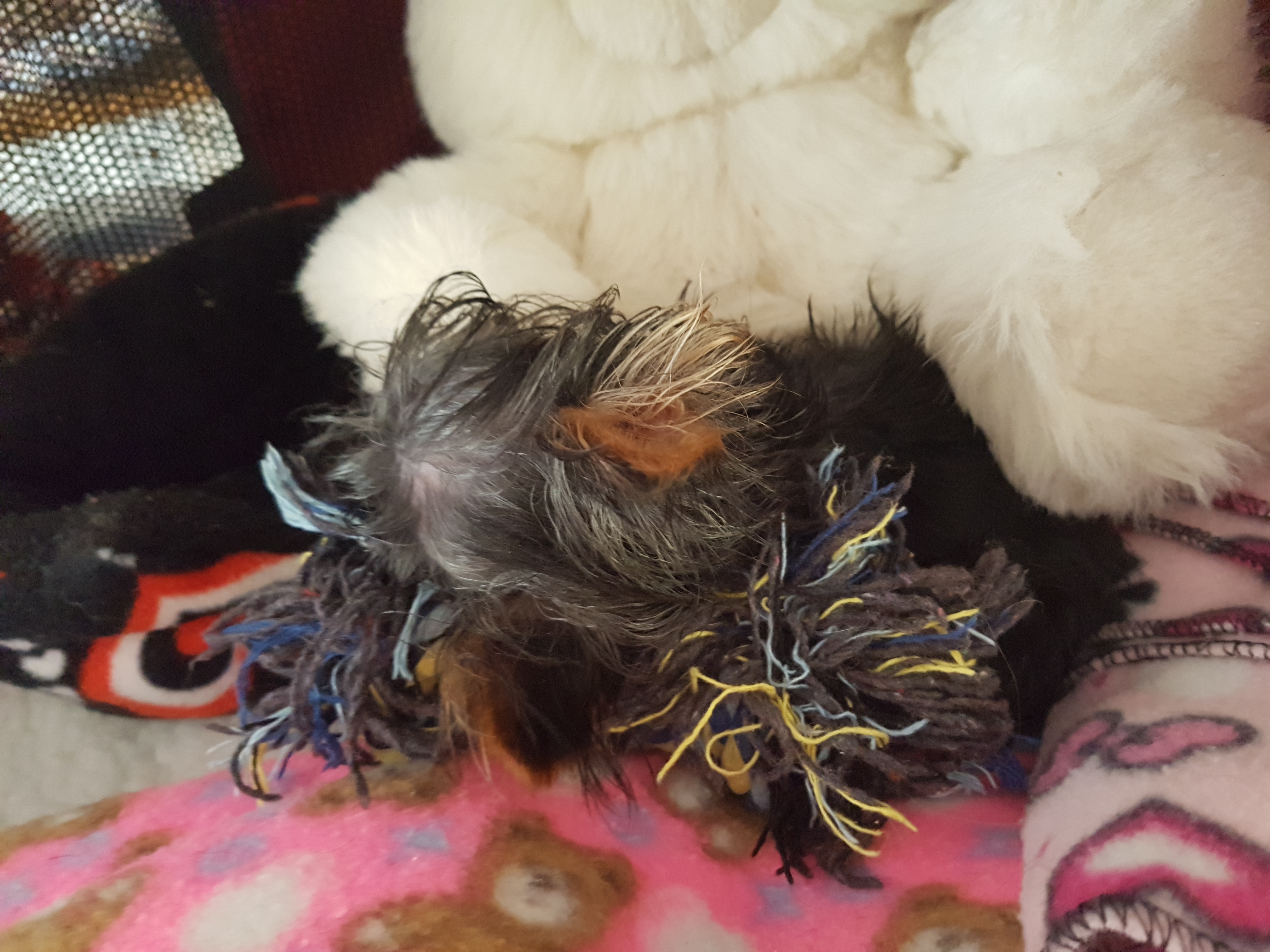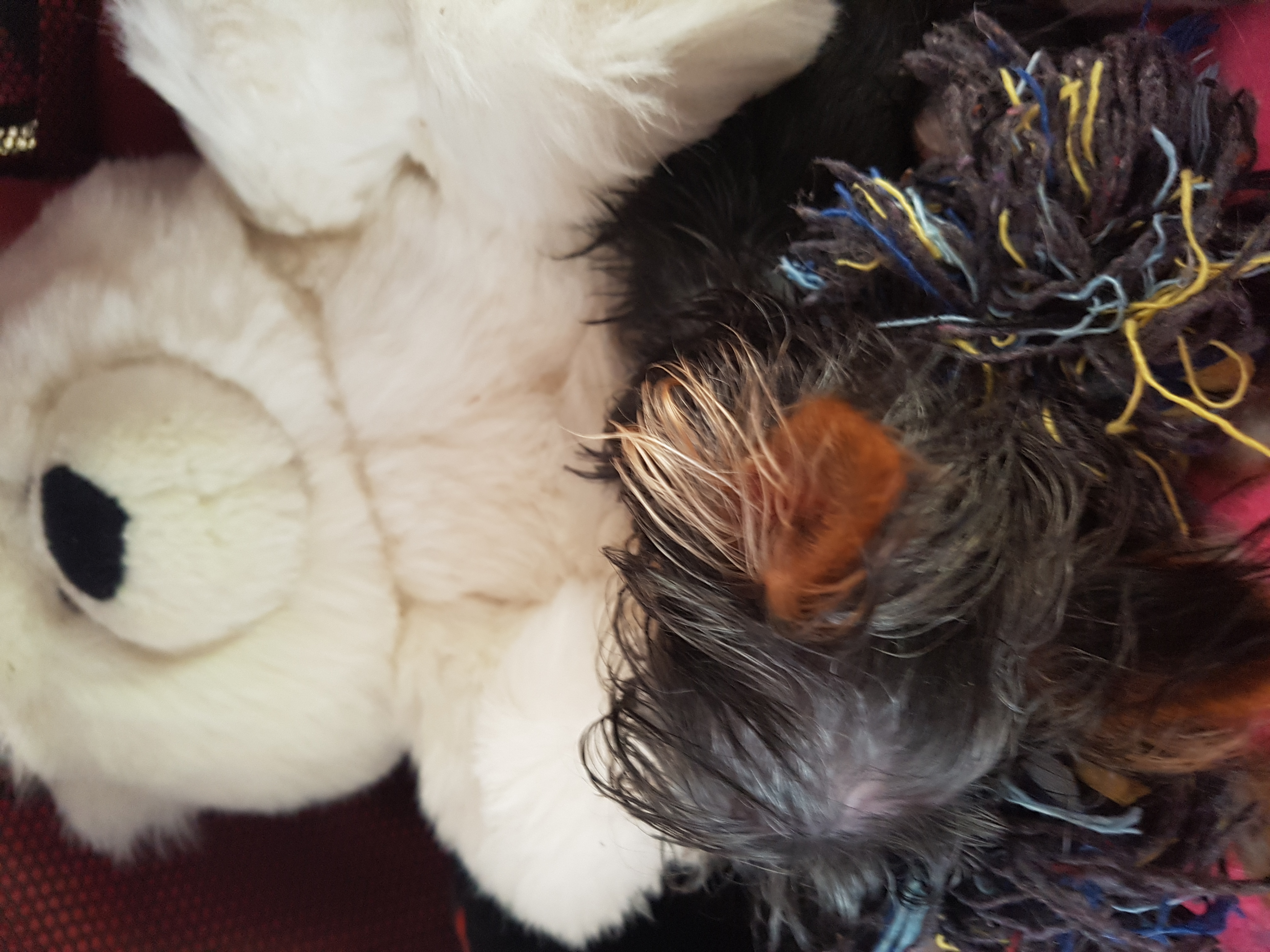 27 February 2017. Every other day i am contacted by the public regarding the teacup they purchased that is not a teacup pup. First and foremost WHAT DO YOU CONSIDER TO BE A TEACUP PUP.???
We have produced the very tiny dogs for at least twenty years not something i started doing yesterdy or the day before and they are bred as nature intended the reason we sell them with health guarantees however the proper teacup pup is a rare pup and not available EVER in quantity numbers etc, so if a breeder tells you to come and see their dozen teacups on offer, ????????. IF a breeder claims the mother is a teacup again ????????????????? To raise a genuine teacup from a breeders perspective is NO walk in any park. I am not going to go into any details what it entails from my side as the breeder, just incase some UNETHICAL breeders out there use my info to con the public.
At one stage we did sell our tinies at 8 to 10 weeks of age, when asked by the desperate future owners BUT not in years now. We keep ours till they are four months old and they are raised as a teacup should be raised, we then can almost guarantee 99% this is the real deal. IN past years we have had to deal with some rather unscrupulous, unethical, dishonest folk. People who lose their pup at 6 months, replace it and then try and fob off a new dog as our breeding? Dispicable for sure....
YOu want the genuine teacup check out what you need to know about ownign this size of pup.
For months on end this pup will need to be monitored around the clock which includes during the NIGHT obviously.

Night feeding is essential and if you are sold a pup that you are not adivsed to feed during the night even, at four months of age, IT IS NOT THE TEACUP Pup
WE 'R' THE HEALTHY, HAPPY, LONG LIVED GENUINE TEACUP DOG
read on our/this site all about it....
Owning the GENUINE teacup is way more
than owning a very small sized pup or dog
it is a way of LIFE.....





In his new home and luvvvving LIFE..........Pocket pup 3 months of age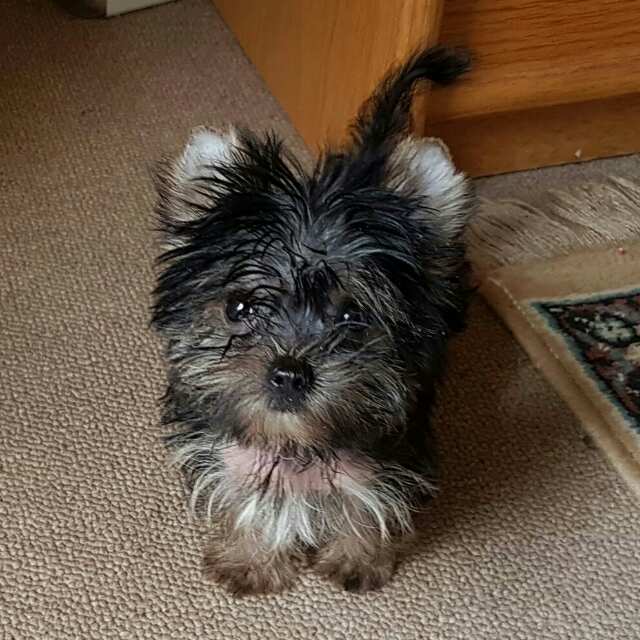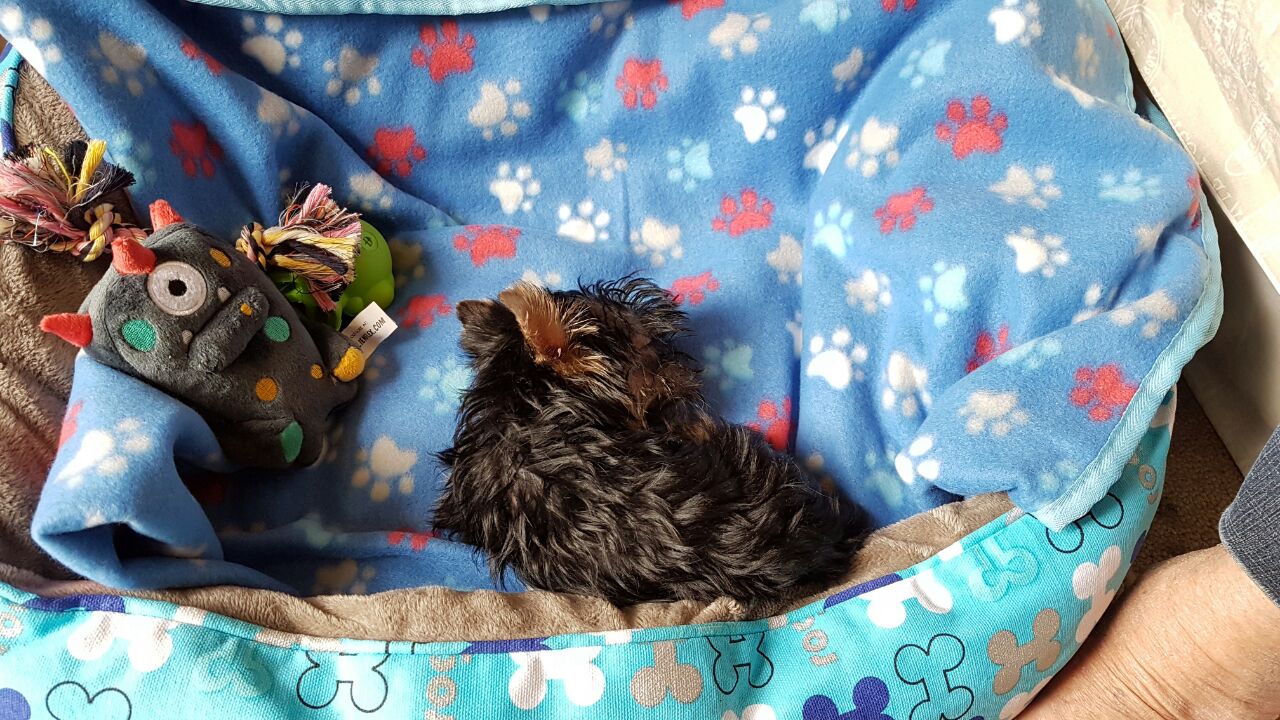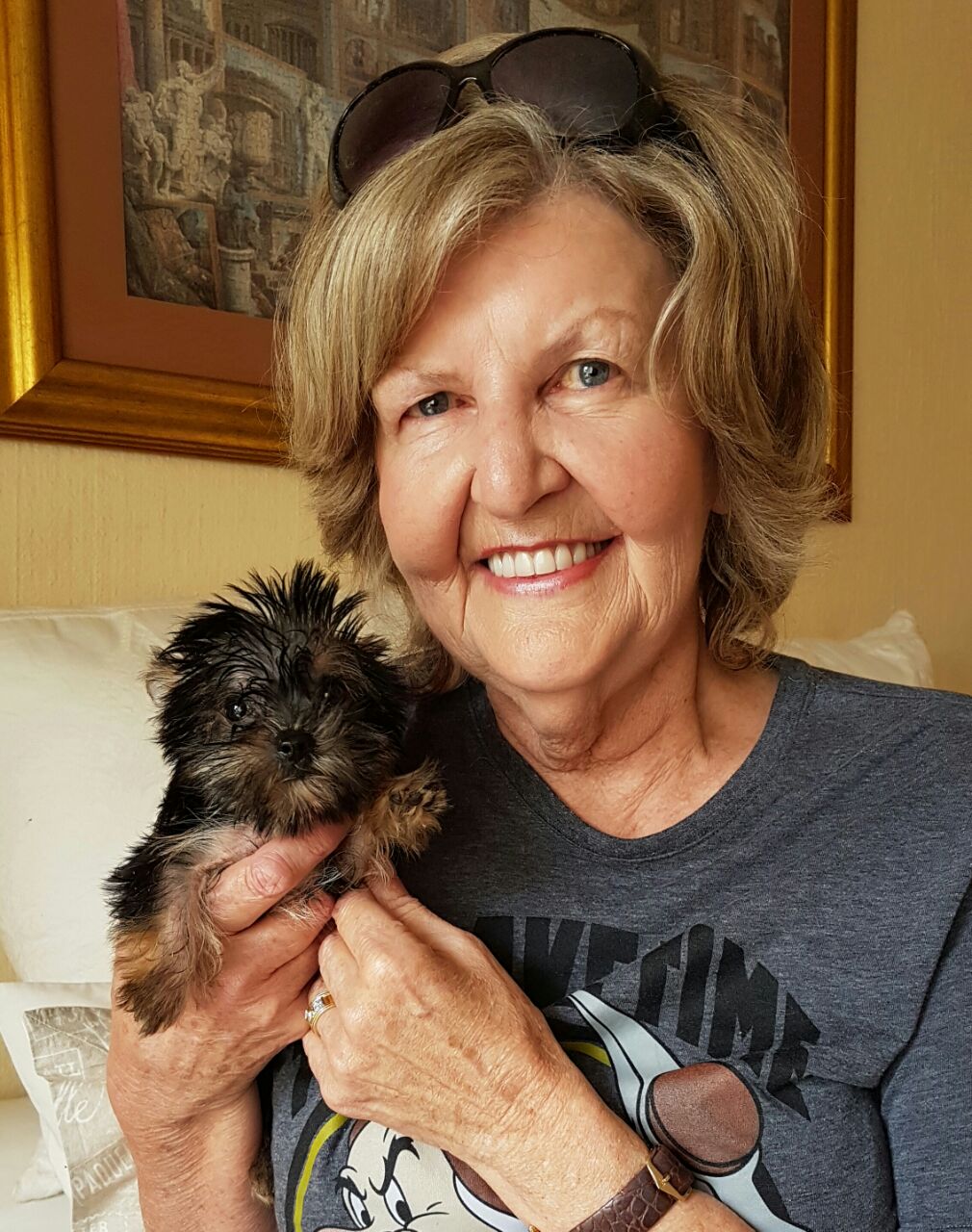 OUR LATEST ADDITION BELOW, MORE INFO ON OUR BIEWER WEBSITE, www.mijoybiewerterriers.co.za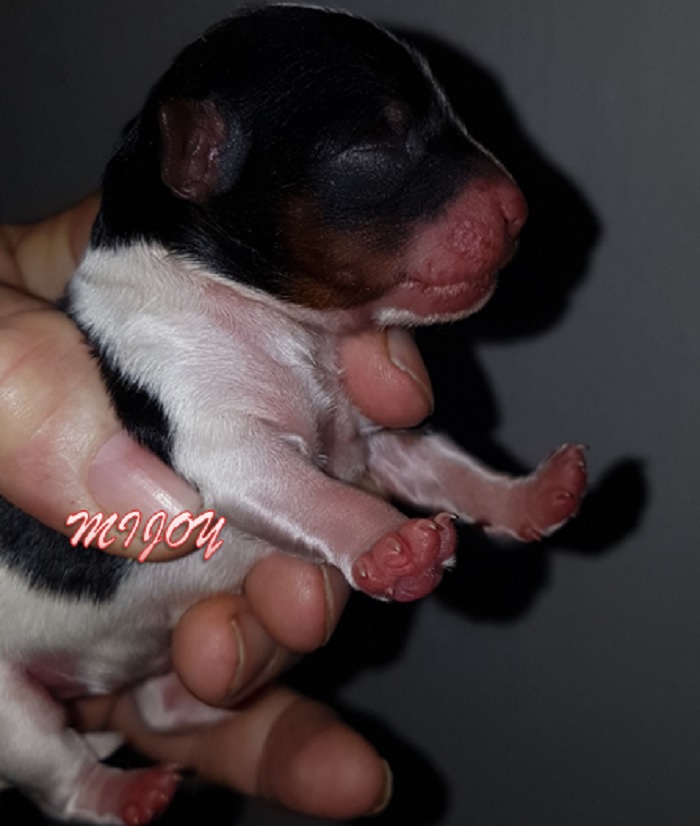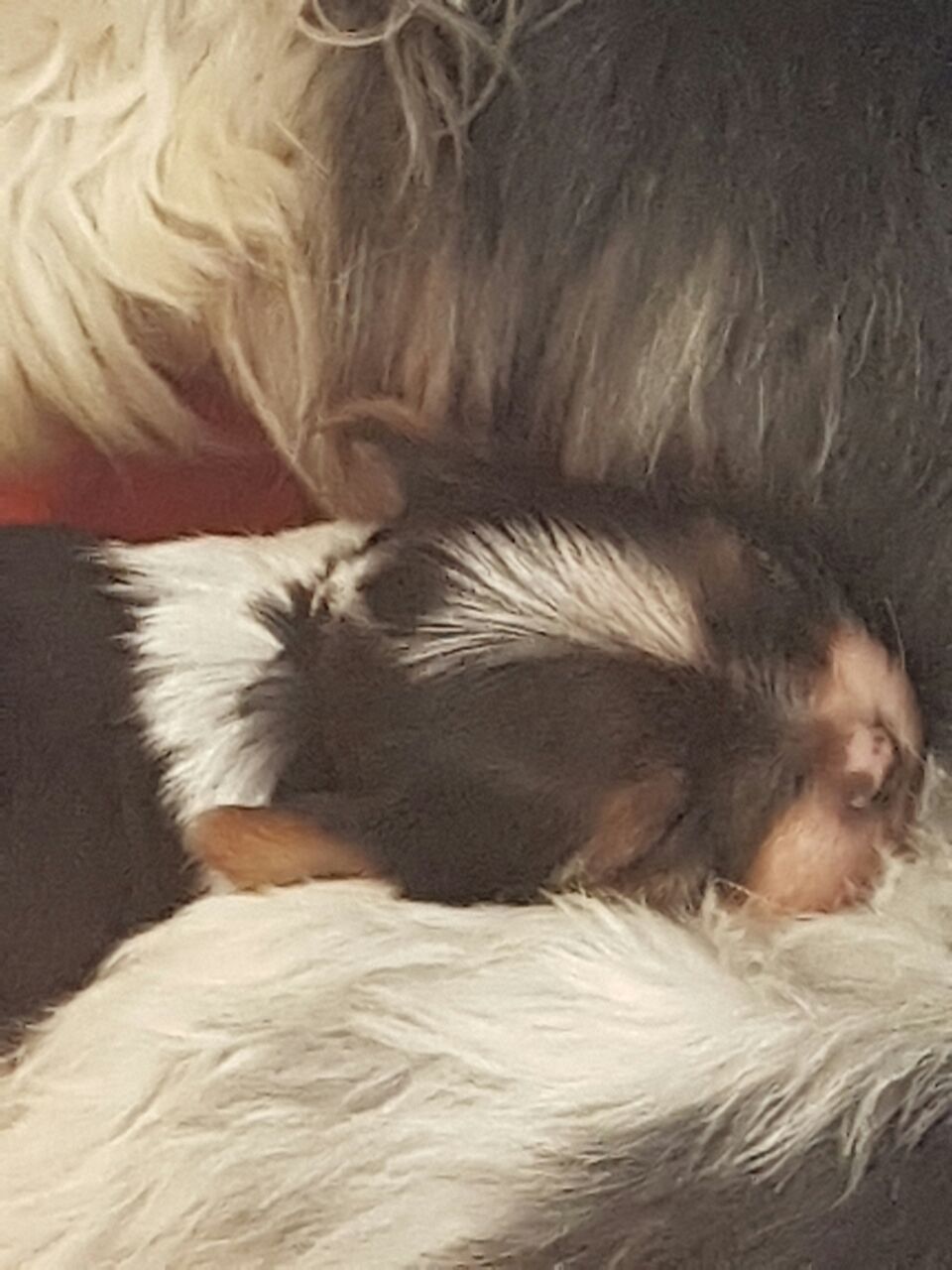 Feeding your dog the right way…
We all have our own tried and trusted ways of feeding our pets but, be cautious of feeding chicken, which seems to be the IN thing with most folk, spoiling their fur kids with chicken, the self-same story that can cause your fur kids issues in later life, so check this out with your vet.

Dogs should eat a fully balanced diet designed for dogs.
Raw diet

be exceptionally cautious of feeding this type of food to tiny pups and dogs, VETS are totally anti this for the smaller sized dogs and pups and before you go down this road, ask your vet his or her opinion. OVERSEAS certain regulations are in place to ensure the meat and poultry contents for the raw diets go through exactly the same testing that human foods go through, in South Africa this is not the case.

BE CAUTIOUS…

.
ALWAYS CONSULT WITH YOUR VET BEFORE TRYING GIMMICK FEEDING….
BELOW THE REASON WE BREED
12 FEBRUARY 2017

HAPPY BIRTHDAY CUTE - ONE YEAR OLD

BRED BY MIJOY OWNED BY MICHELLE IN THE CAPE...
Thanks for the pic, love to see how our cute babies grow,
very beautiful "little" girl for sure...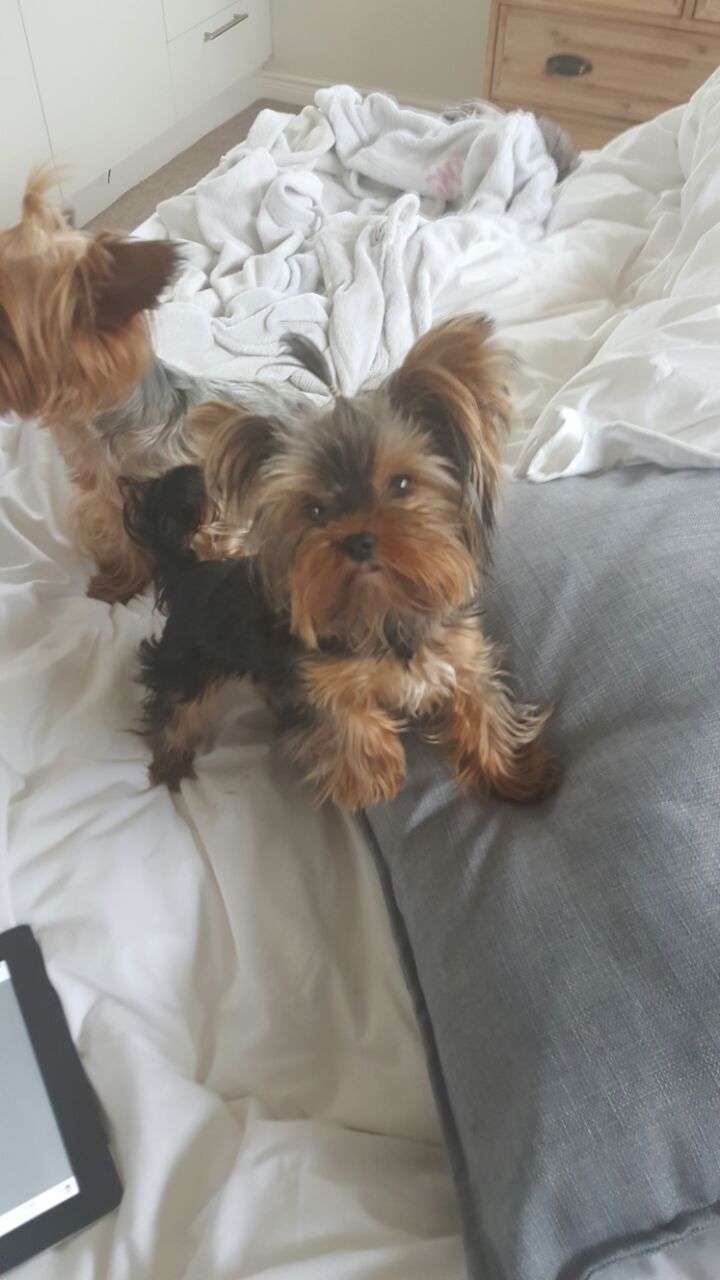 BORN TO BE LOVED - THE REASON WE BREED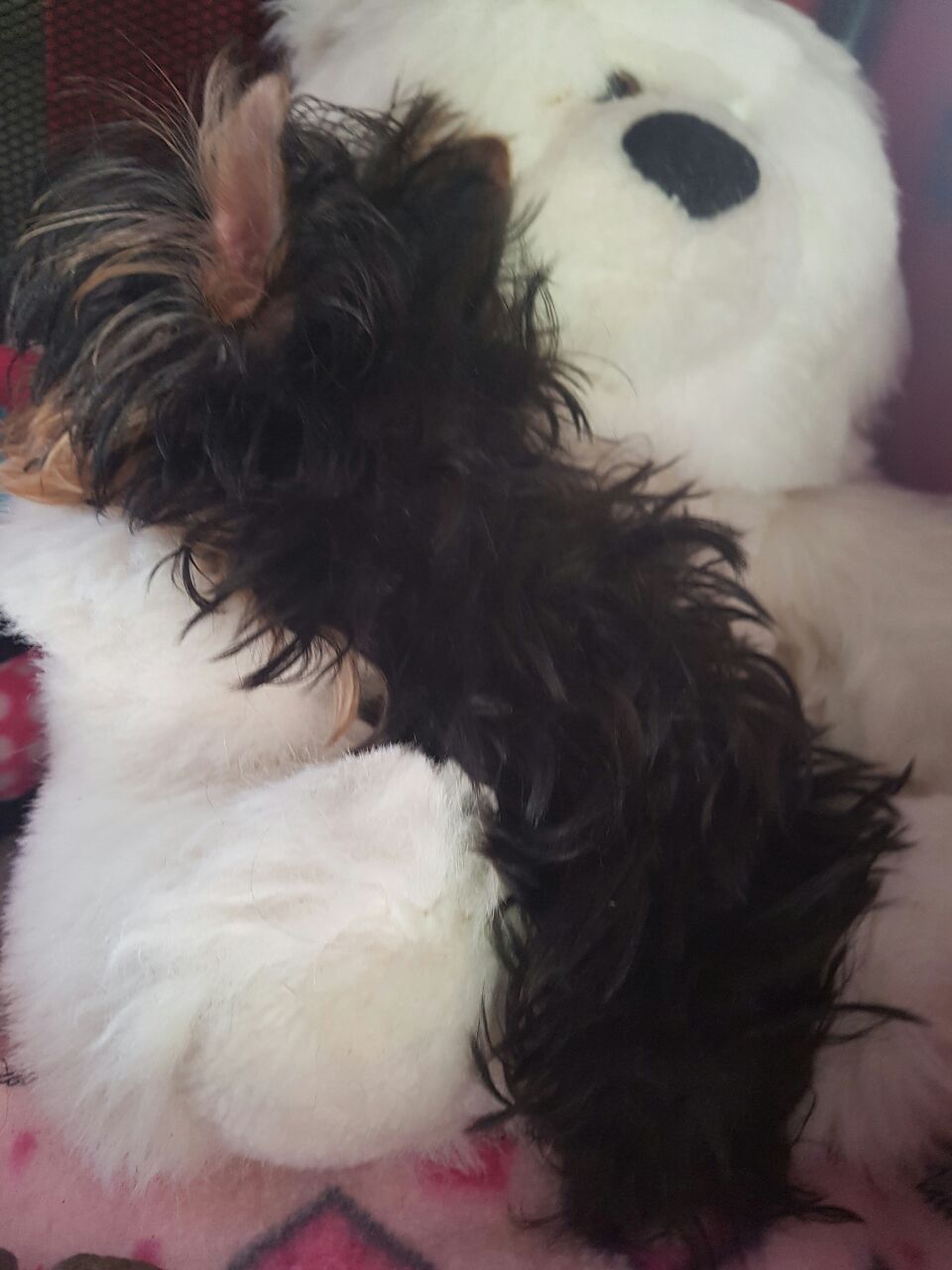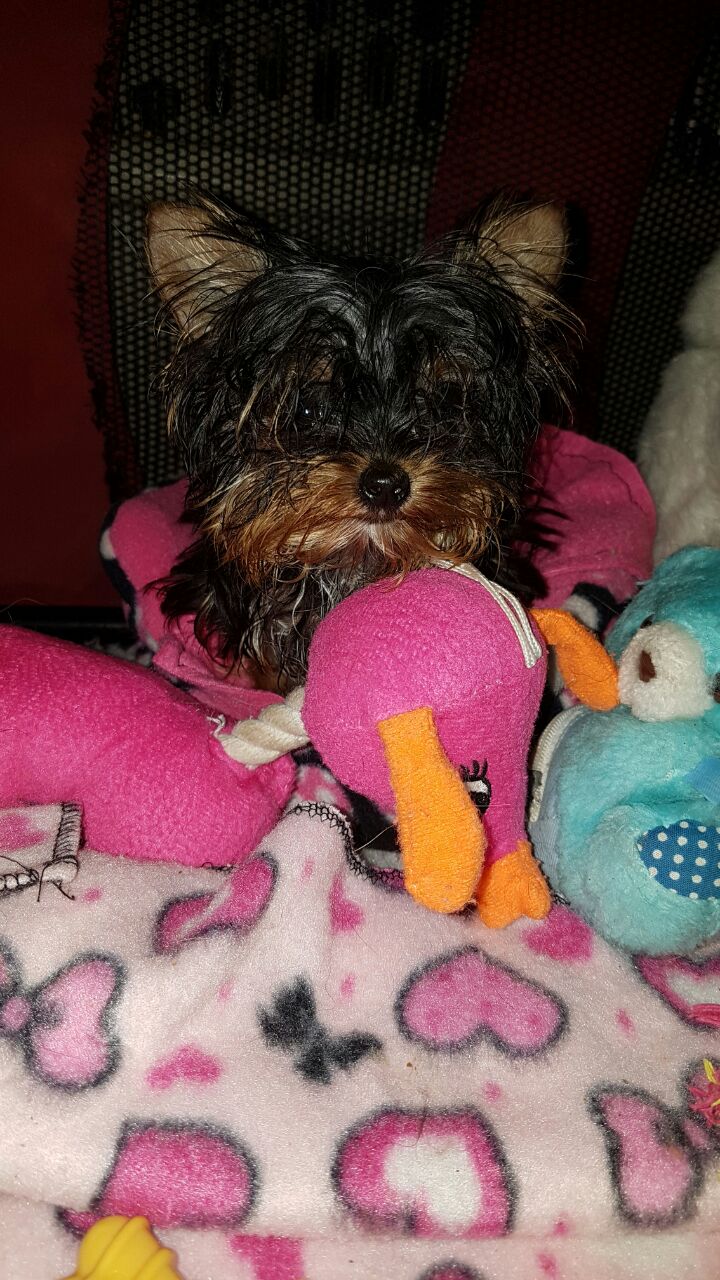 Another real cutie below, thank you LIZIA for the constant updates and pics.....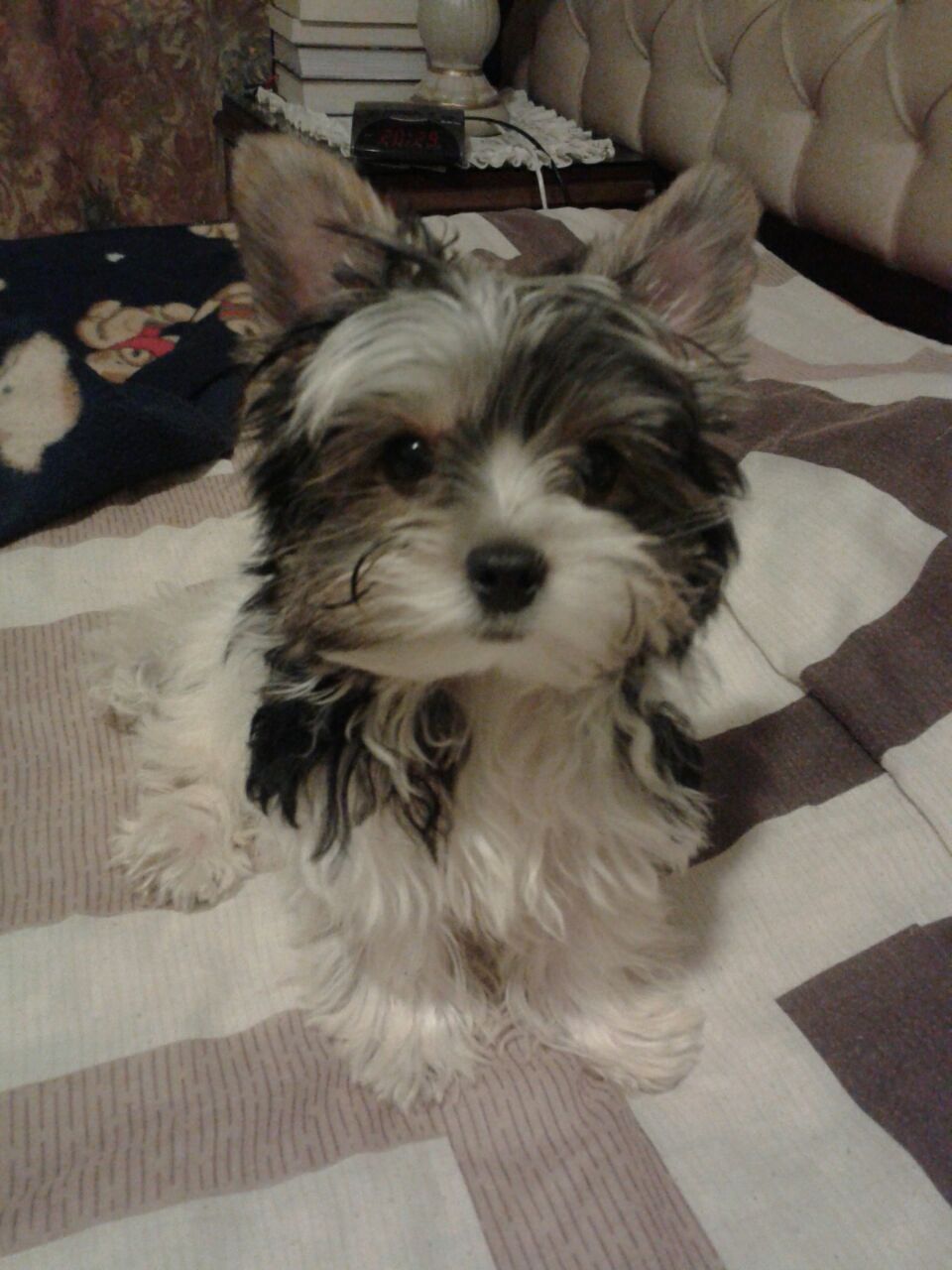 Thanks for the pics folks always appreciated...

Below in the CAPE - HANNO are these guys paid overtime,
seem to put a lot of work hours in these days........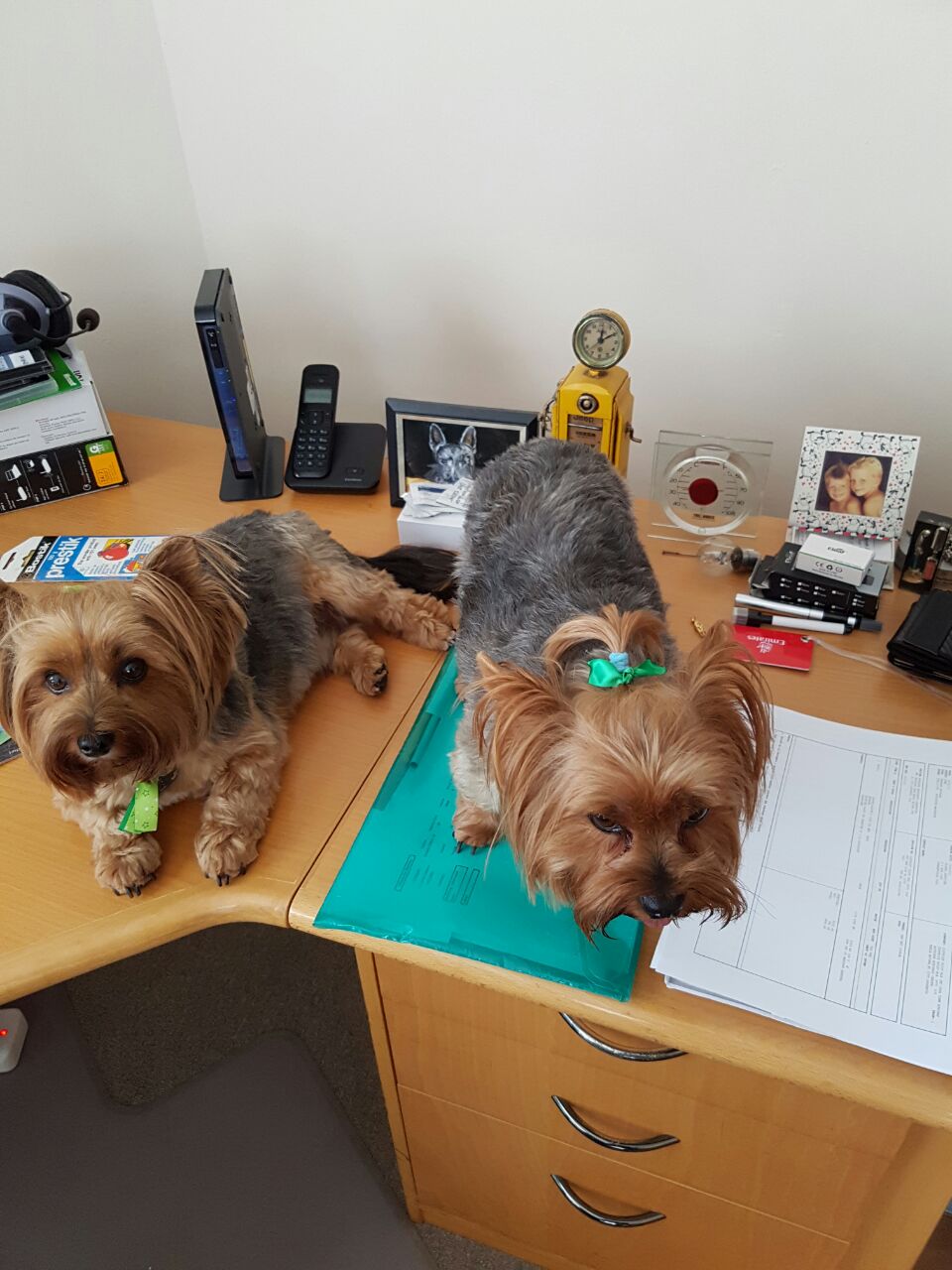 Another one of our ultra cute little Madams,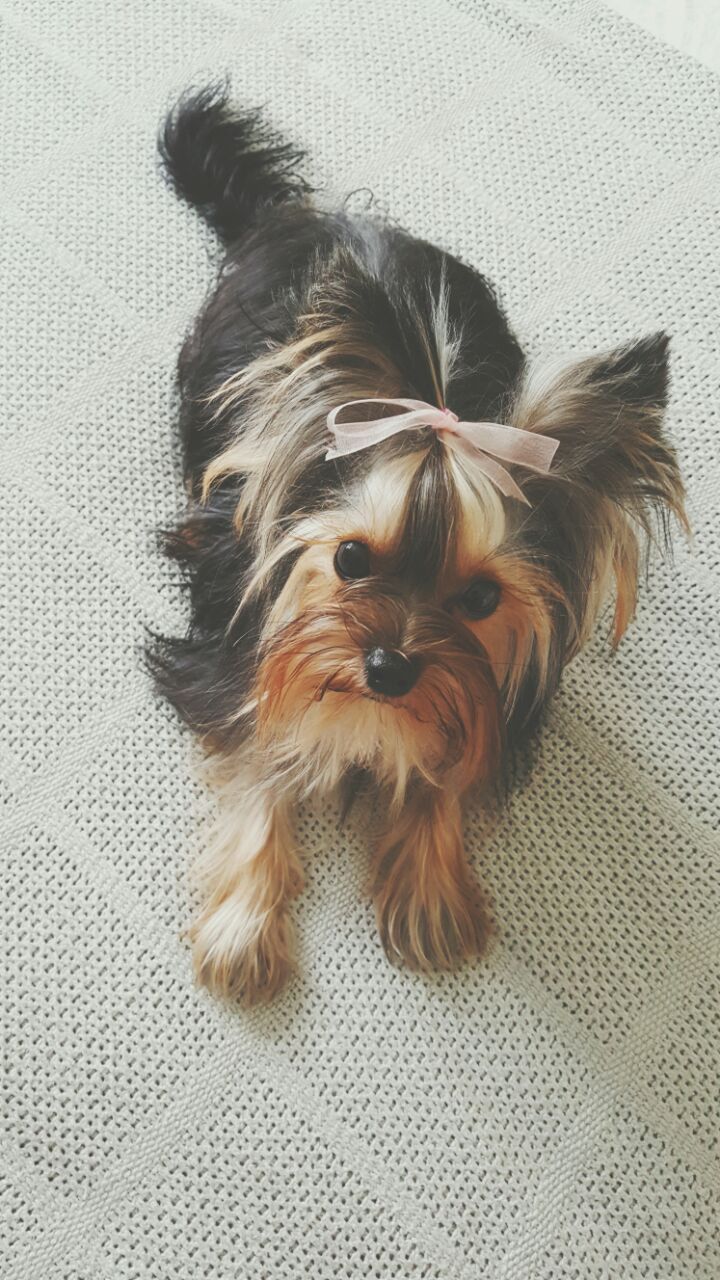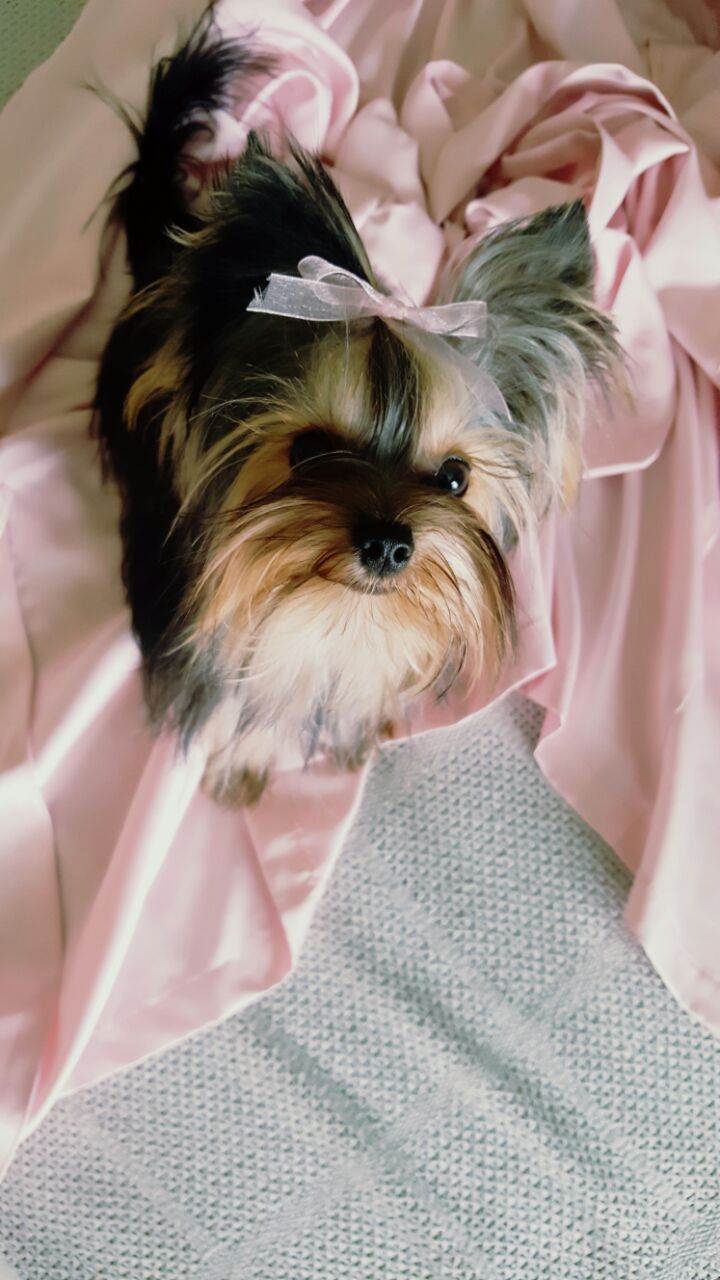 Below and our famous CHARLIE owned by ANGELA TOO MUCH RAIN????
Life is for living YOU GO BOY

BELOW ANOTHER UTRA CUTE MIJOY CHILD.... THANK YOU JEANNE also in the CAPE.
COMMENT FROM HER OWNER - "MADDIE THE MOST PRECIOUS GIFT ON EARTH..".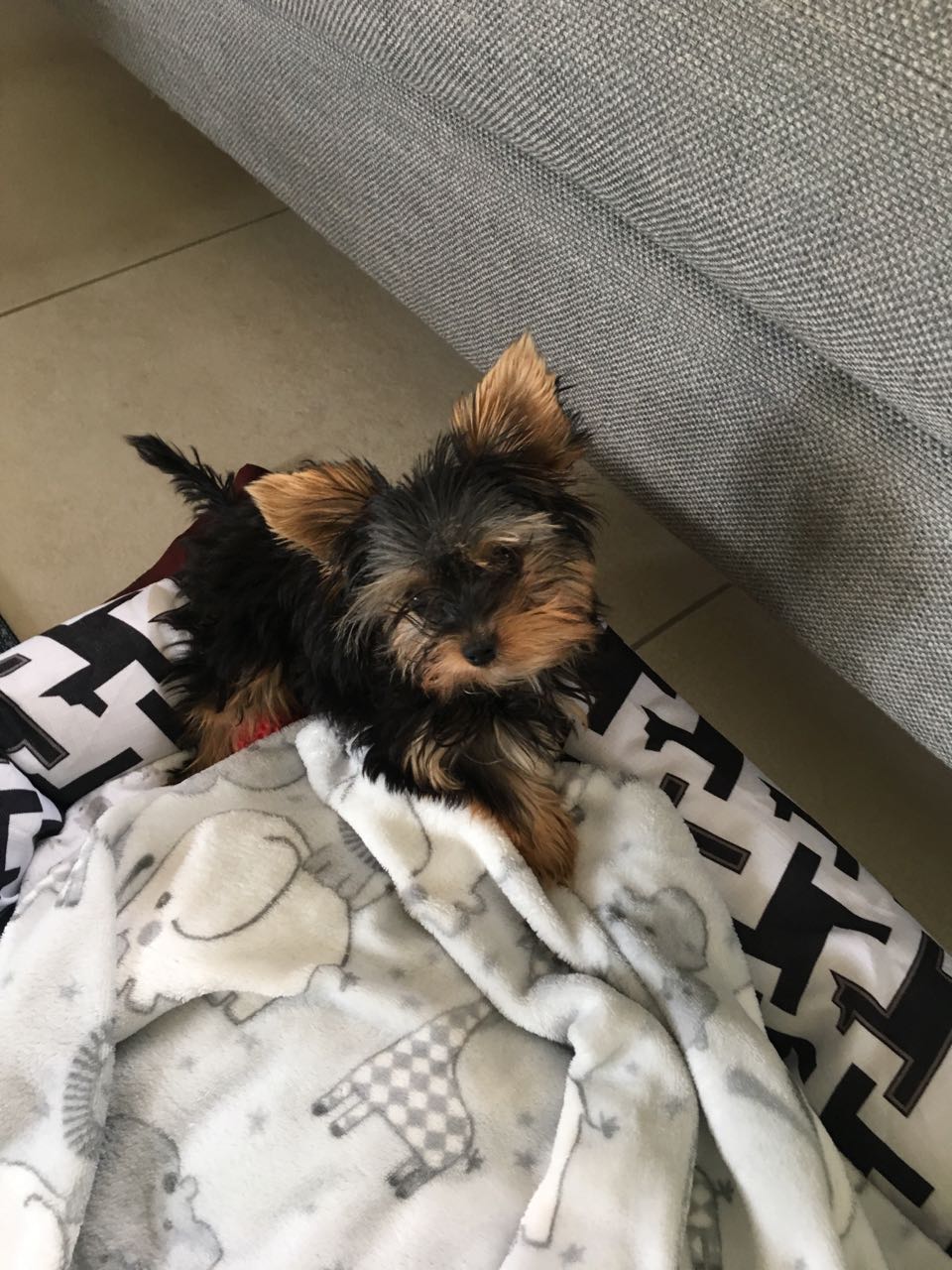 Thank you for all the updates, photos,

so much appreciated
---
A pet is a forever........... research before purchasing any pet ............
---
---
OUR MONTHLY NEWSLETTER NUMBER 110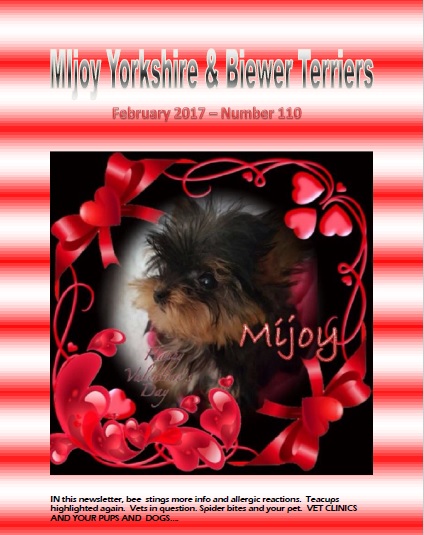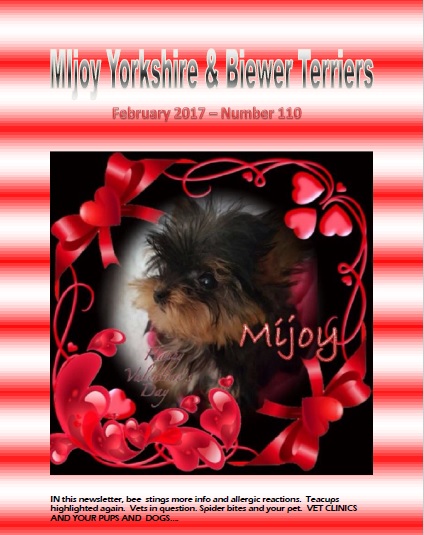 Interested in buying a teacup pup?? Here is the info you require.
We sell GENUINE teacup pups that end up as healthy, long lived dogs, but they need to be in the right hands. Most people are not suited to owning this size of dog, it requires dedication, huge amount of responsibility. It is not a pup to leave home with the maid, or Granny.
IT is a total companion to its human owner, so not suited to a child, student etc. If the pup cannot go with you wherever you go, don't buy it.
Night feeds is something that needs to be done for a good few months and this size of pup and dog is something you will have to monitor every night forever, to ensure your pup or adult dog is fine, as the tinier the dog, the more hands on the owner needs to be.
Something similar to having a human baby, whatever you would not do with your baby, don't do it with your teacup pup.
We have sold a good few over many years and with the right owner it is never a problem. Many years back we did face problems with the WRONG owners who knew everything.???? HOWEVER A GOOD MANY YEARS AGO since that time, we are over the top FUSSY who buys this size of puppy.
This is not about how knowledgeable you are on the breed, but how far you are prepared to go to raise and own the ultimate tiny dog.
If you have the lifestyle to own this size of pup, adult dog in the future, you are most welcome to contact us to take things further. We do have waiting lists always have waiting lists, worked from waiting list for a good many years. This is not a pup you phone us up and one is sitting watiting here for someone to buy it, they are rare, never happens.
This is the GENUINE tiny not what the majority of breeders fob off as teacups, in 99% of cases those pups are pups that will end up considerably bigger when adult or they are pups sold at a very young age, NOT the age the breeder claims them to be. BE CAUTIOUS OF SCAMS. A proper teacup pup is an expensive pup.
These pups leave us at four months of age, at this age they are in the vicinity of 400gms weight may differ but slightly. They will be socialised, they will be guaranteed to have a very good temperament and personality.
All our pups are home raised, We are not kennel breeders or cage breeders.
Pups will have had all shots plus rabies, a booster inoculation will be required when dog is 16 months of age. Pup will be dewormed. Micro chipped. Sold with a contract for sterilisation. ALL our pups are sold on the understanding they will be sterilised by the owner without exception with a specified period of time. Once proof of sterilisation has been received by us from your vet, registration papers will follow.
To join a waiting list, you are sent forms to complete with your details etc, a deposit is required you will receive a receipt, you will also be put on our mailing list. We send out monthly newsletters hitting number 110 odd. February 2017 - Number 110
NO one breeds with teacups they are way too small, ours are bred as nature intended, we do not manipulate the breeding of them in anyway, the reason we sell with guarantees as they are healthy, long lived dogs.
BEWARE OF THE SCAMS OUT THERE THE BREEDERS WHO SELL ANYTHING AS TEACUP TO GET PUPS SOLD AND GET GOOD PRICES.
THE ONLY REASON OUR TEACUPS ARE THE PRICE THEY ARE, IS THE WORK THAT IS INVOLVED FROM OUR SIDE AS THE BREEDERS.
We are known for out tinies world wide. We are no fly by nights, been producing the ultimate tinies for the last twenty odd years, involved with the yorkie breed for the last thirty plus years. We also produce BIEWER TERRIERS IN TINY SIZES, UNHEARD OF ??? We have them to prove we breed them.
NO TEACUP SIZED DOG IS CAPABLE OF BREEDING. WE SELL ALL OUR PUPS STRICTLY AS PETS IRRESEPCTIVE OF THE SIZE OF THEM, IF YOUR INTENTION IS TO BREED WITH ANY DOG FROM MIJOY, DO NOT BUY THE FIRST ONE. ALL SOLD ON CONTRACT, STERILISATION NOT NEGOTIABLE.
The teacup is a very hands on pup, this is not a pup you leave in any vet clinic for any length of time, they stress, they pine for their owner, this can and will mean disaster if that pup is hospitalised and left for a clinic to handle.
GENUINE TEACUP BELOW, WE DO NOT EXPECT HER ADUT WEIGHT TO EXCEED 600GMS.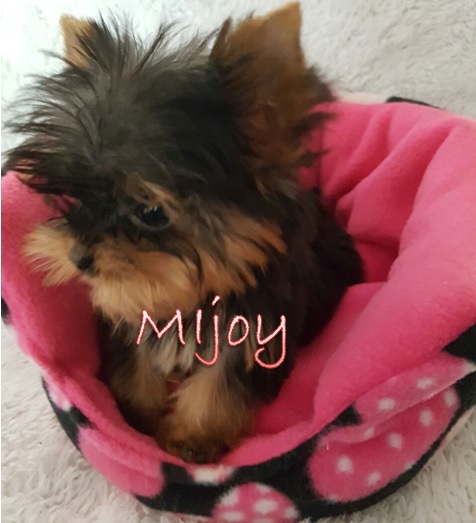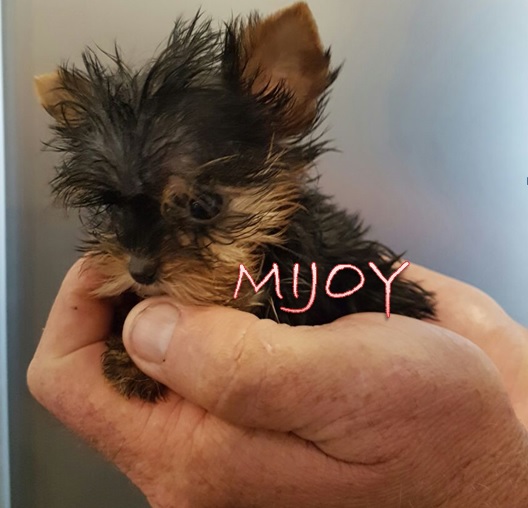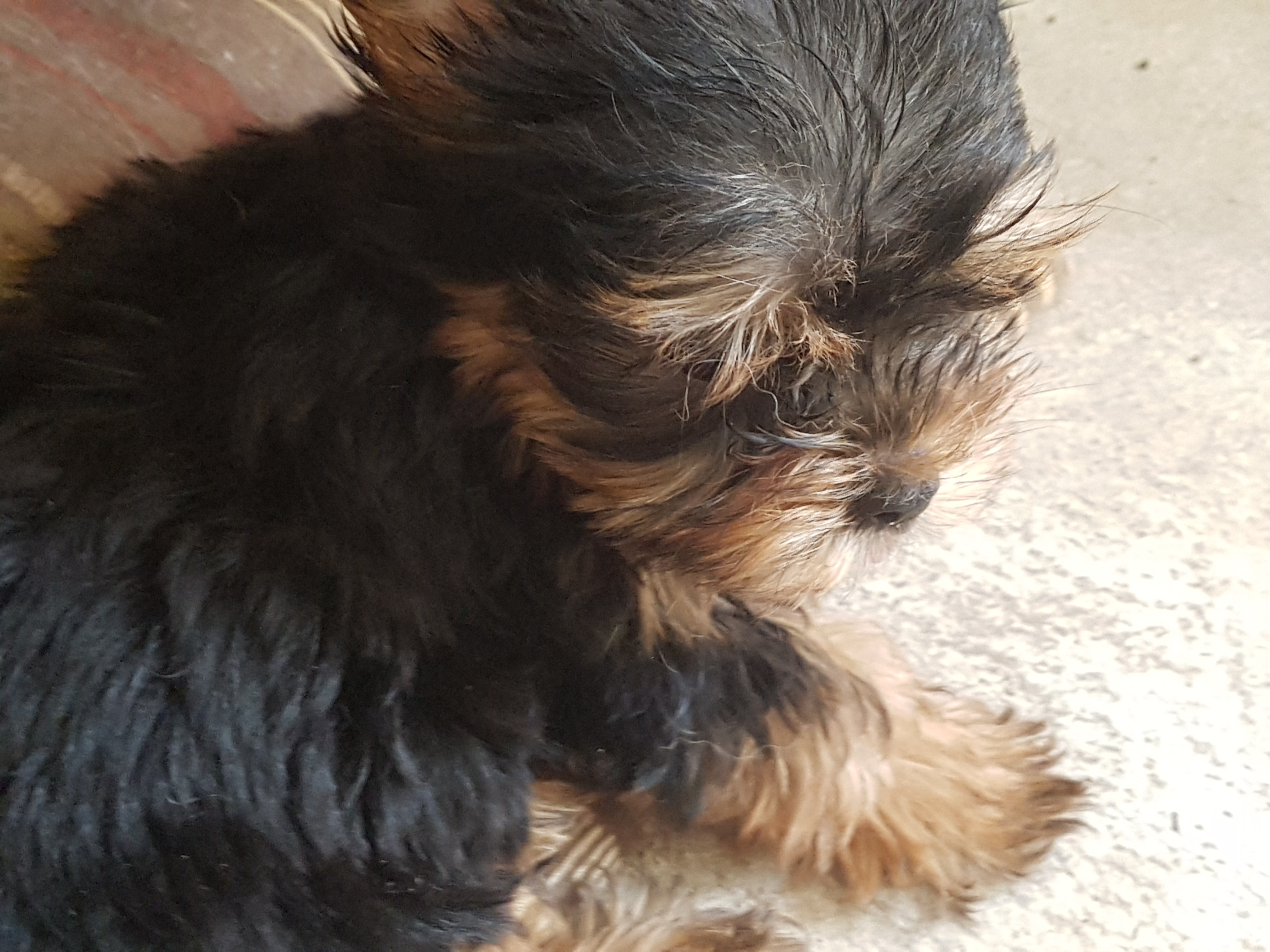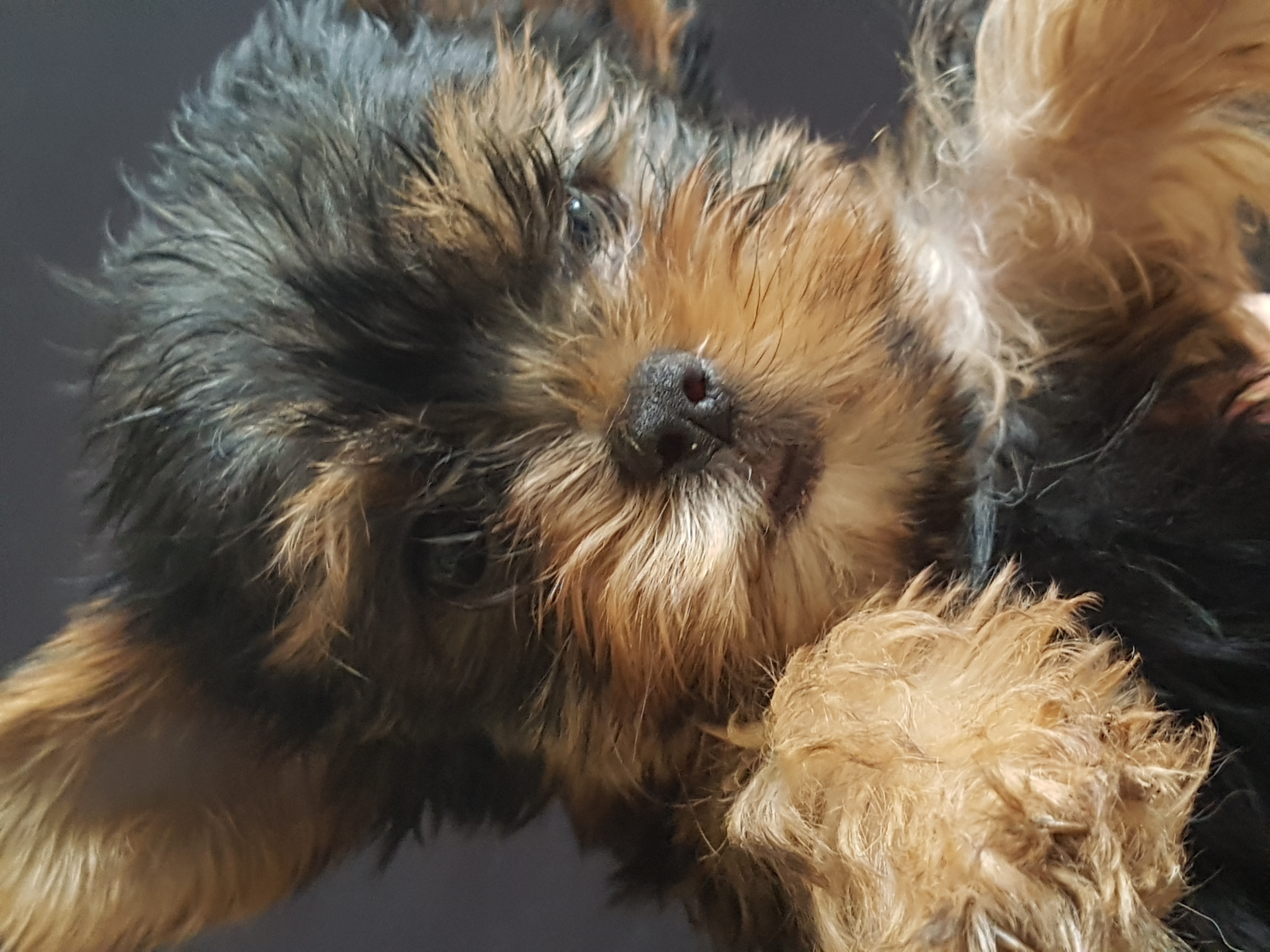 above DARCEY...
below thanks for the pics Danelle of your little chap.....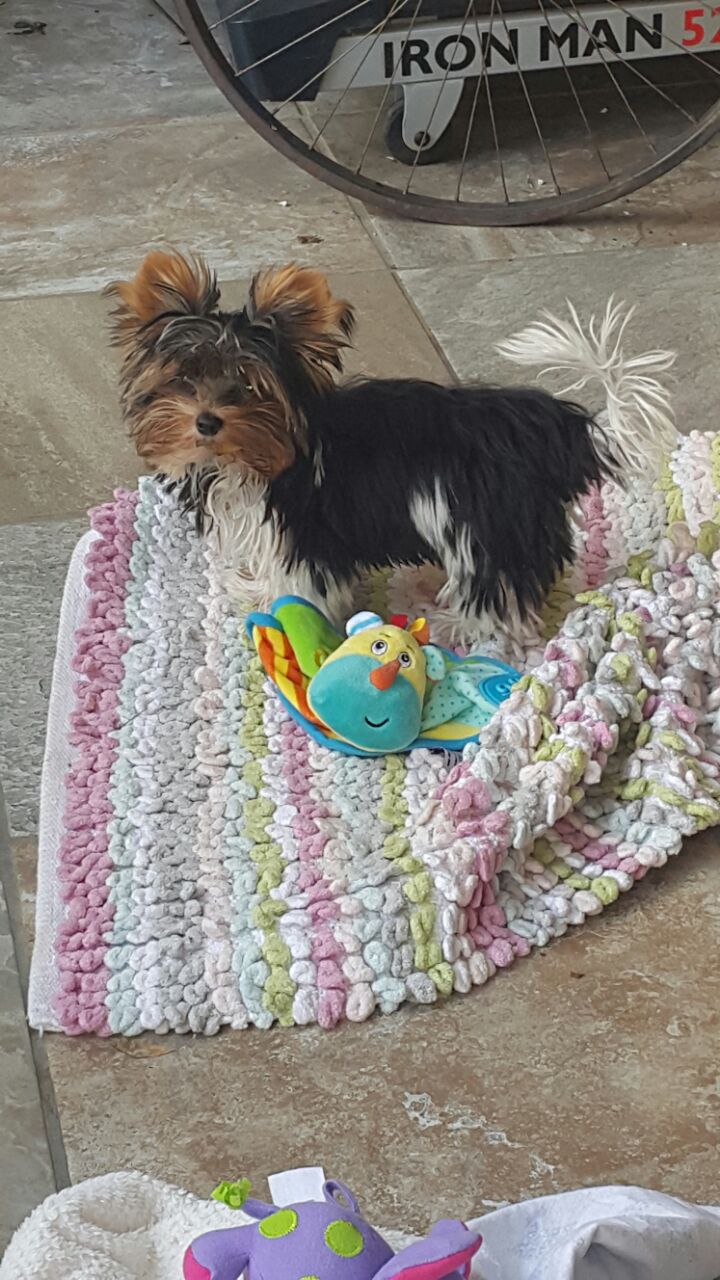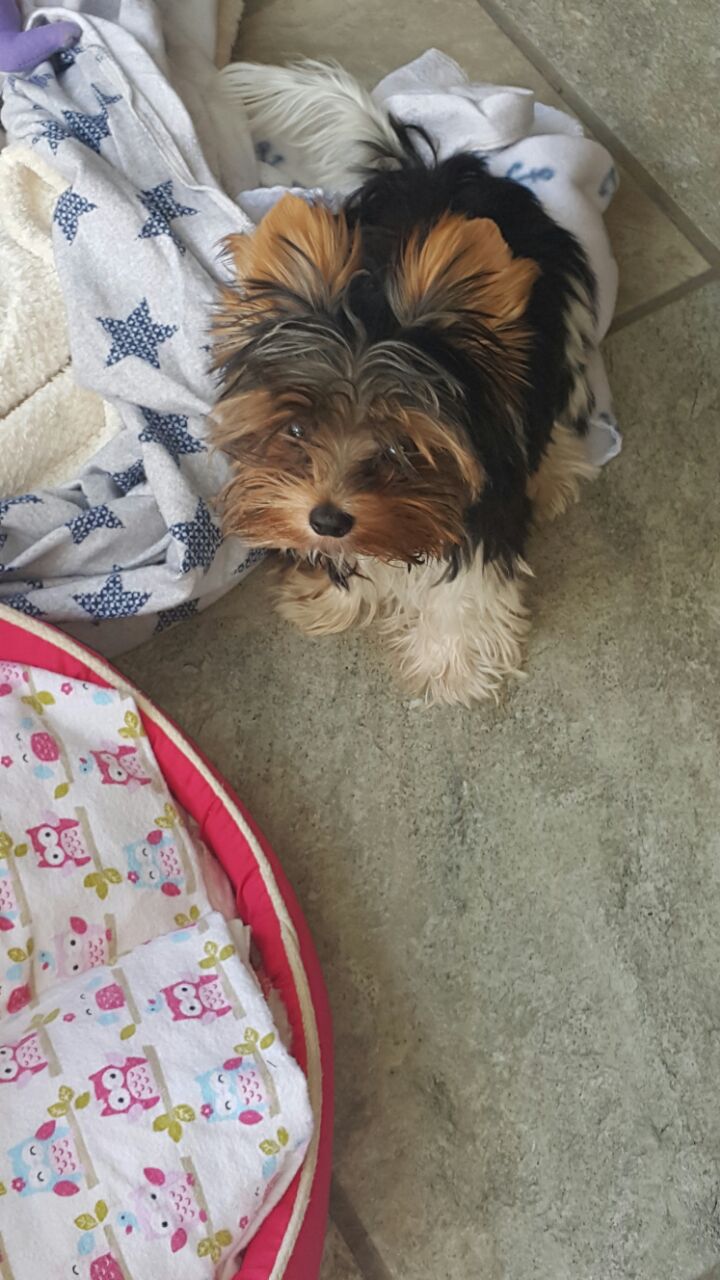 Hello!
February is Pet Dental Month.
Good breath is an essential must-have if your couch kings mosey on over to you in the morning with that first sloppy "good morning" lick or open mouthed stare to get you out of bed.
Not only essential to your continuous good mood, but good breath is really important for you best fur bud's good health - Yep, bad breathe is NOT normal in dogs and cats.
We could not have said it any better than Dr Bill Barnett, DMV.
Dr Barnett talks about PlaqueOff Animal as an effective and safe plaque and tartar removal product.
Learn about Plaque, Tartar and your pets oral health in this short and easy ...
CRUNCHY FOOD – DOES IT PREVENT DENTAL DISEASE?
I just read an interesting article titled:
Does feeding dry food or crunchy food to your dog make a difference in his teeth or prevent dental disease? written by Dr P Kuhly DMV MBA
To summarise, it said:
When formulating ideal diets for dogs, there are loads of things to consider. The variables involved in finding the perfect diet for an individual animal are endless. However, when considering what's best for your dog's teeth, in Dr Kuhly's experience, people assumed they knew the answer.
There is no one right answer for every pet. Actually, some crunchy foods do next to nothing for pet teeth while others have passed rigorous standards and are proven to reduce plaque to some degree or another.
Dr Kuhly raised some interesting questions:
Each dogs' individual chewing behaviour varies from dog to dog.
Is every piece of kibble being chewed or are those lumps simply swallowed?
Some pets are gulpers and these hungry ones bypass mastication altogether. If your dog is a non-chewer, there's no way that even the most effective tartar-preventing foods will do anything for their teeth.
Then there was the question:
Does Crunchy or Dry Food Make a Difference in Your Dogs Teeth?
The Answer in short: No, we don't know whether dogs fed a lifetime of crunchy food (including proven plaque-reducers) suffer less periodontal disease than those that eat foods that are not specifically proven to reduce plaque.
Is this all trivial or even irrelevant?
Absolutely not.
For example, many dogs' medical conditions require moistened foods (such as overweight cats or cats and dogs with specific urinary issues). Many pet owners may be resistant to feeding moist foods (even when their pets really need it) for fear their pets' teeth will suffer. Meanwhile, there's very little evidence to prove that our pets are any better off eating crunchy food…and plenty of evidence to suggest that some diseases and specific health concerns may require the softer stuff.
So to conclude:
The belief that a typical dry food only diet keeps the teeth cleaner should be regarded with a little bit of scepticism. Normal moist and dry foods seem to neither promote nor decrease plaque accumulation.*
But we do know that dental hygiene is very important to contributing to a long and healthy life for your dog or cat.
With all these things to consider, a very simple answer and solution is at hand no matter what you feed your pets.
– PlaqueOff Animal, tested and proven, is the answer **
Does it matter whether your pet chews hard kibble? – No.
Does it matter if your pet is a gobbler? – No
All that matters is that PlaqueOff Animal gets into their system so it can get to work.
No mess. No fuss. PlaqueOff Animal every day, once a day, will clean teeth and keep them clean. It's that easy!
AS SIMPLE AS THAT - ENQUIRE FROM YOUR VET REGARDING THE ABOVE PRODUCT, FAR EASIER THAN A DENTAL ANNUALLY

WE USE GETMEKNOWN CHIPS, not fuss, no bother, as easy as a blink of an eye...

FOUND A PET THAT IS CHIPPED, HERE IS WHAT TO DO........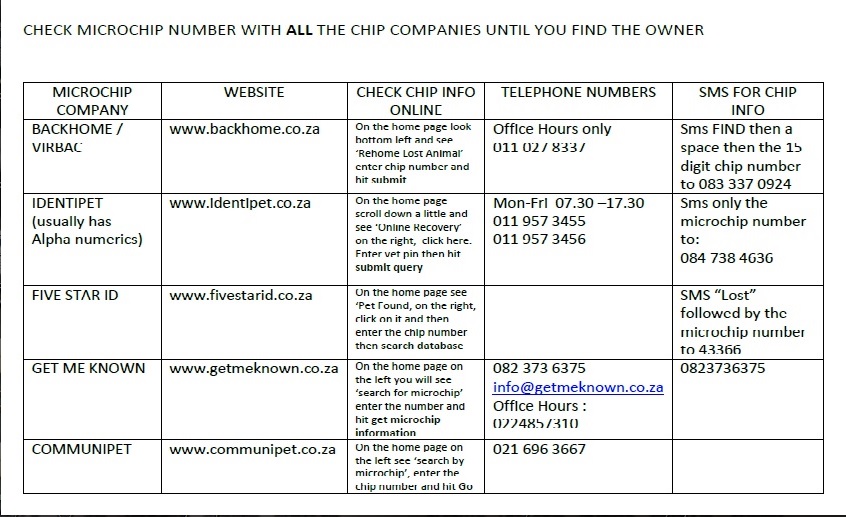 Latest from our mail box.
From: Simone
Sent: Wednesday, January 4, 2017 11:03 PM
To: Joyce
Subject: Milo
Hi Joyce,
Happy New Year to you! I trust you are well and blessed. It's been such a long time since I've emailed you pics of Milo. He's now 3 and a half years old and is very much the love of our lives. He's such a phenomenal little boy.
I haven't received a newsletter in about 2 months and I was hoping you could put me back on the mailing list please.
Have a lovely day and thanks again :-)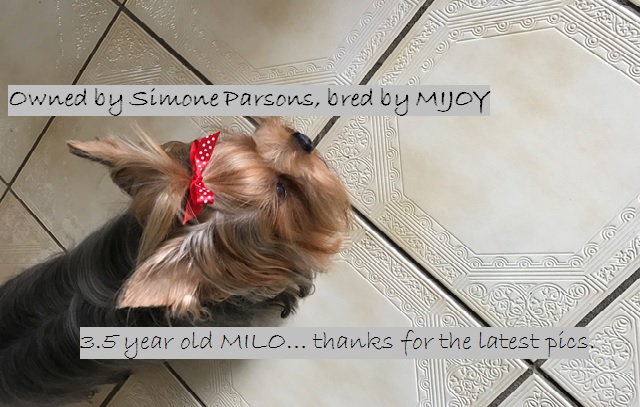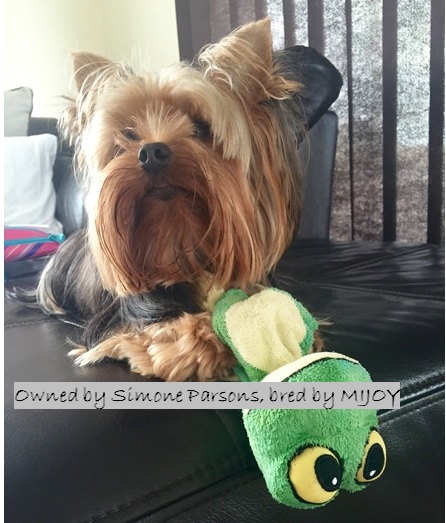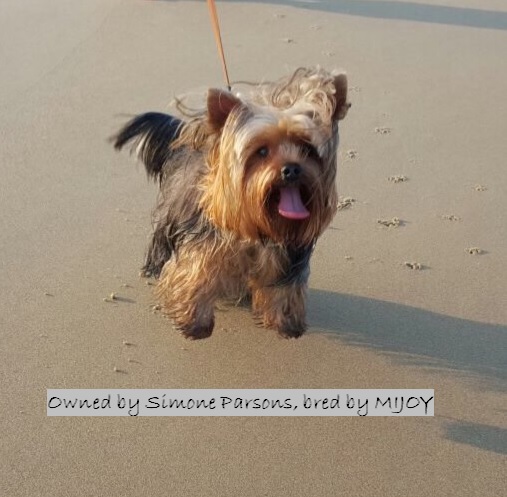 Kind Regards
Simone Parsons
Sent from my iPhone
ABOVE - MANY THANKS FOR THE BEAUTIFUL PICS SIMONE GREATLY APPRECIATED.
BREEDERS OF THE YORKSHRE TERRIER FOR WELL OVER THIRTY YEARS
THE GENUINE TEACUP - BEEN PRODUCING THESE HEALTHY,
ROBUST, PROPER, TINY DOGS FOR TWENTY YEARS.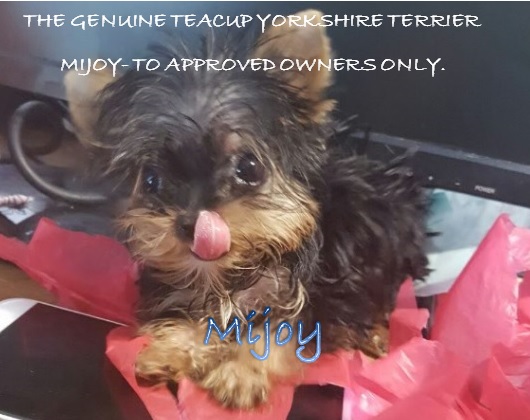 t
THANKS FOR THE PICS FOLKS, LOVE TO SEE OUR MIJOY KIDS LIVING IT UP IN THE FESTIVE SEASON...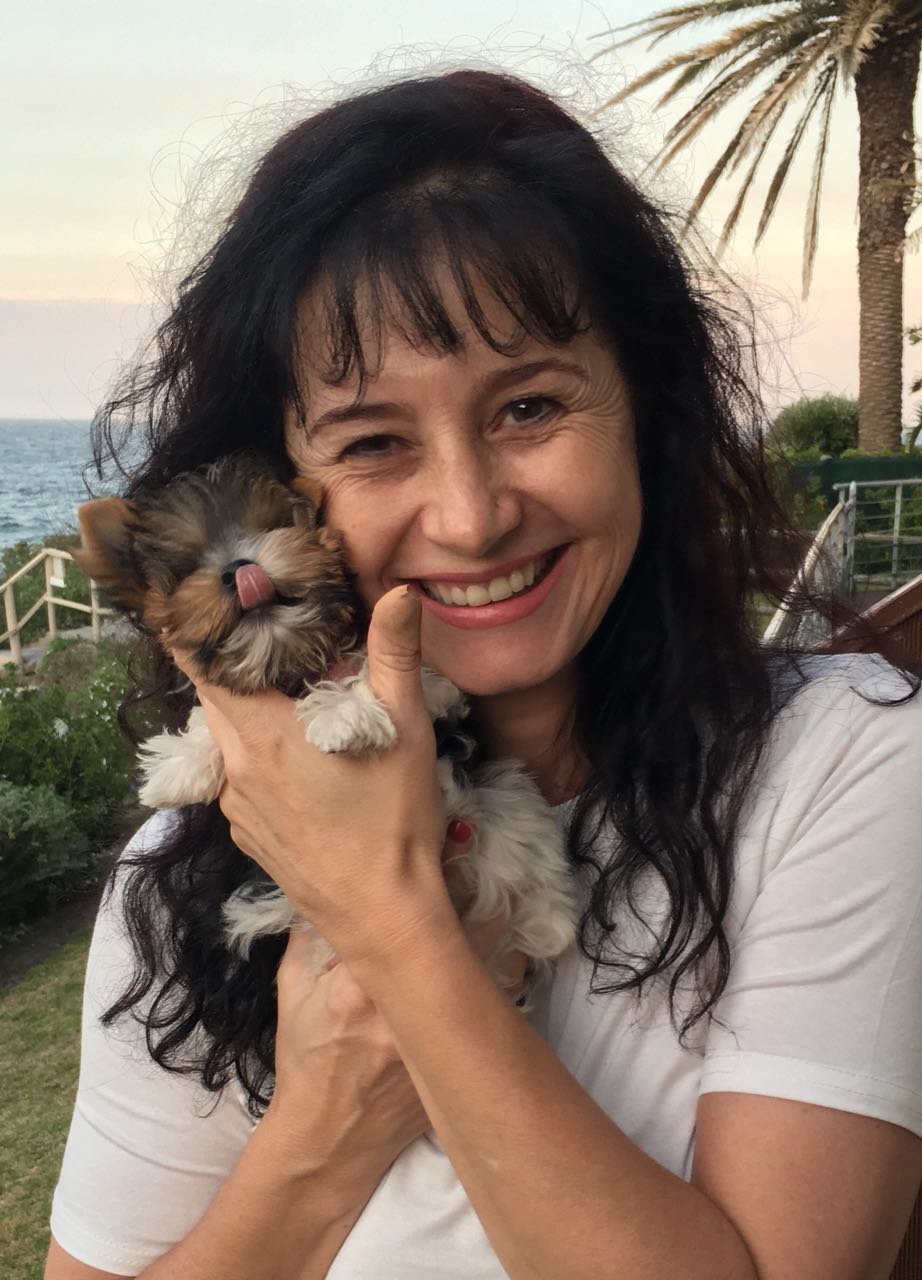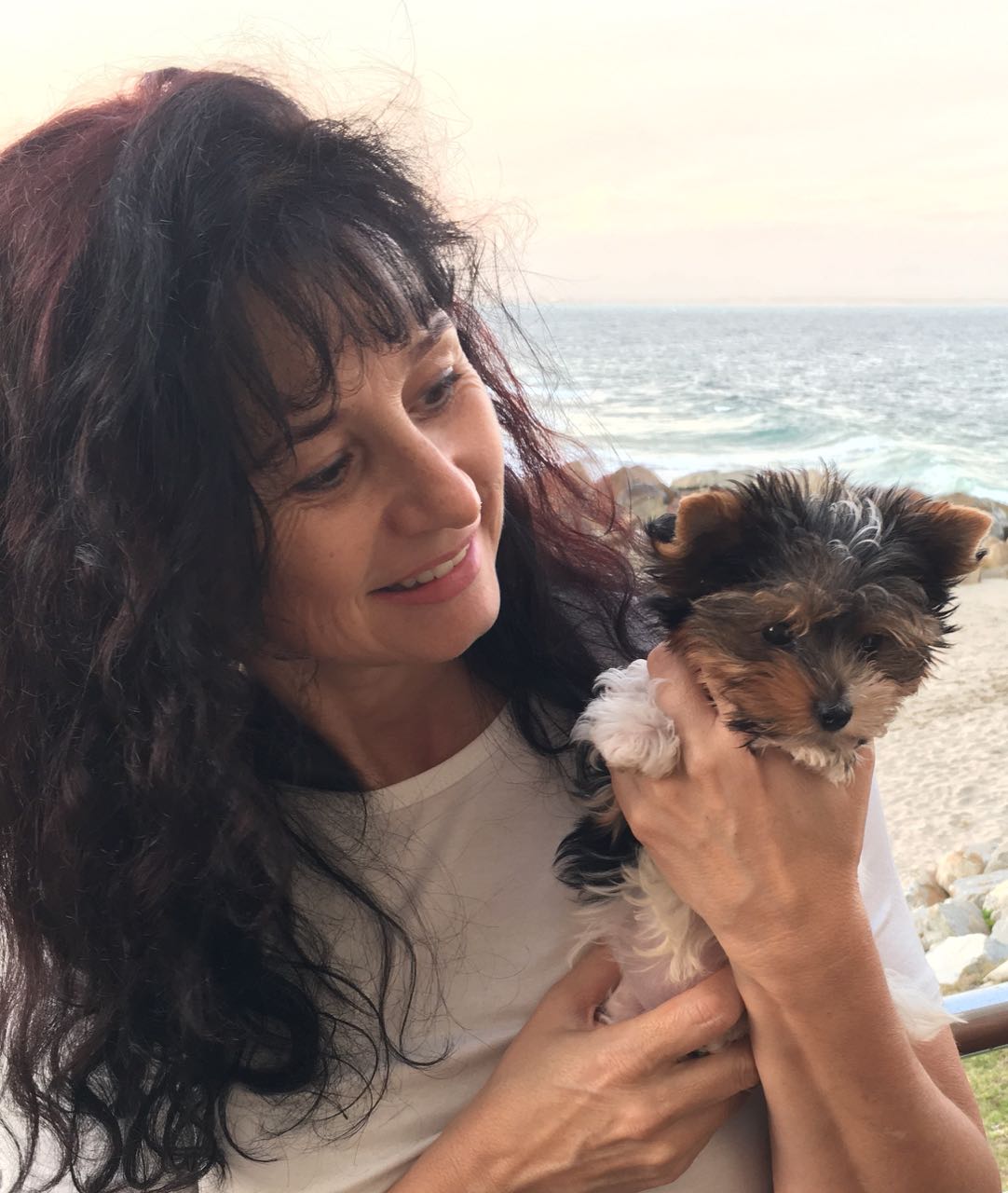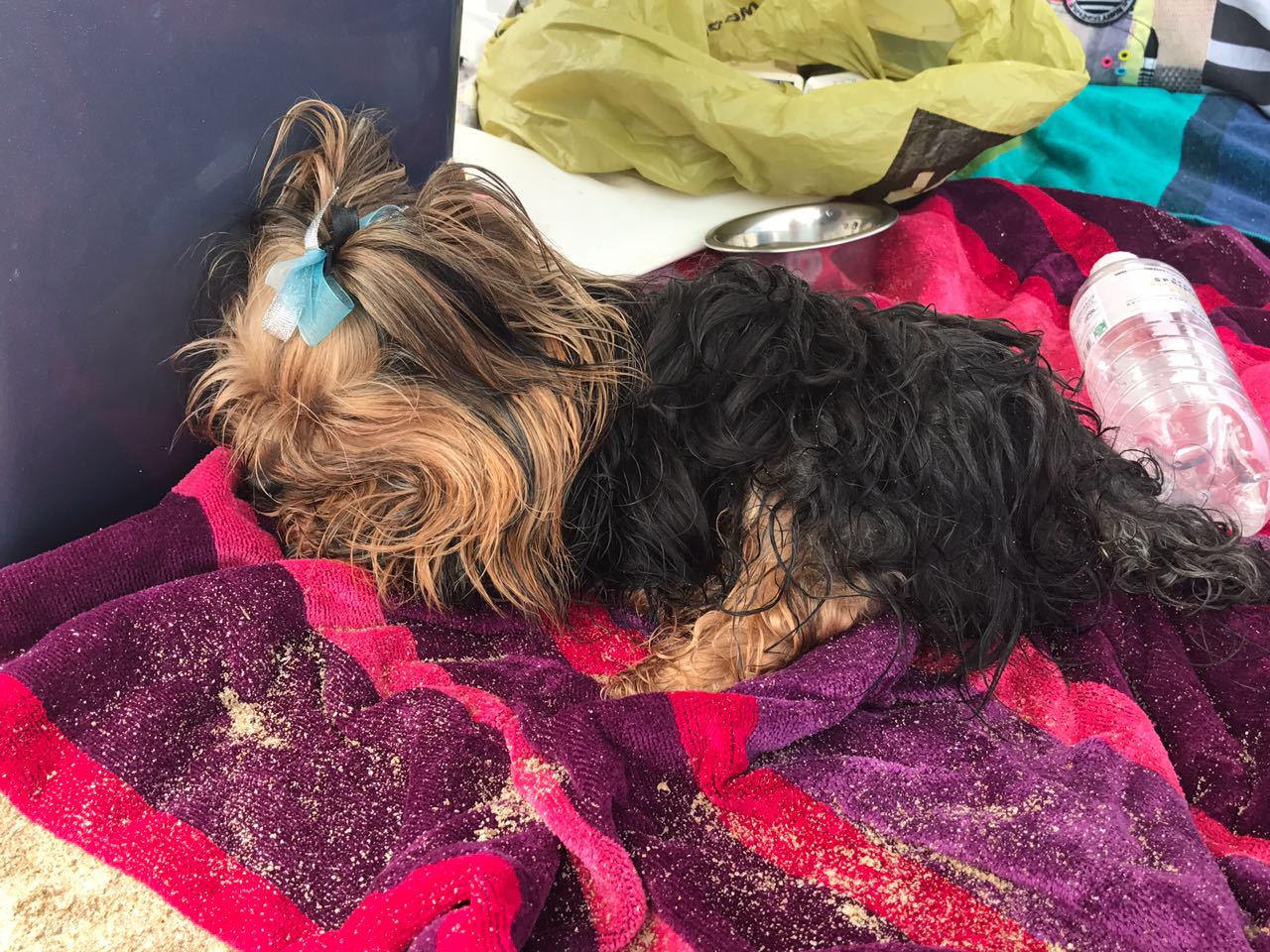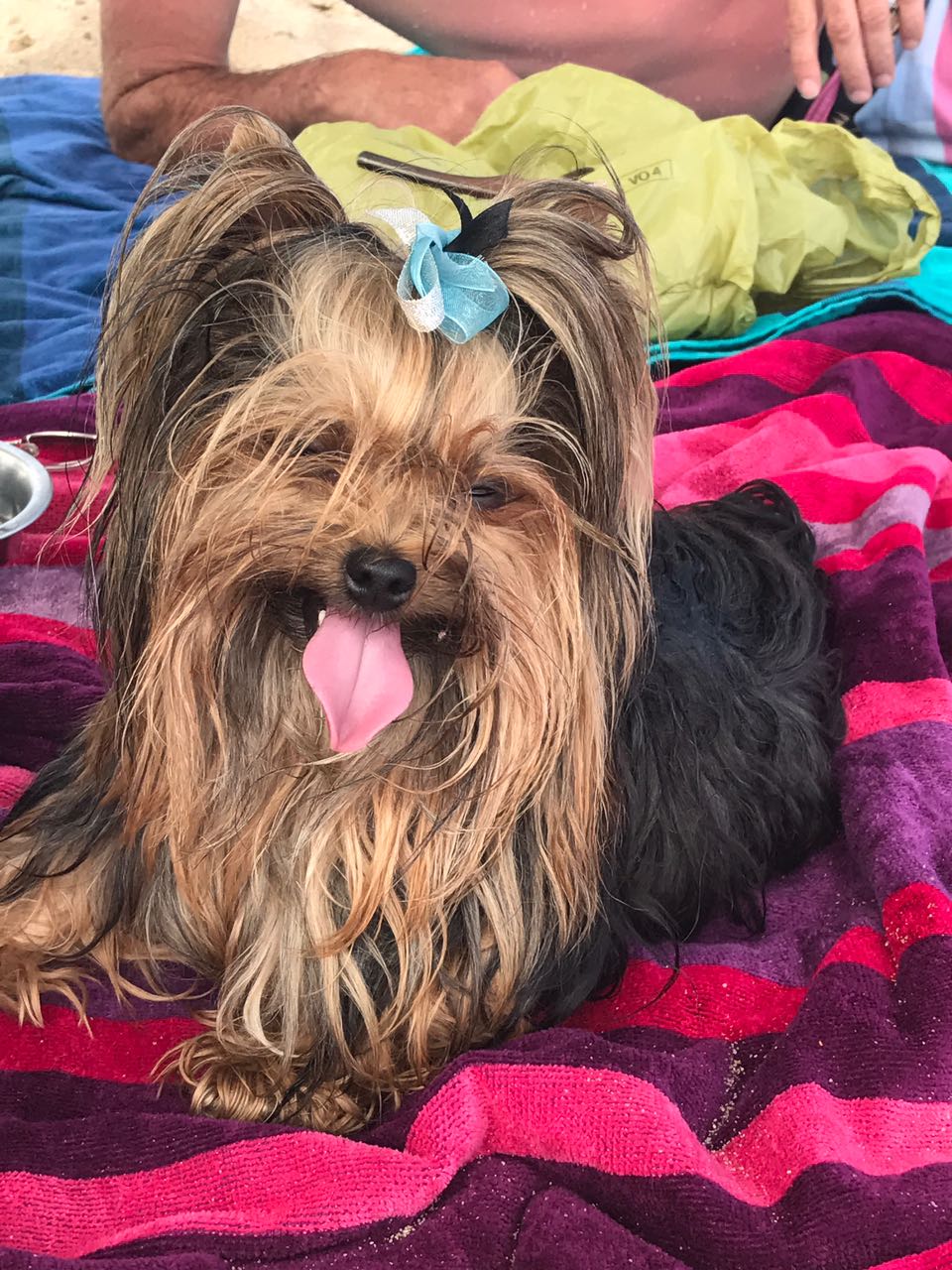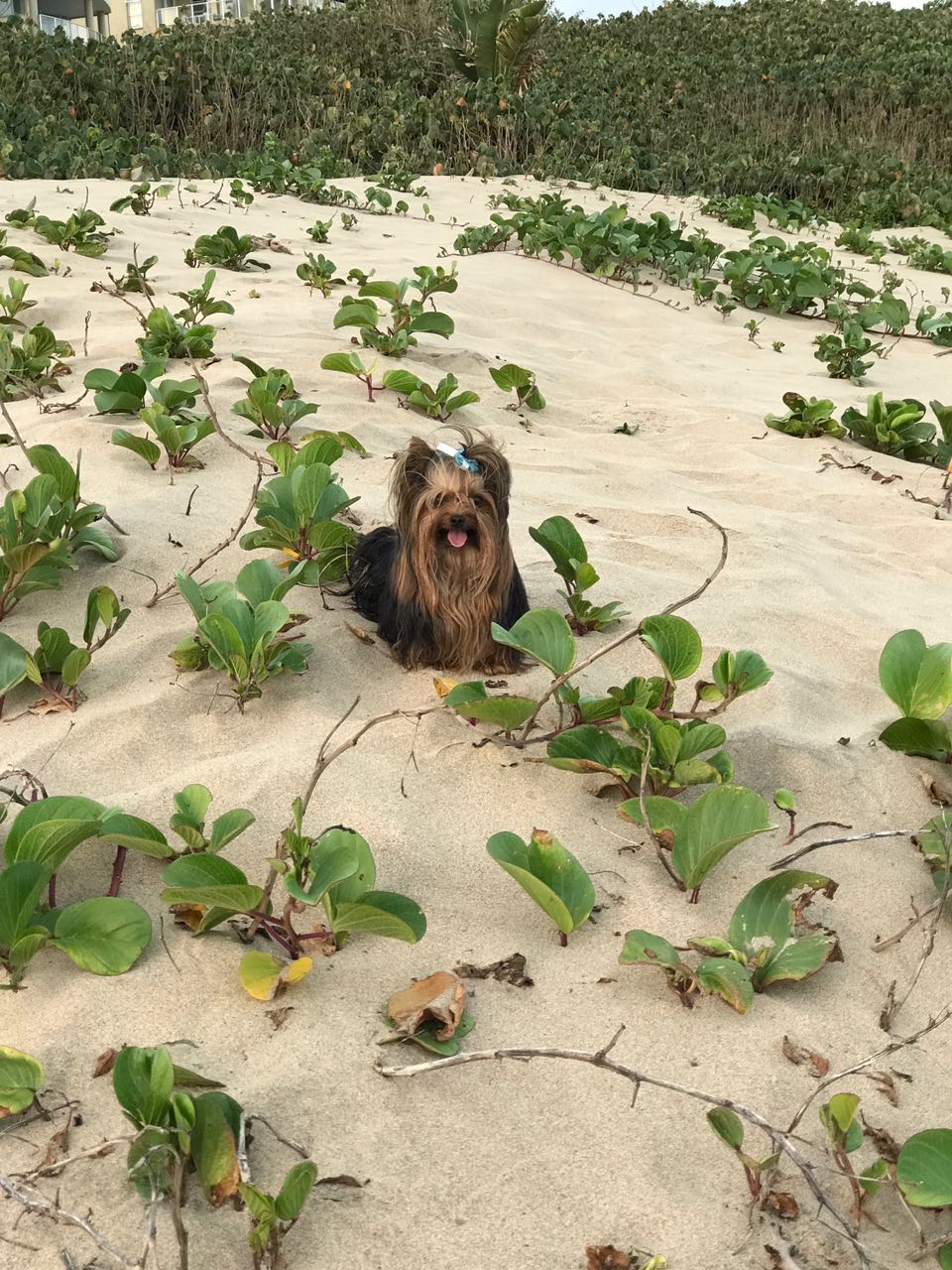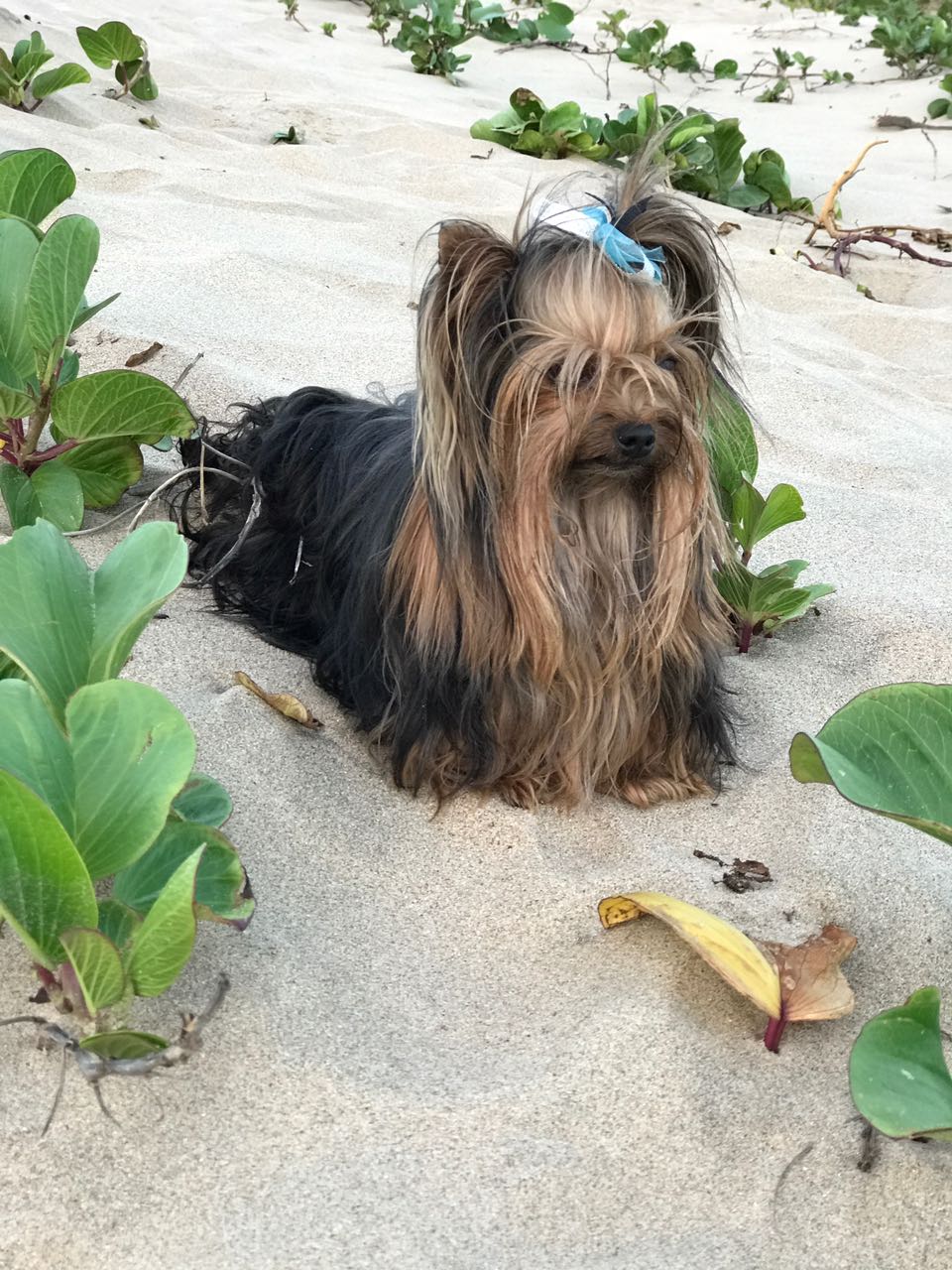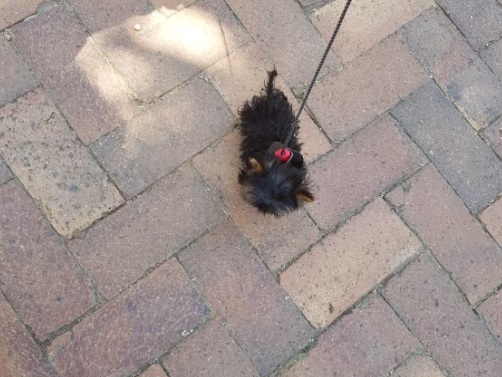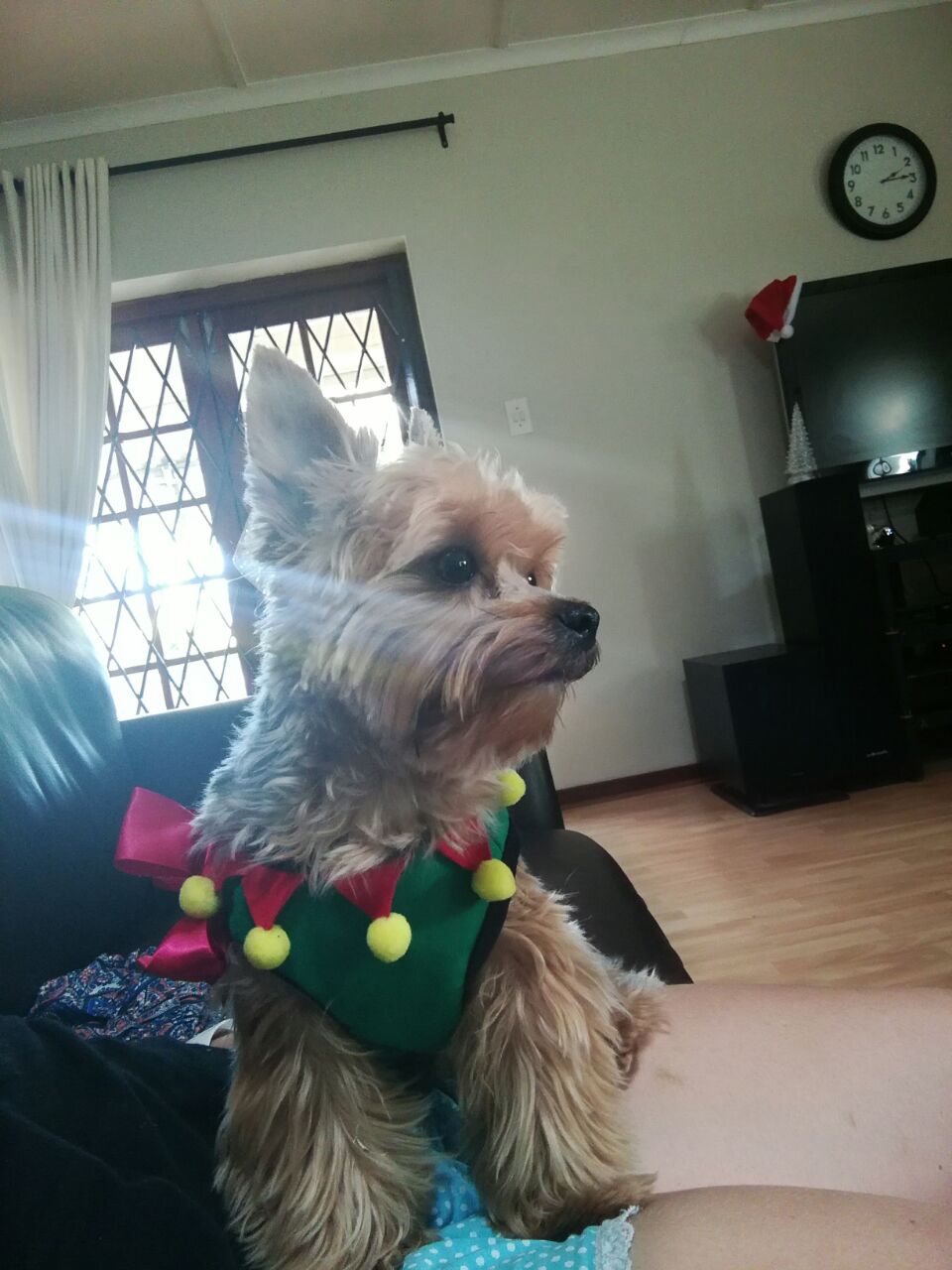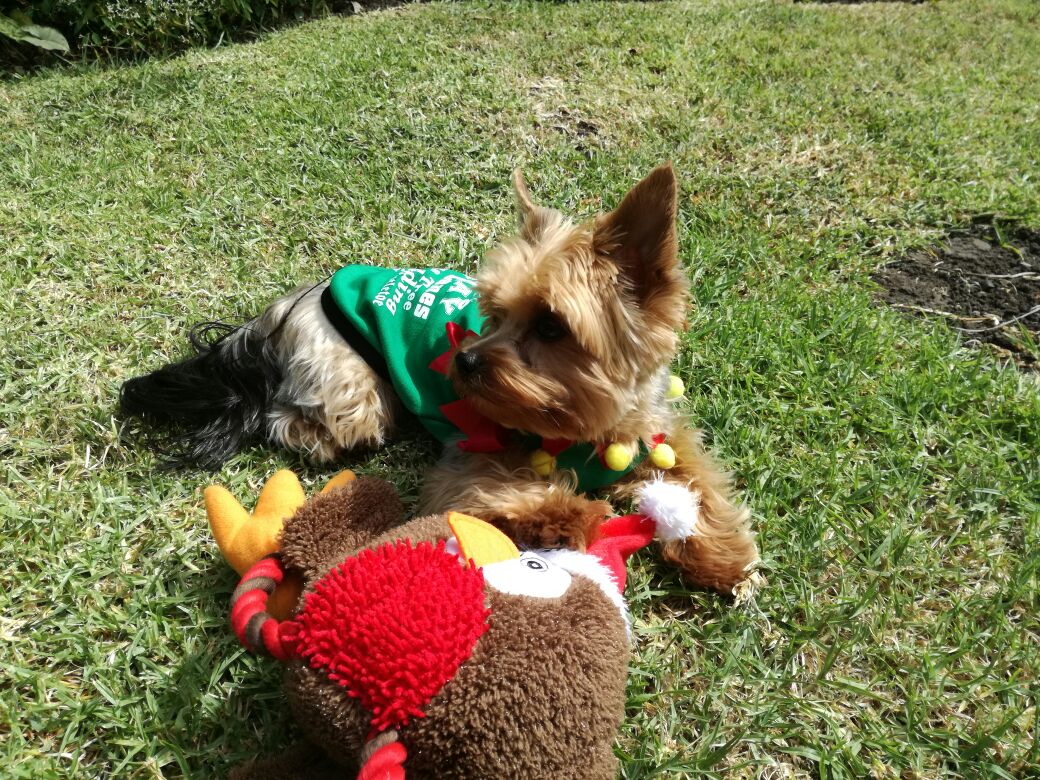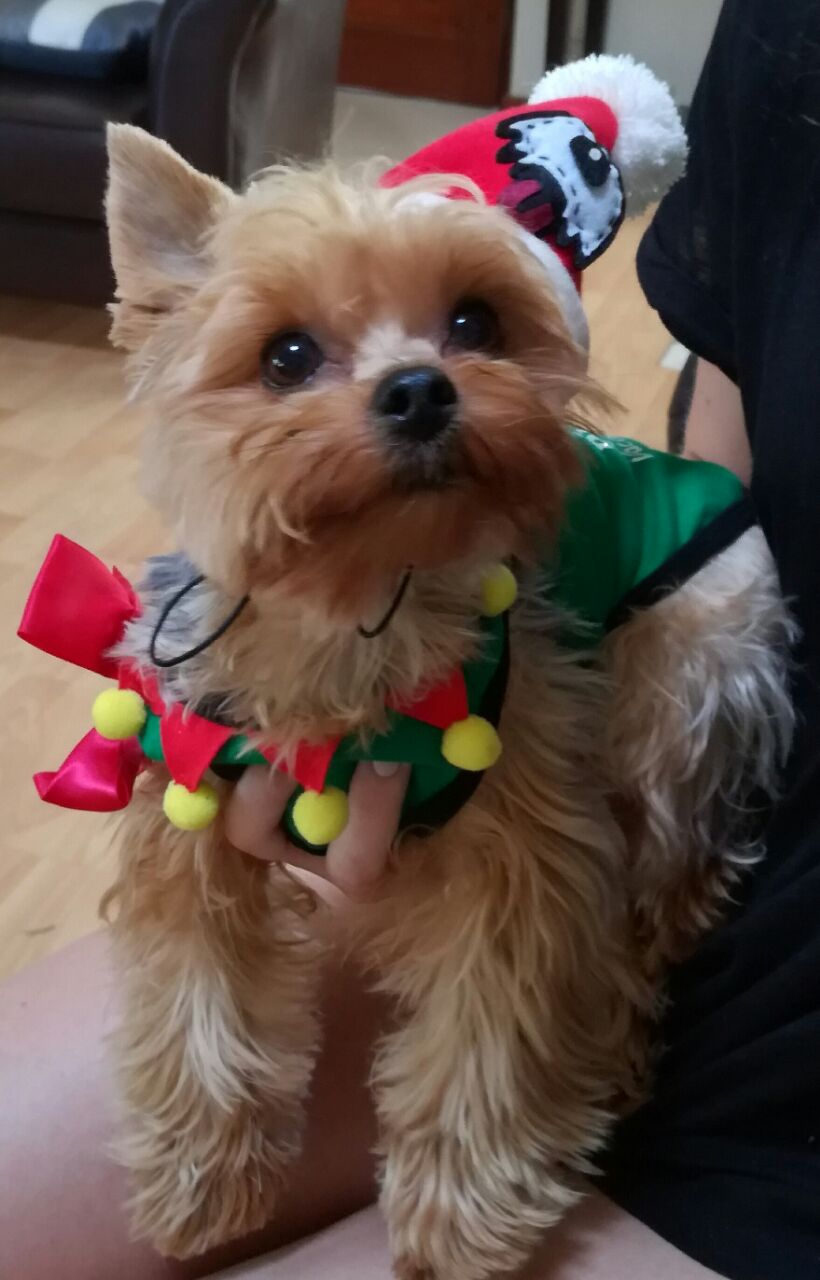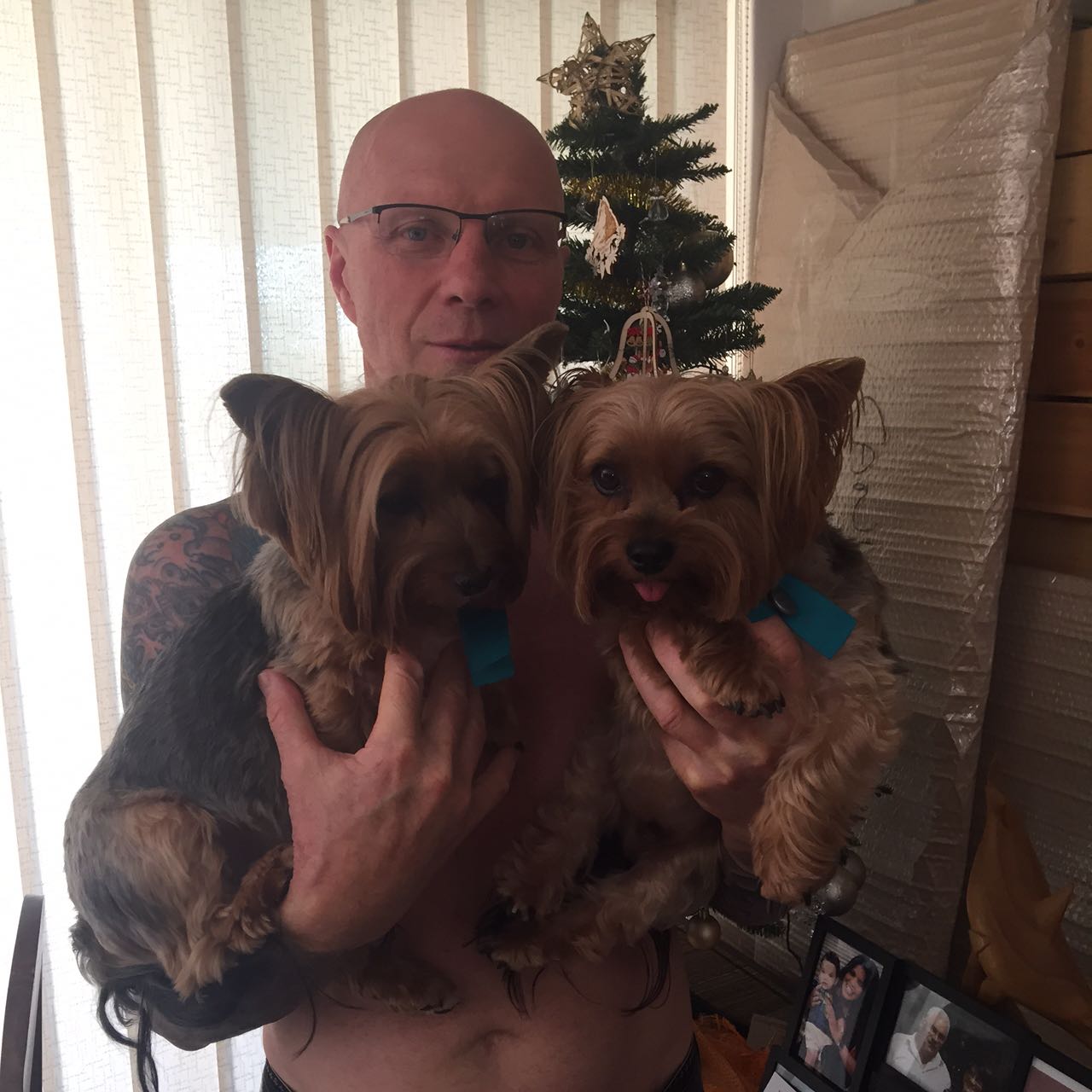 BELOW TEACUP YORKIE OWNED BY MARLENE AND BEN. BRED BY MIJOY 900GMS, 6 ODD YEARS OF AGE.
BEYOND ADORABLE.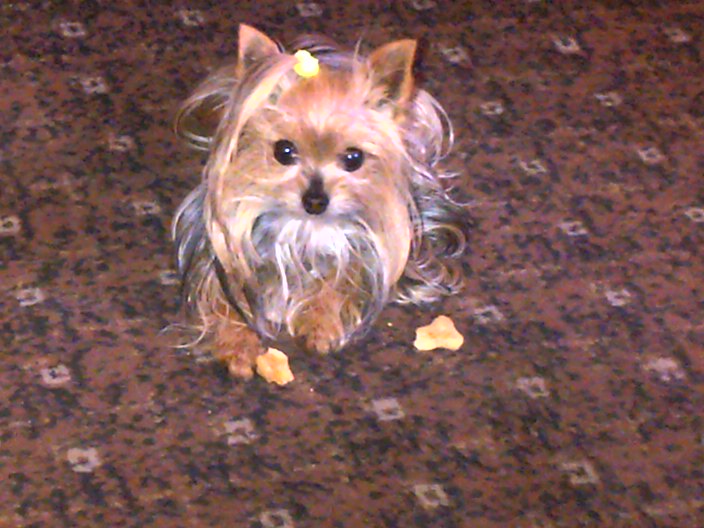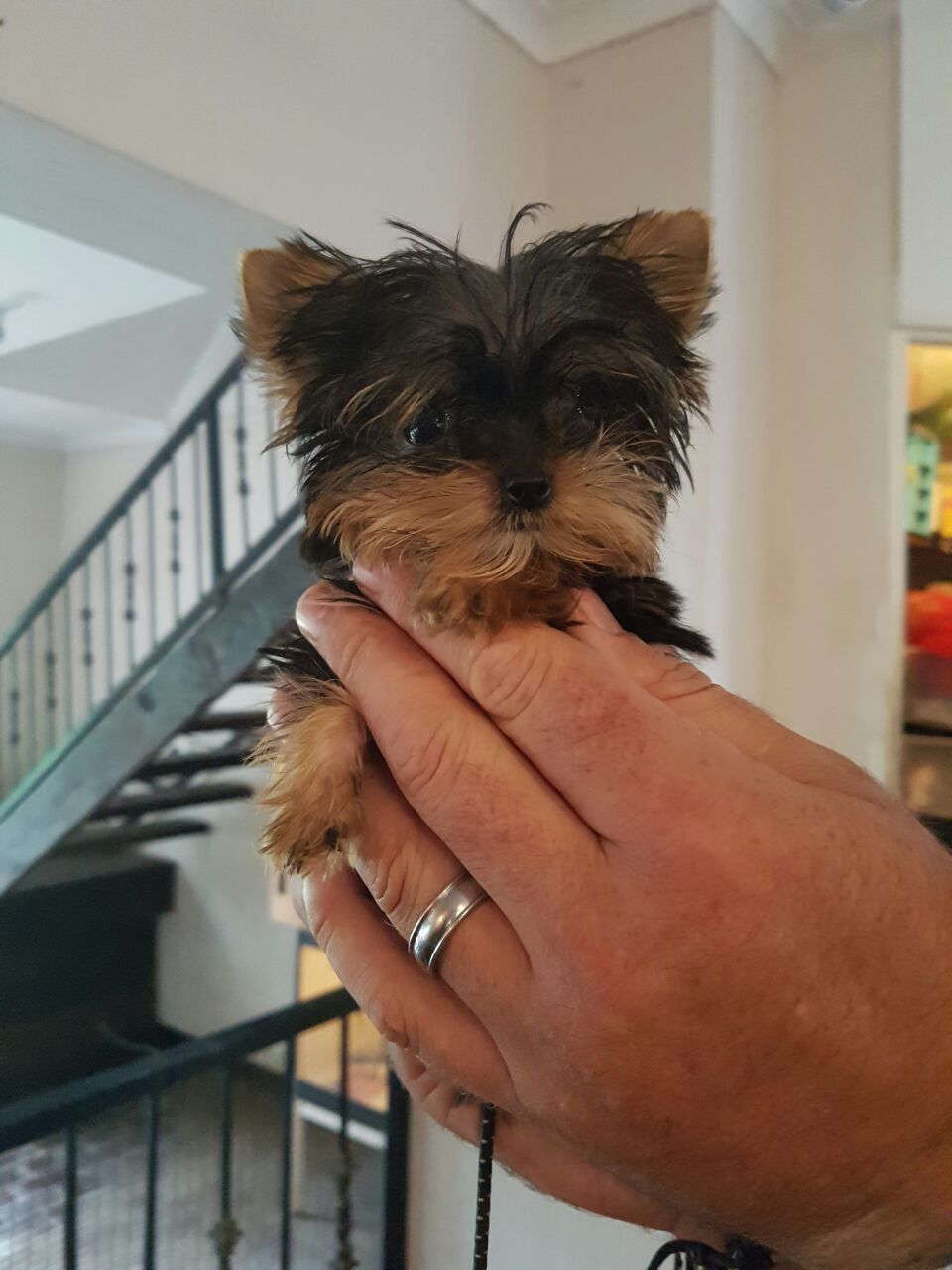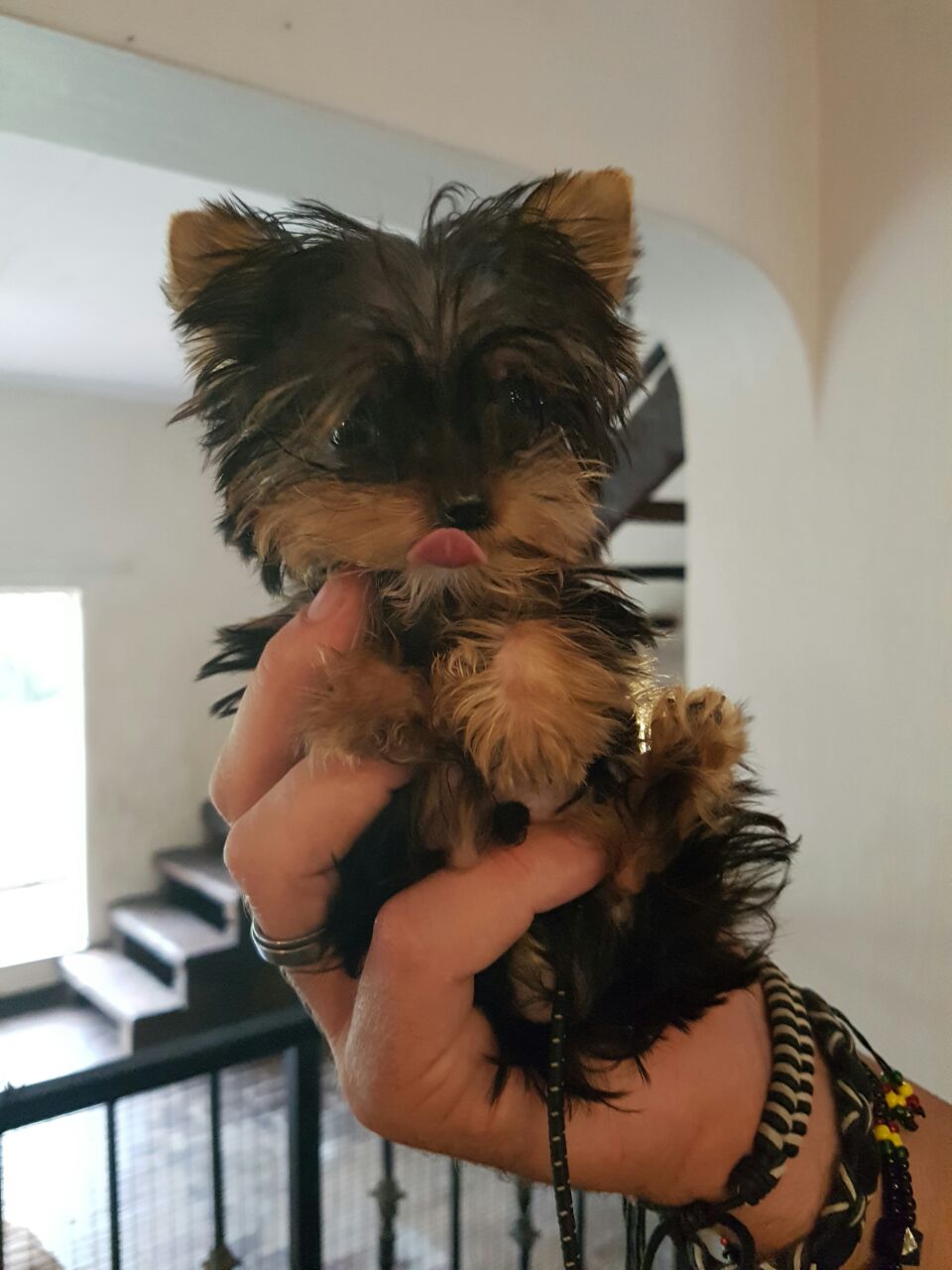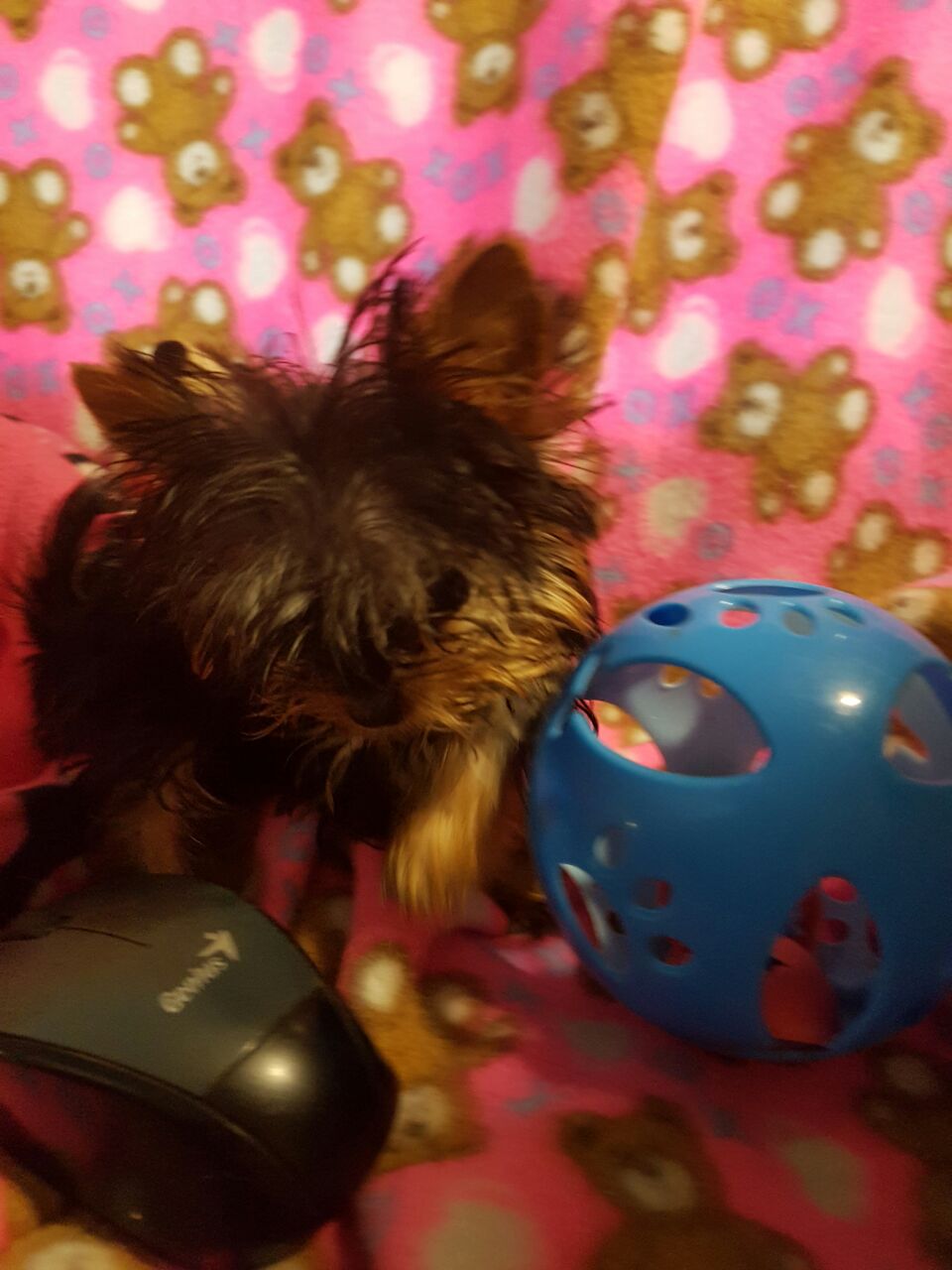 Chalire headed to the beach for the festive season, look forward to your pics CHARLIE,
thanks to MOM for these pics, look forward to more in the not too distant future.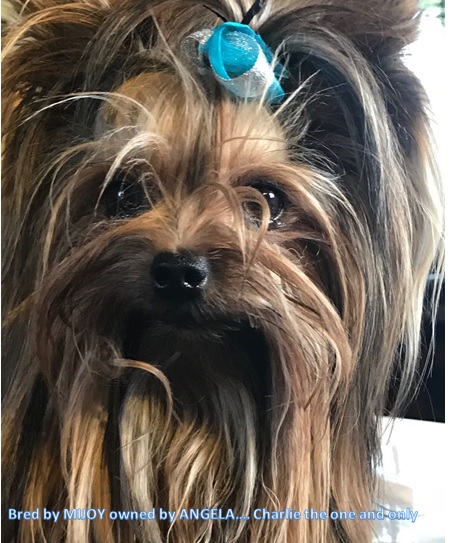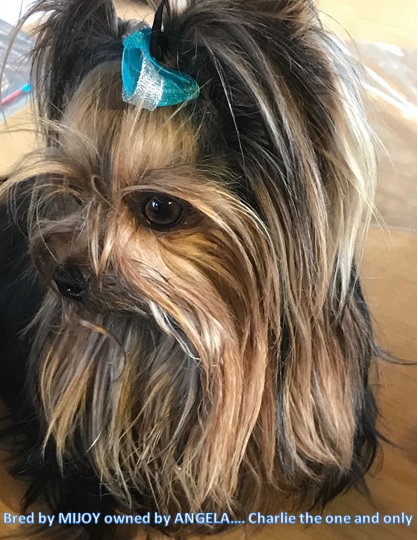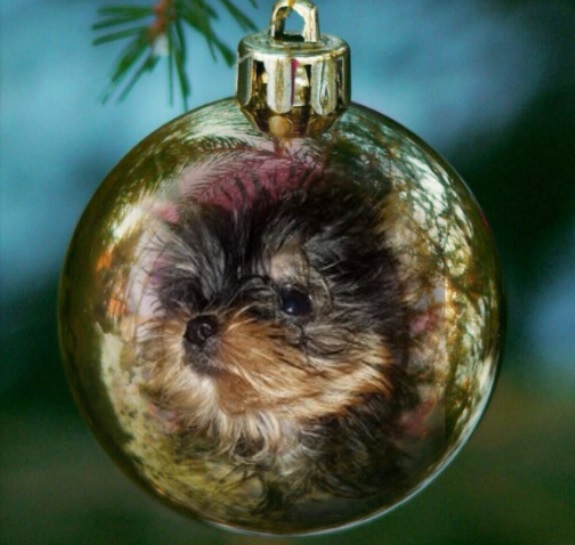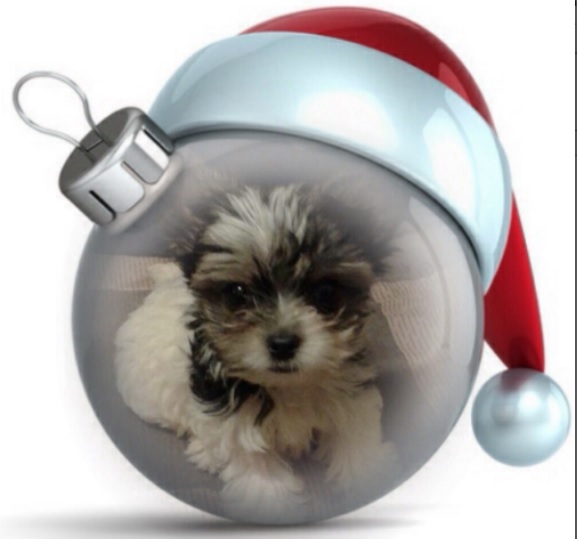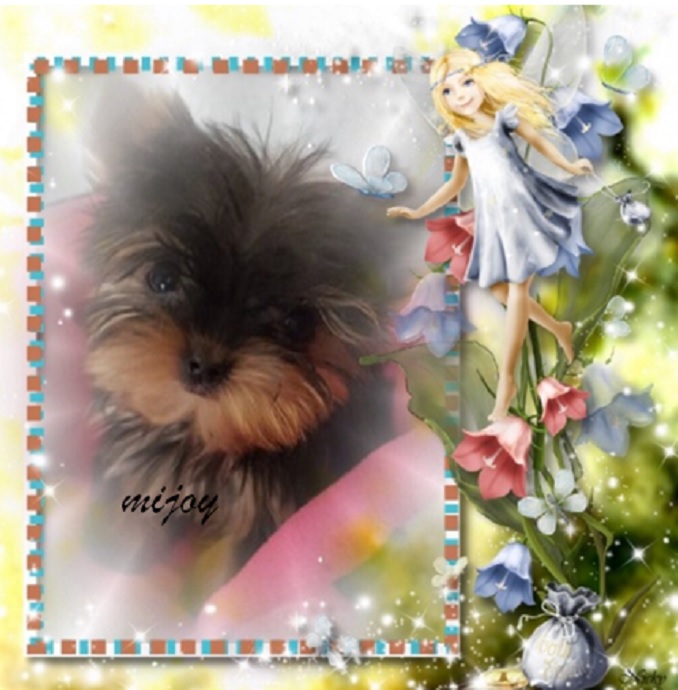 Holiday Safety Tips
The festive season is a fun time for the whole family, but it is important to take extra safety precautions with your pets during this time, as some of the small things can pose a danger to them.
| | |
| --- | --- |
| | Secure the Christmas tree. Make sure it is securely in place so pets cannot knock them over accidently. |
| | Choose ornaments carefully. Tinsel, ornaments and lights can cause serious hazards if mistaken for toys or ingested. |
| | Keep holiday foods away from your pets. Items like candy, cookies, chocolates, sugary, spicy or fatty foods can cause stomach upsets and some may be toxic to pets. |
| | Create a safe haven for pets. To avoid your pet becoming stressed out, ensure they have a safe spot they can relax in, away from the festivities. |
| | Prevent your pet from slipping out. With all the bustle, it can be easy for a pet to slip outside. Ensure your pet is microchipped and has a collar and tag with your contact details in case of this happening. |
HOLIDAYS * FESTIVITIES * This is the time of year most of us are celebrating HOWEVER where is the pooch??/ Best time ever to invest in a playpen or pet carrier if you take your pet our visiting and celebrating with you or also ideal to ensure the pooch is safe even in your own home…
FINAL DAYS TO ORDER YOUR PLAYPEN AND CARRIER…. Be wise not SORRY… for more info see below on this page.
Supplier closing shortly for the HOLIDAYS ahead....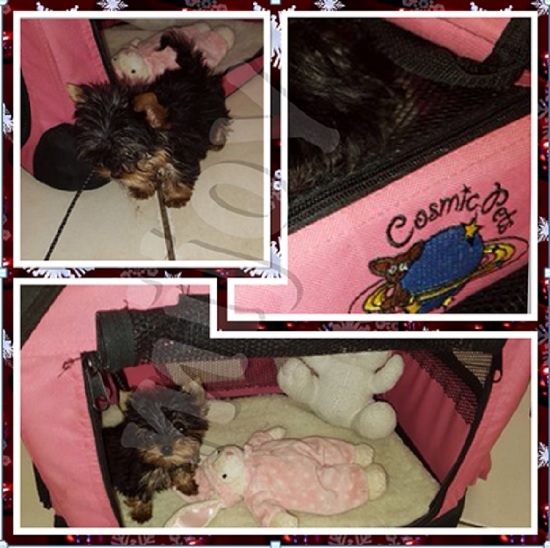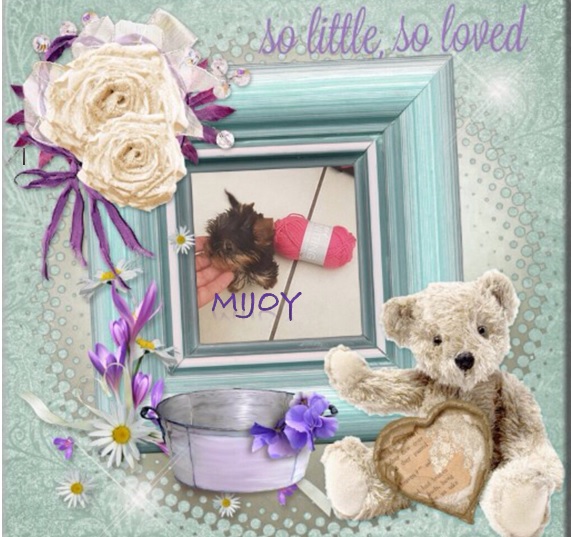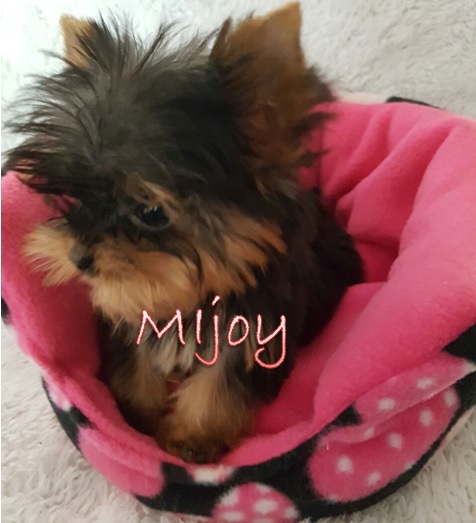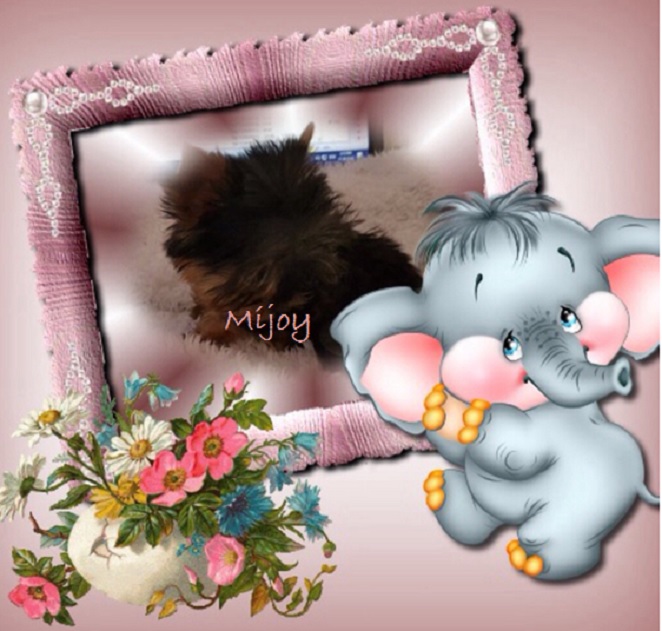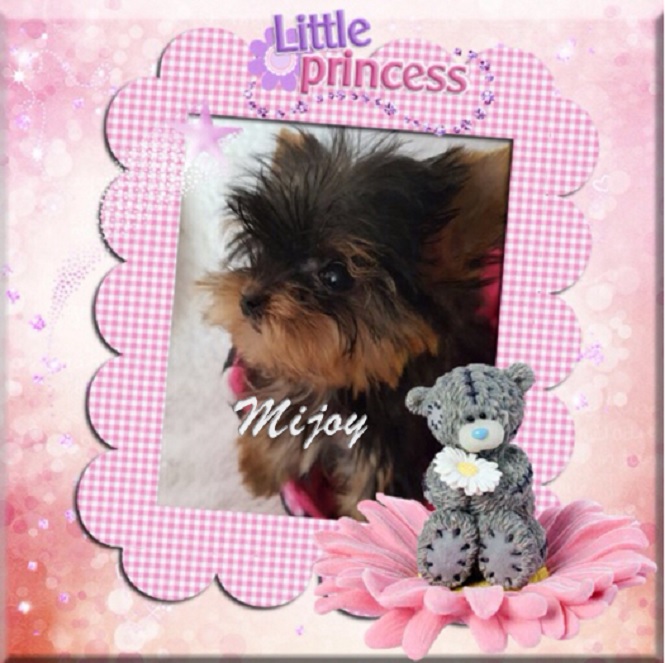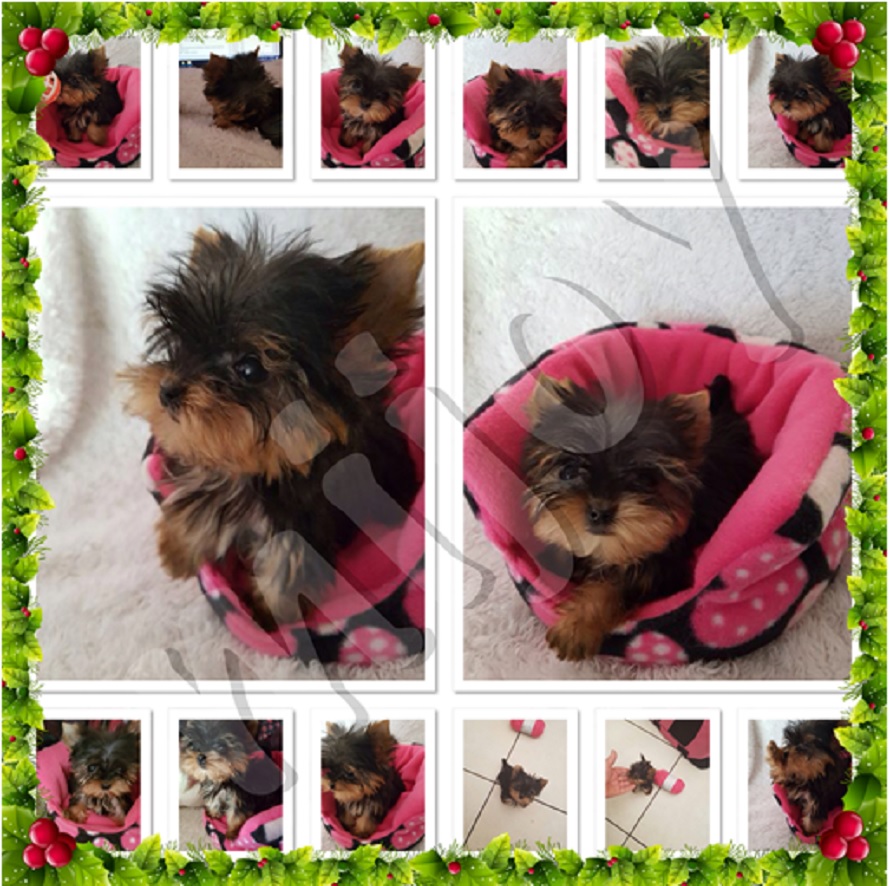 Safety is a top priority here at MIJOY, we use and have used COSMIC PETS Products
for many years, with our ultra tiny pups and adult dogs we breed and own, safety comes first.
We also sell COSMIC PETS PRODUCTS see further down on this page for info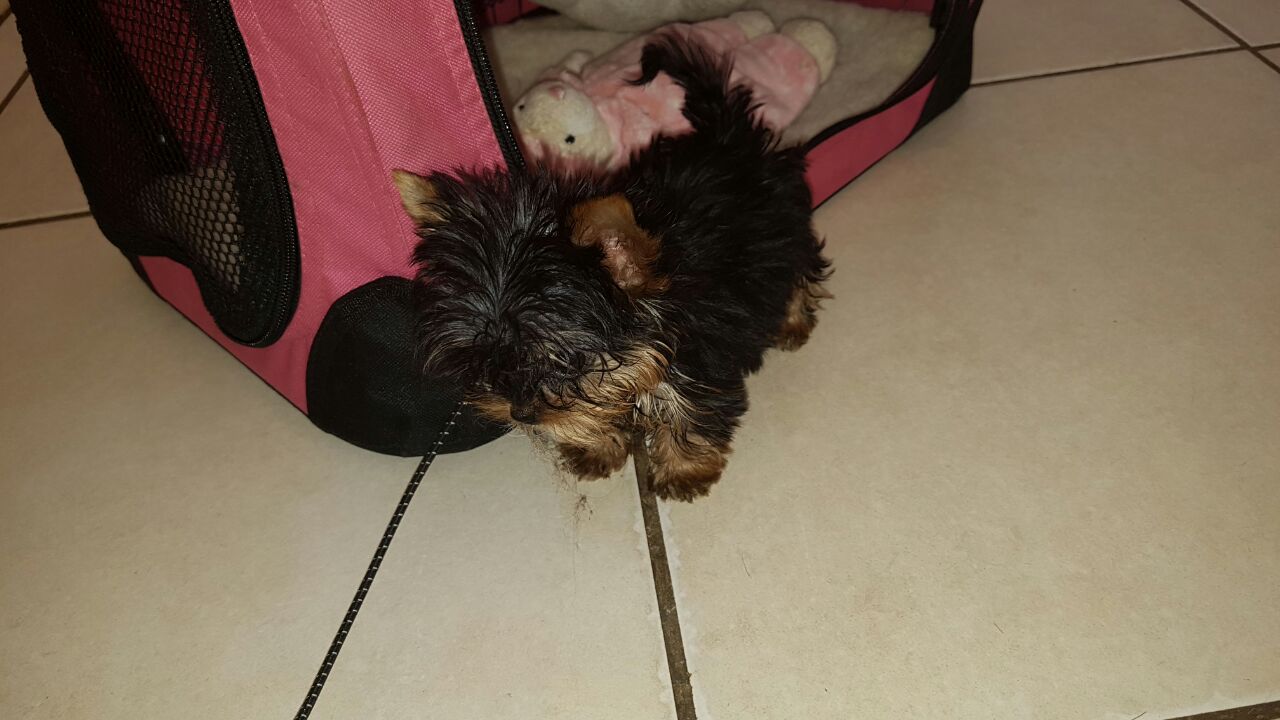 BELOW : ONE VERY HAPPY YOUNG LADY, HER SECOND MIJOY YORKIE..
CONGRATULATIONS, ENYA on your new baby ....
That big smiles says it all........
Thanks to MOM Retha for the photo.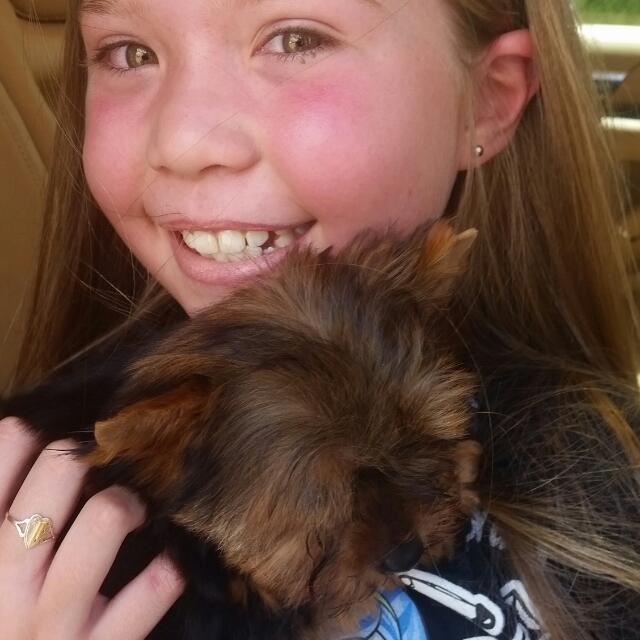 Below Lynne bought her second MIJOY baby - Congratulations, may be bring you loads of happiness and joy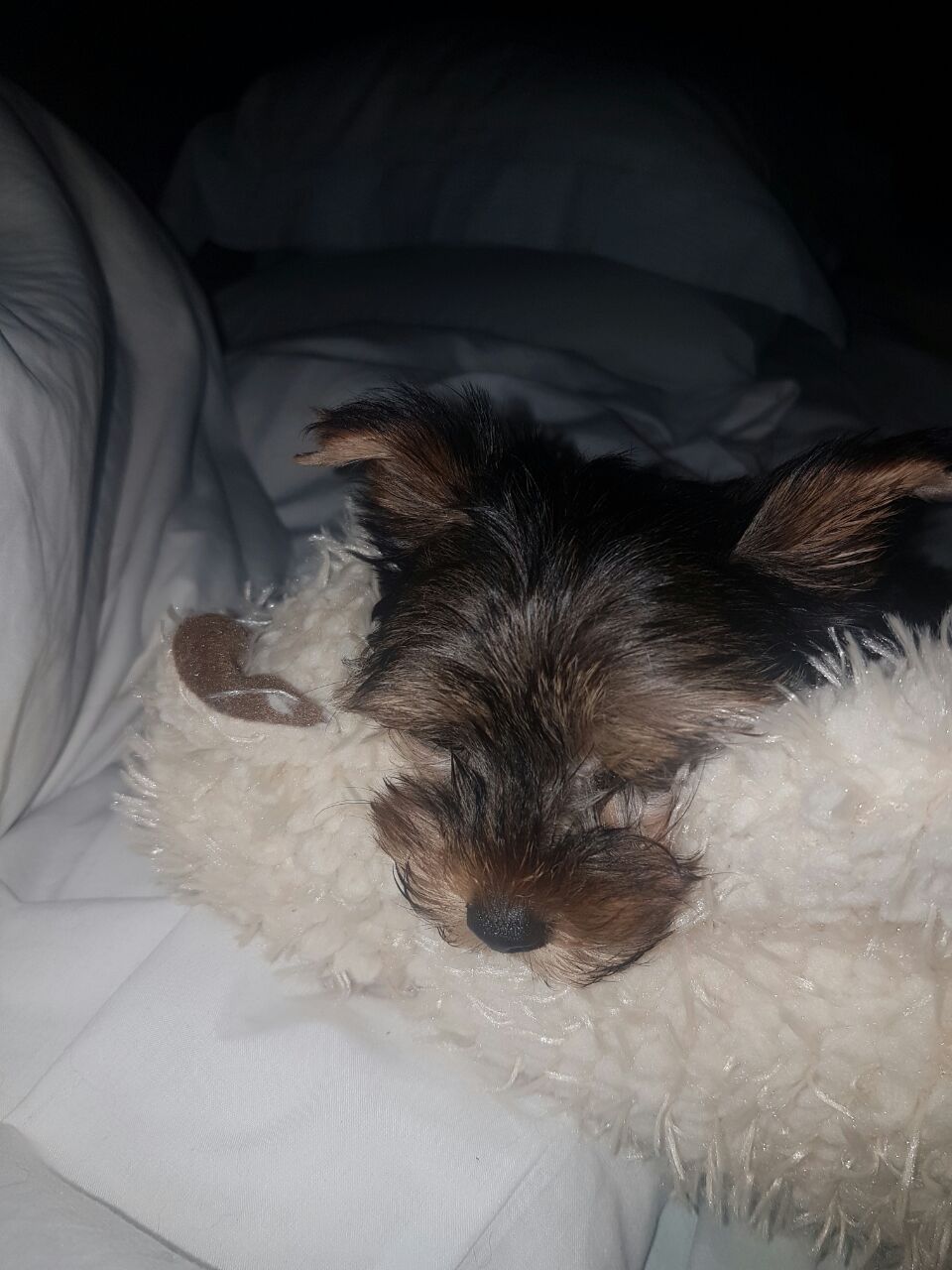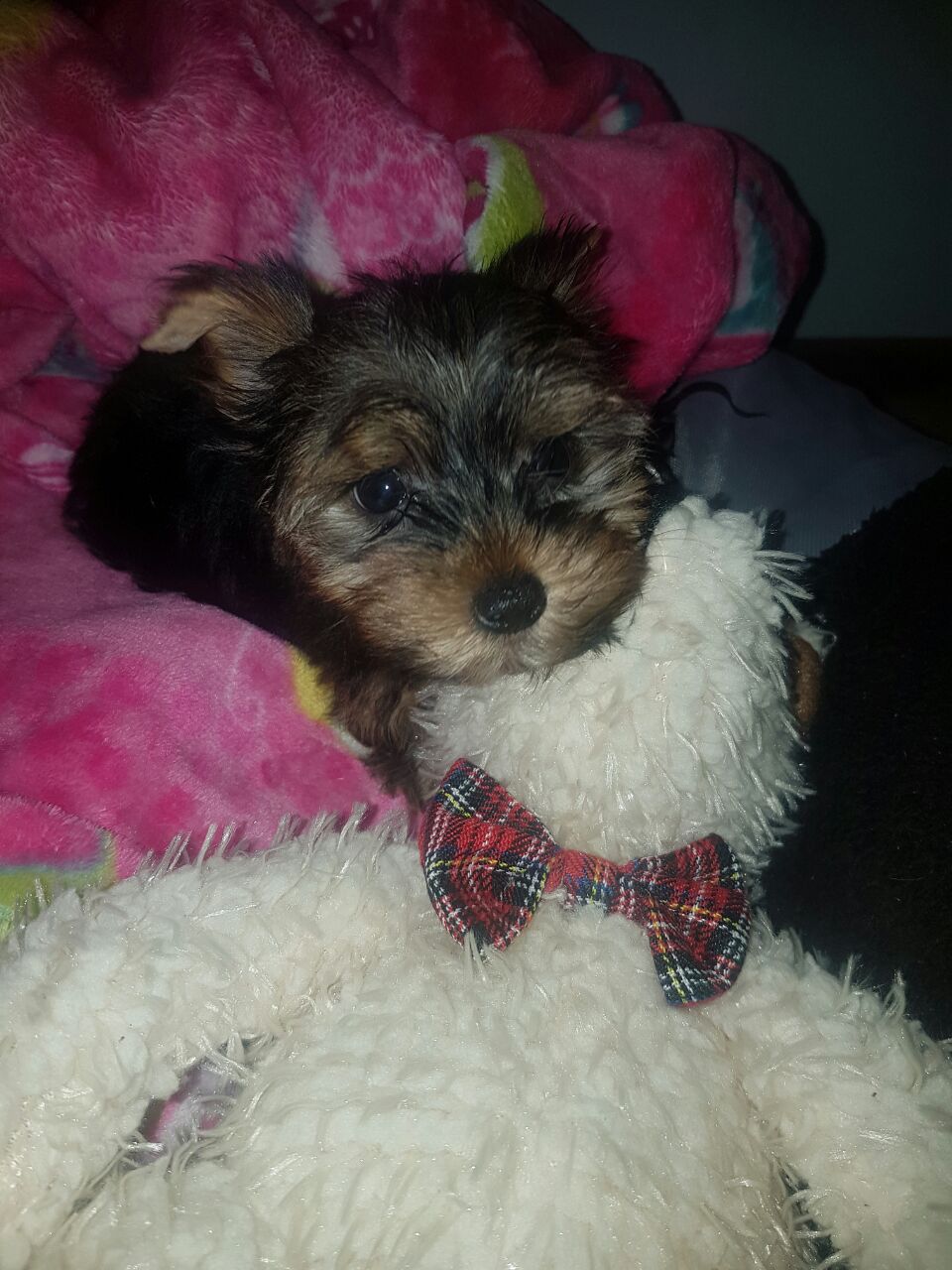 FROM OUR MAILBOX: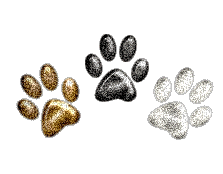 From: Info [mailto:info@vintagerosexxxxxxxx.co.za]
Sent: Monday, November 28, 2016 9:22 AM
To: mijoy@wam.co.za
Subject: FW: Mxxxxxk vet clinic
Dearest Joyce
Attached please find Lila's Sterilization Certificate.
Lila is THE most adorable little bundle of joy I have ever known.
Our family adores her and my hubby of course just cannot get enough of her.
She is such a happy and extremely loved doggy.
I have never in my life, ever loved a dog as much as her.
She is beautiful.
Her coat is beautiful.
When I took her to get sterilized, I felt more nervous and upset than any of my children going in for their operations.
Because she is so tiny, I am very protective over her and had such a terrible feeling about her having to be sterilized and go under anesthetic.
But Johan, at MXXXXXt Park, is amazing, and he convinced me that she will be just fine. And she was.
I am just thrilled that the burden of having to have her sterilized is off my shoulders now.
Hope you have a great week ahead.
Lots of love
Colleen.
THANKS TO COLLEEN, WE LOOK FORWARD TO A PHOTO IN THE NOT TOO DISTANT FUTURE.
BELOW another cutie in his new home. thanks LIZIA for the beautiful pic.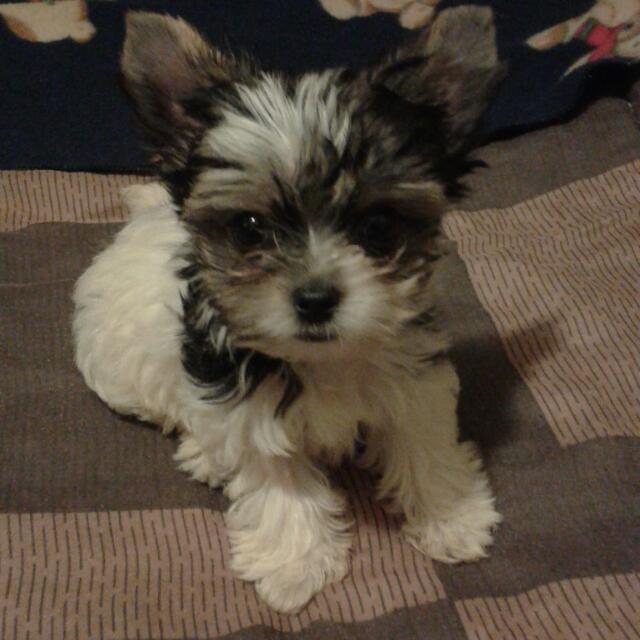 BELOW: MADDIE IN HER NEW HOME IN THE CAPE. THANKS JEANNE FOR THE BEAUTIFUL PIC.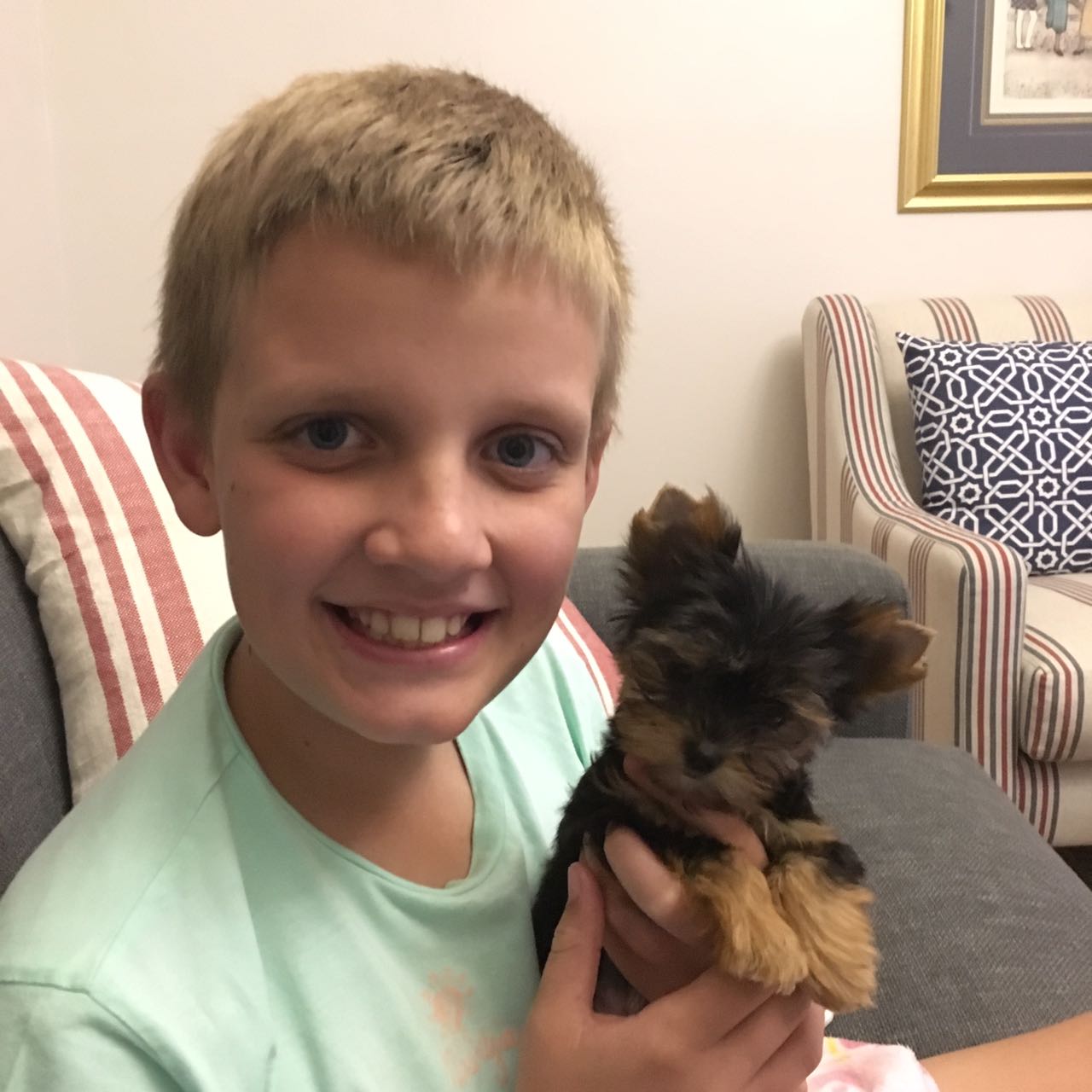 CONGRATULATIONS are in order
THIS SITE IS SITTING AT OVER TWO MILLION HITS, WE COULD NOT HAVE DONE IT WITHOUT YOU.
THANK YOU FOR YOUR CONTINUED SUPPORT.
AS ALWAYS WE GO THAT EXTRA MILE....

BASICS .... THE YORKSHIRE TERRIER
THE BIEWER TERRIER


Holidays headed our way. HOORAY!!!! make sure your pets are well cared for...
ITs all about the DOG.......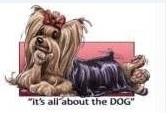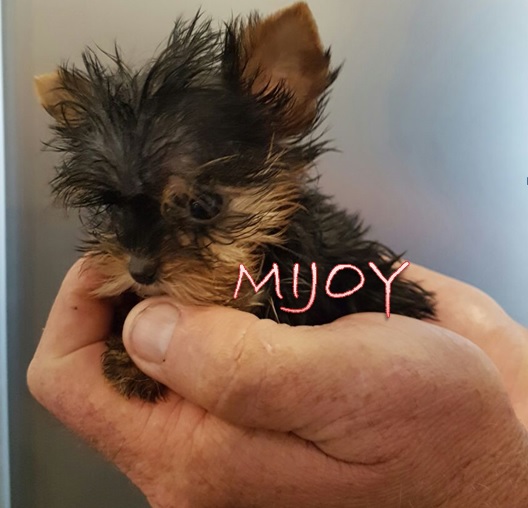 Check out the goods available for your precious pooch to keep them safe

this festive season... ORDER now before the Festive holidays..

Email : mijoy@wam.co.za
PEACE of mind, safety a top priority, know where you pet is at all times...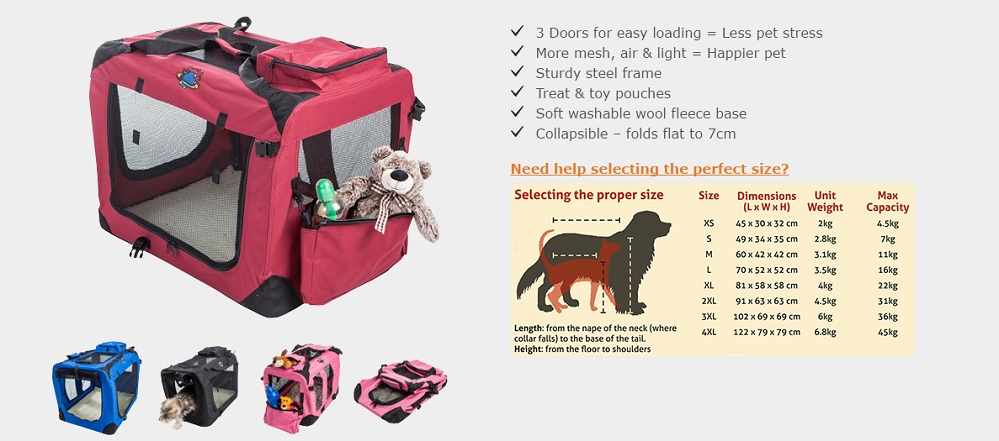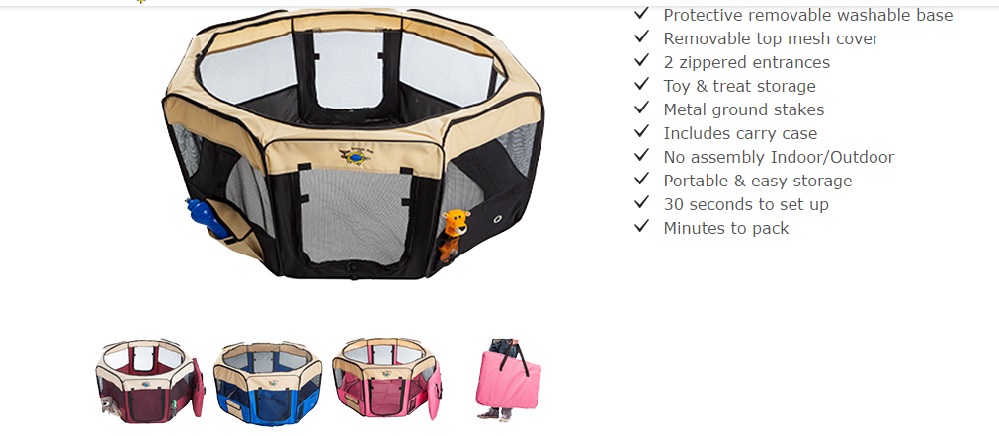 AND LETS NOT FORGET THE FELINE IN OUR LIVES..
EXERCISE, FUN, PLAYS A HUGE ROLE IN ALL FELINES WELL BEING.

IRRESPECTIVE OF WHAT PET YOU OWN, INTEND PURCHASING, RESEARCH BEFORE BUYING,
KNOWLEDGE IS POWER ....
Be a responsible pet owner, a pet is not for a day, a week, a month, a year or two, it is till DEATH DO YOU PART..
Thank you for your time....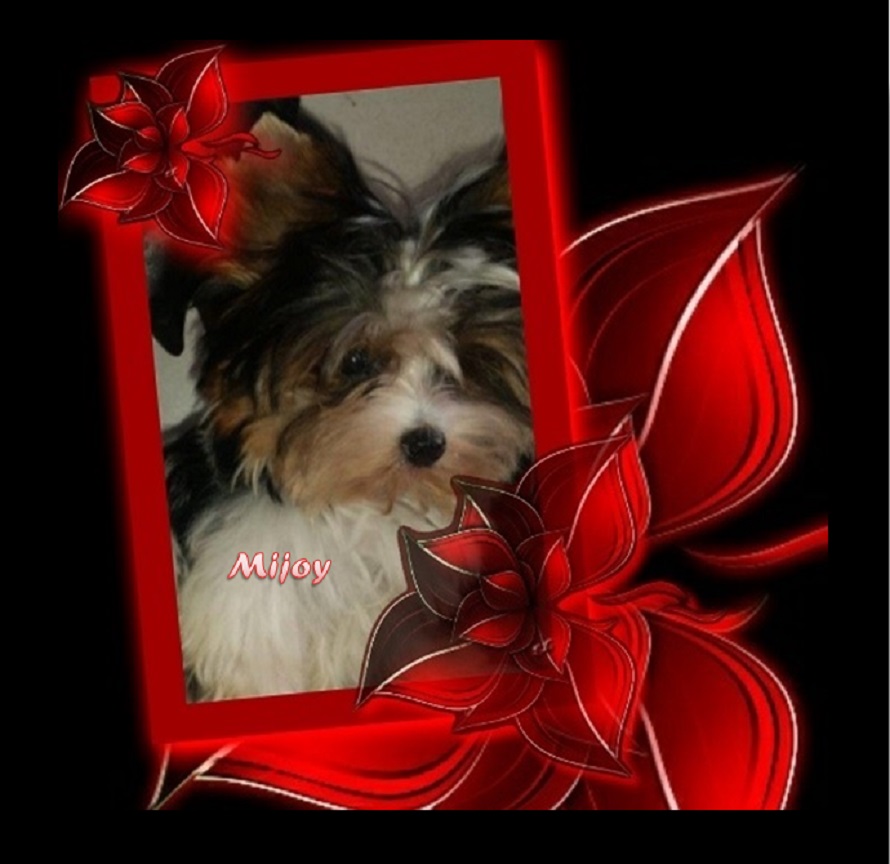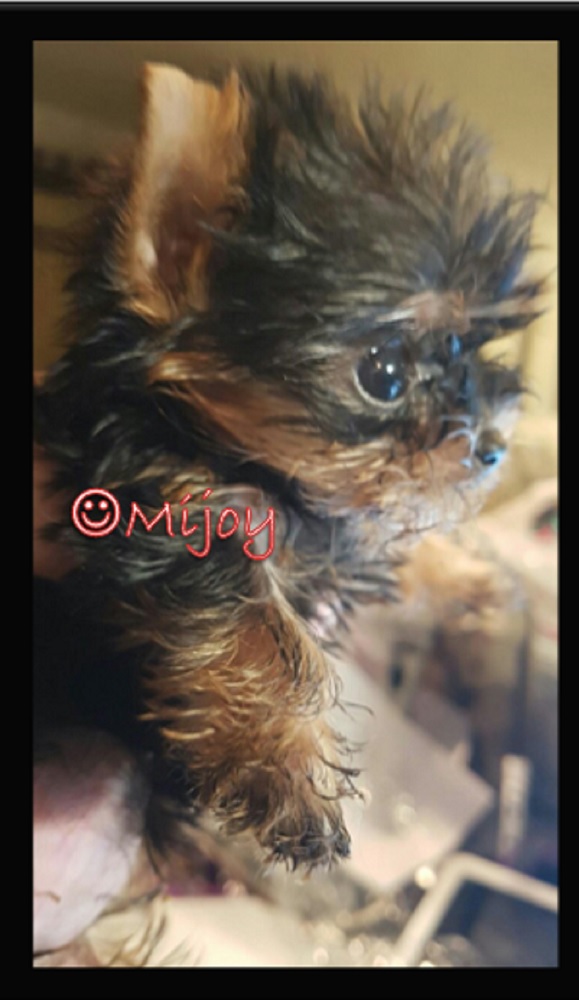 Fleas
Eek! A flea! We all hate the thought of our pets getting fleas. Down at the coast, particularly in humid areas, fleas are generally more prevalent and an all year-round problem. At this time of year - autumn and spring - even pets in Gauteng are likely to suffer from fleas.
Fleas have been around for many thousands of years. There are over 2,000 species of fleas in the world, all have a specific host from which they prefer to feed but many are willing to feed on whoever is around at the time. The most common flea found on both cats and dogs is ctenocephalidies felis, the cat flea.
Fleas have adapted over the years to ensure their best chance of survival - they are tiny insects with laterally flattened bodies, usually are reddish- brown in colour and they have barbs on their legs and bodies. Their thick exoskeleton makes them hard and physically tough. All of these adaptations make it easier for them to move around between hairs on the host animal and difficult for the host animal to remove or kill them.
Stages of the Flea Lifecycle
Being an insect they have four stages in their lifecycle. The female adult flea needs to have a blood meal to lay her eggs. She uses her mouth parts to pierce the flesh, injects an anti-clotting saliva to prevent the blood clotting and begins feeding. Using the proteins from the blood meal she can then produce and lay a few largish eggs per day. As they eggs are not sticky they most often fall off the host in to the environment. Over the course of her life time the adult female flea can lay three to four hundred eggs.
The larvae will only hatch out of the egg when the environmental temperature is right - they can stay dormant inside the egg anything from two to twelve days. The larvae, when it hatches out, is photophobic (light sensitive) so it crawls downwards away from the light. This little larvae will feed on whatever organic matter it can find in your carpet, pet's bed or between your tiles. They eat skin scales, flea dirt (poop) that is high in blood (protein) and food particles. Depending on conditions, food consumed etc, the larval stage may last for as little as nine days or up to six months.
When they are ready they spin a cocoon and pupate. The cocoon keeps them safe and allows the adult flea to form. The adult flea needs the right temperature (20 -30°C), the right humidity (+/-70%) and a source of food before it will hatch out. The adult flea can remain within the cocoon for two to fifty weeks. When the adult hatches out they must have a blood meal to survive and lay eggs. How do they know "food" is out there? Fleas can sense vibrations from animals or people moving around and also changes in carbon dioxide levels in the air from mammals breathing. Very, very clever!!
When the time is right outside they hatch, get a blood meal from you or your pets, and so the lifecycle goes on.
Fleas were found to be the carriers for Bubonic plague (Yersinia pestis) back in the old days; they became carriers by feeding on infected rats. Pet's fleas nowadays are much less serious. For most pets the bites are just an irritation, but for some the flea saliva can cause an allergic reaction and a massive irritation, Flea Allergic Dermatitis(FAD).
The cat and dog flea can carry tapeworm eggs (Dipylidium canium) as the flea's larval stage eats all sorts of organic matter and this could include these tapeworm eggs. Within the flea larvae the tapeworm egg hatches and develops in to an intermediate stage. If your pet, during grooming, nibbles off a flea and swallows it, the intermediate stage will develop within the intestine to an adult tape worm.
What to do if your Pet gets Fleas?
Pets can pick up fleas from all over. Other pets, wild animals and birds, infested environments such as bird's nest or a friend's house whose pet has fleas.
If you see a flea on your pet you now know that the chances are you will have some or all of the other three life stages in your home. There are many anti flea products on the market, some more effective than others so it is always best to ask your vet for their recommendation. A product that kills the adult quickly (so the female can't lay more eggs) and that will prevent the eggs from being viable is essential. It is very important that the product not only acts quickly but also has a long lasting action so frequent repeats are not necessary. Knowing that a single flea's lifecycle can last up to two years, a once off dose of anything will probably not solve your flea problem.
A thorough deep clean of your home, washing dog beds, getting down in all the cracks and crevices will help physically remove some of the problem. Even a clean home can be a home to fleas - remember those larvae which burrow down in to hard to reach places? If necessary you can get your house professionally treated. Fleas that are pupated are most resistant to insecticides, which means that adult fleas can continue to hatch months after treatment.
It is advisable to give your pet's anti-flea treatment regularly all year round, following the product recommendation, to prevent a breakthrough in cover and a potential flea outbreak in your home. Many of these anti-flea products are combined with anti-tick products giving you protection from two nasties for the price of one. And don't forget to add regular de-worming treatments just in case of tape worms.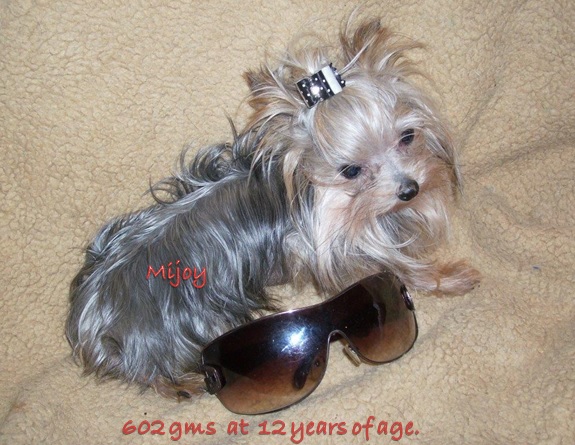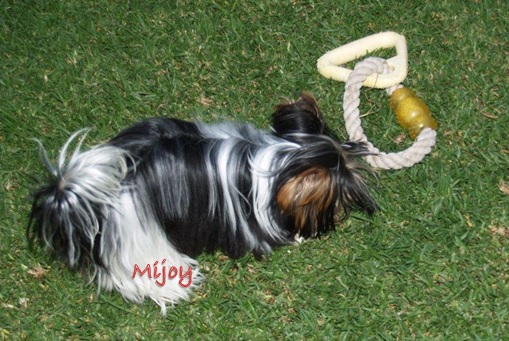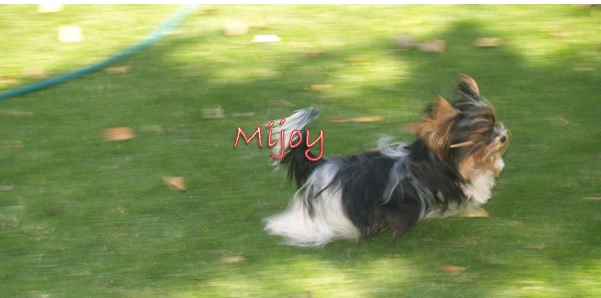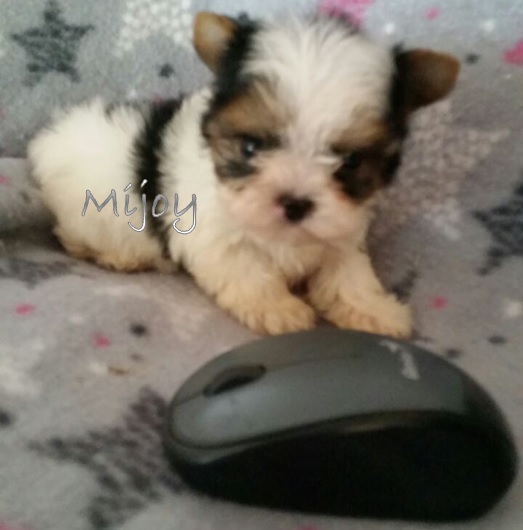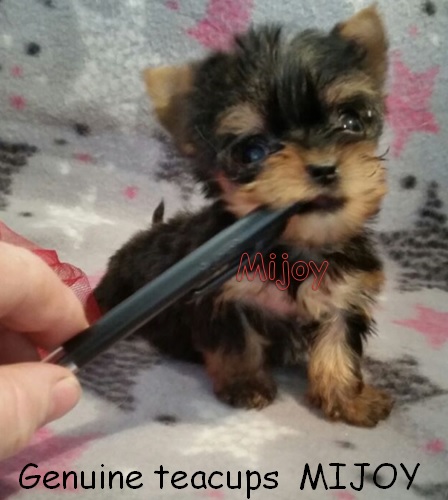 We breed QUALITY PUPS not pups in QUANTITY
we do not claim to breed show dogs, never have and never will,
we breed quality pups for QUALITY HOMES
The GENUINE TEACUP PUP/DOG is suited to very few people.
This is the real deal, rare, healthy, adorable.
PETS ONLY NOT FOR ANY FORM OF BREEDING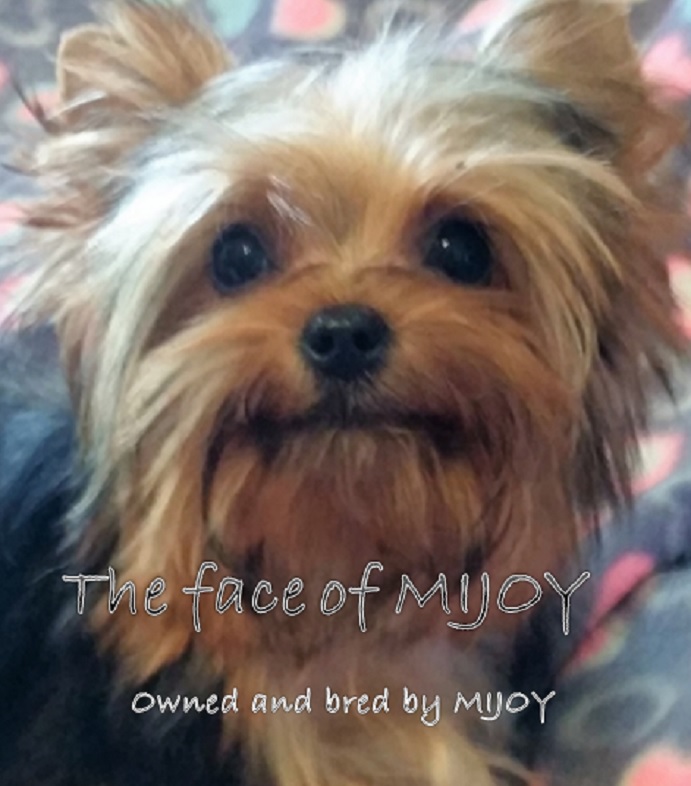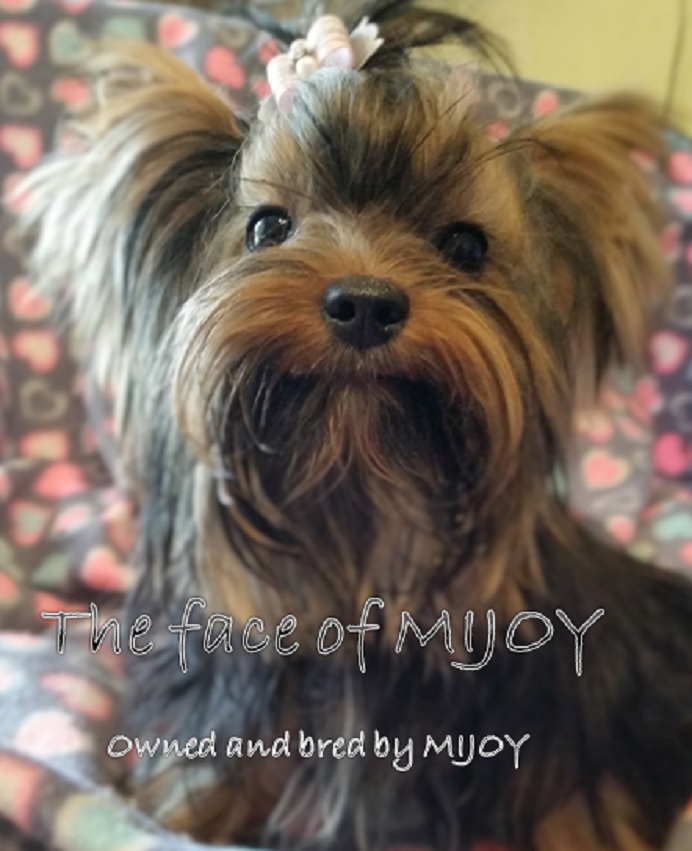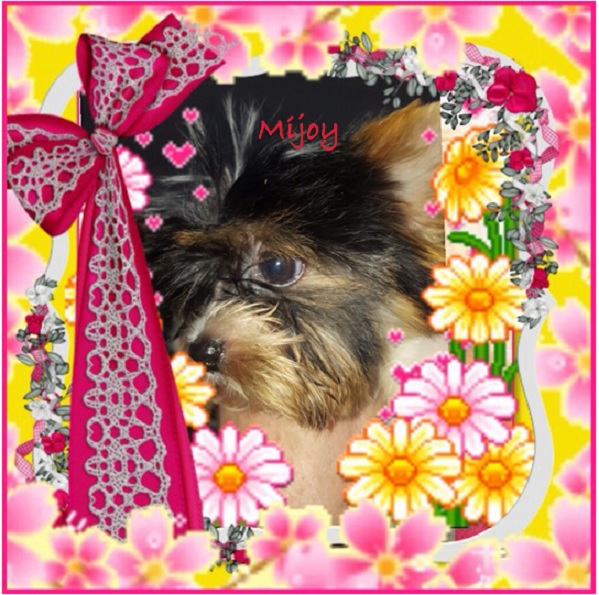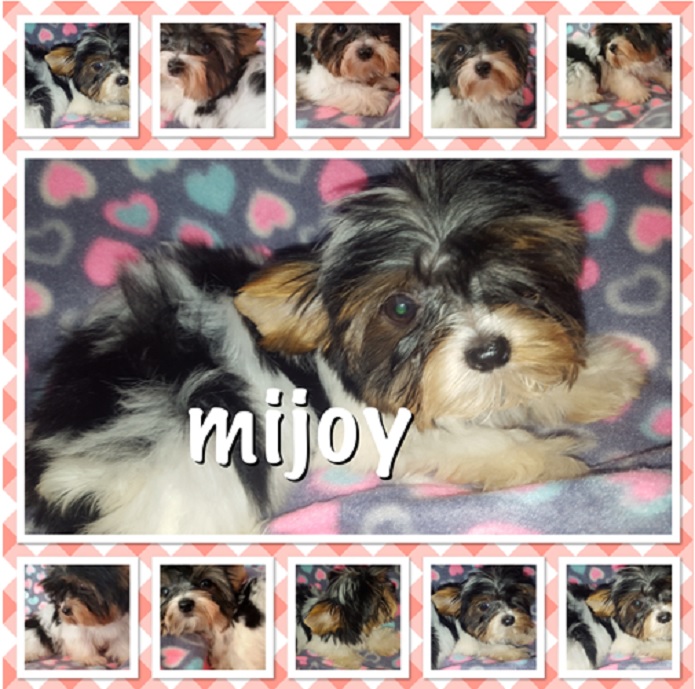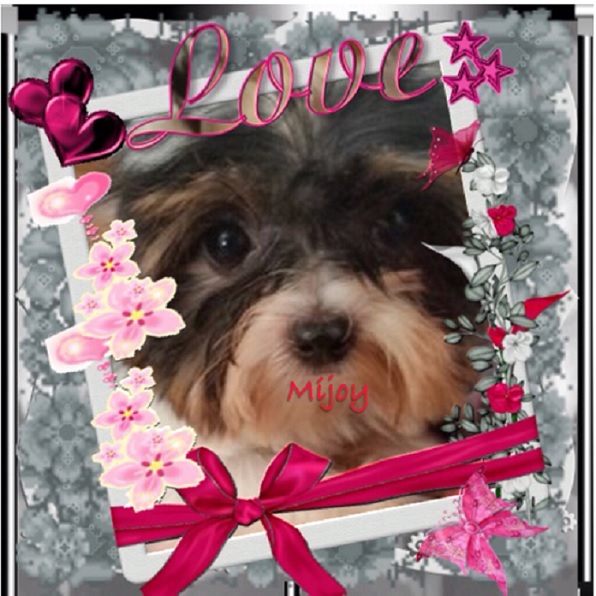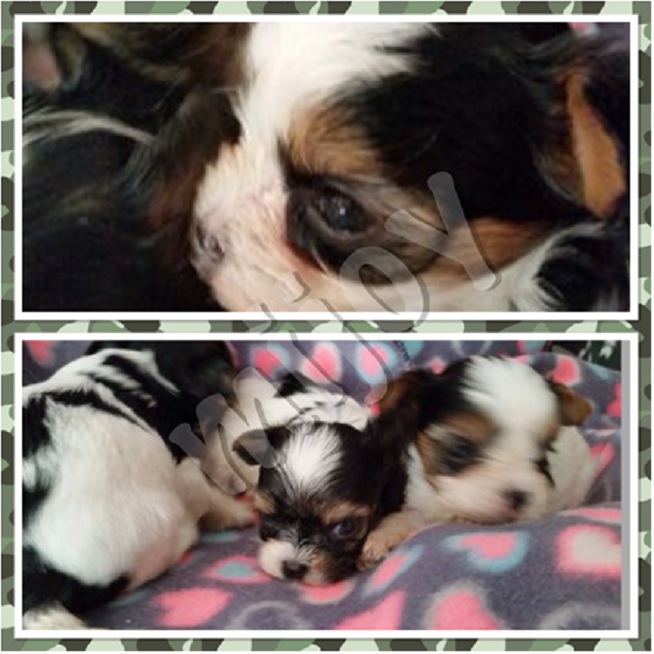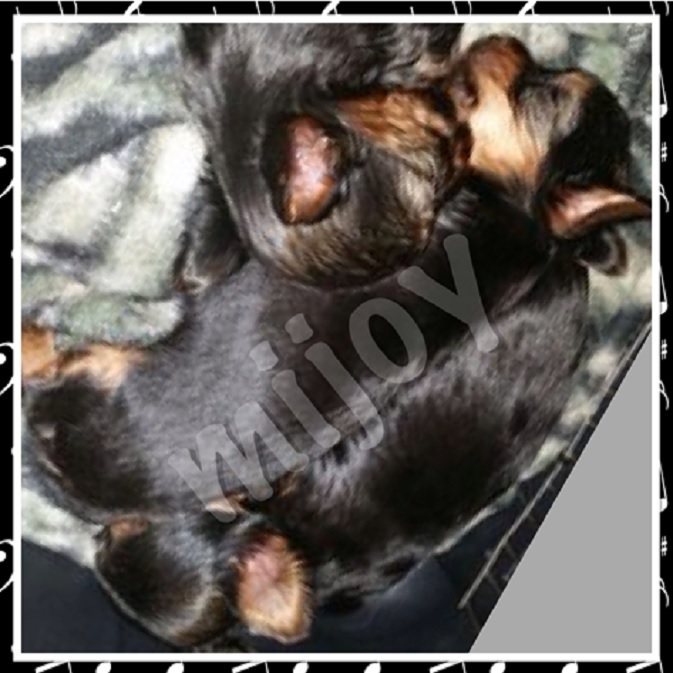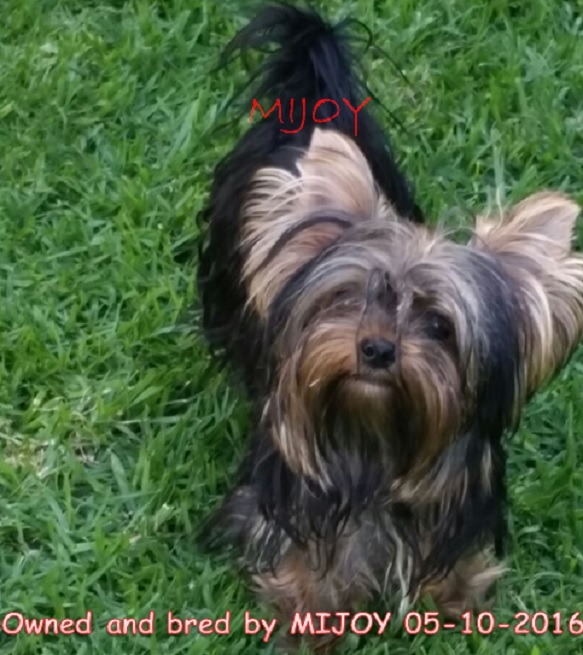 Thank you Michelle for the latest pics of your amazing LITTLE GIRL LILO 1.1kg 8 months of age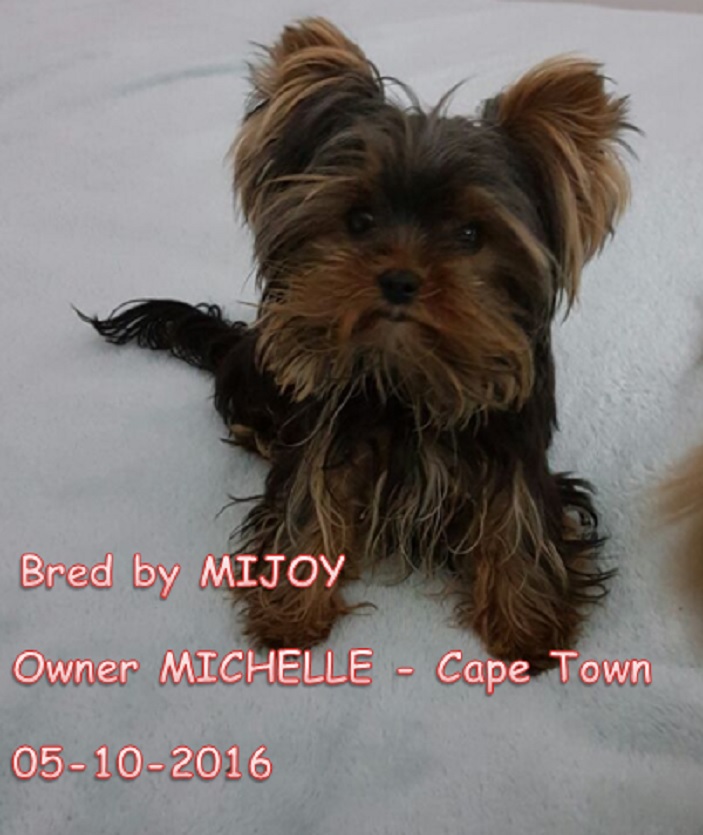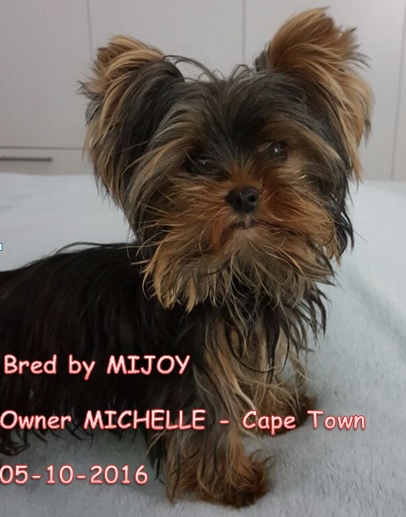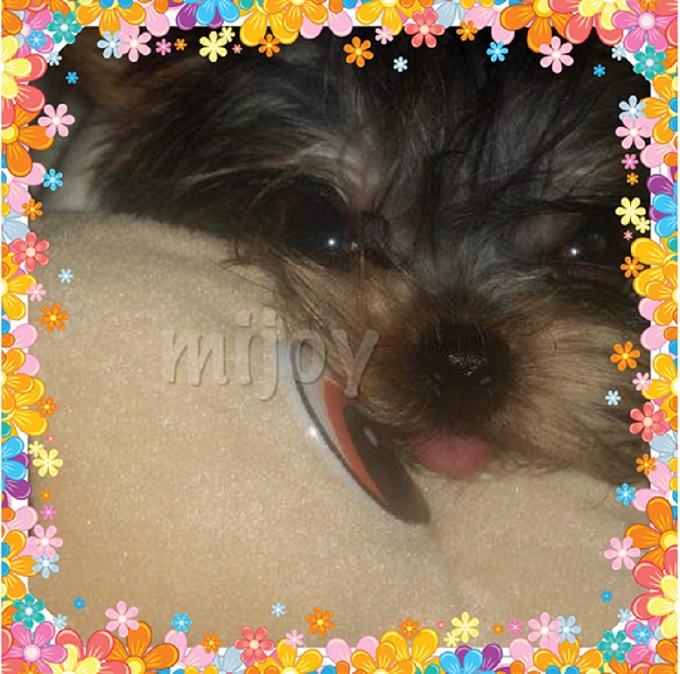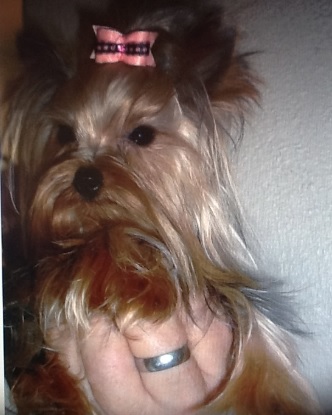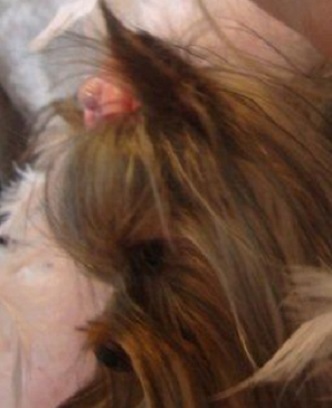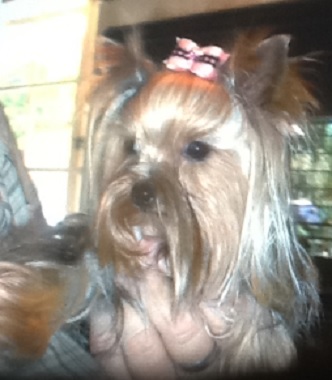 New pics will be uploaded later today... YORKIES AND BIEWERS 6 October 2016
The inside story to the GENUINE teacup dog….
Sorry it is just not a case of wave the magic wand and their is the genuine teacup...
QUESTION NUMBER ONE : Why are they so hard to find and come by?
QUESTION NUMBER TWO: Why do so many Breeders claim to breed them but DON'T, but sell off pups that they claim are teacups???
QUESTION NUMBER THREE: Do I qualify for this size of dog?
QUESTION NUMBER FOUR: How do I know the pup I am being offered by a breeder is in fact the teacup pup I am wanting.
QUESTION NUMBER FIVE: How long is your waiting list?
I will answer the above questions in as much detail as I possibly can. I do believe I have enough experience with this size of dog to know what I am talking about. I owned my first 1kg yorkie over thirty years back and I have produced the ultra tinies for the last twenty years. Some weighing as a twelve year old healthy dog all of 550gms. HOWEVER they are bred as nature intended, which is very important, we do not hatch a plan how we can produce them in numbers, they arrive as nature intended. THE REASON THEY ARE HEALTH AND LONG LIVED, when they are in the right hands.
QUESTION NUMBER ONE : Why are they so hard to find and come by? They are hard to find, no matter what anyone says about that they are NEVER available in numbers at any one time and rarely in general are born. HOWEVER we do get a few born these days, although we do not breed in numbers but opt for breeding quality dogs. If we had to purchase in a pup with the intention of breeding with her in time to come, she produces her first litter, we are not overly impressed with her pups, we cover her a further time, different stud and if again, we are not overly impressed with her pups, we will sterilise her. We will then keep her the rest of her life, we do not rehome dogs that cannot breed, dogs that are retired from breeding, we keep them till the day they die.
Over the years I have heard from the odd Breeder that they had the very occasional very small pup that just did not thrive, did not make it. Some refer to these as the runts of the litters. Some may very well be the pup that has health issues, the pup not meant to live, but a good few of those may very well have been what we call the teacup pup. However to raise such a sized pup takes hard work from the breeder, for everyone that will make it staying the entire raising period with its own Mother 99% won't survive in litters with bigger pups in those litters. Hence the supplement feeding needs to be done, the around the clock supplement feeding. OR the pup must be moved to a younger litter where it is in a far better position to suckle. IF need be that same pup must be moved from Mother to Mother, so that pup can grow up healthy and strong but in a lot of cases there is no other Mother around.
IF the pup is at an age where it eats very well drinks very well it can be kept to one side but the long journey will begin to raise that pup, which involves monitoring night and day for weeks and weeks to come, TEACUPS only leave us at four months of age. HENCE the reason these dogs are expensive to begin with, the time, effort, dedication from my point of view is over the top. Some of them are a walk in the park to raise while others do test one's patience.
QUESTION NUMBER TWO: Why do so many breeders claim to breed them but DON'T, but sell off pups that they claim are teacups???
I do believe there are a few answers to this question.
What does the breeder consider a teacup dog? It is known worldwide the weight of a teacup differs tremendously between breeders, in the majority of cases what is sold as teacup in my language are indeed pockets sized dogs and in the majority of cases not a small pocket size either. HENCE the price difference.
If you breed a pup, Mother dog does all the work, the pup eats, gets its shots gets dewormed, moves on out of the breeders home at 8 weeks of age, why not sell it at considerably less in price to the price of the GENUINE TEACUP DOG. The breeder has not even begun to do what we do in raising that scrap.
There has been no monitoring around the clock for weeks on end, months actually, the smaller the pup the more frequently that pup eats, so three hourly feeds, both night and day is not unheard of but with very small sized pups, more like the norm.
The price tag of course, why sell a pup at the going rate if you can sell one very under aged for a fortune, it is only you that wins in this situation as the breeder, not the new owner, who has hours, days, weeks of emotional torture trying to raise a pup that is almost impossible to raise, as removed from its dog Mother weeks before it should have been. One such breeder is out there doing this exact thing and it has come to my attention, with three people who bought her dogs, having gone down this very unhappy, sad road, where all three pups died. Vets all saying pup way younger than the breeder told the buyer it was. How do some folk sleep at night???
As you all should know, the amount of breeders of the YORKSHIRE TERRIER runs into thousands and if you are stuck with pups you cannot sell naturally you are going to make out they are something they are not, if it means you get them sold.
QUESTION NUMBER THREE: Do I qualify for this size of dog?
Some of the public suggest I come and meet them, view their home, their garden, etc. IT is not about your home, your property but how seriously you take raising a pup of this size. It is not a temporary change in your sleeping habits, or devotion of your time, this is a life change to own one of these small sized dogs. Yes it does get better the older the pup gets, but it is a commitment to raise it even from four months of age the youngest it leaves me. A huge responsibility. The reason I say if you don't have the lifestyle for this size of pup don't buy it to begin with.
Some of the public will call me saying we ordered one from whoever, but at so many weeks it died, or they found it lying dead MUST HAVE HAD SOMETHING WRONG WITH IT??? OR someone buys a tiny from a breeder and this happens to them and then they come with the exact same story MUST HAVE HAD SOMETHING WRONG WITH IT. Well then have the body sent in to the laboratory to ascertain exactly what went wrong with the pup, if you fairly and squarely believe it has nothing to do with you, in the way you handled this pup, no better way than to find out what it died from than get the experts opinion on that. HOWEVER after you have gone to such lengths do not be surprised if the breeder comes back to you, should there have been a medical reason for the pups demise, AND this goes for all sizes of pups not only the tinies, BREEDERS RESPONSE - SORRY WE DON'T GUARANTEE OUR PUPS….. HAPPENED to me many a time over the years and NOT with the teacup sized dogs either, normal sized yorkies. ???????????
Some breeders are definitely to blame if the dog was born with a major health issue however, no breeder knowingly will breed pups with complications of ill health. So many of the public con the breeders trying to make them believe a story or two of why the pup died, when in fact it was as a result of their lack of knowledge, lack of responsibility etc. So one cannot always hammer at the breeder being at fault, those that protest in the majority of cases about breeders are so often the ones that are at fault, through their ignorance, lack of attention they are the guilty party, the one's that caused the problem to begin with.
What I say to all people approaching me for a tiny, you and only you can decide if this pup fits into your lifestyle or not.
WE do not approve of this size of pup in homes with children, reason being, so many children play rough, they run and tumble and fall and if that happens with a teacup pup around, it may be the end of the teacup. Children cannot play with a teacup it does not fetch the ball, it does not run after them, it cannot jump on and off of their bed. It needs constant watching, a child cannot get up three times a night to feed a teacup pup and what when it is school tomorrow morning? What then from feeding three hourly and the child is at school, then what??? Pup gets very mixed signals and let's be honest NO school going child can get up all hours of the night to start with. A teacup dog bonds normally with ONE person so does not help for the child to do it now and Mother to do it later. DOES NOT WORK LIKE THAT.
This rather hectic routine of nightly feeds, as well as daily feeds, gets to one over a period of time, I sometimes feel like a zombie never having slept properly in months, but I carry on regardless, because if I miss that feed, I may not have a pup to feed, next feed around.
Read up on HYPOGLYCAEMIA, how this is a killer to small sized pups/dogs, and what the majority of tinies will suffer from at some stage in their lives. BE INFORMED don't blame others for your lack of knowledge.
QUESTION NUMBER FOUR: How do I know the pup I am being offered by a breeder is in fact the teacup pup I am wanting.
I am always happy to assist where possible and it won't be the first or the last time I am asked about a pup on offer weighing x at birth, weighting w at this age, y at that age and what do I think? Will this be a teacup and in all honesty I cannot answer that question, for anyone to say with any certainty based on a weight in a pup's life at a particular age, what size that pup will end up - is almost IMPOSSIBLE. Impossible if I get weights given to me and have no history of that pups upbringing.
To ascertain size one needs history of a pup you cannot thumb suck AND no matter what you may think, this it is not the easiest thing to do.
Most have charts they work from however that chart is very often not correct it may be accurate for one pup and totally inaccurate for another.
The sizing depends on various factors, how many in a litter, how well cared for was the mother, how often does that pup eat, there are a few factors however I can guarantee you will let you know if the pup in question is indeed one of those mice you may be after buying.
The breeder tells you three meals a day, morning noon and early evening, NO during the night feeds. This is no teacup pup.
A pup is flown to you at 8 weeks of age, a teacup there is no ways the airways will allow a mouse of a pup to fly, hence your teacup flying on its own at 8 weeks of age, is NO teacup.
I would not allow a four month old teacup pup to fly in the hold on its own, it is way too tiny even at four months of age.
QUESTION NUMBER FIVE: How long is your waiting list? This has to be the most asked question of me, relating to teacups. I get the public advising me it is three years since they enquired and having been looking all over SA without any luck now back with me and I still have a waiting list??? Way back then already I had a waiting list? Well the answer to that is as the pups are supplied new folk join that waiting list, we always have a waiting list.
This is not a pup you will get from me yesterday or in the next month, this is a dog you wait for and if you now ask why, you have not read what has been said above.
People who want this size of dog, are folk that have done the research realised how hard they are to come by also realise if you buy any pup you could land in the soup. We sell with health guarantees within reason. If you drop your dog don't call me about that.
We are fair about what we guarantee and what we don't.
The famous words I hear from the public most times, the breeder they bought from said YOU MUST KNOW YOU BUY THIS SIZE OF DOG, YOU AE BUYING TROUBLE???? If this was the truth, why is that or those breeders breeding trouble for others????
Always remember some folk are honest while others are not. We will only sell this size of pup to people who are prepared to wait, who realise this is a commitment owning this size of dog. We do not sell to impulse buyers. AND if you phoned me three years ago never joined the waiting list don't try and suggest I sell you the next pup, as you phoned all those years ago.
THANK YOU FOR YOUR TIME - IF YOU HAVE THE ULTIMATE TINY ON YOUR WISH LIST CONTACT ME PROVIDED YOU HAVE PATIENCE TO WAIT YOUR TURN, HAVE THE LIFESTYLE TO OWN THIS PRECIOUS BUNDLE. OH AND WE BREED THEM IN BOTH THE YORKSHIRE TERRIER AND THE BIEWER TERRIER.
Leave us at four months of age, all inoculations plus rabies done, micro chipped, registered, health guarantees. ALL PUPS OF OURS IRRESPECTIVE OF SIZE ARE SOLD ON A SPAY/NEUTER CONTRACT ONLY. Strictly 100% as pets ONLY. NO PUP bred by us is sold to ANYONE who plans to breed it be it as a stud dog, one litter story or breeding story. If you intend breeding with a MIJOY dog don't buy the first one.
Enquiries to: info@mijoy-yorkies.co.za
LATEST PICS RECEIVED FROM SOME OF OUR EXCELLENT PUPPY AND DOG OWNERS....
THANK YOU FOR ALL YOUR UPDATES AND PICS, GREATLY APPRECIATED.
Below : One of our ultra cute four legged kids. owned by Michelle and Hubby.
Comments by owner: HI Joyce hope you are well. Just thought i would send you some photos of Lilo. What an
Below: Another of our four legged cute kids who went to his new home in recent times.
Comments from owner : Good morning. I just want to thank you for this special pup. It is the cutest thing and is giving
us so much joy! We absolutely adore him and he is getting loads of love and attention.
Thanks again and have a great day. Adele.
BUY THE RIGHT SIZE DOG FOR YOUR HOME, YOUR FAMILY
FOR YOU....
Miniatures 2.5 to3.5kg weight as an adult dog
GENUINE TEACUPS SUITED TO VERY FEW HOMES, FAMILIES AND INDIVIDUALS
Mijoy is TEACUP YORKIES that is the GENUINE TEACUP YORKIE
Owning our first GENUINE TEACUP dog in 1989 weighing 700gms
OUR GENUINE TEACUP PUPS AND DOGS ARE HEALTHY BRED AS NATURE INTENDED
Available on order only to APPROVED homes, dog parent/s that have the lifestyle to own such a small sized pup and dog.
This is not a dog suited to the majority of people, this is a handson responsibility.
NOT A CHILD'S DOG
OUR GENUINE TEACUPS
LEAVE US AT FOUR MONTHS OF AGE - THEIR WEIGHT AT THIS AGE 400 TO 500 GMS
This pup will be fully inoculated at this age,(three inoculations plus rabies)
It will be micro chipped, it is registered, it will carry HEALTH GUARANTEES
BELOW TEACUP BIEWER TERRIER
Yes we do get them, bred as nature intended....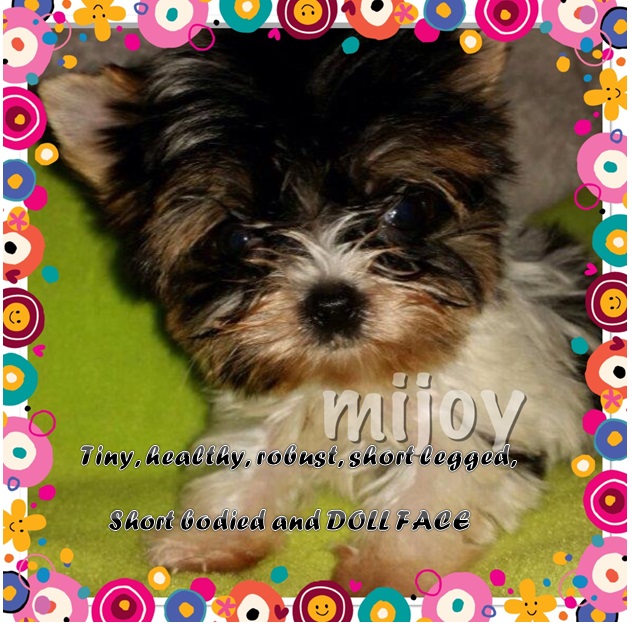 BELOW teacup yorkie...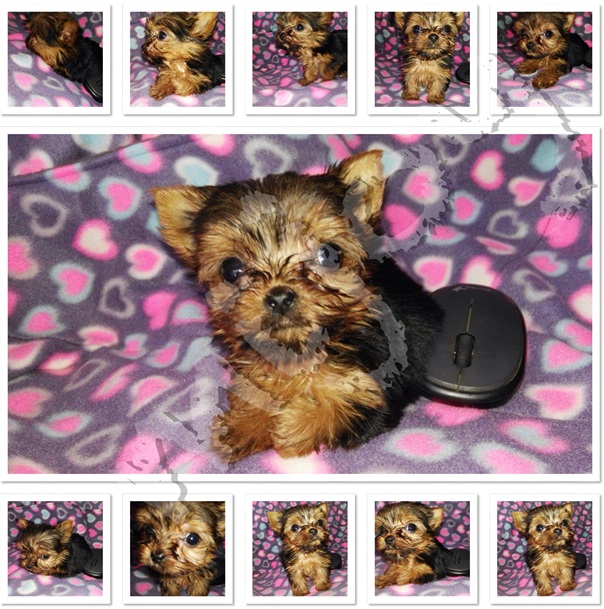 REGISTERED * MICRO CHIPPED * HEALTH GUARANTEES *
FULLY SOCIALISED * EXCELLENT TEMPERAMENT GUARANTEED
HOME RAISED NOT CAGE BRED *** QUALITY NOT QUANTITY
What do you need to know before venturing into buying the ULTIMATE TINY DOG, the GENUINE TEACUP PUP…..
A bit of history about us – our involvement with the TINIES not in the last year or two but for the best part of the last 20 years when I owned my very first TEACUP weighing 700gms as adult. We have owned and bred yorkies for over thirty years.
We have bred the tiniest we believe ever bred in South Africa, one of 550gms as an adult dog another at 600gms as an adult dog. Both living very long HEALTHY lives.
WHAT SIZE DOG DO YOU CONSIDER TO FALL INTO THE CATEGORY OF TEACUP?
YORKIES & BIEWER TERRIERS, anything from 1.1kg and under and as little as 550gms which we have bred and owned. At this weight they are ROBUST. SOLID stocky, well built, NOT lightweight. A lightweight dog is often considerably bigger than the equivalent stocky, well-built pup and dog.
Are you comfortable owning such a tiny sized dog and pup?
Please remember this is not a dog you leave home alone, with the Maid or Granny and not a dog that you take to a boarding kennel, these dogs pine for their owners and where most dogs do, it is one thing to weigh a kg or less and a different story if you have the bigger version and it pines. The bigger version will survive and in all probability will be fine, but you will never know if your teacup will survive pining? Very good chance it won't and will be in a veterinary clinic shortly after it is taken in to be boarded.
Annual vacations, what about the teacup? IF you cannot accommodate a teacup on holiday with you DON'T BE TEMPTED TO BUY IT.
PLEASE NOTE - "OUR TINIES" ARE BRED AS NATURE INTENDED
We do not manipulate the producing of them, if you do as some breeders attempt to do, you end up with sickly, short lived little disasters that are not only unhealthy but a total nightmare to their owners. Very sad for the little pup, dog at hand and heartbreaking for the owner.
Our tiny Angels are born as nature intended arriving every so often in the odd litter.
There is no such thing as A litter of teacup pups being born
It is not about using a mouse sized male or a pocket female size. In fact I have found smaller females and I am not referring to tiny females but the odd accident we have had produce pups bigger than one would expect and anything but teacup. IT is impossible for any teacup bitch to produce pups she is just way too tiny. Anyone who would consider doing such a thing should be shot.
It is the IN thing to have a teacup around. I am not quite sure what the concept of a teacup dog is to most. However I as having owned and bred them for quite a number of years can put it in a nutshell.
They are hands on, a huge responsibility to their owners, NO walk in any park. HOWEVER follow the rules we suggest, be a responsible owner, you will have it easy.
Our teacups leave us at four months of age, weighing in the vicinity of 400 and something grams. The weight can vary but in general a pup that has been healthy etc, eating very well, reaching those milestones we know they should reach at certain ages, having had all these years' experience, we can almost guarantee you, the pup will be a teacup dog. It will never be miniature for example or medium or large pocket, but like everything else, one learns all the time, there is no guidelines to this size of dog it is an honor to breed them occasionally and own them.
SOME RULES ABOUT OWNING THAT TINY you should not brush aside.
Parlours are out – possibly as an adult BUT then only while you stand and observe or wait for that bundle. We do not promote it at all, reason being, this is a mouse of a pup, too easy to pick up problems and let's be honest, a parlour is frequented by so many other animals, there has to be a risk, AIRBORNE disease etc. All the sterilizing under the sun is not going to remove the risk of airborne disease. Kennel cough being one of them.
IF that pup jumps from any height it could be the end of that pup.( even as an adult it could result in that animal losing its life) Restraining it as some parlours do, with a collar etc, Yorkies etc are not candidates for collars, no matter the size of the pup or dog, as a collar puts pressure on the trachea or could and the yorkie is prone to that problem so do not encourage a problem developing or possibly developing by using a collar on any yorkie. To use a harness on a mouse when trying to groom and bath it, well I do not think that will work out too well.
What are critical issues to owning a teacup pup?
Temperature plays a massive roll with this size pup and to use artificial heating is not without its risks. Heating the environment is most probably your safest bet. Keep your pup indoors in your home that is cosy in the winter months. If you take that baby out, keep it covered with blankets.
Using the likes of warming pads and heating discs can have their own risks, overheating any pup and with some warming discs available on the market, NOT that difficult to do. An overheated pup can end up a dead pup. A pup that sits on a warming pad all day and night long, can lose coat, the body overheats and the way nature handles that, the coat is shed, would not normally happen, but I have had that happen to me and not once either, so we do not go that root any longer.
POTTY now this is where people can and often do hit a problem. The pup is cosy as toast in the house but now we need to go out to potty. BAD IDEA. We as humans weighing what we weigh leave our warm home step outside we feel that chill. NOW consider something weighing what a teacup pup weighs going out to do its toiletries no matter how warm that pup is dressed if it is dressed, it still gets chilled. HUGE RISK.
If you are someone that can only survive if your pup or dog goes outside to the potty this size pup and dog is NOT for you.
IF you allow any teacup pup to get cold – body temperature drop that pup is at risk of dying, maybe not today but in a day or three. DO NOT make this mistake.
The best advice we can offer anyone wanting this size dog is simple HANDLE IT LIKE YOU WOULD A HUMAN BABY.
You would not take a human baby outside to play on the lawn (equivalent to going potty outside to a teacup pup) in winter, wet weather, colder weather, DON'T do it with your pup.
You would not leave your baby without checking up on it frequently, watch your pup and by this we mean, this size pup is not the type of pup you feed, leave for work return home hours later – that is a huge risk.
You would see to it your baby eats and drinks as it should, same applies with your pup.
CLOTHING THAT TINY
So many tinies are bought, to dress up and play doll with or so forth. We do not advise any tiny be dressed as a pup. UNLESS you are pretty sure the jacket, jersey does not restrict the pup in anyway, its movement, if you do dress your pup, it must be reasonably well fitting but not like a corset, that will in time cause health issues.
If you groom your pup on a daily basis and it does not need that, BUT if you are owning one dog or this type of dog, groom daily as often as possible, your pup will learn to love it and a teacup is not a candidate to have knots removed, or cut out . etc. If you let your pup or dog wear clothes you have to groom once at least daily if not twice and take off that jersey, jacket whatever, let the air get to your dog's skin. Jerseys, jackets, clothes damage the coat. UNLESS you are meticulous with grooming.
FEEDING THAT TINY
We are a NO TREAT type of breeder, dog owner. IF you feel the need to give your dog's treats watch what that treat is made of, how healthy it is for your pet etc. A treat is just that a treat so it is not something you should give your pup or dog as part of its diet. If you feed as we do, something like ACANA you can get their treats but that is once again a treat not something you feed as part of their daily nutritional intake.
The tiny is far more difficult on one hand and dead easy on another. You follow the rules, be responsible, you will never see a vet. DO YOUR OWN THING and be a know it all and trust me, over many years, we have had to deal with a good many of those, who came to realise they did not know it all, when it came to this size dog.
FEEDING THAT TINY – 2
The time our tinies leave us we will know exactly how they eat, if they are easy, difficult etc, we will however NEVER pass on any pup we believe will be a handful to its future owner, but then one has to realise a teacup pup is not just any pup, it is a handful – a handful of love and fur, but a nice one if again handled properly.
You would be advised what your pup is eating, how often it eats and what we suggest you feed it how you feed etc. Hand feeding your pup is cute to begin with, as the time goes by the CUTE FACTOR wears off somewhat and it becomes a chore, a bind, do not start something you are not prepared to continue. YOU as the owner started the spoiling see you are prepared to finish it.
These pups small and all, know exactly how to twist their owner around their paws. If you have the time, the energy to carry your pup around all day, every day ensure you have that time available to you for the next 12 to 14 years.
Make use of a playpen, ensure your pup is out of any draught, has hideouts, beds, toys, water at all times. Do not just leave food down expecting your pup to help itself, you need to know this pup is eating what it should be eating at all times.
Travelling in the car, DOGGY SEATS are cute and all but NOT for this size pup or dog even as adult, chances are excellent a proper teacup dog will never get to the size of being able to see out of that doggy seat. HOW boring is that? You need to consider at all times, the safety needed for this size pup and dog.
The best way of ensuring complete safety is a playpen and then a carrier. The carrier is very useful. Use it to contain your pet, use it when you put that pup on your bed, use it to take that pup to the vet, on outings, to go and visit. NEVER allow anyone to just pick up your pup or dog. IF they have to – they sit on the FLOOR and handle your pet, simple as that. Sitting down on the couch may seem ideal but it carries risks too. The pup could jump off, that can result in a dead pup and injured pup and heaven forbid a pup with broken bones. BE cautious.
Children who come to visit, put that dog in its carrier out of their way. TOO much of a risk, too much of a novelty for any youngster and way too much of a temptation. Human nature to touch, to pick up and if it is your own children who know how to handle this size of dog it is fine, but most youngsters have no idea.
Please remember all children run, play, slip, fall, jump off of the bed, the furniture whether you know it, like it or approve of it, be exceptionally cautious with this size dog around youngsters.
Use a small sized carrier at all times, in your vehicle, at the vet, etc. strap that container onto a seat with a seat belt. Anything goes wrong, car accident etc, your pet is safe.
Any pet allowed to run around a car on the move, is total MADNESS. A teacup is not a pup you drive with on your lap that is being totally irresponsible.
We make use of these carries and have done so for many years.
You can never be too careful with a teacup pup. Be cautious of people touching your pet in public, it should be a case of look but don't touch. This is where the carrier comes in, pup in carrier you can but look and not touch.
SCAMS AND THIS SIZE OF PUP
Yes, I hear of it every other day, how someone was scammed once, twice and as much as three times over this size dog????
If the public researched this size of dog they would know there is no way this size of dog can sell at a low cost. The time, the effort, cost of shots, deworming, feeding, chipping, registering and all….
A proper teacup pup involves a huge effort and a lot of dedication for the breeder of that pup. It just does not grow up as most pups do in a litter.
AND THE MILLION DOLLAR QUESTION….. How do I as a member of the public know this is a teacup pup I am being offered????
The GROWTH CHART story, the pup weighed x at birth now weighs Y will weigh Z as an adult. This may be 100% accurate but may be totally inaccurate. There are so many things to take into account to ascertain accuracy.
We have been around long enough to know what we believe is correct and the very reason we no longer sell these pups at a young age, have not sold them for a good while at the 10 weeks of age AGE.
At four months of age, they are that much older, we will have noted what the issues are if there are issues, such as being a fussy eater, etc, we will know if this baby is an easy one a more difficult one and ones that are very difficult we will not pass on. OR should I say MAY pass on possibly but to someone we know exceptionally well. Who knows how to handle cope with a difficult child as this could be.
Pajama drill is a must NO such thing as no pajama drill required with a tiny. They eat around the clock, night and day for many months to come, hence the reason I say NO WALK IN THE PARK.
You cannot adopt an attitude I am exhausted tonight hope the pup is fine, the pup may not be fine come morning.
WHY WOULD MY PUP HAVE TO BE FED AROUND THE CLOCK FOR MONTHS TO COME?
Understanding why makes the difference. A teacup pup is low in weight, hence the metabolism is far quicker than any other sized pup, hence the need to eat more frequently. A tiny will use up far more energy to sustain its body temperature than a normal sized pup.
A tiny remains tiny at four, six or 8 months it is still tiny. You need to put the effort in to raise that pup. If you lose interest, find something a novelty, that wears off do not buy this size of dog.
We guarantee our pup are totally socialized, we guarantee they have superb temperaments, reason being they are NOT CAGE BRED they are bred in our home with attention 24/7.
Our pups carry health guarantees HOWEVER it is up to you the owner to know how to handle this size of pup. You need to be totally aware of the do's and don'ts you also have to be familiar with HYPOGLYCAEMIA. Research on the web.
We work with serious buyers only, approved buyers only. If you come to us for a teacup pup, you will wait for one, we are proud to say we do not produce pups in the dozens that is not what we are about.
If a teacup is born it will be placed with the next person on the waiting list they are NEVER available if anyone should phone up. WAITING LISTS ONLY.
We feel if someone is prepared to wait for this size of dog, they will be in all probability the right person to own this dog, impulse buyers we do not sell to. This is an alive, breathing, pup that has feelings, not a toy, not a fashion statement and least of all something to go around bragging about.
PIC will be uploaded shortly.
From the mailbag.........
MIJOY
What do we stand for?
We are not the normal run of the mill dog breeder – far from it.
It is about our pups and dogs at hand, not about our bank balance.
ALL PUPS LEAVING US WILL HAVE UNDERGONE THE FOLLOWING:
Depending on size:
A minimum of two of the pup inoculations required for all pups – teacup sized pups ALL inoculations required - prior to leaving us including rabies and a booster rabies inoculation if you reside in a rabies area.

Numerous deworming's with various makes of dewormers

Preventative treated against ticks and fleas from birth – as are all our dogs and pups

Identipet micro chipped

Registered

All our pups carry health guarantees

STERILISED

Vet checked
We will guarantee that no pups leave our care with any of the following problems:
Biliary

ANY dog disease

Any parasites

Any SKIN disease
We rarely have pups available, most are sold before they are born.
Unfortunately we only to sell to PET HOMES - FOREVER HOMES, out and out ANIMAL LOVERS, we do not supply any pups for breeding purposes.
We do no stud service.
We do not sell adult dogs nor do we sell retired breeding dogs
All pups when leaving our care are handed over to the new owner with a comprehensive guide on how to care for the pup at hand.
We are ALWAYS available for advice and back up.
We send out monthly newsletters to our existing and future puppy owners
We work mainly with waiting lists especially with our TINY SIZED PUPS – this gives us peace of mind that the prospective future owner is first and foremost prepared to wait for the pup in question so it is not a hasty or spur of the moment decision to buy a tiny sized dog.
They have done the necessary research and know what responsibility lies ahead for them to own and raise the TINY sized dog. The TINY It is NOT for everyone in fact for a very limited few who have the time, dedication and knowledge to raise this pup as it should be raised.
OUR TINIES after leaving our care WILL CONTINUE TO BE IMMUNISED, ANNUALLY, DENTALS FREQUENTLY DONE ETC, OTHERWISE THEY WILL RARELY EVER SEE A VET –
The longevity of any pup or dog of any size lies in its owners hands
If a tiny sized dog is bred correctly, raised correctly, there is no reason for that dog to live any shorter life than any other sized yorkie.
WE AIM TO BREED QUALITY NOT QUANTITY
ALL OUR PUPS ARE TOTALLY SOCIALISED
OUR PUPS HAVE OUTSTANDING TEMPERAMENTS
WE ARE NOT CAGE BREEDERS
ALL OUR PUPS ARE HOME RAISED
OUR DOGS AND PUPS ARE FED EXCLUSIVELY 'ACANA'
WE CUT NO CORNERS WITH OUR DOGS AND PUPS
PASSIONATE ABOUT OUR DOGS
The majority of TEACUP sized pups advertised are NOT teacup sized dogs – the GENUINE TEACUP DOG IS A RARE DOG – NEVER available in numbers at any time.
Be aware of SCAMS *** SCAMS **** SCAMS ****
"
A big THANKS to you all - without you this would not be possible... heading now for 900 000 hits, thanks to all of you.